Canyon de Chelly National Monument
Canyon de Chelly National Monument
is a
United States National Monument
that is located within the
Navajo Nation
in
Northern Arizona
.
Understand
Canyon de Chelly is unique among National Park Service (NPS) units, as it is comprised entirely of Navajo Tribal Trust Land that remains home to the canyon community. NPS works in partnership with the Navajo Nation to manage park resources and sustain the living Navajo community.
History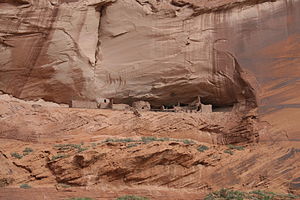 Canyon de Chelly has been occupied for millennia. In several places petroglyphs (rock carvings) and cliff houses of the Anasazi can be seen. The Navajo were living in the canyon when the Spanish arrived in the 1700s. The next century was marked by repeated conflicts with the Spanish and other Indian tribes, and later with the US. Finally, in 1864, Kit Carson led a campaign to remove the Navajo to Fort Sumner. Cold and hungry, most surrendered and began the Long Walk to Fort Sumner. After four years of hardship, the Navajo signed a treaty with the US, which established the reservation. A few dozen families live in the canyon at least part of the year, farming and herding.
Landscape
The National Monument comprises three canyons. Canyon del Muerto and Monument Canyon join to form Canyon de Chelly. At its mouth, the canyon floor is broad and flat. There is sufficient water for patches of lush vegetation. The canyon walls rise steeply for about a thousand feet.
Flora and fauna
Climate
The temperature can reach 100 ℉ (37 ℃) on the canyon floor in the summer. Winter temperatures range from lows around 20 ℉ (-7℃) to highs of 40 ℉ or 60 ℉ (4 ℃ to 15 ℃). With altitudes ranging from 5500 feet (1,524 m) on the canyon floor to 7000 feet (2,134 m) on the rim, it can be cold here in the spring and fall even when it is hot at lower altitudes. The weather can be changeable, with a little snow in the winter, and sudden thunderstorms in the summer and fall.
Get in
By car
Canyon de Chelly National Monument is off US Route 191, about 1 hour and 15 minutes north of the town of Chambers at the intersection of US-191 and Interstate 40. Chambers is about 2 hours east of
Flagstaff
(with
Petrified Forest National Park
en route) and 2 hours and 40 minutes west of
Albuquerque
on I-40.
By train
The closest city with an
Amtrak
station is
Gallup
, New Mexico, about 45 minutes east of Chambers on Interstate 40. It is served by the
Southwest Chief
Los Angeles
-
Chicago
route.
By air
Canyon de Chelly National Monument is very far from any major airport. Your best bet would probably be
Albuquerque International Sunport
(
ABQ
).

Fees and permits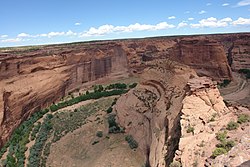 There are no fees to enter the park. To drive on the canyon bottom, a 4-wheel drive vehicle, a Park Service permit and an authorized Navajo guide are required. The fee is $15 an hour for 1 vehicle, $5 an hour for each additional vehicle with a 5-vehicle limit per guide. Hiking within the canyon requires a Park Service permit and an authorized Navajo guide, except along the 2.5-mile (4-km) White House Ruins Trail. One guide may take up to 15 people for $15 per hour.
See
Scenic overlooks along the North and South Rim Drives provide dramatic views of the canyon below, with its sheer walls. White House Trail leads to the only Anasazi ruin that can be visited without a guide.

Do
Thunderbird Lodge Canyon Tours

phone: +1 928-674-5841

Thunderbird Lodge offers full- and half-day tours in big six-wheel military transport vehicles. Your guide will show you cliff houses and petrogylphs set against spectacular cliff walls. You will learn of the Navajo's history in the canyon, including the deaths of 115 men, women and children at the hands of the Spanish at Massacre Cave, and the siege by Kit Carson's forces of Fortress Rock, a butte at the confluence of the three canyons, on which some 300 Navajo took refuge.
Buy
Thunderbird Lodge, at the canyon mouth, has a gift shop with jewelry and blankets as well as other souvenirs. On the canyon tour, there is an opportunity to buy handicrafts from residents of the canyons. Less formally, vendors at the scenic overlooks have reasonably priced goods. Tony Hillerman has written a series of mysteries set in the Navajo reservation. Buy one and read it with a road atlas at your side.

Eat
Thunderbird Lodge has a pleasant cafeteria, with Navajo rugs (for sale) on the walls. The Holiday Inn and Best Western Hotels have restaurants.

Drink
Don't. Alcoholism is a serious problem, and alcohol is absolutely prohibited on the reservation. If you happen to have any with you, lock it in your trunk—don't bring it into your room.

Sleep
Lodging
Holiday Inn Canyon de Chelly
and
Best Western Canyon de Chelly Inn
are nearby, between Chinle and Canyon de Chelly.
phone: +1 928 674-5841 or +1 928 674-5842

Open year-round. This comfortable motel-style facility is at the canyon mouth.
Camping
A small campground with 15 basic units is at the monument itself; first-come, first-served, open year-round.
Backcountry
Stay safe
As with all high-desert locales, it can be hot in the summer, cold in the winter. Dress appropriately and remember a hat. Leave your car locked with valuables out of sight. As in much of the West, animals on the road are a hazard, especially at dusk or in the night; both deer and livestock are drawn to the vegetation supported by rain runoff from the pavement.

Go next