Cape Coast
Cape Coast
is a city in the
Coastal Plain
region of
Ghana
. Its a 2 hour 15 minutes (144.2km) drive from the capital city, Accra.
Get in

From Accra the easiest and most reliable means of transport to Cape Coast is to charter a 4-wheel drive, a mini van, or a smaller car that suits the number of people involved in the trip. Arrange this with Moses specialist tourism personal in Ghana. Be warned that there is only one road from Accra, it is not in great condition, and is often very congested with traffic.
STC buses pull into the Goil Petrol Station (Pedu Junction), about 5km from the town centre. Buses from and to Accra (C5. 3hrs) and Takoradi (C3, 1hr) go twice a day. There is a daily bus to and from Kumasi (C5, 4hrs).

Get around

Taxi is the best way and is very cheap by western standards. Especially shared taxis are very common in Cape Coast.
You can charter a vehicle in Accra with a driver who will take you to where you want to go.

See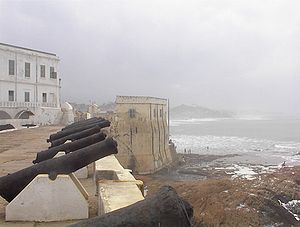 phone: +233 33 213 2529

address: Victoria Road

one of several UNESCO World Heritage slave forts along the southern coast of Ghana. A guided tour takes 45 minutes.

Fort Victoria

Fort William

Cape Coast Centre for National Culture

The Oguaa Fetu Afahye harvest festival
Do

Hang out on the beautiful beach under the Palm trees and watch the locals pulling in fishing nets and traditional boats.
Take a Global Mamas workshop on batiking, Ghanaian cooking, fishing, and/or dancing. globalmamas.org
If there is a game when you're there, go see the Cape Coast Dwarfs play a soccer match in the stadium. Entrance fee is C3 and it's worth it! The level of play on the pitch may not meet European standards, but the enthusiasm of the fans surpasses those standards easily. Practically all spectators sing along in support of their team, encouraged by drums and other musical instruments. Do yourself a favour though: don't bring any valuables. There is always a risk of pick pocketing in large crowds and you will be feeling uncomfortable with a camera around your neck or your wallet showing through the bulge in your pocket. Do bring some petty cash though, as you probably will want to by some water after a while sitting in the burning sun. Also, little baggies with peanuts and other snacks are being sold by women (and some children...) walking up and down the stands. It can be great fun, although you could be intimidated by a hint of aggression that hangs in the air, but not like hardliners among the fans of some European or South American teams. Intriguing fact though: In the end of the match, the referee is escorted off the field.

Buy

Ele Emma, a seamstress on Aboom Wells Road, makes high quality tailored clothes. Prices are approximately GHC20,00 (U$19,00 - Aug2008) for a shirt.
Commercial Road has many great booths for small gifts one in particular has beautiful jewelery and beads. This, along with other stands along the road, offers better prices than the tourist stores in the Castle, and supports local economy.

Eat
The main street has many good eateries.
Cape Cafe on Commercial Road has great cheap food. With a friendly atmosphere, quick service, full bar, and a menu of both Western and Ghanaian food, it is a favorite of both tourists and locals.
Further along, just to the right of the fork in Commercial road (the crab monument), Ant's Rastafarian Health Food Store is a gem for vegetarians-- smoothies, veggie dishes, and even tofu are available there.
Walk in the alley way next to the right of Malcom. Then make your first right into the smaller alley. Then your first left past the fruit stand. And you will find a hidden local market. In here you'll find the best fou fou lady in town.
Janet's Grilled Cheese

address: next to Ocean View Internet

Janet's, advertising "Ghana's best Grilled Cheese," does not serve your average grilled cheese sandwich. Sandwiches are made with Laughing Cow cheese, a fried egg and chopped onions/peppers/tomatoes on fried bread. Delicious and cheap.

Assase Pa

address: on the road to Elmina

A wide variety of vegan soups, salads and mains for cedis each. A pleasant walk from the city center.
Drink

Excellent Outdoor Bar with traditional dancing and fire eating up the hill along the beach. Traditional drinks such palm wine and 'pitoo' are normally found there.

Sleep
Hostels/Guest Houses towards the beach are good quality and some have lovely roof bars also.
address: Brenu Akyinim

A well-tended private beach, better for swimming than the beaches in Cape Coast, only a 15-20 minute Tro-Tro ride away. There is a restaurant/bar on premises which offers a great variety of Ghanaian and International dishes for 5-10 Gh¢. Camping/rooms are available. 1 Gh¢ entry fee for the day.

Prospect Lodge

phone: +233 33 213 1506

address: Kotokuruba

Located on acceptable walking distance from Cape Coast castle and the beach clubs, Prospect Lodge overlooks the Cape Coast from above, just of the main shopping street. Has a lovely terrace-bar-restaurant with very sweet and good service, although the restaurant service is slow in comparison to their excellent laundry service. Website
Go next
Nearby
Elmina
hosts the oldest European slave fort in Africa.
Tro-Tro's can be caught in front of the GOIL station (just West of Pedu Junction) along the main Accra-Takoradi Road. Intercity STC buses can also be caught from the same GOIL station. The ticket office is on the second floor of the building just next to GOIL to the left. There are several departures to Accra and other locations daily.
Intercity STC