Cape May
Cape May
is in the state of
New Jersey
, in the
United States
. It lies at the southernmost point in New Jersey, on the Cape May Peninsula, on the coast of the Atlantic Ocean. "Cape May" may refer to the small city at the tip of the peninsula, the peninsula itself, or the county which extends about 33 miles northeast of Cape May city to Ocean City. On the other side of the Delaware Bay lies the state of
Delaware
.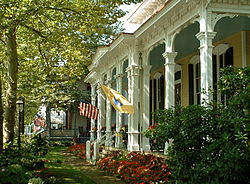 Understand

Cape May, located at the very southern tip of New Jersey, is a Victorian resort town. It was the country's first seaside resort and much of the original flavor still exists in the properties and other sites within the city. Settled by whalers and fishermen in colonial times, the town suffered a devastating fire in 1878 and was rebuilt during the Victorian period. As a result, Cape May is known for its concentration of Victorian era architecture. It was declared a national historic landmark in 1976.
A canal, dug from a natural shallow creek, runs from Cape May's harbor to the Delaware Bay, which makes Cape May an island. In fact, historically, it's known as Cape Island.
The two main industries within Cape May are tourism and fishing. Cape May is second to Atlantic City for tourism in the state of New Jersey. Being at the confluence of the Delaware Bay and the Atlantic Ocean allows Cape May full access to many types of fishing opportunities.
Cape May is also home to the Coast Guard Training Station.

Get in
By plane
The nearest large airports to Cape May are Baltimore-Washington International Airport (
BWI
) in Baltimore, Maryland, Philadelphia International Airport (PHL), and Newark Liberty International Airport (EWR). From these airports you will either have to fly to the smaller airport in Atlantic City (ACY) and drive for about an hour, or drive directly, which will take approximately three hours. For those with private aircraft, there is a small airport (WWD) just a few miles out of town.

By train
The closet rail terminal is Atlantic City, NJ (about 45 minutes by car or two hours by bus to the North). This station is served by NJ Transit's Atlantic City Line from Philadelphia and is connected to Cape May by NJ Transit bus, see below.

By car

Drive time to Cape May is about three hours drive from the New York City metropolitan area and from Baltimore, Maryland.
If you fly into Philadelphia, it only takes about two hours (assuming you hit good traffic).
If you're able to fly into Atlantic City, you can make it down in about 45 minutes.

By bus

New Jersey Transit runs the 552 bus route from Atlantic City to Cape May.
From the New York Port Authority Bus Terminal, take New Jersey Transit bus route 319 to Atlantic City. A Few 319 buses wiil terminate and begin in Cape May, check the schedule.
Note: New Jersey Transit runs a summer schedule on these two routes when school is out for the summer. So pick up a printed schedule when in doubt. The Web site for New Jersey Transit publishes the normal schedule.

By boat

Cape May has complete harbor access from the Delaware River and the Atlantic Ocean. It is on the Atlantic Intracoastal Waterway, so it is accessible to boaters from Key West, Florida to Boston, Massachusetts. It is also possible to take the Cape May-Lewes Ferry from Lewes, Delaware to Cape May. Cars are allowed on this ferry as well, but make sure to book in advance, especially during the summer months.
Marinas

Get around
Cape May is a relatively small town, compared with other mid-atlantic and southern
United States
resort communities. While cars are allowed on the island, it's best to park it and walk or take a bike. The flat terrain makes biking ideal.
See
phone: +1 609 884-2736

address: 701 East Lake Drive

Daily 9AM-4:30PM. If birds are your thing, Cape May is the Mid-Atlantic answer to the Everglades. The wind currents carry migratory birds out over Cape May, so it is one of the best birding spots on this part of the East Coast. Everything from ospreys to herons, to gulls, plovers and sandpipers, birding in Cape May is an attraction all by itself. Spring Weekend Festival in May.

address: Cape May Point State Park

The third lighthouse built on this spot, the current lighthouse is now owned and operated by the Mid-Atlantic Center for the Arts (MAC), and is being restored to its former glory. 199 steps will take you to the top of the lighthouse where you can see views of Cape May and beyond. The light from this one hundred fifty-seven and a half foot lighthouse can be seen from twenty to twenty five miles out to sea.
Cape May Point Flag Ceremony There is a poignant flag lowering ceremony, daily at sunset, at the Cape May Point (the southern shore of the peninsula) in honor of service men and women.
Cape May County Zoo -- actually located 10 miles away from Cape May in the small charming town of Cape May Court House, drive to the zoo and see lions, tigers, bears, giraffe, zebras, and many other animals.
Dolphin and Whale watching -- some of the boat owners guarantee aquatic mammal sightings on every trip. Dolphins seem to be the normal sighting, as hundreds of dolphins summer around Cape May. Whales? Bottle-nosed dolphins are part of the whale family, but are not the only whales in New Jersey. Humpback and Fin back Whales are sighted with frequency throughout the year. Two or three hour boat rides are common. For example, aboard the Cape May Whale Watcher, tel: (609)884-5445 (check out the whale videos on the website) you can enjoy a two hour dolphin watch and history cruise or sunset cruise around the island of Cape May, NJ. The "Cape May Whale Watcher" is the original whale and dolphin watcher in New Jersey. Tickets are available through the Mid-Atlantic Center for the Arts or on the website.

Salt MarshTake a tour of this Atlantic coastal Salt marsh aboard one of the area's boats. For example, aboard the Skimmer, which will take you on a journey in search of one of the many creatures that live within the salt marsh. The Skimmer is named after one of the many shore birds that live in the area.

Mid-Atlantic Center for the Arts

address: 1048 Washington St

Tel:(609) 884-5404 or (800) 275-4278.
The Famous "Painted Ladies" of Cape May - Victorian home tours. Stop as the Washington Mall kiosk and check out the walking tours of the area that cover the history, ghosts and stories about some of the most beautiful homes in the area.
THE BEACH!' --- Cape May point beach tags can be purchased, or head to Sunset beach to look for Cape May Diamonds.
Do
Parasail -- See Cape May from the air. It is extremely safe and fun. Try East Cost Parasail located in Cape May New Jersey 1121 Rt 109, 609-898-UFLY email at eastcoastparasail@yahoo.com or Hang Loose Parasail, (609) 522-WILD, in Wildwood. You'll love the relaxing view of the whole island from 500' in the air.
Jet Ski & Waverunner Rentals -- Retals are a great way to live life to the fullest this summer without breaking your budget. Try East Coast Jet Ski & Waverunner Rentals located in Cape May New Jersey 1121 Rt 109, 609-898-USKI
Bike -- Cape May is still a relatively small town (in diameter) so biking is a very practical way of getting around. There are a number of bicycle rental places within Cape May, where you can rent everything from the average one-speed two-wheeler to a four-wheeler that seats four and includes a basket for your beach toys or shopping bags.
Fish fresh water fishing can be had in several small lakes located around the area. The back bays, surf, Delaware Bay and open Atlantic Ocean allow for many more (surf and deep sea) fishing opportunities. The Miss Chris Marina tel:(609)884-3351 offers Daily Deep Sea Fishing Opportunities aboard the so-called "Head Boats, or Party Boats" for four, six or eight hour fishing trips, as well as Kayaking and boat rentals and a nice tackle shop. At the Miss Chris Marina they also offer Whale and Dolphin Watching Trips, Sightseeing, and Dinner Cruises.
Kayak -- take a sea kayak on a ride, and explore the many nooks and crannies of the salt marsh.
Surf -- Wildwood, just to the north, is known for big surf. Ocean City, about 45 minutes north, has a section of beach reserved for surfing.
Swim -- in the ocean along the long Cape May beaches
Walk -- the boardwalk, or throughout town. Lots of Cape May can be reached by foot. Walking is the preferred method of travel for many Cape May residents and visitors.

address: 1216 Route 109

The upgraded Sunset Cruise offers brilliant vistas around the island of Cape May along with dolphin watching, and a wonderful buffet menu with food by Lucky Bones Backwater Grill. There are two bars on board, lite music playing while the sunsets into the Delaware Bay.

Cape May Day SpaCape May's award-winning day spa and holistic center offering superior services from Swedish massage to deep-tissue, Side-by-Sides, facials and nail services. Romantic getaways, Busy Woman's package are available year-round.

phone: +1 609-884-5404

address: 1048 Washington Street, Cape May, NJ.

Learn about the history and spirits that allegedly haunt several historic Cape May hotels, restaurants, and homes. Trolley and walking tours available. There is also a ghost tour of the lighthouse, where you can climb to the top. Purchase tickets in advance at the Washington Street Mall Information Booth or at the Carriage House Visitors Center at the Physick Estate, 1048 Washington Street. Tours are especially popular around Halloween.
Work

Restaurants, bars & hotels are undeniably the largest employers on the island. Much work available here is seasonal only.

Buy
One of the shopping areas in Cape May is the
Washington Street Mall
, located in the heart of the town. This three-block outdoor mall features a variety of family-owned shops unlike any others, although many are not open during the week in the off season. Call ahead.
There are also many one of a kind shops throughout Cape May and West Cape May. Among them:
Eat
There is a wide variety of dining available in Cape May, from family and elegant to seafood and pancakes. However, many restaurants operate on a seasonal basis. Most restaurants are open seven days a week from Late May through early October. After that, it's best to call ahead.
Lunch and Casual Dining
There are good places to eat on nearly every corner. Good pizza and lots of good Italian food. Seafood and burgers are easily found at budget prices, though it might be wise to search for seafood at mid-range prices and above.
Carney's
The Mad Batter (excellent breakfasts)
The Pilot House
The Ugly Mug
George's Place Restaurant +1 609 884-6088
Hot Dog Tommies
Mid-range
There are many places where it is possible to get very good food (esp. sea food) at reasonable prices. One can buy fish right off the boats coming in from the day's fishing.
Splurge
Cape May is known for its many fine restaurants. The town's been dubbed the Restaurant Capital of New Jersey.
address: 301 Washington Street

Mall.

410 Bank Street

address: 410 Bank Street

Freda's Cafe

address: 210 Ocean Street

address: 801 Washington Street
Drink
address: 142 Decatur Street

On the Washington Street Mall has a full bar serving all day, every day of the year. Happy hour with free appetizers Monday-Friday from 4PM-6PM. Friendly vibe, plus a full restaurant.

Carneys

address: 401 Beach Ave

Located just steps from Cabanas, is great both day & nighttime. Step over from the beach for a frozen drink.

address: 426 Washington Street

A Cape May institution on the Washington Street Mall. Cozy, pub-like atmosphere.
Merion Inn, Decatur Street. Adult atmosphere with piano music.

The Pier House

address: 1327 Beach Av

The Schooner Bar, at the Lobster House.
Lucky Bones Backwater Grill, across from the Lobster House.
Cabanas & Martini Beach, corner of Decatur and Beach, are casual & fun. Martini Beach is located on the second floor and has a quieter, more intimate feel. Cabanas features a club atmosphere with live music.
Sleep
Budget
Mid-range
phone: +1 609-884-4717

address: 127 Myrtle Ave

phone: +1 609-884-9232

address: 223 Perry St

Bedford Inn Victorian Bed & Breakfast

phone: +1 609 884-4158

address: 805 Stockton Ave

All rooms have private bath. Decorated with period antiques.

The Fairthorne Cottage Bed and Breakfast

phone: +1 609-884-8791

address: 115 Ocean St

Rooms with fireplaces, comfy linens and robes, feather pillows, whirlpool tubs, beach chairs and bicycles.

address: 725 Columbia Avenue

Victorian bed and breakfast just a few blocks from the beach. All rooms have private bath and are individually decorated and many rooms have fireplaces.

Peter Shields Inn & Restaurant

address: 1301 Beach Ave

The Peter Shields Inn is a 1907 Georgian Revival mansion, a Bed and Breakfast Diamond Collection boutique inn with 9 guest rooms, oceanfront views, a front porch, bike rentals, and a restaurant.

The Queen Victoria Bed and Breakfast

phone: +1 609-884-8702

address: 102 Ocean St

address: 901 Stockton Ave.

A classic cedar-sided Victorian Inn near the beach. Built in 1869, the Victorian Lace features 5 suites, 2 condos and a guest room. Comfortable and friendly, the inn is happy to welcome families with children. Open year-round, accommodations are air-conditioned, heated and offer kitchenettes. Special packages and mid-week rates available.

address: 623 Columbia Ave

Built in 1871 and open all year, this is a country Victorian B&B. The nine guest rooms are furnished in the period style, with private baths, flat screen TV's and I-pod docking stations. Full breakfast, afternoon tea, complimentary bikes and beach chairs are provided.
Splurge
Go next
Wildwood. The town on the other side of Cape May Harbor (up the peninsula) has a long boardwalk and several large areas with amusement park rides. There are at least four roller coasters. It all gets busy later in the evenings, especially on Friday.
The Cape May-Lewes Ferry takes about 75 minutes to go back and forth from Cape May and Lewes, Delaware. From there, you can drive or take a shuttle (check for availability) to Rehoboth Beach
Hereford Inlet Lighthouse - Head across the bridge to North Wildwood to tour this mid 19th Century lighthouse and learn a little about the shore's history. Surrounded by beautiful gardens, and only a short distance from the...
Wetlands Institute of Stone Harbor - Learn about the important residents of Cape May, like the Horseshoe Crab, the Red Knot or the Terrapin. Great for the kids.