Cape Winelands
The
Cape Winelands
are a region in the south of
South Africa
. The winelands boasts some of the most majestic scenery in South Africa. It is situated to the north-east of
Cape Town
and offers a beautiful landscape of wine hills and mountains.
Regions
null
on the edge of the
Cape Karoo
this is mainly an agricultural region but offers some of the country's finest passes
Other destinations
Understand
In 1652 the Dutch East India company established a refreshment station at the Cape of Good Hope aiming to provide fresh food to the company's fleet on voyages to India and surrounding areas. As a result of this trading station South Africa now boasts a flourishing wine industry and colourful, multi-cultural nation.
When the first settlers arrived, governor Simon van der Stel awarded them land where they could farm for their own needs. When more and more settlers from
Germany
,
France
and the
Netherlands
arrived - some of them experienced winemakers - they discovered that the hills in this region were ideal for growing vines.
Talk

As in much of the Western Cape, Afrikaans is commonly spoken, among people of all races. English is almost universally understood, though.

Get in
The Cape Winelands are easily accessible from Cape Town via car and tour bus. Trains run from Cape Town to Stellenbosch, Paarl and Worcester, but are infrequent. The main routes through the winelands are on the N1 and N2 highways.
Most of the major vineyards are centred on Paarl (on the N1) and Stellenbosch (on the N2). Many other smaller and interesting vineyards exist slightly off the beaten track. Almost all of the vineyards are clearly marked by wine route markers, and there are many organised bus tours through the major wine routes.
Most of the vineyards are open during the week and some on weekends. Wine tastings are offered as well as cheese at some cellars. There may be a small charge for wine tasting, however this is often discounted when purchasing wine from the cellar.

Get around
Public transport within the Winelands is limited to a few trains and buses between the main centres. To reach most of the vineyards, you'll either have to hire a car or take a tour. If based in Stellenbosch, you can also take the Vine Hopper minibus which picks up anywhere in central Stellenbosch and takes circular routes around 12 local vineyards (6 each on alternate days). Just get off the bus where you want, stay as long as you want, and get on a later bus to take you to the next vineyard or - if you've had enough daytime drinking - back to Stellenbosch. Tickets for the Vine Hopper cost R200 and are available from the Stellenbosch
Tourism and Information Bureau
or the larger hotels.
See
Do
Wine isn't the only reason for visiting the Winelands but for many visitors it's one of the major ones. There is a bewildering number of vineyards - over 150 in the Stellenbosch area alone. A good (but by no means complete) listing of them, with directions and links, is available on the
wine.co.za
website. Most vineyards are open daily (but only some on Sundays) and offer modestly-priced and generous tastings of their products (R30-60 per person for 5 or 6 small glasses is typical). Some - especially those in the Simonsberg and Helderberg areas - have stunning mountain locations or views. The larger ones may also offer snacks, picnics or full meals. The atmosphere is generally relaxed with no wine snobbery and certainly no pressure to buy. That said, the quality and price are so impressive that it's often hard not to (vineyard prices are usually a bit lower than SA wine shops and around a third of the equivalent price in the UK, for instance). But remember that the typical duty-free allowance is only 2 or 3 bottles, and while some vineyards and shops will arrange international shipping of larger quantities, you'll have to pay the customs duty on them.
Wine tours
Eat
A large number of the wine estates have restaurants on site. Most of these offer a variety of local and international cuisine. Some of the wine estates offer cheese, chocolate or biltong tastings in addition to the wine. Others offer picnic spots and house-made picnic baskets.
phone: +27 21 809-1133

address: Lynedoch Road (R310)

African (yes, the whole continent) styled restaurant and cooking, enjoyable.

phone: +27 21 843-3248

address: Baden Powell Drive (R310)

The main menu looks pretty simple with only 5 choices: poultry, fish, lamb, game and vegetarian. Though through communication with owner Micheal or his staff you will find out more. Ask Micheal to arrange a different glass of wine at each plate.
Drink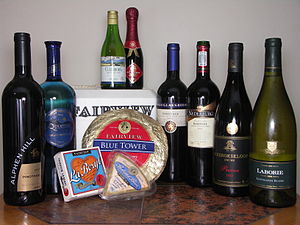 The fertile soil and Mediterranean climate of the Western Cape, makes the Cape Winelands one of the most renowned wine producing areas in the world. The Western Cape is also cooler than its position of 34º South of the equator might suggest, making the area ideal for growing a wide range of noble vine varieties such as Sauvignon Blanc, Chardonnay, Cabernet Sauvignon, Shiraz and Pinot Noir. The traditional wine growing areas along the coastal regions are seldom more than 50 km from the ocean and are exposed to cool breezes blowing in from the sea.
All the wine grape varietals cultivated in South Africa, belong to the Vitis vinifera species, originally brought from Europe. Unfortunately these European vines were susceptible to phylloxera and as a result many South African viticulturists these days often have to graft their vines onto American rootstock in order to resist the insect.
Although Cape Town and the nearby Boland basin is best known for its superb Bordeaux-style red wines, the wine-producing region of the province extends further north- and eastwards and has established itself as producer of world-class red, white, fortified and sparkling wines from a wide range of varietals.
Constantia
The oldest and one of the most famous wine farms in the area is Groot Constantia, which was granted to governor Simon van der Stel in 1685, by the Dutch East India Company. The estate is on the Southern Slopes of Table Mountain and is still world-renowned for its superb wines and breathtaking location. Its beautiful Cape Dutch homestead also forms part of the Iziko South African National Museums. The Constantia region also features such formidable estates as Steenberg well known for its Reserve Sauvignon Blanc and Semmilon while the nearby Buitenverwachting produces outstanding Chardonnay. Both estates feature award-winning restaurants.
Boland
From Cape Town, the Winelands spread north-east and eastwards to the beautiful Boland basin with Stellenbosch, Paarl, Franschhoek and Wellington being the most prominent producers. Some of the oldest wine farms in South Africa are situated in and around the beautiful Cape Dutch village of Stellenbosch, which at over 300 years old, is the oldest town in the country. Although the area hosts an endless amount of superior wine estates, well-known farms towards the east include the Shiraz and Port producing Alto; the prolific Blaauwklippen estate which produces one of the only Zinfandel's in the region; the red wine producing Delheim; the famous Lanzerac estate and hotel; the prominent Middelvlei; the international award-winning red wine producing Rust en Vrede estate; Vriesenhof with its outstanding white wines; the exclusive Engelbrecht Els estate and the beautiful Tokara with its adjoining restaurant managed by famous local chef and saucier Etienne Bonthuys.
Towards the west of the town there's the well-known Beyerskloof, famous for it's award-winning Pinotage; the superior sparkling wine producing House of JC Le Roux, the scenic Meerlust estate with its legendary Rubicon blend; the family-run Overgaauw; the "Cap Classique" producing Villiera and Zevenwacht estate. The
wine route
around Stellenbosch offers close to 200 wineries to visit.
The nearby Franschhoek, which translates as "French corner" also boasts some of the country's oldest estates: The beautiful Boschendal with its typical Cape Dutch homestead; Cabriere Estate with its flagship range of Pierre Jourdan "Methode Cape Classique" sparkling wines; Graham Beck with its signature Brut Blanc de Blanc sparkling wine and Rhona Muscadel; and the beautiful
La Motte Wine Estate
which produces outstanding Shiraz.
Overberg
On the otherside of the Franschhoek and Hottentots Holland mountain ranges, the Overberg region includes quaint villages such as McGregor, Montagu and Robertson - the latter boasts the De Wetshof estate, owned by the prolific Chardonnay producer Danie de Wet, while the nearby Hemel-and-Aarde valley close to Hermanus is home to such spectacular wineries as Hamilton Russel with its well-known Pinot Noir and the legendary Bouchard Finlayson.
Swartland
North of Cape Town, the predominantly wheat-producing Swartland region includes the fructuous Riebeek valley, well known for its Shiraz wines and olive farms. This region hosts such prestigious estates as Kloovenburg, Allesverloren and Twee Jonge Gezellen, as well as the larger co-operative wineries such as Riebeek Cellars, Swartland Cellars and Darling Cellars, extending further east, towards the Hexrivier Valley at De Doorns and north towards the Olifants River valley close to Citrusdal and the fruitful Orange River Valley near Upington in the Northern Cape.
Famous wine estates
phone: +27 22 461-2320

phone: +27 21 794-5128

One of the oldest wine estates in South Africa

phone: +27 21 807-3264

address: Paarl

Marketed by KWV.

phone: +27 21 876-3119

address: Main Road, Franschhoek Valley

phone: +27 21 843-3587

phone: +27 21 862-3104

address: Nederburg Wines, Sonstraal Road, Daljosafat, Paarl

phone: +27 21 874-1071

address: On the R45, just south of Paarl

Rhebokskloof

phone: +27 21 869-8386

address: Paarl

phone: +27 21 809-1200

phone: +27 21 881-3881

phone: +27 21 847-1334

address: Lourensford Road, Somerset West

phone: +27 21 874-1611

address: Intersection R45 & Klapmuts Rd, Simondium, Western Cape

VnL is a modern wine farm with stylish accommodation.

phone: +27 21 885-2580

address: Banhoek Valley, Helshoogte pass, Stellenbosch

phone: +27 21 903-5123

address: Langverwacht Road, Kuils River

Has onsite 4-star accommodation and a restaurant.
Sleep
phone: +27 21 794-4500

address: 24 Hohenort Avenue 7806, Constantia, Cape Town

Upmarket bed and breakfast.

phone: +27 23 342-4791

address: 8 Distillery Road, Worcester, South Africa

With the beauty of the surrounding mountains and countryside as a backdrop, their self-catering units is a springboard for your daily trips to explore the area.

Excelsior Manor Guest House

phone: +27 23 615-2050

Situated along Route 62 is restored "feather palace" farmhouse, set amongst the vines of the Breede River Valley. Rate from R565pppns.

phone: +27 218680227

address: in the Olive Valley

Hotel and spa, 5 km from Nederburg Wine Estate and Ashia Cheetah Sanctuary.
Stay safe
Safety is not as much an issue as in other parts of
South Africa
, but that does not mean that you should leave everything lying around openly. Simply use all normal precautions you would also use at home.
Go next