Capital District
New York
's
Capital District
is centered on the state capital of
Albany
,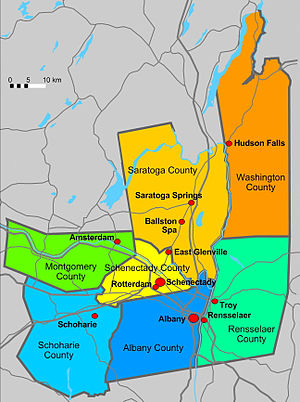 Understand
The region covers the following counties
Albany County - The state's capital city and its suburbs in the east; still rural in its west
Montgomery County
Rensselaer County - Little suburban sprawl and much rural land and small towns in this direction as you head from Troy and Rensselaer to the Berkshires and Vermont
Saratoga County - Development in the Albany area has made this the fastest-growing county in the state; still, the northern regions remain largely untouched, especially within the Adirondack Park
Schenectady County - A city with a few suburbs and some country towns
Schoharie County — A rural county that features natural attactions, especially Howe Caverns
Washington County - Feels like a little piece of neighboring Vermont that is still part of New York
Cities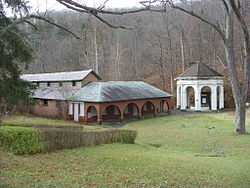 - The state capital, with many attendant sights and attractions.
- A grand old dowager of a resort town on the edge of the Adirondacks, this city comes alive when the thundering hooves of three-year-old thoroughbreds hit the track every August for a month of racing culminating in the Travers Stakes
- The stamp of General Electric, which still operates its landmark research facility near downtown, remains on the Capital District's second city, also home to Union College.
— A rejuvenated former spa town made semi-famous by its connection to the 'Fabulous Beekman Boys'.
- The combination of a well-preserved and restored downtown and tech startups feeding off of nearby Rensselaer Polytechnic Institute has led to the nickname "Silicon Valley of the 19th century."
Get in
By air
phone: +1 518 242-2200

address: 737 Albany Shaker Road,

Albany

An international airport due to a handful of flights from Canada. Several expansion projects since 1995 have transformed this formerly spartan little airport into a very attractive port of departure/arrival. Airlines that operate are American, Delta, Southwest, United, Air Canada, and Cape Air.

phone: +1 845 564-2100
By train
AmtrakStations in Rensselaer and Schenectady. Trains serving the stations include the Maple Leaf (New York-Toronto), the Adirondack (New York-Montreal), Empire Service (New York-Niagara Falls), the Ethan Allen Express (Rutland-New York), and the Lake Shore Limited (Chicago-Buffalo-New York/Boston).
By bus
By car
Get around
Bridges
See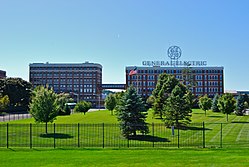 Thacher State ParkA nearly 2,000-acre park about a 25 minute drive southwest of Albany. It's on the Helderberg Escarpment (an escarpment is a cliff or steep slope, and the Helderbergs are a group of mountains and hills west of Albany) and has some lovely trails, an Olympic-sized pool, playgrounds, lots of areas for picnics (including reservable outdoor pavilions) and great views of Albany and the Hudson-Mohawk valleys.
Do