Caral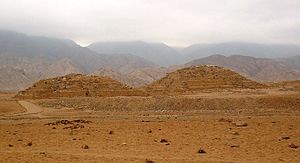 Caral
is in
Central Coast
of
Peru
. It's been inscribed on the
UNESCO World Heritage list
Understand

The Sacred City of Caral-Supe is the oldest civilisation found in South America, dating from roughly 3000 B.C. about the same age as mesopotamian and Egyptian civilisation.
As of nov 2012, most tourists are Peruvians.
Near the reception of the site, there is a center of interpretation but text is Spanish only. Else most signboards and explanation boards of the site are both Spanish and English. The site is mostly made of about 18 ruins of pyramids and other buildings.

Get in
Full-time transport there is about 5–6 hours one-way, especially if going by public transport.
By car
Follow 'Carretera Panamerica Norte' until km 184, turn a bit before Supe to Caral. After you have about 23 km to Caral and a bit after to the archeological site.
By public transport
To get in yourself, take a bus towards
Supe
(or
Barranca
) with one of the following:
Turismo Barranca

phone: +51 7810551

address: Av Abancay 900, Centro Historico, Lima

phone: +51 4236338

address: 251 Javier Luna Pizarro, La Victoria, Lima
If you need to spend a night, Barranca is probably the easiest place to do so. If not, ask to get out at Supe, some 12 km before Barranca.
From Supe (near Mercado) you will need to catch a combi to Caral (23 km, road much better than it used to be) for about 4 soles to Caral village or 7 soles to archeological site bridge. If you are on budget, from village, there is only 3 km to the site (half to the bridge, about 15min walk twice depending on your conditions). Note than, as usual, combi/shared taxi leaves only when full enough (usually 4 to 5 passengers), expect about half-hour maximum wait most of the time. Else, you can ask for a taxi, eventually asking it to wait you or ask "Cabito" transport company (just near Turismo Paramonga shop) to give you ride (~20 soles/pers for at least 4 pers, 50 soles for 1 pers) for both-way.
It doesn't seem to be a lot of traffic to hitchhike there. You can't easily reach Supe from north, Trujillo. All bus go direct from Trujillo to Lima. Only option seems to stop in
Chimbote
and go for local bus to reach
Barranca
and next
Supe
.
By tours
Tours leave from Lima on weekends only, but the trip is around 3 hours each way by tour (longer as independent) and makes for a long day. These buses usually come in from the highway turning off at Vegeta.
Archeological site organized visit for about 90 sol from 'Puerta principal del Museo de la nacion (Av Javier Prado Este 2465, San Borja, East of San Isidro). see website (Spanish only) for more.
Get around

There are other archeological sites around that you can visit too if you are on a tour or with your own vehicle.

Do
Ciudad sagradaVisit is usually between 1 to 3h. You must be always accompanied either by a guide or somebody of the stuff to ensure respect of rules and preservation of the site. Note than geoglifo/chupacigarro area is not opened to visitors.
Eat

There is little food stalls or shop on archeological site (at reception and near the bridge), more on week-ends than during week.
Caral has few places to eat and some street stalls. Supe has a small market.

Sleep

Options are limited but it seems possible to sleep in Caral (but probably limited choice and not any kind of budget). Supe is said to be avoided. Else It's better to stay at Barranca.
If you are not sleeping around, there is no given place to store luggages. You can ask at bus counter or archeological site entrance if possible to keep bags if needed.

Stay safe

Caral is in a green area but archeological site is in a desert one and can be very sunny. It's advised to have water, hat and sunscreen.
Outside of reception, there is no shelter to rest or get some shadow, so be prepared.

Go next