Carbondale (Illinois)
Carbondale
, Illinois, is a small city of about 27,000 in
southern
Illinois
about 14 miles (22 km) east of the
Mississippi River
at roughly the southern edge of the plains, and the northern limit of the Shawnee hills. The surrounding area boasts some pleasant countryside, particularly in the
Shawnee National Forest
preserve.
The town hosts the main campus of
Southern Illinois University
.
Get in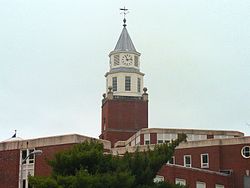 By train
Carbondale is served daily by
Amtrak
's The Saluki, Ilini, and City of New Orleans trains to and from Chicago (with intermediate stops, e.g., at
Champaign-Urbana
), and
New Orleans
(stops in
Memphis
and others).
The Saluki train departs Chicago at 9:15AM and greets Carbondale at 2:45PM (on the reverse it leaves Carbondale at 7:30AM and arrives to Chicago at 1PM). Illini train usually departs in the afternoon around 4PM and arrives at 9:30PM (same on reverse), but the New Orleans southbound to Memphis and New Orleans (leaves Chicago at 8PM) doesn't arrive until 1:20AM, and the northbound to Chicago doesn't arrive until 3:10AM (arrives Chicago 9AM).
By bus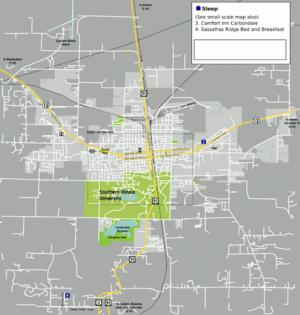 Greyhound
has a station across the street from the train station.
Amtrak
also runs a regular express bus to
St. Louis
, Missouri, which leaves from the train station at (ugh) 4AM.
By car
Carbondale sits at the crossroads of Illinois Highway 13, and U.S. route 51. Most visitors who drive in will arrive via IL 13 from Marion, where it intersects with Interstate Highway 57. Another much more scenic option for those driving from
St. Louis
, Missouri, is to take IL 3 South to IL 149 East, which intersects with IL 13 in Murphysboro (look for an exit just on the Illinois side of the Poplar Street bridge.) Highlights include the picturesque Mississippi river town of Chester, Illinois, and the many bluffs which offer fantastic views of the river.
By plane
Lambert Field in
St. Louis
(
STL
) is the closest major airport, with flights to and from most destinations in the U.S. and a few international destinations. From there BART Airport Shuttle, +1-800-284-2278, provides door-to-door service to Carbondale, and other destinations in Southern and Central Illinois for around $50. Call for a quote.
Flights from St. Louis arrive at Williamson County Airport (MWA) (four flights daily, each way), which is also served by BART.

Get around
On foot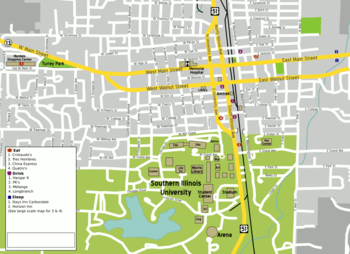 Most of what's interesting in Carbondale is within walking distance of the center of town (Main and Illinois), at least for most fit travelers. Generally however, sidewalks are most reliably available and intact within the center city between Oakland Avenue on the west and Wall Street on the east, including the SIU campus of course, which with its many well-tended and winding paths, grassy knolls, several woods, and a lake is an urban hiker's bonanza.
By bus
Saluki Express. +1 618 453-5749. The SIU Student Center operates a bus system with 9 regular routes operating whenever classes are in session. There is also late night service and a special intersession service. Tickets cost $1 for the general public, and passes are available starting at $13 per month. SIU students ride free.
By taxi
Ace Taxi, 800 E. Walnut St., +1 618 549-8294. Bright green cabs with fast service and a wait time usually around 10 minutes. They accept credit cards which is really convenient. The drivers are really nice and wear uniforms. The cabs are hands down the nicest in the area as they are clean inside and even smell good. Also they do not make you ride with strangers.
Yellow Cab, 215 S. Illinois Avenue at Walnut Street. The cab stand is only a block or two from the bars and restaurants of Illinois Avenue and downtown, but you could wind up waiting there for a while if all of the cabs are out. Cabs tend to be dirty and poorly kept. Don't be surprised if you end up sharing the cab with strangers - unlike most urban taxi companies, Yellow Cab will take multiple passengers on a single trip.
By car
Driving in Carbondale is pretty straightforward, with only a couple of instances of one-way streets (Main St. West-bound, Walnut St. East-bound, Illinois Ave. North-bound, and University Ave. South-bound).
The biggest hassle for drivers is the difficulty of parking anywhere near the SIU campus when classes are in session. Most spaces on campus require a special sticker which are available to older students or to staff or faculty. A few spaces are reserved strictly for visitors, however the best advice is probably not to bother, since there are ample parking spaces a few blocks away in town, and the walk is generally quite pleasant.
By bike
There are bicycle lanes on many of the bigger streets throughout town, and the smaller streets are generally quiet enough that even the least experienced urban cyclist should feel completely safe. The latter is especially true in the western (mostly faculty inhabited) parts of town. The City of Carbondale prohibits cyclists on city sidewalks.
If you feel like taking a longer ride there are ample opportunities around Carbondale, especially to the east and west. Try riding Grand Avenue toward Crab-Orchard lake (take a little jog to the right at Giant City Road). Illinois Highway 13 leading west from Carbondale to the neighboring city of
Murphysboro
is surprisingly bicycle friendly: the shoulder is paved and the width of a full traffic lane. The whole trip center-to-center is about 7 miles, but with the growth of the incorporated parts of the two towns it's only about 1½ miles between the two city limits.
See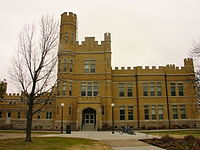 Buckminster Fuller House

Old Carbondale Station

SIU Campus
Do
phone: +1 618 453-2000

address: 170 Boydston Center

SIU's sports teams are a popular diversion in town and throughout the region. SIU is a member of the Missouri Valley Conference for most sports; its football team is in the Missouri Valley Football Conference (which is a separate organization, despite the similar name). The main venues, most notably SIU Arena for basketball and Saluki Stadium for football, are on campus. SIU is an NCAA Division I member, but the football team is in Division I FCS, a step below the much bigger programs in Division I FBS. However, an advantage of this is that tickets can be easier to get (and cheaper) than at higher-profile schools.
Evergreen Park
Turley Park
Buy
Walk the Line Women's Shoes and Accessories

address: 703 S. Illinois

Since 1994, which is a lifetime for a C'dale retail store. Tiny, funky and fun. Best jewelry selection in Carbondale. Comfortable, unconventional women's shoe brands like Berne Mev, Azaleia. Great postcards and oddities, sock monkeys and gifts. Hours vary, as the eccentric but sweet owner freely admits she has no work ethic, so call first.
Eat
New Kahala Chinese food at 606 S. Illinois Ave. It's right in the middle of town. Easy access, great food, great prices. For the quality and price, no other Chinese place in town comes close.

El Bajio

address: 1010 E. Main Street

China Express

address: 901 S. Illinois Avenue

Good, cheap Chinese fast food, directly across from campus. They don't put MSG on the food, but do keep a jar on the counter if you happen to want it. $4-6.

China Wok

address: 883 E. Grand Ave

China Wok offers better food than China Express, for those willing to travel a mile off campus.

phone: +1 618 993-3906

address: 1807 W Main St

Don Taco

address: 600 E. Grand St

And 606 S. Illinois Ave. Cheap Mexican food real cheap, eat dinner for 3 bucks!

address: 717 South University Avenue

Open Tuesday-Saturday at 4PM. Eclectic dining for the frugal gourmet. A popular hangout for SIU faculty and locals. Lamb chops on the menu most of the time. A short walk to Shryock Auditorium.

Great Wall Chinese Super Buffet

address: 1285 E. Main St

All-you-can-eat Chinese food.
El Greco Best gyros and fried mushrooms in town!!

Global Gourmet

address: 102 E. Jackson Street

The quality you would expect in a one of the best restaurants of a major city. New menus daily, and creative deserts as well.

Happy Reunion

address: 1901 W. Main Street

Harbaugh's Cafe

address: 901 S. Illinois Ave

Solid, not too-greasy greasy spoon. Very popular with locals.
Hunan Excellent Chinese food. They do not deliver.
Italian Village Known for their meatball sandwich.
Jewel of India Indian restaurant. Does not accept credit cards

Kaya Korean and Japanese Restaurant

address: 817 S. Illinois Ave

La Bamba's

Longbranch Coffee House Offers an all-vegetarian breakfast, lunch and dinner. The food is hit and miss and the service is slow, but very popular with locals and older students.

Mary Lou's Grill

address: 114 S. Illinois Ave

Very homey breakfast joint. If you like biscuits and gravy, this is your place.
Mississippi Flyway Great if you enjoy dining under the dusty, but watchful eyes of deceased animals.

Pagliai's

phone: +1 618 549-5326

address: 218 W. Freeman (at University)

Carbondale is a college town, and as you would imagine it has its share of pizzerias. Quatro's is a standout in part because of the unique quality of their pizza dough, which is made with brewers yeast -- legend has it that the yeast is obtained through some special deal with a St. Louis brewery. $4-12.

Sachi Japanese and Asian Cuisine

address: 227 W. Main St

Thai Taste

address: 100 S. Illinois Ave

The only Thai restaurant in Carbondale.

Tres Hombres

phone: +1 618 457-3308

119 N. Washington. 11AM-10PM (lounge open until 2AM every night). Good Tex-Mex standards, including a vegetarian burrito. Great value in food and drink. The lounge offers a bit more swank than the average collegiate joint. On weekends they feature live music, usually a local blues band. $12–18
Drink
address: 511 S. Illinois Avenue

Open most evenings 6PM-2AM during University sessions. The Hangar has been presenting live music for the last ~9400 days (according to their website). Once known as a jam-band haven, the music calendar has become more eclectic since the early to mid-1990s, booking punk rock, ska, and other live acts. $1.50-3.50 draft beer.

phone: +1 618 529-1124

address: 308 S. Illinois Avenue

Open most evenings 6PM-2AM during University sessions. This is a real tavern for people (over 21) who like real taverns. The crowd is a mix of locals and students who are quickly on their way to becoming locals. Live music (usually blues, but sometimes something quite a bit stranger) is programmed most evening weekends. $1.25 draft beer (Tuesday nights are $0.75 draft nights and Thursday is $1 day draft and rail.).

Mélange

address: 607 S. Illinois Avenue

Mélange is a quiet little spot for a cup of coffee or a glass of wine, especially in the afternoon. They have a good wine selection. Meanwhile there is also a selection of 10 micro-brewed and imported beers. $2 coffee $4-5 wine and beer.

Longbranch Coffee House

phone: +1 618 529-4488

100 E. Jackson. A great place to sit down with a big cup of coffee and a good book. They also offer a range of snacks and desserts, juices and smoothies. Lots of vegetarian and vegan options, as well as organic stuff.

The Cellar

address: 101 W. Monroe Street

21 and over. This bar is the kind of place you don't find unless you're looking for it. popular among grad students, The Cellar features many TVs. Their signature drink is the bloody mary.

Pinch Penny Pub

address: 700 E. Grand Avenue

Featuring an extra-large beer garden complete with fire-breathing dragon, this bar is a favorite of local college students.

phone: +1 618 457-7599

address: 610 S. Illinois Avenue

Sidetrack's was formerly located at 101 W.College Street, rebranded as "Traxx" and relocated to 610 S. Illinois Avenue in 2017. The new location is about 100 meters from the original, and across the street from the railroad tracks serving Amtrak and various freight trains, open daily 'til 2AM. A former line dancing bar, Sidetracks offers a unique atmosphere. From the picture frames dominating the inside walls filled with pictures of former employees, to the railroad artifacts scattered around. Hosts live DJs and live bands, and is considered a significant hang out for the SIU Rugby men's and women's teams. Keep a look out for Rugby Tournament weekends, which will draw dozens of teams from all over the nation, but also SIU alumni.

Gatsby's II

address: 610 S. Illinois Avenue

This basement bar features a large room with many pool tables as well as a popular dance bar in an adjacent room. Popular among college students, especially those in SIU's fraternity/sorority crowd.

Crown Jewel Lounge

address: 2400 West Main St

A treasure that requires no digging, just a drive to the west side of town. Virtual World Promotions books local bands for shows every Saturday night. They have insanely cheap drinks and a great atmosphere. Their website is: www.myspace.com/royalplaza
Sleep
Most Carbondale hotels are on Main Street (Illinois Highway 13) at either the extreme east or west edges of town. This doesn't make for the easiest stumble home from say, South Illinois Avenue, but there's always the cab company, or Lyft or Uber.
Train Inn Carbondale

address: 406 E. Stoker St

Surrounded by SIU property, within a one-minute walk of the Rec center, and four minutes walking to downtown or Pinch Penny. The food is great and the historic house is a City of Carbondale landmark.

Days Inn Carbondale

address: 801 E. Main St

Comfortable and friendly, within ten minutes of downtown walking, and 20 minutes of campus.

Horizon Inn

address: 800 E. Main St

Comfortable and friendly, within ten minutes of downtown walking, and twenty minutes of campus.

Comfort Inn Carbondale Hotel

address: 1415 E. Main St

3 miles from Southern Illinois University and walking distance from the city's best restaurants. If you are looking for an exciting nightlife, that is also just minutes by taxi from the hotel.

Sassafras Ridge Bed and Breakfast

phone: +1 618 529-5261

382 Fawn Trail. A bit further out (5 miles south of town/campus), but probably worth it for car-equipped travelers who are mainly visiting for the scenery.
Hampton Inn

address: 4760 Springer Ridge Road

Three cabins by two ponds. A mile south of campus (SIUC). Affordable rates and wooded setting.

address: 300 Freeman

11 850 sq ft suites, with private baths with jacuzzis, king beds, kitchenettes, suites along the Shawnee Hills Wine Trail, Shawnee National Forest, and south of Carbondale.
Go next
Makanda
Crab Orchard Lake
Cedar Lake
Little Grand Canyon