Caribbean West
The Caribbean West region of
Panama
includes all of
Bocas del Toro
province and
Ngöbe-Buglé
province as well as the northern portion of Veruguas province.
Cities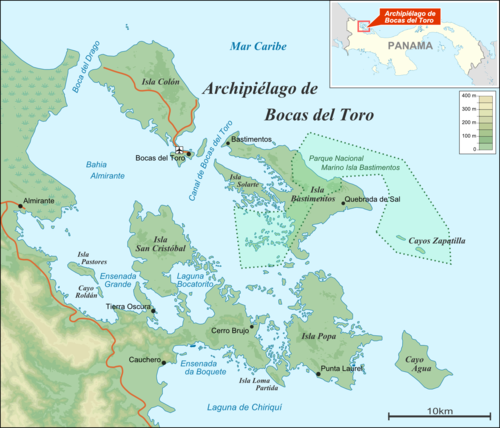 – The biggest town on Isla Colon and party capital of the region. Bocas del Toro offers diving, beach horseback riding and lots of beaches.
– A large town on the mainland.
– A port town on the mainland and where all ferries leave for the islands around Bocas del Toro.
– The border town where you can immigrate into Panama from Costa Rica.
Other destinations
- a beautiful island with secluded surf beaches and a small walking only village
- a small island with a beach and some accommodation opposite Boca town
- a nature filled island
- the second largest island in Boca del Toro
- a remote National Park on the mainland
Understand
Bocas del Toro Province is centered around the water. Much of the hinterland of this Province is difficult to access.
Hispanic influence in Bocas del Toro Province is weaker and much more recent than in the rest of Panama. The native Ngöbe and Buglé people still make up a large portion of the population. Descendants of 19th century immigrants from Jamaica make up another large segment of the population of the Province. These two cultures plus Hispanics from other parts of Panama all give the Province a lively cultural diversity.

Talk

English is widely spoken along much of the Central American coast, and Panama is no exception. The locals of Bocas del Toro are descendants of West Africans caught in the slave trade and speak English. One might also notice the mixture of several tongues in the Creole that the natives speak amongst themselves. As in the rest of Central America, note that English is more spoken on the Caribbean side than the Pacific side.

Get in
There are two
road
routes into Bocas del Toro Province, one over the lush, jagged mountains from Chiriqui, the other from the Caribbean coast of Costa Rica.
Buses
travel both of these routes. If you are traveling from Costa Rica, take the bus to the border.
By bus
In David terminal look for buses to
Changuinola
and ask a driver to stop in Almirante (
$
9 / 4 hr). In Almirante take a taxi ($2) or walk (1.6 km) from bus stop to water taxi and then $5-6 boat to
Bocas del Toro
. Most of buses are small coasters and they will make a short stop for bathroom breaks and food near Rambala in Bocas del Toro province.
By plane
There are as well several flights into
Bocas del Toro (town)
from
San Jose
,
Costa Rica
and
Panama City
.
From Costa Rica
Option 1
From the border in Panama (closes at 6PM Panamanian Time and 5PM Costa Rica time as there is a time difference!) you can take a mini bus(US$10) to
Almirante
and a 25 min boat from there to
Bocas town
(US$6).
Option 2
Take a local Bus to
Changuinola
and a taxi to the docks and then the 1 hour / US$7 boat to
Bocas del Toro (town)
or a Minibus for US$5 from the border straight to the docks of
Changuinola
. As of 11/08 the water taxi route has been closed. As of May of 09 there has been no word on reopening this route. All water taxi service is from Almirante.
Option 3
The cheapest way is probably going with the chicken bus (leaves every hour/US$1) to Changuinola, take a regular bus to Almirante (~US$1,50 / one hour), then taxi (US$2) or walk (1.6 km) from bus stop to water taxi and the US$6 boat to
Bocas del Toro (town)
Get around
Water taxis travel to Bocas del Toro town from both Changuinola and Almirante. Almirante is the quickest route, but the boat to Changuinola travels the route of an old canal and is a fun ride. As of April 2010, the canal route from Bocas Island to Changuinola is still closed.
Otherwise, you can go by thumb, bus or taxi ... in the order of cost.
See
Rent a good bike and take a day trip to the other side of the main island to Bocas Del Drago. There is also a taxi shuttle that runs if you get too tired along the way. However, make sure you do not travel alone, especially if you are a woman!
Rent a bike and take a day trip to Bluff Beach, the most spectacular beach of Isla Colon. When you arrive at the "Y". after you left town, stay to the right and follow the coastline. The road has been fixed and it is a very pretty ride. Approximately 7 km from town to the Beginning of Bluff Beach. Bluff Beach itself is another 7 km of relatively deserted while sand beach where Leatherback turtles nest starting April. You can also take a taxi to Bluff Beach. Cost is approximately $10/way
Go snorkeling or scuba diving. There is a good chance you will see a reef shark!
Red Frog Beach- only $5 for a round trip on a water taxi. It is an absolutely gorgeous white sand beach, that usually has fewer than 10 other beachgoers present. $5 is the MINIMUM price for a water cab and there is a $1–2 entrance fee to access the beach.
A cheaper alternative to Red Frog Beach is Wizard Beach on the island of Bastamentos which is a $2–3 round trip ride form Bocas Town, the water is a little rougher (good for bodysurfing) and it takes a 20 min. hike but it's worth it. The island of Bastamentos itself is a funky Caribbean island and a great place to get real "roots" food.
The Bat Cave- only $1 to enter and you walk through water while looking at tons of bats clinging to the ceiling.
Dolphins!
Do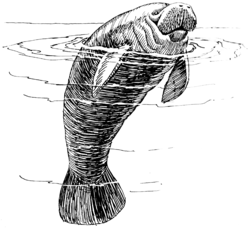 phone: +507 66797238

address: Puente San San S/N, Carretera Guabito, Changuinola

Head to the AAMVECONA headquarters, but call them for a reservation. The tour is about 2.5 hr and travellers seem happy about it.
General
Bocas del Toro has great beaches on the Caribbean
Diving and Scuba
Surfing
Boating
Fishing
Snorkeling
Yoga
Eat
True to the history of the region, the food of Bocas del Toro has a lot more Caribbean influence than the rest of Panama. For one thing, you will find coconut used a lot more here than in other parts of Panama. While there are places you can find more traditional food (platos típicos), for the most part the majority of restaurants have American style dishes (pastas, pizza, sandwiches, etc...).

Drink
Local beers include Balboa, Panama, and Atlas.

Sleep
Look at local guides for accommodation listings.
address: Isla Popa

Urraca Private Island, in the heart of the Caribbean, is perfect if you're looking for paradise and history. This island where Mangroves, are surrounded by agreen-hued sea, with nourishing marine plant life, phosphorescent waters and protective coral reefs, will offer you a panoramic view of the Cayos Zapatillas, a site much treasured by true lovers of natural beauty. Is nearby a community of Ngobe Indians.