Carleton Place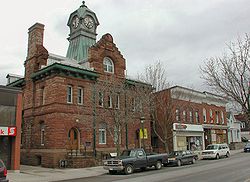 Carleton Place
is a town of about 10,600 people (2016) in Lanark County, midway between
Smiths Falls
and
Ottawa
. It is just outside of the Ottawa municipal boundary, and has become a suburb of that city.
Understand
History
The town sits on the edge of a large limestone plain, just south of the edge of the Canadian Shield in the deciduous forest ecoregion of North America. Carleton Place was first settled by Europeans when British authorities prompted immigration to Lanark County in the early 19th century. The Morphy and Moore families were among the first to arrive. Edmond Morphy chose the site in 1819 when he realized there was potential in the area waterfall. He built a mill there and was the first of many such textile and lumber industries to reside in the area. The settlement was then known as Morphy's Falls. In 1829, the area was renamed Carleton Place, after a street in Glasgow, Scotland, when a post office was constructed. It became a village in 1870, and a town in 1890. The community's economic growth was enabled by the construction of the Brockville and Ottawa Railway later in the century. The town was also renowned for its access to Mississippi Lake, and had steamship service to Innisville on the west end of Mississippi Lake between the 1860s and 1920s. The river led to the development of the Ottawa Valley Canoe Association in 1893, which still exists as the Carleton Place Canoe Club. The town received further recognition when a World War I fighter pilot, and town resident, Captain Arthur Roy Brown, made history by shooting down the Red Baron.

Get in
Carleton Place is at the junction of Highways 7 and 15.
phone: +1 613-257-4002

address: Baron's Motor Inn, 10451 Highway 7 K7C 3P2

Ottawa-Peterborough-Toronto and Ottawa-Smiths Falls-Kingston-Toronto intercity bus.
Get around
There is no public transit in Carleton Place.

See
address: 1158 Gillies Corners Side Rd

The Canadian weather radar network consists of 31 weather radars spanning Canada's most populated regions. Their primary purpose is the early detection of precipitation, its motion and the threat it poses to life and property. Each has a range of 256 km (159 mi) in radius around the site to detect reflectivity, and a range of 128 km (80 mi) for detecting velocity patterns (Doppler effect). This particular radar covers Eastern Ontario and Western Quebec. It is impossible to visit the premises of the radar, but the radar is visible from the gate. 5-10 minutes will suffice to visit.

Carleton Place and Beckwith Heritage Museum

phone: +1 613-253-7013

address: 267 Edmund St

Showcases the history of Carleton Place. Home to the Victoria School Gardens.
Do
Mississippi Lake National Wildlife Area

address: Concession Road 10B

Sanctuary for migratory birds, so public access is seasonal (outside migration season) and limited. Day use on designated trail (hiking, wildlife viewing, photography), recreational boating (personal watercraft) and fishing (no lead sinkers) in McIntyre Creek, McCoy's Creek and McEwen Bay. No public access September 15th to December 15th, except for boat launch on McIntyre Creek to access the Mississippi Lake.

phone: +1 613-867-3909

address: 717 Lake Park Rd,

Stand-up paddleboarding, kayaking & canoeing, boat tours & water sports, tours, outdoor activities. Lessons and rentals.
Buy
phone: +1 613-253-2307

address: 10 High St

The local craft brewery.
Eat
phone: +1 613-257-7595

address: 73 Bridge St

Small main street restaurant, breakfast and various menu choices.

phone: +1 613-492-0860

address: 132 Bridge St

Casual fine dining.

phone: +1 613-257-7284

address: 31 Bridge St

A 28-seat café. Reservations by phone recommended.
Drink
phone: +1 613-257-7530

address: 111 Bridge St

Irish-style pub.
Sleep
phone: +1 613-257-4002

address: 10451 Highway 7

5-piece shower, air conditioning, coffee maker, Wi-fi, mini fridge, non-smoking, television, DVD player.

phone: +1 613-492-1566

address: 7 Bridge St

Gourmet fine dining restaurant, free on-site parking, free Wifi, 5-star customer service, continental breakfast.

phone: +1 613-257-5666

address: 10470 Highway 7

Free parking, High speed Wi-Fi Internet, satellite LCD TV with over 500 channels, small but convenient refrigerator, microwave oven, coffee maker.
Go next