Carmel (California)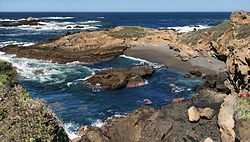 Carmel-by-the-Sea
, often called just
Carmel
, is five miles south of
Monterey
city in the
Monterey Bay
region of
California
.
Understand
"Go ahead, make my day."
Hollywood actor Clint Eastwood served one term as mayor of Carmel, from 1986 to 1988.
Carmel is a beautiful oceanside town on California's
Highway 1
, complete with dramatic views, white beaches, friendly locals and great food. A mostly upper-class destination for adults, the town itself is small – you can walk across the main part in five minutes – but filled with art galleries, cafes, restaurants and inns. Every evening, visitors gather on the pristine beach to watch colorful sunsets. Carmel's rocky coastline is picturesque but dangerous for boats, so unlike most coastal towns in California, it was never a good base for fishing. After the 1906 earthquake in San Francisco, it became famous as an artist colony, and there are still several dozen art galleries in town.
Temperatures in September are perfect: 70-80°F (21-27°C) during the day and 50-60°F (10-16°C) at night. Bring sweaters and dress in layers for all-day activities.
Ocean Avenue
is downtown's main street, sloping from the highway down to the beach, with many shops, coffee houses, and galleries.
Scenic Drive
meanders along the curve of the beach. A packed dirt path along the roadside is a favorite with local joggers and dog-walkers. The town is especially dog-friendly with many lodging and dining accommodations welcoming the canine guests.
Carmel Valley
is formed by the Carmel River, flowing some 20 miles from the Santa Lucia mountains to the Pacific Ocean. The town of Carmel Valley is located 12 miles inland from Highway 1, on Carmel Valley Road. Quite often when Carmel-by-the-Sea is fogged in, Carmel Valley is sunny and warm.
Get in
By car
By
Highway 1
south from Monterey or northwards via
Big Sur
.
By bus
Take
Monterey-Salinas Transit
buses from
Monterey
.
By train
Amtrak's
Coast Starlight
stops in nearby
Salinas
. Amtrak runs a bus service from the station to Carmel with stops in
Monterey
in between. The train can be slow and is often delayed. The food is okay, but sometimes limited so you might want to bring your own food or snacks.
By plane
Nearby
Monterey Airport
(
MRY
) offers connecting service through a number of different airlines. The airport also handles a large volume of private air traffic. San Jose Airport (SJC) is about a 90-minute drive away, but it is larger and usually has much cheaper flights.

Get around
There are no street numbers for homes or businesses in the main part of the town. Directions are given by street name and the nearest intersection.
There are almost no street lights at night, and the signs for restaurants and other businesses are not brightly lit.
The downtown area and nearby beach can be seen on foot, but a car is needed to explore the coastline. Street parking is generally free for a couple of hours at a time. There is also a garage at Carmel Plaza (Ocean and Junipero). Many hotels offer parking spots to guests, but be prepared for a tight squeeze. Scenic Drive sometimes yields surprisingly convenient (and free) parking spaces.
Bicycling is an option but should be undertaken with care, as many of Carmel's streets can be hilly or windy, or leave little room to pass.
There are a few
local buses
, but routes run primarily between Carmel and Monterey, rather than around Carmel.
See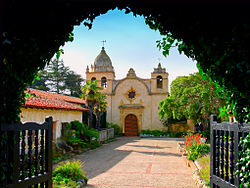 Mission San Carlos Borromeo de Carmelo

phone: +1 831 624-1271

address: 3080 Rio Rd

One of the 21 California missions established by Father Junipero Serra along the coast of California. Established in 1771, it is considered to be one of the most beautiful of the missions. Father Serra, the leader behind the greater Spanish mission to California, is buried along with his most faithful lieutenant at the front of the church. During the lifetimes of Father Serra and Father Fermin Lasuen, it was the headquarters of the mission system from 1771 until 1833. Self-guided tours take you through the remaining original buildings which now hold exhibits, a small museum, and a gift shop. Catholic Masses occur regularly. Keep in mind that the mission is a working Catholic church, so dress and act respectfully.

address: 26304 Ocean View Ave

Carmel Point, just to the south of Carmel Village. F-Sa, tours start 10AM-3PM. The famous stone home of poet Robinson Jeffers. $10.

Point LobosA California State Park located just south of Carmel on Highway 1, the park is a rocky outcrop into the Pacific that has some great kelp forests, nice trails and small coves excellent for swimming (if you can survive the sea temperature).

address: 97 Corona Rd

Artist Jim Needham has created a sculpture garden of rocks that have been stacked without the use of any adhesives, bolts or supporting structures. Some of the sculptures are as tall as nine feet.
Do
ArchitectureStroll through the town and admire the incredibly diverse architecture. The quintessential "Carmel cottage" abounds but contrasts, sometimes wildly, with the assortment of surrounding homes. (Local tidbit: can you find any houses with street numbers?)

Forest TheaterThe historic outdoor Forest Theater presents community theater performances in a sort of natural amphitheater nestled in a pine forest. There are also film screenings throughout the summer as part of "Films in the Forest." Be sure to bring blankets and something warm to drink.

Carmel BeachBring a dog, a Frisbee, or a camera for a stroll down the beach. Dip your toes, or a bit more if you can brave the chill. Be prepared for a crisp ocean breeze. Build a twilight beach bonfire on the stretch of sand at the bottom of 13th (fires must be out by 10PM). Bring lots of blankets, hot drinks, and smore ingredients! Surfing is a possibility for very experienced surfers only (vicious riptides scour the coastline) - take off from the beach at the bottom of 8th.

Carmel River State BeachThe quieter Carmel River State Beach adjoins an estuary that provides perfect bird-watching opportunities. On the hill across from the lagoon is a wooden cross marking the centuries-old "port" for supply ships to the mission. Wading in the river here is possible, but the steep slope of the beach makes for a violent current, and swimming in the ocean here is NOT a good idea.

Monastery BeachIf you're feeling brave enough to ford the river, behind the cross winds a network of paths that eventually lead to Monastery Beach, a great favorite among scuba divers. Watch as you walk for ubiquitous ice plant, and maybe a golden poppy or two (the state flower).

phone: +1-831-620-7360

address: 27300 Rancho San Carlos Rd

Co-ed sauna with steam room, Nordic and thermal waterfalls, hot and cool pools.

17-Mile DriveA famous scenic drive through one of the most prestigious neighborhoods in Northern California. Unless you are a resident you have to pay $10 to get your vehicle through the gate.

Pebble BeachOne of, if not the, most famous and scenic golf courses in America.

phone: +1 831 624-1521

address: Ticket office: Northwest corner of 10th & Mission in Cottage 16

Two-week summer festival celebrating Johann Sebastian Bach's music and legacy. Multiple concerts and presentations at several venues in and near Carmel. Some daytime events are free; tickets for the main evening concerts can run $50 to $100 or higher. Order tickets by May if you want the best options.
Buy
The village of Carmel is locally famous for art galleries boasting a variety of art. Openings are held frequently and often open to the public. Unique clothing and jewelry also represent a large portion of shopping in Carmel.
Girl Boy Girl

address: 100 Dolores St

Locally owned and operated, this little shop is packed full of unique, high-quality designer clothing. Nearby you'll also find sister shop Paloosh.

address: Ocean Ave

Shopping center is a collection of upscale shops in the heart of town. Be sure to look on the lower courtyard level for The Cheese Shop.

address: 26364 Carmel Rancho Ln

is a "shopping village" on the outskirts of Carmel, on the inland side of Highway 1. The collection of art galleries and clothing and antique shops is nestled among fabulously well-kept gardens that are worth the visit even if you don't plan to browse the stores.
Eat
Budget
Mid-range
Splurge
phone: +1-831 624-2233

This restaurant has attracted visitors and locals alike for decades, sometimes a destination in its own right for the signature chocolate chip cookie dessert.

address: 26270 Dolores St

Serves exceptional food with a stunning ocean panorama at the historic sheep ranch rescued by Clint Eastwood. The large patio area is perfect for warm days, while the intimate interior is perfect for anytime. A piano bar graces the place at least Thursday and weekends. Mission Ranch is especially strong for its very popular Sunday brunch.
Drink
Most Carmel drinking revolves around local wines; be sure to indulge in a bottle, available at almost any food shop and every restaurant.
Several restaurants also offer bar areas; but an honest-to-goodness "pub crawl" would be hard to come by in this town.

Sleep
Additional lodging options can be found just to the east in
Carmel Valley
, or to the north in
Monterey
. Many hotels are less expensive during the rainy winter months (approximately November to March) than during peak tourist months.
Budget
address: 4th & Mission St
Mid-range
Splurge
Go next
Point Lobos State Reserve and the State Parks comprising Big Sur make for an amazing afternoon drive and hiking session.
Monterey - Four miles north of Carmel, Monterey was founded in 1770 and served as the capital of Alta California under both Spain and Mexico, was a bustling fishing port until the 1950s, and is now a major tourist destination. Attractions include a pier filled with seafood restaurants, a world-class aquarium, a harbor that is home to an enormous number of seabirds, sea lions, sea otters, seals, and other marine life, the historic Cannery Row, and opportunities for whale watching, kayaking, or other excursions into Monterey Bay.
Big Sur - The Big Sur region can be loosely defined as the stretch of coastline between Carmel and San Simeon, and the steep cliffs, rocky coast, churning waves, abundant wildlife, redwoods, and remoteness make it one of the most beautiful drives in the world. Big Sur Village lies at its heart, 20 miles south of Carmel, and offers amenities for travelers.
Carmel Valley - Located thirteen miles inland from its seaside namesake, this tiny village is home to quaint inns and upscale resorts, but is best known for the wineries that fill the valley. The area is also excellent for hiking, biking and horseback riding, with miles of trails through the mountains and along the Carmel river.
Pacific Grove - Located six miles north of Carmel, Pacific Grove is a beautiful town that is home to the oldest continually operated lighthouse on the West Coast, and more Victorian homes per capita than anywhere else in America. It is also the northern gateway of the scenic 17-Mile Drive. The town's rocky coastline is filled with tide pools that are easy to explore, seals, sea otters and sea lions are commonly seen in the waters, and adding to its bounty of natural riches, in the winter thousands of monarch butterflies gather in a grove at the town's center.