Carmel (Indiana)
Carmel
is a city in the
Nine-County Region
of
Indiana
, just north of Indianapolis.
Understand
It is one of the most affluent communities in the Midwest, lying in Hamilton County (the wealthiest county in the Midwest).
Hamilton County Convention and Visitors Bureau

address: 37 East Main Street

Not-for-profit tourism organization that promotes and encourages the development of Hamilton County tourism, conventions, festivals and other special events. Carmel is home to the main office. Staff are very helpful and welcome visitors who need information. Visit their website for a full event calendar and interactive map of destinations, golfing, restaurants, shopping and places to stay.
Get in
By car
From the metropolitan Indianapolis area, take U.S. 31 north to 126th Street. Carmel's city center is located between U.S. 31 and Keystone Ave. (State Road 421). It takes approximately 30 minutes to drive from downtown
Indianapolis
. Carmel has become the defacto roundabout capital of the US, with more than 80 such roundabouts, much as are found in major European countries. US 31 at the Carmel boundary is a major US highway that has been renovated with off ramp roundabouts that eliminate stop lights from I-465 to the northern boundary of Carmel. Speed limit on this road, however, is a paltry 50 mph and is routinely monitored by the local police, however with no lights travel from one end to the next is about 7 minutes.
By plane
In addition to the
Col. Weir Cook Indianapolis International Airport
, located off of I-70 in Indianapolis, smaller planes can schedule a landing at one of two airports in Hamilton County and nearby Boone County, located just west of Hamilton County. Both offer aircraft charter, sales, rental, catering, flight school and more.
phone: +1 317-849-0840

address: 10401 Willow View Rd, Fishers

Indianapolis Executive Airport 11329 East SR 32, Zionsville. +1 317-769-3288.

phone: +1 317-758-4161

address: 27045 Jerkwater Road, Sheridan
Get around
Hamilton County Convention and Visitors Bureau

phone: +1 317-848-3181

address: 37 East Main Street

Not-for-profit tourism organization that promotes and encourages the development of Hamilton County tourism, conventions, festivals and other special events. Staff are very helpful and welcome visitors who need information. Visit their website for a full event calendar and interactive map of destinations, golfing, restaurants, shopping and places to stay.
Carmel Visitor Center 35 E. Main St. +1 317-848-3181 x103. Open M-F, 9AM-5PM; Sat., 10AM-6PM and for special events.
By car
General speed is between 55-70 on interstates and highways, and generally 35 on other roads unless otherwise posted.
See
Museums
address: 111 E. Main St

This is a rare find, a museum that caters specifically to miniature homes, room boxes and vingnettes. They also have a gift shop and a childrens play area. Very unique, but only open Wednesdays through Saturdays, 11AM-4PM and Sundays, 1 to 4PM $4 for adults, $2 for children under 10.

World's Smallest Children's Art Gallery

address: 40 W. Main Street

The World's Smallest Children's Art Gallery, according to the Guinness Book of World Records, showcases children's art from different schools from September–May. Special showcases in June. Admission: Free Open: Sundays, 2-4PM

address: 211 1st Street SW

Built in 1883, the depot served as the main transportation and freight site for Carmel. The renovated depot houses the Carmel Clay Historical Society. Open: Tuesday and Wednesday 9AM-12PM and 1PM-5PM, Friday and Saturday from 12PM-3PM and Sunday, 1PM-3PM
Do
Festivals
Outdoors
Carey Grove Park

address: 14001 N. Carey Rd

5 acres with an arboretum, half-size basketball court, community organic garden, trail, playground and softball diamond.

Monon Community Center & Central Park

address: 1235 Central Park Drive East and 1195 Central Park Drive West

The 161-acre park is free but some activities are an additional cost. The park includes a wetlands area, garden, park areas and 4 miles of trails connecting to the Monon Trail, which will take you all the way south to Indianapolis and northwest to Westfield, Indiana. A 10,000 square foot skate park welcomes skateboarders. Fees apply at The Monon Center and Aqua Park, which includes an outdoor pool, water slide and lazy river. An indoor pool and fitness center, with gymnasiums and studio classes also are available. Daily passes and value passes for 10 visits are available for visitors, although prices are higher for non-Carmel residents.

Cool Creek Park

address: 2000 E. 151st St

Three to four miles of wooded trails, playground, softball and soccer fields and basketball court are all available here. Also home to the Cool Creek Nature Center which hosts the annual Cool Creek Concert series.

Coxhall Gardens

address: 2000 W. 116th St

125-acres of park and gardens include a children's garden, conservatory, reflecting pools and two belltowers.

Flowing Well Park

address: 5100 E. 116th St

18 acres featuring an artesian well where you can fill up your own jug and containers with naturally clean flowing water. A few small trails and fishing too.
Hagan-Burke Trail Major Access: Monon Greenway, Rangeline Road, 146th Street. The trail, which is a little more than one mile, connects the Monon Greenway to 146th Street. A portion of the trail travels along Cool Creek.

Hazel Landing Park

address: 10601 Hazel Dell Pkwy

44 acres featuring fishing and a canoe launch into the White River.

Lawrence W. Inlow Park

address: 6310 E. 131st St

Playgrounds with tree houses and a small water park are the big features here. Nature trail and shelters too.

Lenape Trace Park

address: 9602 Westfield Boulevard

This 5 acre park features a shelter and a short trail that connects to the Monon.

Meadowlark Park

address: 450 Meadow Ln

17 acres with a pond and dock and fishing. Trail and basketball court too.
Monon Trail Greenway Stems from 96th St up to 146th St. Carmel's own 5.2 mile extension of Indy's Monon Trail. A new mile-long extension connects the trail to Westfield, Indiana. Open from dawn to dusk (they do fine you if they catch you at night) with easy accessibility to shopping and activities. One can ride, skate, run or walk along this extensive and well kept greenway. Pets are welcome as long as you clean up after them.

Prairie Meadow Park

address: 5282 Ivy Hill Drive

This beautiful prairie landscaped park houses a 1/4 mile recreation trail.

Pleasant Grove Park

address: 445 E. 11th Street

This 6-acre park is family-oriented with a soccer field, softball diamond and playground with shelter.

River Heritage Park

address: 11813 River Road

40-acre part features an adaptive playground for those with special needs. The park also has two sand volleyball courts, an amphitheater and picnic areas.

West Park

address: 2700 W. 116th St

120 acres featuring trails, wide green space, big playground, trails and small water park. In the winter, the north face of the park's hill turns into a sledding hill.

White River Greenway

address: 13410 River Road

15-acres pocket park next to the White River. Undeveloped except for 2.5 miles of asphalt trails.

address: 260 W. Carmel Drive

Enjoy a rental bicycle ride throughout the heart of Carmel all the way to Broad Ripple. Pedal the paved Monon Greenway on a comfort bicycle or tandem. Free locks, helmets, trail maps.
Music and Performing Arts
Carmel Symphony OrchestraFormed as a community orchestra in 1976, the Orchestra now plays at various venues through the Carmel area, but now calls the Palladium home. Enjoy intimate performances of great works and masterpieces with guest performers or take in the Fourth of July concert at Carmel Civic Square. Tickets are affordable and discounts are given for students and seniors.

The Center for the Performing ArtsAfter more than a decade of planning, the Center for the Performing Arts is becoming a reality in Carmel, Indiana. The facility includes four state-of-the-art performing arts venues: a 1,600-seat concert hall, a 500-seat proscenium theater, a 200-seat studio theater and an outdoor amphitheater. It also serves as an education center and museum for the Michael Feinstein Foundation, housing the rare memorabilia and manuscripts of The Great American Songbook Collection.
Rising high on the Carmel skyline with its domed European style design, the Palladium has captured the attention of residents and visitors alike. The four-fronted, symmetrical design with its limestone facades and columns offers a timeless elegance and an unparalleled setting for attending world-class entertainment.
The Tarkington, a 500-seat proscenium theater, is home to the resident theater group Civic Theatre.
The Studio Theater is a flexible theatrical space intended to nurture local and national artists. In addition to the Center's resident companies and their productions, the Center will present national performers.
Golf
Family Fun
address: 617 3rd Ave. SW

Indiana's largest laser tag complex. Make a team with friends or strangers and sneak around shooting each other with harmless lasers and with music blaring and lighting effects. Lasers emit from state of the art Lasertron equipment. It's quite spooky seeing lasers bouncing off the walls through the dark room. They also have a huge arcade and a Noble Roman's pizza restaurant on site.

The Monon Center at Central Park

phone: +1 317-848-7275

address: College Avenue and 111th Street

Features a fitness center, dance studio, group fitness studios, indoor track, gymnasium, indoor aquatics center, party rooms, concessions, locker rooms, skate park, a 10-acre outdoor aqua park, a cafe, banquet rooms, childcare, art studio, computer lab, classrooms and a conference center.

address: 1017 West Main Street

An internet cafe and upscale venue featuring interactive video games for individuals and groups of all ages.
Learn More
Carmel Clay Chamber of Commerce

address: 37 East Main Street

The Chamber can provide information about area businesses and upcoming events.
Buy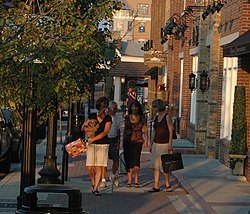 address: 14390 Clay Terrace Blvd

As the first outdoor lifestyle center in Indiana, Clay Terrace stands as a unique and beautiful jewel in the Simon Property Group portfolio. Here, over 70 retailers line the center's broad sidewalks, gently rising up Clay Terrace Boulevard from U.S. 31. Vintage storefronts and antique lighting blend seamlessly with modern amenities and convenience. Home to everything from locally owned boutiques to nationally known shopping destinations, Clay Terrace offers something for even the most discerning shopper.

phone: +1 317-817-9463

address: 313 E. Carmel

One of Central Indiana's best liquor stores. Featuring countless wines, beers, and liquor from all over the world. Also has amazing deli with gourmet fine eats.

address: 111 W. Main St

Downtown Carmel's recently created district features interior designers, art galleries, furnishings showrooms, home décor and specialty shops in addition to retail and restaurants. See their website for a full up to date directory. Stately brick buildings, with open-air dining, line the streets, which close to host several festivals each year. District is accessible and connected via the Monon Trail, a linear greenway park that extends south all the way to downtown Indianapolis.

phone: +1 317-569-5975

address: 200 South Rangeline Road

The corner of Range Line Rd. and 1st Street in Carmel's Arts & Design District. Discover the Indiana Design Center's showrooms, design professionals, artists and endless resources for residential and commercial interiors. There is inspiration at every corner. The Indiana Design Center welcomes design professionals and the public. The public is welcome to shop in all first floor retail showrooms. Many of the retail showrooms also offer in-house design services for the public. The public may shop the second floor to-the-trade showrooms with their own designer or may use the Designer-on-Call service provided by the Indiana Design Center. Open Monday-Friday 8AM–6PM and Saturday 8AM–3PM

Antique Emporium

address: 1055 S. Range Line Rd

Upscale antique shop specializing in antiques and appraisals. We do carry lamp shades and lamp parts as well as offer-silver polishing and other metals.

phone: +1 317-566-1908

address: 38 W. Main St

A historic building that once housed the first fire truck in Carmel is now home to over 70 dealers. Booths feature antique furniture, toys, dolls, pottery, books, jewelry, coin operated machines, vintage linens and quilts and more.

Midland Arts & Antiques Market

address: 488 Gradle Drive

Midland satellite location near the Carmel Arts & Design District is open to the public and caters to the design trade and clientele. Open 7 days a week.

phone: +1 317-574-8990

address: 23 E. Main Street

PillowTalk is a charming boutique in the heart of Carmel's Arts and Design District that specializes in couture lingerie, organic skin care, luxurious home fragrance, and locally crafted jewelry. PillowTalk strives to provide an intimate shopping experience, with quality products that make women feel elegant, unique, sophisticated, and pampered.

address: 111 W. Main Street

This small but creative gallery packs in many featured artists with displays of blown glass and decorative mosaic pieces. Featured glass artists include Ben Johnson, Michele Soncini, and Nancy Keating.

M. Grosser Jewelry Design Studio

address: 154 Medical Drive

Custom jewelry designs made by Mark Grosser. Diamonds, gold and natural gemstones.

address: 330 N. Rangeline Road

Offering a wide selection of bug bonnets that are handmade to go on top of your wine glass to keep bugs out. Unique hand crafted wine glasses, wine stoppers and wine baskets customized to meet your fancy.
Eat
Spurge
Mid-range
Cheap
Sweets
Drink
Wineries
address: 313 E. Carmel Dr

Vine & Table gourmet market has the largest selection of unique and fine wines in the state, including both every day wines and the most sought after collector wines. Vine & Table also has the best scotch, liqueurs, fine spirits and domestic and international beers.
Sleep
Carmel has its share of "big chain" hotels, including the Doubletree Guest Suites, Country Inn & Suites, Hampton Inn Carmel, Hilton Garden Inn, Residence Inn by Marriott and Courtyard by Marriott. Visit the chain websites to locate the hotel and special deals.