Carmelo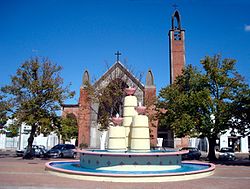 Carmelo
is a city in the
Rio de la Plata
region of
Uruguay
, popular for its wineries, golf, and coastline.
Understand
In addition to wineries, golf courses, and access to the river, Carmelo probably has the highest density of gyms per inhabitant all over Uruguay. It might well be due to the fact that not much else but wine is happening in Carmelo.

Get in
Get around

The city of Carmelo is compact enough to walk around, but some of the attractions are in the surrounding area, so a car or motorcycle is helpful.

See
Capilla San RoqueA chapel built in 1869.

Puente de CarmeloA swing bridge (puente giratorio) built in 1912. An example of German engineering, but considering the fixed power cables at its exterior, it is probably not operated very often.

Teatro UamáA theater whose name means "friend" in the extinct Chaná language that was once spoken in Uruguay.

Templo Histórico del CarmenBuilt in 1830. It is being renovated.

Teatro de Verano "Román Iturburúa"
Do
Carmelo has a yacht club, beaches, and wineries.
Sunset at the beachWatch the supposedly best sunset at the river side of Carmelo with Argentina on the other side.

CanterasEver fancied a 20 or 10 m jump? This is where you can do it. It is a kind of natural pool of former quarries. The are three to four northeast of Carmelo.
Several smaller poolsBehind the one on the western side of the road another on can be found through the bushes.

Large pool
Bodega El Legado

phone: +598 98 307 193

Winery offering free visits, excellent bottles of wine for sale, and dégustation.
Wine TastingThis seems to be more a touristy immitation instead of the real deal where in the end you would also buy some bottles which would compensate for the tasting.
BicycleCarmelo Hostel rents bicycles.
Buy
Ta-Ta SupermarketLarge selection and not expensive beyond the ordinary.
Drink
Surprisingly there are many bars in town.

Sleep
phone: +598 45423281, +598 94341049

address: Ignacio Barrios 431

Nice and clean hostel. Kitchen, garden, 6-bed dorms. Also has private rooms. Probably your only budget option in town.
Go next
Nearby places are the picturesque
Colonia
, historic
Fray Bentos
, and the spa towns of
Paysandú
and
Salto
, the latter of which can be quite hot in summer.
Heading inland, consider
Grutas del Palacio
as a destination.
If driving to
Argentina
, your first stop can be
Gualeguaychú
, which is famous for its carnival and hot springs. If you cross the river by ferry, you'll probably find yourself in the metropolis of
Buenos Aires
or the town of
Tigre
(known for tours of the Paraná Delta).