Carthage (Missouri)
Carthage
is a city of about 14,000 in southwest
Missouri
, It is known as "America's Maple Leaf City".
Understand
Carthage was established in 1842 to serve as the county seat of Jasper County. As Missouri was sandwiched between the secessionist southern states and the abolitionist north, Carthage became a Civil War battlefield on July 5, 1861 and again in October 1863; pro-Confederate guerrillas burned much of the city in September 1864.
The current Jasper County Courthouse, built of Carthage stone in 1894, is listed on the National Register of Historic Places. The history of the Civil War sites in the Missouri-Kansas border region fills a book, "The Big Divide" , published in 2013.
After the civil war, Carthage thrived as a rail town, a source for "Carthage marble" (a hard, polished limestone) and a highway crossroads when U.S. Highways 66 and 71 came to town in 1926.

Get in
Joplin Regional Airport (10 miles from Carthage) offers multiple round-trip flights daily to
Kansas City
(150 miles); transport is also available to
Tulsa
(110 miles).
By highway, Carthage is served by Interstate 44 (which bypasses
Route 66
in the region) and by US Highway 71.
Get around
No public mass transit exists in Carthage, although the municipality operates City Taxi (8AM-6PM weekdays only, +1 417 358-9336). Conventional taxi service is provided by A to B Taxi (+1 417 358-8294) and McCoy Cab (+1 417 358-7552).

See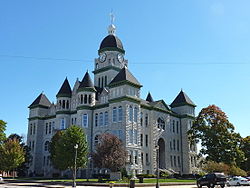 Battle of Carthage Civil War Museum

phone: +1 417 237-7060

address: 205 Grant St.

Information and artifacts from the Civil War Battle of Carthage and the Civil War in southwest Missouri, including a wall-sized mural of the Battle of Carthage.

Battle of Carthage State Historic Site

phone: +1 417 682-2279

address: East Chestnut Road

The Battle of Carthage was one of the preliminary battles leading up to the much larger one at Wilson's Creek. Southern Missouri was fought over fiercely because of its rich lead and zinc deposits.

Jasper County Courthouse

address: Courthouse Square, 302 South Main Street

Constructed with local Carthage marble in 1894, the building's grandiose architecture includes turrets, towers, and arches. The building remains the county seat today; museum and guided tours are open to the public.

phone: +1 417 358-0636

address: 131 E Northwoods St

Oldest surviving house in Jasper County (built 1849), believed to have served as a Civil War field hospital complete with slave quarters. Various events, ghost tours.

address: 1617 West Oak Street

Local history from the post-Civil War period to the 20th century with educational programs describing Missouri and the Ozarks region. Local archives, reference library and souvenir shop.

Precious Moments Chapel and Gift Shop

address: 4105 South Chapel Rd.
Do
phone: +1 417 359-5959

address: 17231 Old 66 Blvd.

One of the few remaining drive-in cinemas on Route 66, with neon signage of the era. Listed on the US National Register of Historic Places, its original 1949 design closely matches the "Radiator Springs Drive-In" in 2006 film Cars.
Buy
CMC Gift Shop

phone: +1 417 358-3740

address: 1900 S. Grand Ave
Eat
Gringo's

phone: +1 417 358-4575

address: 1123 W Central

Fast food. Mexican.

phone: +1 417 237-0212

address: 2400 S Grand Ave

Great diner style food

Ranch House Restaurant

phone: +1 417 359-5200

address: 2937 S Grand Ave

Local steak house, great food, reasonably priced.

Whisler's Drive-Up

address: 300 N Garrison Ave

Classic old-style hamburger stand.
Drink
Sleep
Hotels
Motels
Bed and breakfast
Camping
Go next