Casablanca
Casablanca
(
Arabic
: الدار البيضاء,
Dar al-Bayda
) may be the cosmopolitan, industrial and economic heart of
Morocco
, and its largest city, but it is one of the less endearing of the country's sights. With a small, unassuming
medina
and a traffic-congested
ville nouvelle
, travellers arriving via Casablanca may be tempted to find the first train out to nearby
Rabat
. The awe-inspiring Hassan II Mosque and happening nightlife and architecture (mostly colonial times buildings), however, are worth at least a day of your Moroccan itinerary.
Understand
The modern city of Casablanca was founded by Berber fishermen in the 10th century BCE, and was used by the Phoenicians, Romans, and the Merenids as a strategic port called Anfa. The Portuguese destroyed it and rebuilt it under the name
Casa Branca
, only to abandon it after an earthquake in 1755. The Moroccan sultan rebuilt the city as Daru l-Badya and it was given the name Casablanca by Spanish traders who established trading bases there. The French occupied the city in 1907, establishing it as a protectorate in 1912 and starting construction of the
ville nouvelle
, however it gained independence with the rest of the country in 1956.
Casablanca is now Morocco's largest city with a population of almost 4 million. It has the world's largest artificial port, but no ferry service of any kind. Casablanca is also the most liberal and progressive of Morocco's cities. Young men flirt brazenly with scantily-clad women, designer labels are the norm in the chic, beachfront neighbourhood of 'Ain Diab and many young Moroccans speak to each other exclusively in French.
But not everyone is living the Casablancan dream. Tens of thousands of rural Moroccans who fled the drought-ravaged interior to find work in the city are struggling under high unemployment rates and expensive housing. The poverty, prevalent in slums on the city's outskirts, has led to high rates of crime, drug use, prostitution and the rise of Islamism.
Casablanca is a mixed bag of Moroccan extremes.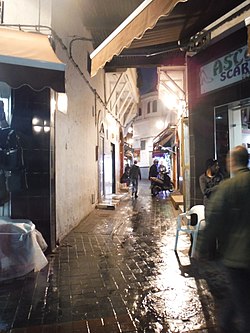 Get in
By plane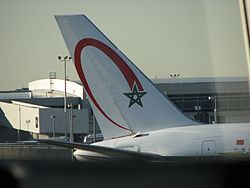 Mohammed V Int'l AirportThe busiest gateway to the country and is well-connected to Europe. Royal Air Maroc flies to New York JFK, Canada, many cities in Europe, and has connecting flights to African countries such as Nigeria, Central African Republic, Senegal, and others.
When leaving from this airport, plan at least 2½-3 hr for all airport procedures: 1) there is very slow security directly after the train, 2) check-in procedures, 3) you need to fill out the disembarkation paper, 4) boarding pass control, 5) full security after boarding pass control, 6) very slow passport control, and 7) you need to get to the gate in time.
Get there/away:
The most efficient way is to take the ONCF—operated Al Bidaoui train (designed like a RER line). The airport train station name is Aeroport Med V, which is at the airport basement level and the last stop of the train. The trains depart hourly from/to the city starting from 04:00 to 23:45 of the day (if going from city to airport, it's from 03:00 to 22:00). The train schedule is available at
the ONCF website
in French. A single 2nd class ticket is 50 dirham (November 2019). There are 5 stations at this airport train line: Aeroport Med V, L'Oasis, Mers Sultan, Casa Voyageurs and Casa Port. It is approximately 40 km away and the full journey takes 45 min. Casa Port station is closer to the center, Casa Voyageurs station is 2 km from the city centre, a half an hour walk or short petit taxi (~15 dirham) into the centre. ONCF trains including airport line sometimes delay, so better to plan your departure time at least 3 hr before the flight taking off.
There is also a bus running from/to the airport (bus 128?), but it is probably easier from the airport than towards it.
By train
The most convenient way to reach major Moroccan cities is by train. Trains are divided into first and second-class compartments; the first-class ones generally cost an extra 50%, but have more room and guarantee a seat. Boarding second-class compartments during peak hours may mean that you have to stand until a seat opens up.
The downtown station
Casa Port
only has a couple of trains, while all others pass through
Casa Voyageurs station
, which serves trains to
Meknes
/
Fes
/
Oujda
,
Marrakech
or
Tangier
with stops in between. The trains are comfortable, the stations easy to navigate, and boards display the time of departure/arrival. Be sure to check the
schedule
for express trains; for instance, the train that leaves Casablanca at 07:05 daily takes 3 hours to reach Fes, as opposed to the normal 5-hour journey. Trains for
Rabat
leave half-hourly.
To get from Casa Voyageurs to the city center, the easiest way is to take the tram. You can either buy a ticket at one of the vending machines (which mostly only accept coins, partly also some bank cards of unknown sort). Some shops also sell tickets (for example, you may find one little shop in the building just behind the tram station about 30 m further.
When you exit the Casa Voyageurs station main building, the tram stop is straight ahead (not more than 100 m away). You need to take line 1 in the direction at the right hand side, which heads to "aïn diab plage terminus"/"facultés terminus" (the train splits at some point after the city center), the stations "Marché Central", "Place Nations Unies" and "Place Mohammed V" (in the order you will reach them) serve the city center.
By bus
address: 23 Rue Leon l'Africain

CTM coaches (intercity buses) and various private lines run services to most notable Moroccan towns as well as a number of European cities. These run from this terminal, which, in case of Casablanca, is to be preferred over the Gare Routière.

Gare RoutièreThe main bus terminal is in the outskirts of the city and serves the same (and more) destinations as CTM. The fares are slightly cheaper and buses tend to leave more frequently, however their quality might be lower and some do take longer for the trip (always ask if they take the highway (autoroute) if available on your route). Also, this terminal is not reachable as convenient as Gare Routières in other cities—local bus connections are obscure and unreliable (bus 10 and 11 are supposed to run). A taxi from downtown (or Casa Voyageurs) should cost you no more than 12 dirham, although you may have a hard time getting this fare (especially from downtown). There is a grand taxi rank about 200 m south of Place des Nations Unies running there for 6 dirham per person.
From specific destinations:
Longer distances exist, sometimes overnight, from Meknes, Fez, Ouarzazate, and Tangier.
By car
There is a well maintained toll that runs from
Tangier
to
El Jadida
, passing through Casablanca and
Rabat
.
The minimum driving age in Casablanca is 21. Always carry your driver's license and passport while driving. Avoid driving if possible—car rental prices are high as is the accident rate. If you are leaving Casablanca by car, make sure to fill up in the city. Gas/petrol stations becomes scarce outside Casablanca.
Get around
A government department puts out an exhaustive map of Casablanca in book form called Carte Guide de Casablanca that you can find in bookstores or online; in all likelihood, though, it isn't necessary.
Other than that, Casablanca is like any other European city: the streets (mostly) have signs, and passersby are extremely helpful in French or Arabic and, more rarely, Spanish or English. The Medina can be hard to navigate, but it's so small that no matter how blindly you wander into it, you're never more than ten minutes from an exit.
By tram
Casablanca is one of the two Moroccan cities with a tram. The first line opened in late 2012. Service runs from 05:30 through 22:30 with frequent trains (during the day, the interval seems to be shorter than 10 minutes).
Most vending machines only take coins. One journey is 6 dirham with a rechargeable card, 7 dirham otherwise. A fee of 1 dirham will be added for the card when you buy a ticket.
Tram stops are announced in Arabic and French.
Further information including the network ("réseau") and schedule ("horaires") is available in French and Arabic on the
Casa Tramway website
.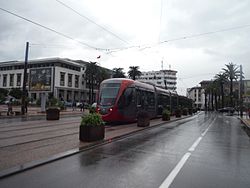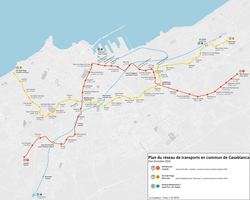 By train
The Al Bidaoui service (i.e. airport service) also has some stops in the city, although they are spaced out much further from each other compared to the tram.
By bus
Many bus companies run through the city, the bus routes are the same for a given number, although the route remains completely unclear (Google maps has some bus stops for Casa though).
Going by bus is the cheapest way to get around (5 dirham) but some companies such as
Hana Bus
have vehicles in a disastrous state. It could be worth taking the chance given the cost-saving and experience of what many locals experience, but watch out for pickpockets.
By taxi
All taxis red in color, drivers know how to get to every single place in every single guide book, even if you tell them just "the restaurant on Blvd. Hassan II." Be sure to check the meter is running to avoid being overcharged at the end of the trip. Don't be surprised if the taxi stops to pick someone else up. The minimum fare is 7 dirham. White "grand taxis" are another local alternative. They have a defined itinerary so you should know in which station you should take it depending on your destination (ask locals, they will inform you easily). They only leaves when they are full, which means two people on the passenger seat and four people in the back, so expect to be packed likes sardines. However, it is cheaper than the red taxi, especially for longer distances.
See
King Hassan II Mosque

address: Blvd Sidi Mohammed Ben Abdallah

The largest mosque in Morocco and the third largest in the world. The 210 m high minaret is the tallest in the world. It opened in 1993, after six years of construction. It is one of the two main mosques in Morocco open to non-Muslims. Beautiful interior complete with water features, a roof that opens to the sky, a huge hammam in the basement (not in use), and beautiful tile work. Tours in winter Sa-Th 09:00, 10:00, 11:00 and 14:00, in summer 09:00, 10:00, 11:00, 12:00, 15:00 and 16:00, Fr less times.

Old MedinaIf you are in town it's worth a visit, but it is nothing compared to the glories of Fes or Marrakesh.

The CornicheA neighborhood on the ocean, west of the Hassan II Mosque. Decades ago it was a thriving resort area - hotels line the ocean side of the Boulevard de la Corniche, and nightclubs line the other side. Most look like they've seen better days. Along the Boulevard de l'Ocean Atlantique are many newer, fancier hotels. The Corniche is also home to many western fast food chains. A new western-style movie theater can also be found here, but the best option is to walk up and down the street, resting at one of the many ocean-view cafes.

Shrine of Sidi AbderrahmanBuilt on a rock off shore, well past The Corniche, and only accessible at low tide. The shrine itself is off-limits to non-Muslims, but visitors are permitted to explore the tiny, medina-like neighborhood that has sprung up around it. A better bet is to walk to it along the beach and catch a view of the beautiful white walls before taking a cab to less remote areas.

Mahkama du PachaThis is a Hispanic-Moorish building comprised of more than 60 ornate rooms with delicately carved wooden ceilings. There are many stuccoes and intricate wrought-iron railings as well as beautifully tiled floors. While entrance may be free it is not easy to get in. You need to find a guide to accompany you. Ask around - especially if you speak some French - it is worth it. To get there take bus 81 on Boulevard de Paris.

Central Post OfficeCome here to send your postcards in style! Built in 1918, the façade is composed of both round and rectangular shapes. Once you approach you will get a good view of the excellent mosaics.

Rêve de mon œilThis art gallery exhibits a bizarre collection of modern welded sculptures by artists from all over Morocco.

Octagon SquareThis is one of the best places to see modern Morocco. Businessmen come out in droves at lunchtime to have their food in the sunshine on this modern city square. Great chances to take beautiful scenery shots too.

phone: +212 522 29 50 87

address: 30, Boulevard Brahim Roudani, Casablanca

Run by the charity ONA, it is a place for the Moroccan art scene.
Art galleries
(commercial - they live of earnings they make by selling art, you can usually enter for free):
Do
Hammam (Turkish baths)
Solidarité Féminine Association's Hammam

phone: +212 5 22 99 23 94

address: 4, rue Ahmed Chaouki, Palmier

The Association "Solidarité Féminine" has implemented an applied training program to encourage the socio-economic integration of women in single mother situations edifying employment. Therefore, making them co-founders of worthy life-plans for both themselves and their children.
Buy
Casablanca is one of the least interesting places to shop in all of Morocco. Around the old Medina it's easy to find places selling traditional Moroccan goods, such as tagines, pottery, leather goods, hookahs, and a whole spectrum of geegaws, but it's all for the tourists. Much better to wait until you're in Fes and can bargain with someone who sells things to Moroccans and tourists alike.
The Maarif neighborhood (near the twin center, around Boulevard al Massira al Khadra) has many name-brand European and American fashion chains, such as Zara. Designer glasses, leather shoes, and "genuine" belts, bags, and shirts can be had at bargain prices.
The Derb Ghalef neighborhood has a huge souq that is not for the faint of heart. A cluster of small shanties, each one is loaded with "genuine" mobile phones, "genuine" watches, and "genuine" "brand name" clothing. The shops are separated by alleys no more than three feet wide, some of which double as drainage ditches. There are numerous fruit smoothie stands in the center, which make a good spot for regrouping and planning your excursion. The stall owners are, of course, kings of negotiating, and without a good handle on Arabic and a strong backbone, you're likely to pay well over the going rate for anything.
People interested in art find a decent amount of art galleries (the renowned galleries can be found in the "See" section).
Eat
Restaurants in Morocco are like restaurants in Spain - they don't open until around 19:00 at the earliest, and most people don't eat until much later. Be sure to call first and make sure your restaurant of choice is actually open.
Budget
La Cigale, Blvd Brahim Roudani just south of the Rampwan de L'unite Africaine. This bar is an unassuming spot close to the Park of the Arab League, with a restaurant in front that serves only the most basic food (sausage or kefta sandwiches, salads, and the like.) The bar in the back is more crowded and has live music most nights. Beer is served with a plate of olives or popcorn, and it's one of the few Moroccan-style bars where women can drink in peace. Wine and liquor are available, but only when eating in the restaurant. A few phrases in Arabic to Aisha, the barkeeper, will win her heart and ensure a constant supply of olives.
Benis Patisserie, Quartier Habous. This place is famed for having some of the best pastries in Morocco. Try one of their famous hornes des gazelles. You should also try the bastilla (one of the most luxurious and prestigious dish in the Morocco's gastronomy, and Benny's is undoubtedly the best one. Choose the pigeon or farm chicken version. You must book it in advance (+212 5 22 30 30 25).

Solidarité Féminine Association's restaurant

phone: +212 6 19 11 11 16

address: 10, rue Bait Lahm (ex Mignard), quartier Palmier

The Association "Solidarité Féminine" has implemented an applied training program to encourage the socio-economic integration of women in single mother situations edifying employment. Therefore, making them co-founders of worthy life-plans for both themselves and their children.
Mid-range
La Corrida

phone: +212 22 27 81 55

address: 59 Rue el Araar

From the outside, it's easy to miss this restaurant, but look for the little sign ringed in blinking lights. It has a nice outdoor courtyard, but the inside is the main attraction. It's decorated like with memorabilia from Spanish bull fighting tournaments and has a dark, candle-lit vibe that's perfect for dates. The sangria is tasty, as is the Tapas menu (which changes daily). Seafood is the specialty, and the steamed mussels should not be missed.

Taverne du Dauphin

phone: +212 22 22 12 00

address: 115 Blvd Felix Houphouet

A little seafood place within walking distance of the old medina, the port, and the Park of the Arabic League, this place can get crowded at meal times. An excellent selection of seafood and one of the widest beer selections in all of Morocco (though that's only 5 or 6 different brews) makes this a very popular lunch spot. The fish is fresh from the fishermen at the port, and the shellfish (oysters, mussels and so on) are delicious. When paying, however, keep an eye on the waiters: they'll "help you count the money," which can turn into an elaborate shell game where they'll slip some of the cash into their own pocket.

Le Kobe D'Or

phone: +212 22 98 07 25

address: 9 Rue Abou Salt El Andaloussi

An Asian restaurant that is hard to miss, as it has an enormous red neon sign. The inside is nicely decorated in dark red, with lots of mirrors and Asian details. The food is ho-hum; the soups are great but the chicken tends to be overcooked. Still, a nice place for a quick snack close to the Maarif, a good shopping area.

La Sqala

phone: +212 22 26 09 60

address: Blvd. Des Almohades

Built in the remains of an old fortress, this place is worth as much as a cultural attraction as it is a restaurant. On the outskirts of the old medina, it has cannons, walls, defensive positions, and portcullises as well as a nice, clean eating environment. The atmosphere tends to be a little on the touristy side, but the food is a good modern look at traditional Moroccan foods. Some dishes are vegetarian and vegan. They also have the obligatory Moroccan pastries and teas if you're just in the mood for a snack. Great photo opportunity.

Al Mounia

phone: +212 22 22 26 69

address: 95 Rue Prince Moulay Abdullah

This restaurant has an excellent courtyard with a hundred year-old tree. The main drawback is that since this restaurant is listed in most guidebooks, it fills up with tourists at an early hour. The cooking is mostly traditional Moroccan foods, with some of the best couscous in the country. There is also an extensive wine list.

La Cocina

phone: +212 522 463369

address: 55, Rue Mustapha el Manfalouti, Gauthier, a 20m de Zerktouni

The real Spanish taste in Casablanca. Located in the center of Casablanca, this restaurant offers a variety of Spanish dishes, very good rice and paellas dishes and a great selection of authentic Spanish tapas and local and imports wines and beers. Open from noon until midnight without interruption, its nice decor and friendly service make it a must in Casablanca.
Splurge
phone: +212 22 27 42 07

address: 248 Rue Sour Jdid

This restaurant claims to have recreated the eponymous cafe from the movie Casablanca. Excellent location, within a 20-minute walk of the Hassan II Mosque and in the walls of the Old Medina bordering the ocean. The food is excellent, though expensive. Eat at one of the tables on the second floor for an excellent view of the seats below and the niveau-Moroccan decorations or eat on the ground floor to be nearer the piano player who plays, of course, "As Time Goes By" every night. Excellent selection of wine and liquor and, for Morocco, a thorough beer selection (5 different brands). The waitstaff, in tuxedos and fezes, are superb. Dress code. Do not show up in shorts!

YoSushi

phone: +212 22 98 11 90

address: 12 Rue Mohammed Abdou

Sushi is catching on in a big way in Morocco. This little place, on a side street near the prefectural police headquarters, is one of the best. New, clean, and trendy, you're unlikely to find anyone in it before 22:00. They serve all the sushi classics- Nigiri, Sashimi, Hosomaki, Maki, Futomakis, and assorted other fish items. Though tasty, it can get expensive if your aim is to fill yourself up. Not very many options for vegan diners.

phone: +212 05 22 94 05 55

address: 22 Rue Abou Al Mahassine Arrayani

French cuisine
Drink
Nightlife in Casablanca has mixed reviews. Women might feel a bit uncomfortable with the mostly male crowds in many bars and nightclubs. But if you dig a bit, you'll find some excellent spots to drink, dance and people watch. Certain clubs are flooded with prostitutes at night. It is not advised to bring a girl back to a hotel.
If you want a drink in your hotel room, supermarkets like Acima and Marjane carry a wide variety of liquor and wine, though the beer selection is fairly stunted. The best places to drink are either European-style restaurants, which usually have a decent selection, or hotel bars, which are inevitably safer and more relaxed. Many western-style nightclubs exist in the Maarif and Gironde neighborhoods. Pubs will cost around 100 dirham per head, it will be half if visited in the happy hours from 19:00-23:00. Pubs to visit Tiger House, La Notte.
Kasbar

phone: +212 22 20 47 47

address: 7 Rue Najib Mahfoud, Gauthier

A dark and atmospheric place to grab a drink or dinner. Any kind of attire will fly, but if you want to dress up, a night at Kasbar is your chance.

La Bodega

address: Rue Mohammed 5

A Spanish tapas bar, quite original. There can be a wait to get into the basement bar; but once you get inside, you're rewarded with bartenders who eat fire. It's pretty expensive, though, and only frequented by tourists.

Petit Poucet

address: 86 Boulevard Mohamed V

A bar that has been around for decades, apparently Little Prince author and aviator Antoine de Saint-Exupéry already stopped by here. Somewhat worn-down.
Sleep
phone: +212 522536200

address: Close to the airport

A modern hotel very close to the airport. This is the default accommodation for passengers with missed connections, so the price will most likely be covered by the airline. Food is basic but adequate. Wireless internet is available in a few places in the building, but you have to search for the signal - try the ground floor near the gift shop.
Budget
Hotel Terminus

address: Ave Bahmad, Place de la Gare, Casa-Voyageurs

Located directly across from the Casa Voyageurs train station, this hostel is not a cheap option for travelers watching their cash. The price is very high for what it is. 250 dirham for a 2-bed room with a sink. There are communal toilets on each floor and a shower behind the reception desk. Stay here only if you don't have another choice because all things in the hotel are very old and very dirty I could not sleep at all.

Hotel Central

address: 20 Place Ahmad el Bidaoui

Located in the Old Medina, this simple hotel is a good budget option. The owners are friendly and have been known to give complimentary cups of mint tea to weary travelers. Keep your wits about you as the Medina isn't the safest area at night.

Ajiad Casablanca

address: Angle Rue Kamal Mohamed et Rue Fakir Med

This central hotel has 24-hour reception, free parking and air-conditioned rooms.

Hotel Guynemer

phone: +212 522-27-57-64

address: 2, Rue Beloul Mohamed (ex. Pegoud), 20 000 Casablanca

In a time-honored building, most rooms classical style, but some rooms have been refurbished to modern style; WiFi in all rooms.
Mid-range
phone: +212 22 40 19 84

address: Avenue Bahmad, Place de la Gare, Casa-Voyageurs

Excellent location right next to Casa Voyageurs train station. Excellent garden in the back, perfect for playing with kids.
Splurge
phone: +212 22 43 1234

address: Place des Nations Unies

You can choose rooms with views of Hassan II Mosque. Has a pool and several good restaurants. Live entertainment in the evenings.

Novotel Casablanca City Center

phone: +212 522466500

address: Angle Zaid Ouhmad, Rue Sidi Belyout

A four-star hotel with over 200 rooms, this is a great spot for conferences and people looking for a bit of luxury. Expansive buffet breakfast, although a touch pricey. Located near the Old Medina and Hussan II Mosque and across the street from Gare Port.

Sheraton Casablanca Hotel & Towers

phone: +212 522 43 9494

address: 100 Avenue Des F A R

This modern hotel houses 6 bars and restaurants and the popular nightclub, Caesar's. There's also an outdoor pool and a fitness center.
Connect
Casablanca is served by all of the mobile companies that can be found elsewhere in Morocco. Inwi, Orange, and Maroc Telecom are the most common. Mobile phones can be bought in any of these store's stands, and most do not run on calling plans. Rather, recharge cards can be bought in corner stores that contain a number to call. When that number is called, the company adds the price of the card to your account's balance. Alternatively, more than one SIM card can be bought and changed in and out of the phone, if users need more than one phone number.
Internet
Internet cafes : Internet access is available in cyber cafes around the city. Service is usually around per hour.
Wifi: You'll find wifi access in many hotels and in some places such as America Café or La Brioche Dorée, usually those labelled a bit "trendy"
Mobile Internet: Phone companies offer mobile internet services that plug into the USB port of your computer (there are no Mac-compatible devices.) These services can be had without signing a contract, and are recharged in the same manner as a telephone.
Stay safe
Almost all of the things to see in Casablanca are in the north of the city; very few maps even show the southern end of this sprawling metropolis. Common sense will alleviate 99% of problems; try to look as little like a tourist as possible, do not flash large quantities of cash, and so on. Faux guides are much less of a problem here than in the rest of Morocco and are limited mainly to the area around the Old Medina. It is inadvisable to walk alone in Casablanca at night. Women, as in all Moroccan cities, should dress modestly to avoid harassment (which almost always consists of lewd comments, but nothing physical.)
Pickpocketing and moto-drive-by theft seem more to be a problem here—hide your valuables!

Cope
Casablanca is unlikely to provide North American or European travellers with any headaches. Despite being a major population center and seat of commerce, the majority of the town is less than 50 years old and could easily be mistaken for Los Angeles or Madrid. Food is as European as it gets in Morocco, with pizzas and hamburgers as frequent as tajines and couscous. In some areas, such as the Maarif and Gironde neighborhoods, seeing a man in a djellaba or a donkey pulling a cart of vegetables are rarities. If even the trappings of Moroccan culture such as these are too much for you, any hotel bar or restaurant is going to be just like home for a few hours.
Consulates
Go next
The majority of travellers leaving Morocco from Casablanca will leave from the Mohammed V airport (accessible by train). Leaving Casablanca for other Moroccan cities is likely to be by rail; the main train station is Casa Voyageur (as opposed to Casa Port, which is a special side stop not served by many trains). Grand taxis are the best way to exit the city for smaller outlying villages. There are no boat or ferry services available in Casablanca.
Marrakech – 3 hr away by train which leave regularly (about 90 dirham).