Cascais
Cascais
is beach town in the
Lisbon Region
of
Portugal
at the end of the mouth of the River Tagus as it meets the ocean, with spectacular beaches to be found on its Atlantic shorelines. The combination of maritime leisurely charm, strategic position and location close to Lisbon made it a favourite residence of the Portuguese royal family and several other nobles and one of Portugal's first holiday resorts.
Dominated by the bay and the imposing Cidadela fort, the historic centre is brimming with architectural treasures of a religious, military and civil nature. Likewise, the museums of the Sea, Casa das Histórias de Paula Rego, and the Municipal Museum Condes de Castro Guimarães are also must-see attractions.
Get in
Cascais is easily reachable from
Lisbon
by car or by train (40 min), from the
Cais do Sodré
station. A return ticket costs €5 (June 2018) and can be bought from the automatic ticket machines. Keep the ticket as it will be checked and punched by the conductor in both directions. Each ticket is is only valid for one person at a time and costs 0,50€ to buy and can be reused until a set date of expiration. Carris operate a bus between Cais do Sodre and Lisbon Airport every 20 min.
A car ride between Lisbon International Airport and Cascais can range between 30 minutes and 1 hr 15 min (during rush hours).
Cascais once a fishermen's harbour is a nice and sophisticated town, also a great gateway to explore the beautiful gold sand beach of Guincho.
Get around
The town is small enough to explore entirely by foot. To get a feeling for the life it's best to stroll around on foot. Uphill, beyond the town centre there are numerous narrow cobbled streets to explore with interesting architecture, plants and animals to see.
By bicycle
Riding a bicycle in Cascais is one of the "must do" things. Keen cyclists with their own bikes and like hills can venture towards
Cabo da Roca
, the westernmost point of continental Europe's mainland and even to
Sintra
using the nice roads while crossing the heart of this incredible nature reserve so close to the capital city of
Lisbon
. However, these are not trips to be taken with bikes rented in Cascais. For those with more limited cycling abilities and stamina, a popular trip is to follow the coastline through the town of Cascais as far as Guincho beach, about 10 km. There is a cycle track (shared with pedestrians!) that begins after you have passed the marina. In the summer, the northwesterly winds can make the last 3 km of this trip a bit tough but, in compensation, you will have a tail wind all the way back to Cascais.
Basic bicycles are available to rent for free (providing you have ID and your accommodation address) through the municipal council's BiCas scheme. Bicycles are available from several locations around the town. The tourist office will have further information. This bikes are heavily (mis)used by locals, students, and budget minded visitors and often are not available when needed, when available most times not always in the best safety and enjoyable conditions thus the common breakdowns. Colourful bikes can be rented in the forecourt of Cascais station and the Europcar car rental company also has some. Companies operating from Lisbon include
Bike Iberia
(+351 96 242 3455) in Lisbon Downtown off the train station of Cais do Sodre.
By bus
A looped bus line, BusCas, serves the town and the nearby surrounding area. For travelling further afield there is an extensive bus service, mainly operating from the bus station beneath the shopping centre opposite the train station. Taxis are always available and easy enough to find in the centre of town.
See
Boca do Inferno

address: Av. Rei Humberto II Italia

Just outside the town is the famous Boca do Inferno in which the sea on rougher days hammers into the rock and creates a booming noise and a spectacular spray thus creating its name which in English means "mouth of hell". The English occultist Aleister Crowley faked his death there in 1930.

Palácio de Conde de Castro Guimarães

address: Av. Rei Humberto II de Itália Parque Marechal Camona 2750-319 Cascais

One of the most outstanding palaces is the Palácio de Conde de Castro Guimarães that is open to the public and exhibits its own grand private collection that includes over 25,000 books and such rarities as an illustrated book by Duarte Galvão (1455-1517).

address: R. Júlio Pereira de Mello 2750 Cascais

On a much more modest scale is the Museu do Mar that depicts the story of Cascais and its fishing history.

Parque PalmelaThe Parque Palmela is an attractive park created by the Duques de Palmela and now maintained by the Town Hall and in which open-air concerts are often held.

Guincho beachWithin easy reach of Cascais is the famous beach at Guincho with its high waves that attract windsurfers from all around the world as having some of the best rollers in Europe.

Casa das Histórias Paula RegoModern red-coloured museum devoted entirely to the works of Portuguese-born artist Paula Rego and her husband. The museum's large collection is rotated every few months following different themes.

address: Praça 5 de Outubro 1

An attractive building with an excellent, small museum on the ground floor that provides a good introduction to the town.

Lighthouse museumA museum dedicated to the lighthouses of the Cascais coast, situated on the site of an old fort next to a working lighthouse. You can get up close to some of the lights used.
Cascais is the dormitory of the Lisbon international working community and the "younger set" who enjoy the diverse and sophisticated nightlife.There is a famous beach and casino in Estoril.
Also, most of the pre-historic finds from the Grutas de Alapraia are stored here.
Underground caves were discovered in the late 19th century.
The Grutus do Poço Velho are in the centre of the town and date back to the Neolithic period.
Cascais boasts a smart new Marina with lovely yachts adding a further attraction to the town.
The next town to the east of Cascais is the resort town of Estoril with its popular Casino. You can walk to Estoril from Cascais along the beachfront esplanade, passing many beachside bars and restaurants.
Do
Cascais is a magnet for those looking to practice every type of sport and leisure activity. Besides excellent facilities and all the professional staff and necessary equipment, the region boasts a wide range of natural advantages such as pure air, temperate year-round climate and close proximity to the sea and mountains.
Beginning on Avenida Rei Humberto II de Italia, just outside town past the marina, is a cycle lane and footpath extending the whole 5 km to Guincho beaches. This route runs beside the sea and is ideal for morning and evening strolls. The almost perennial North Atlantic sea breeze lends a refreshing air, especially during the hot summer months. Along the way you will find Boca Do Inferno, the famed "Mouth of Hell", where there is also a snack cafe, seafood restaurant and vendors of touristy gifts.
Water sports
The
marina
area is very active. Sailing enthusiasts will find sailing schools open at the weekend, while regular competitions and leisure vessels can always be seen around Cascais Bay. On some of the beaches it's very easy to hire boats and go water-skiing.
Like on the south coast, the big waves and strong winds on the west coast provide perfect conditions for surfing, windsurfing and body boarding. The world championships of these sports are regularly contested at the beaches of Guincho, Grande and Ribeira d'Ilhas north of Ericeira.
Golf
Golfers will find a lot of courses concentrated in a very small area, the majority of which are designed by the world's best architects. This means that you can choose from a wide variety of courses that cater for players of any age or ability, right up to the highest international standards. The mild and pleasant climate offers perfect golfing conditions right through the year.
There are many
golf courses
in the area: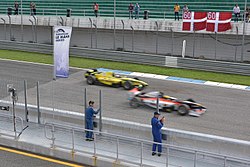 Motor racing
Estoril's famous motor-racing circuit hosts many important car and bike competitions, such as the Motorcycle GP Championships. It can also be arranged for individuals to experience the thrill of motor racing first-hand.
Racing Track, Fernanda Pires da Silva, +351 214 609 500.
Horse-riding
The variety of forest paths and excellent facilities throughout the region are a major attraction for those who enjoy horse riding. Here you'll find a good selection of riding schools where you can hire horses and learn to ride.
Every year a five-star equestrian event is taking place In Portugal called Global Champions Tour. It is a social gathering for all horse shows' amateurs and professional riders at the Manuel Possolo hippodrome in Cascais. If the thrill of show jumping excites you, check what's on at Quinta da Marinha or the Cascais Equestrian Centre.
Estoril Coast Riding Centre, Charneca, Cascais, +351 214 87 20 64
Quinta da Marinha Riding Centre, Cascais, +351 214 86 94 33
D. Carlos I Country Club, Quinta da Marinha, Cascais, +351 214 87 14 03
Manuel Possolo Equestrian Centre, Cascais, +351 214 82 27 50
Eat
A selection of excellent food and drink can be found on the Estoril Coast if you know where to look. Cod, seabass, and squid are the most popular dishes, and many other types of seafood are available at good establishments. Within central Cascais good food, and especially good value, can be hard to find. Taking time to scout out genuine Portuguese eating houses is worth doing, however, as the tastiest and most interesting dishes often exist in tucked away more modest restaurants, where locals tend to dine.
For the best food in town skip the Indian, Italian and English restaurants and head into the residential part of town, or walk down the coast to an establishment with fresh fish and a sea view.
Bacalhau occupies top spot in terms of culinary richness. You can choose from a 100 different recipes! And if you'd like to try a typical meat dish of the region, try Leitão de Negrais or Mercês-style pork.
Find yourself a restaurant that takes its deserts seriously, and finish your meal with one of the local sweet specialties: Travesseiros, the famous Queijadas de Sintra, Fofos de Belas, Areias de Cascais or Trouxas de Malveira. Portuguese egg-based confectionary is unique and delicious, and a fine companion for some after dinner port.
Vino Verde, "green wine", is a refreshing, slightly sparkling accompaniment to Portuguese meals, and shouldn't be missed. Portuguese red wines are on a par with those in France, Italy and Spain. The main demarcated regions are found in the Douro, Dão and Alentejo, but the Estoril Coast produces very small quantities of its own fine wines in Carcavelos and Colares, a rare pleasure that you might have the opportunity to try.
Vinho de Carcavelos, Estação Agronómica Nacional, +351 214 40 35 00
Adega Regional de Colares, Open 09:00-13:00 and 14:00-16:00 every day. A tasting of these fine wines can be organised in advance for a minimum of 10 peoplel. +351 219 28 73 33, Alameda Coronel Linhares de Lima 24, 2705-135 Colares.
Panorama, Estr. do Guincho 2750-642. Tel: +351 21487 9458

Restaurante O Pescador

phone: +351 21 483 20 54

Rua das flores nº 10 B. Fresh seafood fills the menu at this folksy restaurant, a favorite since 1964, where a cluttered ceiling and maritime-related artifacts distract the eye. Sole is a specialty, and this is also a good place to try bacalhau (dried salt cod); it's often baked here, either with cream or with port wine and onions.

Pop SandwichA tiny sandwich bar offering fresh-made baguettes, sandwiches and mini-pizzas along with the usual assortment of coffee and cold drinks. Found on the main shopping street, its bright green interior makes it easy to find. Run by an old Portuguese couple the food is fresh, delicious and unbelievably cheap. Great for a quick meal before heading down to the beach. A large sandwich and coffee should cost around €2.

Pizza Itália

phone: +351 214830151

address: Rua Poço Novo 1

A very nice Italian restaurant. If the weather permits, enjoy the terrace, with a view over the Cascais Bay.

address: Rua da Palmeira, 6A

An Italian and Japanese restaurant (with two separate kitchens). Choose among a selection of pizzas or pastas, or try the sushi buffet (€14) with a nice champagne and cucumber sangria.

Os MorgadosA typical Portuguese restaurant which offers great fish dishes, such as grilled seabream and seabass and tasty pasta or rice with prawns and seafood.

Monte Bistro

phone: +351 21 466-0106

A restaurant and take-away. Excellent value for money, a good portion of creativity while staying within traditional cuisine. Probably the best option when you lodge in Estoril and don't have time to walk to Cascais for dinner.
Sleep
Cascais is in the development phase: several holiday apartment buildings and hotels are under construction. The
corso
(beach road) is busy at night so ensure you room is not directing to it.
Budget
phone: +351 21 4572102

address: Pr. do Junqueiro nº 16, Carcavelos- Cascais Portugal
Mid-range
Splurge
phone: +351 214 847 380

address: Rua Frederico Arouca 100, 2750-353 Cascais -

Hotel Albatroz Cascais is around 30 km from Lisbon. A set of 5 charismatic historical buildings turned into a luxury hotel with a unique location above the sea, also enjoying a wide view over the sea. At the hotel: swimming pool, restaurant, bar, terrace, free private parking, room service, and all services from a 5-star hotel.

phone: +351 214825900

address: Avenida Manuel Júlio Carvalho e Costa 115

Palácio Estoril Hotel Golf & Spa

phone: +351 214648000

address: Rua Particular

A luxury five-star hotel enjoying beautifully landscaped gardens and magnificent sea views, and splendid classical buildings from the 1930s. It was fully renovated in 2006.
Go next
To the north and within easy reach is the romantic and fascinating town of Sintra and which was made famous to foreigners after a glowing account of its splendours recorded by Lord Byron. Scotturb Bus 403 travels regularly to Sintra, stopping at Cabo da Roca.
Also to the north visit the great Sanctuary of Our Lady of Fatima (Shrine), a place of worldwide famous Marian apparitions.
Mafra or Queluz, Costa de Caparica, Palmela, Sesimbra, Tróia.