Cashel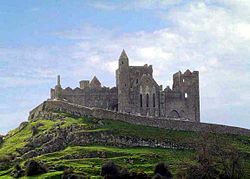 Cashel
(
Irish
:
Caiseal
, meaning "stone ringfort") is in
County Tipperary
in
Ireland
. It has a rich history and many sights - including Cashel Rock - an outcrop of limestone that has been the home of kings for hundreds of years. With a population of only 3000, it has been unspoiled by tourism and is a good example of a 'real' Irish town. Despite having such a small population, there's always something to do - local sports matches are held every day, and the local bars have live bands almost every day of the week.
Get in
By bus
There are no less than 14 buses a day stopping in Cashel.
From Dublin or Cork
You can get to Cashel by taking the Dublin-Cork line with
Bus Eiranne
, this costs €13 (10% discount if booked online) buses between Dublin and Cork (and vice-versa) leave every two hours.
From Limerick or Waterford
Cashel is on the Limerick-Waterford line with
Bus Eiranne
, There are about 6 buses a day on this line.
From Galway
Take a bus to Limerick, there are direct buses to Cashel from Limerick
By car
Cashel is bypassed by the M8. Turn off at either Junction 7 from the North, or Junction 9 from the South.
Get around

Cashel is a small traditional Irish town, you can get anywhere by walking.

See
phone: +353 62 61437

More formally St. Patrick's Rock, it is also known as Cashel of the Kings. Reputedly the site of the conversion of Aenghus the King of Munster by St. Patrick in the 5th century AD. Long before the Norman invasion The Rock of Cashel was the seat of the High Kings of Munster, although there is little structural evidence of their time here. Most of the buildings on the current site date from the 12th and 13th centuries when the rock was gifted to the Church. The buildings represent both Hiberno-Romanseque and Germanic influences in their architecture.

Bolton LibraryThe Bolton Library contains a unique collection of antiquarian books and is the finest collection outside of Dublin. The books were collected by Archbishop Theophilis Bolton, Archbishop of Cashel from 1730 to 1744. The collection contains a wide range of subjects and includes a 12th century manuscript, the Nuremnberg Chronicle and works by Dante, Swift, Calvin, Erasmus and Machiavelli.

Kearney's CastleKearney's Castle is a fifteenth century castle. In the past it was used as a garrison by Lord Inchiquin's army. The Kearney family lived in the building for many years. Fr. John Kearney was hanged in the castle in 1652. The building operated as a hotel but has now been closed permenantly.

Hore AbbeyA ruined Cistercian monastery.

phone: +353 62 61122

address: Rock Cottage, 1 Rock Ln, Moor

A national cultural centre at the foot of the Rock of Cashel. This cultural village is designed around a village green and is a home to the study and celebration of native Irish music, song, dance, theatre and Celtic studies. It has a folk theatre, genealogy centre, restaurant and other amenities. Brú Ború traditional group have performed worldwide.

phone: +353 87 915 1316

address: Dominic St, St. Dominick's Abbey

Cashel folk village is a delightful series of informal reconstructions of various traditional thatched village shops, a forge, and other businesses, together with a penal Chapel situated in a confined area within the town of Cashel, near to the famous Rock Of Cashel. There is also an old IRA museum and audio-visual presentation (1916-1923).

City Walls

The Fountain
Do
GolfThere are 3 18-hole golf courses near Cashel.

KartingHot Rod Car Racing, Outdoor Racing Center, Tipperary Raceway.

Clonmel Greyhound Stadium

phone: +353 52 83333

Racing every Thursday, 20:00 and Sunday, 19:30.

GAA StadiumOn most nights and on Sundays, you can watch a game of Gaelic sports between local teams - Hurling, Gaelic football, or Camogie.

AnglingThe Salmon and Trout season on the river Suir open on 17 March and closes on 30 September. Angling licences needed (Available from Casale 2000, Bank Pl, Cashel).

WalkingTipperary Heritage Way Walk - from Cashel to The Vee, this signposted walk takes forest tracks and historic sites along the river Suir. 55km in total. Cashel-Golden walk is 11 km along the banks of the River Suir.
Eat
Morelli's

phone: +353 87 774-5641

address: 4 Bank Place

Fast food place, serves tradition 'Irish' fast food (burgers, chips, sausages, fish, chicken wings etc.) as well as oven baked American style pizzas.

So Juicy

phone: +353 86 252-9098

address: 104 Main St

So Juicy is a fresh juice bar, serving juices and smoothies which are made to order. They also serve sandwiches, cookies and muffins.

Chez Hans

phone: +353 62 61177

address: The Butt of the Rock

Built in an old church, Chez Hans is an upmarket restaurant serving mainly French-style cooking.

Indo Spice Restaurant

phone: +353 62 63801

address: Lower Gate St

Indian restaurant.
Drink
Cashel has many traditional Irish pubs that remain untouched by tourists.
Feehans Bar

phone: +353 62 61929

address: 105 Main St

The Brian Boru Bar

phone: +353 62 63381

address: Main St

Live music and DJ's. Thursday-Monday.

The Moor Lane Tavern

phone: +353 62 62093

address: Main St

Live music and DJ's. Thursday-Sunday and Tuesday.

Campions Bar

address: Main St

A quaint little pub. Regularly hosts local bands.
Sleep
phone: +353 62 62330

address: 6 John St

The cheapest accommodation in town. Clean, warm rooms; Large comfortable common areas, full kitchen and laundry facilities. Both dormatory and private accommodation available.

phone: +353 62 62330

address: John St

A charming bed and breakfast set in a refubished Georgian town house. The large lounge area has a seriously out-of-tune piano and open fire.

phone: +353 62 61760

address: 10 Dominic Street
Internet
Cashel Public Library

phone: +353 62 63825

address: Friar St, Cashel
All hotels and B&Bs in cashel offer free wifi to guests. 'The Bake House' on main street has free wifi for customers.