Cassis
Cassis
is a city in
Provence
in southern
France
. Celebrated for its cliffs and calanques, it is also known for the Cassis wines (white, but also rosé) produced in the region.
Understand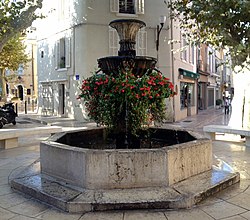 "Qu'a vist Paris, se noun a vist Cassis, pou dire: n'ai rèn vist"
("One who has seen Paris and who has not seen Cassis can say: I saw nothing") — these words, spoken by Nobel-prize winning writer
Federique Mistral
in the local
Provençal
language, reflect the great attraction that Cassis exerts on all those who go there.
The little fishing port, tucked between two exceptional natural sites (the celebrated Calanques and the majestic Cap Canaille) offers a concentrated version of Provence and the Mediterranean. The magic begins to work on the little road that leads to the village, winding between vineyards and pine trees. Walk along charming back roads lined with the brightly coloured homes of fishermen. Cassis will be forever remembered by those who see its port, boats and welcoming terraces for the first time.
phone: +33 892 25 98 92

address: Quai des Moulins
Get in
By train
address: Quartier de la gare

The station is on the edge of the town and is approximately 3.5 km, or 40 minutes walk from the centre of Cassis. There are foot paths the entire way, but not all of them are concreted so it's not especially suitable for wheeled bags (but it's not too bad).
By bus
There are some bus
services
to
La Ciotat
and
Marseille
.
By plane
The Marseille-Provence Airport is 55 km from Cassis.
By car
Some of the roads around Cassis have many sharp bends.
Get around
By foot
You can walk pretty much everywhere, it is a very small town.
By bus
By taxi
Les Taxis Cassidains:
are happy to take tourists on a route which exhibits the charms of the region: a visit to the Calanques, the village of Castellet, the vineyards of Cassis. For all enquiries phone: 04 42 01 78 96
See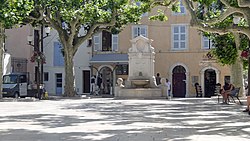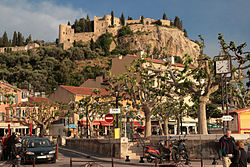 Place BaragnonThis square and the adjacent Place de la République are the centre of the town. There are the 17th-century building of Mairie (Town Hall), Musée d'Art et Traditions Populaires de Cassis (Museum of Arts and Popular Traditions). You could also see a couple of fountains there. On Wednesdays and Fridays in the morning a local market is located there.

Eglise Saint MichelOpened in 1875.

Prud'homie de Pêche

Villa l'ArianeNow a public library.

Château de CassisNot open to the public.

La Villa MauresqueClosed due to restoration.

Statue de CalendalA fictional hero from Cassis.
Do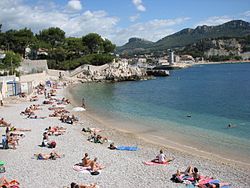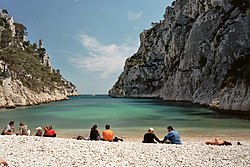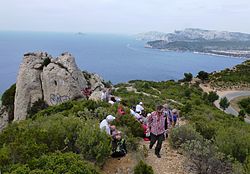 The beaches (remember your swimming costume). These can get very busy in the summer months though.
By far the biggest attraction in Cassis is the
Calanques
. They are very steep walled inlets and bays along the coast between Marseille and Cassis. You can visit them by boat, or you can hike from bay to bay.
Hike the CalanquesYou can easily walk to the Calanques from the centre of Cassis. It's sign-posted but if you have a map head to Av. des Calanques where you'll find the first bay which is full of yachts. From there the trails start and you can wander from bay to bay over the hills. You'll need good shoes, and probably a map. The further you go the rockier, steeper and more slippery it gets. Walking tours are also available

Hike Cap CanailleCap Canaille is a headland to the east of Cassis. It is the highest sea cliff in France and offers fantastic views of Cassis. To get to the top it takes approximately an hour and a half. The first hour is on roads and the last half is on walking tracks. Be careful near the top, it can get quite windy.

Take a Boat to the CalanquesThe boat trips to the Calanques are definitely worthwhile. A choice of trips is available, either tours or drop-on or pick-ups from the Calanques.

Rent a KayakYou can rent kayaks from the first Calanque. The kayaks are on the left hand (eastern) side of the first calanque (the one with all the yachts).

Rock ClimbingThe calanques are a top spot for rock climbers. If you like rock climbing, don't forget your climbing shoes!
Buy
There are plenty of souvenirs available, ranging from the tacky to the upmarket. Some of them can be quite expensive so do shop around.
address: 13 Avenue du Revestel

A small boutique that sells handmade (on site) soaps, moisturisers, massage oils and other bath products. Everything is made from natural products such as olive oil. A good place to find inexpensive but pretty presents.

L'Atelier des Calanques

phone: +33 6 28 97 33 05

address: 3 Rue du Four, 13260 Cassis

A boutique that sells handmade candles and candle holders. All very pretty. The owner will also make candles to your specifications if you can wait overnight.

The Town Flea Market

address: Pl. Baragnon

In the centre of town on a Sunday morning, there is a small flea market where the locals sell all sorts of pre-loved knick knacks.
Eat
The sea provides a variety of flavours: sardines, tuna, redfish, bass, cuttlefish, sea bream, conger, grey mullet, eel, red mullet, mussels, sea urchins, and squid. The earth provides vegetables coloured by the sun and cut when ripe, honey, herbs, olives....
The seafront is lined with seafood restaurants but they tend to have higher prices than the restaurants away from the waterfront.
Just like Marseille, Cassis is a good place to try bouillabaisse. It's an entire dining experience rather than just a dish. It starts with a thick fish soup and croutons covered in a special sauce, then is followed by a variety of fish and more of the soup. You usually need to book a day ahead because they need to get the right fish in for the meal.
Chez Gilbert

phone: +33 4 42 01 71 36

address: 19 quai des Baux

A member of the Bouillabaisse Charter

La Poissonnerie Laurent

phone: +33 4 42 01 71 56

address: 5 Quai Jean Jacques Barthélémy

A fishmonger's restaurant

Romano

phone: +33 4 42 01 08 16

address: 15 Quai Jean Jacques Barthélémy

phone: +33 4 96 18 00 00

address: Avenue de Revestel-anse de Corton

One Michelin star.

Le Bonaparte

phone: +33 4 42 01 80 84

address: 14 Rue du Général Bonaparte

A good and relatively inexpensive place to try Bouillabaisse (which can range from €30-50pp depending on the restaurant). Make sure you book it a day ahead though, otherwise they might not have the correct fish to make it for you.

Le Chaudron

address: 4 Rue Adolphe Thiers, 13260 Cassis

On a quiet street just off the main road, Le Chaudron offers local style food with a good selection of seafood and other classic French dishes. The duck with lavender and honey sauce was a particular highlight.

phone: +33 4 42 01 73 54

address: 14 Quai Jean Jacques Barthélémy
Go next
Aix-en-Provence - Open to the world, it is a city of human dimension where the preserved heritage and the city of tomorrow blend perfectly.
La Ciotat - another end of the route des Crêtes along the Cap Canaille. A town associated with Lumière Brothers and their first films.