Castellón (province)
Castellón
/
Castelló
province is the northernmost province of the
Valencian Community
. It is bordered to the south by
Valencia
province, to the north by
Tarragona
, and to the east by Teruel province in
Aragon
. Its Mediterranean coastline is often referred to as the
Costa del Azahar
.
Cities
(Valencian: Castelló) – the largest city and provincial capital.
– an ancient town with photogenic hilltop fortress.
(Valencian: Peníscola) – a very popular seaside resort with picturesque castle.

(Spanish: Alcocébre) – a seaside resort with excellent beaches.
(Valencian: Vila-real)
– well known for its olive oil, wine, and annual running of the bulls.
– a good base for climbing, hiking, and exploring hot springs.
– seaside community
– seaside community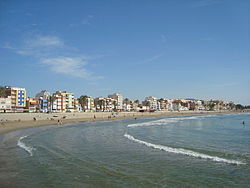 Other destinations
Costa del Azahar (Valencian: Costa dels Tarongers – 'orange blossom coast') tourist region
Understand
Castellón is one of Spain's most mountainous provinces. About 30% of the population of 600,000 live in the provincial capital and another large percentage live in the coastal region of Costa del Azahar, while the hinterlands are sparsely inhabited.
The official languages are
Valencian
and
Spanish
, with Valencian spoken more along the coast and Spanish spoken more inland.