Castellfollit de la Roca
Castellfollit de la Roca
is a town in
Catalonia
,
Spain
.
Understand
Castellfollit is a small town West of
Besalú
and
Figueres
. Its most striking aspect is that the entire town is constructed on a narrow sliver of a cliff that sticks out in to a valley with the town church at the front of it.
See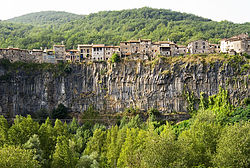 Basalt cliffOver 50 m high and almost a kilometre long, formed by the overlaying of two lava flows.

Basalt quaryThe only active basalt quary in Spain, from the year 1887.

Old townMedieval old town with narrow streets and houses built out of volcanic stone.