Castile-Leon
Castile and Leon
(
Spanish
:
Castilla y León
) is an autonomous region of
Spain
.
Other destinations

La Alberca is worth a visit. It is historical town with a current population of about 1000. Only residents are allowed to have vehicles in the historical centre. In the off season, it can be a quiet, sleepy location. Besides being very beautiful, the town is known for the production of ham and other pork products.

Understand
Castilla y León is an autonomous community of Spain, the country's largest — in fact, it is the largest subnational political division in the
European Union
. It is formed by the union of two ancient kingdoms: Old Castile (Ávila, Burgos, Segovia and Soria) and the Kingdom of León (León, Zamora, Salamanca, Palencia and Valladolid), which were separated and reunited several times in the Middle Ages.
Talk
Spanish
is the main language. Everyone in Castile and Leon speaks Spanish, but in the provinces of León, Zamora and Salamanca, Leonese is also spoken by a small minority.
Get in
Valladolid Airport (VLL), Burgos-Villafria Airport (RGS).

See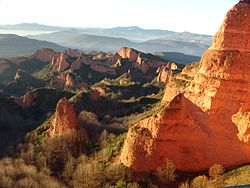 Go next