Castlegar
Castlegar
is a city of 7,800 people (2011) in
British Columbia
on the southern tip of the Arrow Lakes chain. It sits at the confluence of the Kootenay and Columbia Rivers, and is a perfect base for a wide range of outdoor activities. The surrounding lakes and mountains offer unlimited outdoor possibilities. There is tremendous fishing on both big rivers and on the Arrow Lakes, and Syringa Creek Provincial Park is nearby.
Understand
The city's population includes a large number of Doukhobors, who were largely responsible for much of Castlegar's early development and growth.
A sizeable Portuguese community grew as workers, mainly from the Azores islands, moved in to take up employment in the area. The area which was to become Castlegar was an important centre for the Sinixt (Lakes) Peoples. Outside the city limits are the small surrounding communities of Ootischenia, Brilliant, Robson, Robson West, Raspberry, Tarrys, Thrums, Glade, Shoreacres, Fairview, Genelle, Pass Creek and Krestova. There are also the much smaller communities of Deer Park, Renata, and Syringa on Lower Arrow Lake.
Taken together, these outlying areas comprise an approximate population of a further 8,000 people.

History
On 5 September 1811, David Thompson arrived at the location where Castlegar now sits, where he camped near the mouth of the Kootenay River. A plaque dedicated to David Thompson can be found on the east bank of the Columbia River overlooking the present day site of Castlegar.
The first settlement in the area was West Waterloo, now known as South Castlegar. There was widespread provincial interest in gold prospecting in the late 19th century, and by 1895 there were 40 houses in Waterloo. The town boomed until the end of the century when interest in the local mines declined.
Castlegar takes its name from Castlegar, County Galway, Ireland, the ancestral home of townsite founder Edward Mahon. (Castlegar is on the eastern boundary of the city of Galway.) The city was planned in 1897. Around 1902, the Canadian Pacific Railway (CPR) built the bridge at Castlegar and laid the wide gauge railway tracks to Trail. There was little in Castlegar until after the completion of the CPR bridge.

First Nations history
Castlegar is in the border area between the Sinixt (Interior Salish) and the Ktunaxa Indian bands. Experts cannot agree where the Ktunaxa range ended, and where the Sinixt began. There was much overlapping of cultural and territorial activity between the two peoples. The Sinixt were the original people in the area, and that the Kootenai arrived several hundred years ago from central Canada.
"Qepitles" was a site on the north side of the Kootenay River, just above the junction with the Columbia River. Native implements (arrowheads, pestles, etc.) have been found along the nearby Arrow Lakes. A reconstructed kekuli dwelling was established on Zuckerberg Island, at the confluence of the Kootenay and Columbia rivers.

Doukhobor history
The Doukhobors put a ferry into operation near Brilliant on the Kootenay River in 1910 and the Christian Community of Universal Brotherhood (CCUB) made an application to the CPR for a railway station and siding to this point. Brilliant was the centre of the CCUB commercial enterprises. Located on the site was the Brilliant Jam Factory, a grain elevator, and a flax seed mill.

Climate
Hot days and cool nights in summer, with moderately dry weather and cold winters with heavy snowfall due to the mediterranean tendencies of high winter precipitation. Castlegar is wetter than most places in the Southern Interior of BC, as the city receives around 400 mm more precipitation than nearby Kelowna, Penticton and Kamloops (which are in the dryer Okanagan region of British Columbia, while Castlegar is in the Kootenay region).

Get in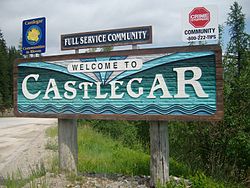 Get around
By rental car

Budget and National have offices at Castlegar Airport and Downtown locations.

By public transit

There is a limited bus service through the Castlegar area. Contact BC Transit for schedule.

See
Do
Summer
Climbing: an up-and-coming climbing area with the potential to grow, great rock around try the "waterline" and some other local spots,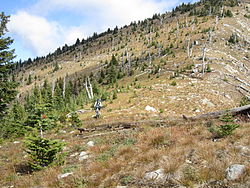 Mountain biking: some unreal trails and secret spots that will blow your mind. Locals are friendly and helpful. The Seven Summits train is one of the more well known.
Golfing:
18-hole championship course at Castlegar Golf Club (non-members welcome)
9-hole par three at Little Bear Golf Course
Syringa Creek Provincial ParkLarge sandy beach, good swimming, large campsite, hiking trails, boatlaunch, sani-dump. Campsite often full during peak season so book ahead if possible. This all-season 4500-ha park protects provincially significant interior Douglas-fir forests and preserves one of the few remaining examples of grassland ecosystems in the Kootenays. A variety of wildlife are at home in the park including, elk, deer and a herd of rocky mountain bighorn sheep that can often be observed grazing on the many rock bluffs.
Boating: Great boating and fishing on the Arrow Lake, west of Castlegar.
Scotties Marina - moorage, fuel, food, burger bar, bait, free boat launch
Syringa Park Marina—moorage, fuel, food, boat launch
Floating the Slocan: Popular summer activity is a 2-3 hour float down the Slocan River from Slocan Park to Crescent Valley. Tubes available for purchase at Canadian Tire or for rent at Wildways in Crescent Valley.
Hiking: Numerous day and multi-day hikes in area.
Summer festivals
Castlegar Sunfest—first weekend in June
Shamabhala Music Festival—western Canada's largest party. 5 days and 4 nights in mid-August
Kaslo Jazz Festival—floating stage, August long weekend
Winter
Red ResortAbout 30 mintues drive to Rossland, one of Canada's best and most famous ski resorts. 5 lifts, 2900 vertical feet, 83 marked runs and deep Kootenay power snow, large adjacent cross-country area.

Whitewater Winter Resort. Located approximately 50 minutes from Castlegar, cross-country and downhill ski area, famous for deep powder snow. 3 lifts, 1300 vertical feet.
Cat and heli-skiing:
Valhalla Powder Cats. Based in Crescent Valley, cat-skiing in deep untracked powder, single day and packages available.
Baldface Lodge. Cat-skiing from helicopter accessed alpine chalet.
Wildhorse Catskiing. Based in Ymir, deep powder cat skiing, with day trips and packages.
Snowwater Lodge. Alpine lodge with cat-skiing and heli skiing in the Selkirk Mountains close to Castlegar.
Snowmobiling: Hundreds of kilometers of groomed and ungroomed trails located around Castlegar.
Cross-country skiing
Buy
phone: +1 250-365-7665

address: 277 Columbia Ave

Art by local artists.
Eat
Cuisine of India

phone: +1 250 365-0999

address: 908 Columbia Ave

Inexpensive, authentic Indian food served as spicy as you like. Lunch buffet and dinner.

Greek Oven

phone: +1 250 365-2311

address: 400 Columbia Avenue

Popular Greek and Italian spot downtown, summer patio, closed Mondays.
Chopsticks Chinese and Japanese. Sushi bar and table service, good sushi and relatively authentic Chinese cuisine.

Lions Head PubNeighbourhood pub with 12 beer taps of BC microbrews, summer patio and fire pit, lunch and dinner.
Drink
Pubs and bars
Black Rooster Bar, Grill and Restaurant. In the Super 8 hotel. Outdoor patio, lounge atmosphere, numerous plasma TVs, good food and drink, moderately priced.
Nealy O'Brien's Pub. Small Irish-themed pub.
Molly's. Downtown in the Marlane hotel. The region's only show-lounge. Shows till 11PM daily.
Thirsty Duck Pub. Located in south Castlegar toward Trail. Open daily for Lunch, Dinner and drinks.

phone: +1 250-365-BREW

address: 2629 Broadwater Road

In Robson, North Castlegar: turn left on Broadwater Road after the Brilliant Bridge at the north end of town. Smoked BBQ meats, house made menu. Specializing in BC craft brewed beer -- 12 taps. Between the Historic Lions Head Rock and the Mighty Columbia River, this 2 floor Tudor style building is one of a kind in the kootneys, expect some live bands, daily free pool and foosball everyday.

Element Night Club, Bar and GrillLarge night club in downtown Castlegar boasts being one of the biggest in the province (over 600 person capacity). Top 40/Dance DJs with the occasional international live act. Two floors, large dance floor, two bars, three pool tables, leather couches, and a well ventilated smoking room. Excellent food. Bar and Grill is open M-Sa from 11AM. Club is open till 2AM Wednesday to Saturday.
Coffee shops and cafes
Bagels and Brew

address: 1502 Columbia Avenue #9

Specialty coffee drinks, fresh roasted coffee beans, and loose teas. Bagels are boiled and baked, and a variety of cream cheeses are available. Sandwiches, melts, soups and salads are also featured on the menu.

Common Grounds
Sleep
Go next