Catania
Catania
is a city on the eastern coast of Sicily at the foot of Mount Etna, the biggest volcano in Europe. It is the second largest city in
Sicily
with the metropolitan area reaching one million inhabitants, a major transport hub, economic centre and a university city where you will enjoy a busy downtown and an active nightlife. Catania is also well known for its particular baroque architecture and urban design (the downtown area is a
World Heritage Site
, along with all the Val di Noto area), consequences of the great earthquake of 1693 after which the city had to be rebuilt, like most of eastern Sicily.
Understand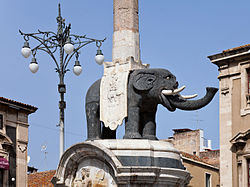 The city has a history dating back 2,700 years, dominated by several different cultures (Greeks, Romans, Arabs, Normans, Spanish, etc.) and was a rich commercial centre, mainly due to its port. Again, since the 1970s, the city economy is growing as the urban area and the suburbs, making Catania a large metropolitan centre, mainly between the volcano and the sea. Today, even if you can find there most of the biggest commercial centers in Europe (especially Etnapolis), the 17th-century downtown area is still the center of the day-to-day life.
Catania sits under the most major active volcano in Europe and has been destroyed many times in the past. As a result, Catania is a city where you can find a great variety of landscape and architecture, a lot of dirty buildings and also a lot of abandoned houses, especially in the mountains. However, since the city is a World Heritage Site, a lot of renovations have been made.
Today, you will feel in Catania a mix of nostalgia and
joie de vivre
, especially at night or during festivals.
Sicilian Baroque
The major feature of this city is its architecture, which is predominantly baroque.
The major characteristic of Baroque architectural is its theatricality. This style dominated Europe in the 17th century as a result of the reformation/counter-reformation where the statement given was one of grandeur. The preceding style was Renaissance, while the succeeding was Neoclassicism. The three major features are a near excessive amount of detail (statues, lots of gold, columns and pilasters, garlands and wreaths etc.), façades which are taller than the nave (to fool the viewer of the size) and frescoes often featuring
trompe-l'œil
.
Baroque from Catania has several unique features such as use of dark lava stone (basalt), the Bell in the façade itself and grotesque masks and putti.
Tourist information
phone: +39 095 742 55 73

address: via Vittorio Emanuele II, 172

The Tourist Bureau of the city.
Info point of the province of Catania at the via Etnea.

Catania PassThe city of Catania promotes a tourist bundle which combines a transport pass for the city with some discounts to a handful of the city's museums. See yourself if you need one of them: Museo Civico "Castello Ursino", Museo Belliniano, Museo Emilio Greco, Museo Diocesano and Terme Achilliane are free, plus Monastero dei Benedettini is €4 instead of €7.
Talk

Sicilian used to be the common language here for centuries, as the Sicilian culture is isolated on an island. Even in Catania, you will notice Italian and Sicilian (as Palermo, Catania has its own dialect) in some neighborhoods, especially in inner areas, while most people speak mainly Italian in the city center.

Get in
By plane
phone: +39 095 723 9111

The airport is on the coast south of central Catania. There are frequent flights to Rome FCO; other domestic destinations include Bastia, Bologna, Genoa, Milan, Naples, Perugia, Pisa, Turin, Venice and Verona. International destinations (some seasonal) include Barcelona, Berlin, Bucharest, Madrid, Malta (frequent), Manchester, Paris and Stuttgart. Arrivals: exit straight ahead for the Alibus stop and taxi rank. Turn right (east) through Arrivals hall for car hire desks, TIC (+39 095 723 96 82; M-Sa 08:00 to 19:15) and intercity buses & ticket booths. There's also a cafe, shop, currency exchange, ATMs and (handy, this) a pigeon trap. The airport hotel is 200 m north. Departures: airside is a large hall with shops and two cafes. The non-Schengen area (gates 19-22) is small: there's toilets and a shop but no cafes, so don't go through passport control until an hour or so before your departure.
The simplest way to reach central Catania is on the
phone: +39 095-7519111
This bus runs daily 05:30 to 00:00, every 25 min. From the airport via sea-port to the railway station takes 25 min. Coming back allow 30 min, as from the railway station the bus makes a city centre loop before returning to the station roundabout. So if you see a red & blue Alibus standing at the station plaza, take it, otherwise go to the corner of Martiri della Liberta and Viale della Liberta, no marked bus-stop, just leap out waving as the bus approaches.
Because the airport is so close, the inter-city buses running to Catania also call here, so you can usually get a direct connection: see listings below. Buses to nearby towns and villages (run by AST) mostly don't call here, so you'll have to go downtown to change. However the local buses to Donnalucata, Modica and Carlentini do call here, as the airport happens to be on the route. Buy bus tickets from the kiosks by the east exit of the Arrivals hall.
By bus
The transport hub of Catania is the big roundabout Piazza Papa Giovanni XXIII (that's "Pope John 23rd" for non-Latins). The metro station is right here, as is the main railway station, and just north is the bus station
Stazione ASTThe main bus terminal is S side of Via Archimede (corner with Viale della Liberta.) But there are no facilities here, and you need to buy your ticket from the ticket offices along Via D'Amico, a short block north. Coach parking lots sprawl over adjacent blocks but the only other active pick-up / drop-off areas are for some SAIS long-distance services, facing Via D'Amico.
The main bus companies running from here are:
By train
Trains run roughly hourly along the east coast via Taormina-Giardini to
Messina
(90 min to 2 hr). Three of these per day are direct services to
Naples
(7-8 hours) and
Rome
(10 hours), via the Straits ferry. Five trains per day run inland via
Enna
(1 hour) to
Palermo
(3 hours). 12 trains a day run south to
Syracuse
(one hour); two of these connect with onward trains to
Pozzallo
(2 hr 30 min). The scenic inland route to
Caltagirone
is suspended indefinitely for engineering works: a replacement bus runs once a day.
address: Piazza Papa Giovanni XXIII

Small cafe & tobacconist here. Wheelchair access to platforms 2-5 involves lumping over the tracks. The nearest Left Luggage service is 500 m away at Atripical, Piazza Duca di Genova, 6; open daily 09:00-19:00.
There are two small stations to the north, Catania Europa and Catania Ognina. Visitors are unlikely to use them. To the south, the railway runs very close to the airport terminal, but there isn't a stop.
By ferry
Most travellers from mainland Italy use the 20-minute shuttle between Villa San Giovanni and Messina; there are also frequent ferries from Reggio to Messina. A car ferry runs every night between Naples and Catania: it's run by TTT lines and takes 12 hours. Other ferries sail from the mainland to Palermo.
A car ferry runs twice a day between Pozzallo (90 km south of Catania) and
Valletta
, Malta. It's run by Virtu Ferries and takes one hour 45 min, return fare €80 low season rising to €160 mid-summer. Day-trips are possible from Malta every day, and from Sicily on Wednesday and Friday. On Friday, Saturday and Monday there's a connecting coach between Catania and Pozzallo. This is timed for day-trips from Malta, so if you want to day-trip from Sicily you need to make your own way to Pozzallo.
Get around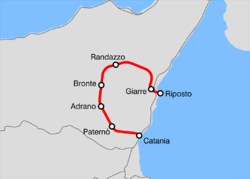 By foot
Catania has a compact centre and it is most convenient just to walk around.
By bus
To reach outlying accommodation or the university, you'll need the bus, run by
AMTUse their interactive map to find bus lines.
By train
Ferrovia Circumetnea
(FCE) is a narrow-gauge railway that loops around the west flanks of Etna then back to the coast and mainline at Giarre-Riposto, 28 km north of Catania. The terminus in Catania is Borgo, with a metro connection to Centrale railway station and downtown. Trains run from Catania Borgo Mon-Sat hourly, all as far as Paterno, most as far as Adrano, and eight per day reach Bronte and Randazzo (2 hours) where these south-side trains terminate. To complete the circuit, you change to the north-side train Randazzo-Linguaglossa-Giarre-Riposto, taking 70 min. There are 3 or 4 of these per day in summer but only one or two in winter. At Giarre the Circumetnea and mainline stations are side by side, with Circumetnea trains continuing for a final km to terminate at Riposto. There is no Sunday or public holiday service on the Circumetnea line.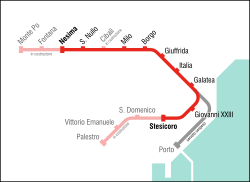 Visitors to Catania are only likely to use the
metro

to reach the Circumetnea railway. It's possibly the shortest metro in the world, just under 9 km long, and it's run by the same company. The line starts from
Stesicoro
in midtown Catania, runs east to the transport hub of
Giovanni XXIII
, then turns west. Get off at
Borgo
for the Circumetnea railway. The metro line ends at the suburb of
Nesima
, which has Park & Ride. The metro runs M-Sa 06:50-21:00 every 10-15 min; no service Sundays or public holidays. Single ticket €1 (valid 90 min), Bus+Metro €1.20 (valid 120 min), Day pass €2 (metro only).
An extension west from Nesima is under construction: it's expected to open as far as Fontana in Nov 2018, and Misterbianco in 2022. They also plan to extend south from Stesicoro to the airport.
By car
Driving in the centre is difficult because of congestion, one-way systems and pedestrianised areas. There are ten main parking lots around the city, and a slew of others serving the airport. Park & Ride is available at the airport, and at Nesima metro station west of the city.
See
World Heritage Sites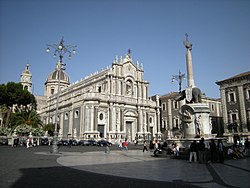 Piazza del DuomoAn attractive, lively baroque square. Here you can find the Fontana dell'Elefante (Elephant Fountain) or U Liotru - the symbol of the city. There are three buildings here that are World Heritage Sites. The square is also an entrance to the elegant via Etnea, the main shopping street.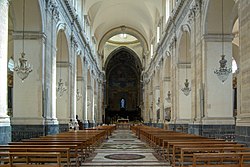 Cattedrale di Sant'Agata

address: Piazza del Duomo

An imposing cathedral, well worth visiting. Also see for Terme Achilliane and Museo Diocesano which are located there.

phone: +39 095 281635

address: Via Etnea 8

The collection of the museum contains various religious artefacts from the Cathedral and some other churches around. It's ticket office also sells tickets to the Terme Achilliane.

Palazzo degli Elefanti

Palazzo dei Chierici

Chiesa della Badia di Sant'Agata

address: Via Vittorio Emanuele 184
Castello Ursino

phone: +39 095 345830

address: Piazza Federico Di Svevia

A 13th-century castle near center. It hosts Museo civico (Civic Museum).
Monastero dei Benedettini di San Nicolò l'Arena

phone: +39 095 7102767

address: Piazza Dante, 32

It is the oldest one in Sicily and it is one of the biggest monasteries in Europe. It hosts now the Faculty of Literature of the University of Catania.
Chiesa di San Nicolò l'Arena

phone: +39 095 7159912

address: Piazza Dante

It is an unachieved church which was supposed to be the biggest one in Sicily.
Via CrociferiIt's a centre of an ecclesiastical architecture in Catania: in no more than 200 m there are 4 churches, 3 monasteries and a college.
Monastero di San Benedetto

phone: +39 095 7152207

A splendid baroque monument.

Chiesa di San Francesco Borgia

phone: +39 095 310762

address: Via Crociferi, 17

Today the church used for various cultural events. Next to the church is a former Jesuit college.

Chiesa di San Giuliano

phone: +39 095 7159360

address: Via Crociferi, 36

Villa Cerami

address: Via Cerami

A Baroque villa. It hosts Faculty of Law of the University.
Basilica Maria Santissima dell'Elemosina
address: Via Etnea 23
phone: +39 095 7152508

address: Via Museo Biscari, 10 - 16

It is one the most interesting baroque palaces in Catania. The palace is privately owned. Check with the tourist office to arrange a visit.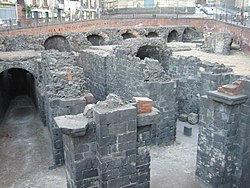 Ancient Roman and Greek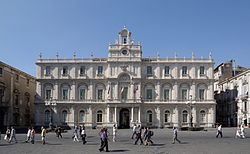 Other notable attractions
phone: +39 095 7306111

address: Piazza Vincenzo Bellini

A 19th-century opera theatre named after the Catania-born composer Vincenzo Bellini. The square before the theatre is a popular meeting place among the local young people, so its neighbourhood is very lively and busy by night.

Palazzo dell'Università

address: Piazza Università

phone: +39 095 7428038

address: Via Vittorio Emanuele 121

A former monastery, it's now a venue for various exhibitions. It also hosts the access point, an information office of the municipal museums (M-Sa 09:00-13:00).

Palazzo Gravina-Cruyllas

phone: +39 095 7150535

address: Piazza San Francesco d'Assisi, 3

It is the birthplace of Vincenzo Bellini. Thete are two museums here.
Quattro CantiA square at the intersection of Via Etnea with Via di Sangiuliano. It is somewhat reminiscent to the other octagonal squares in Italy: Quattro Canti at the piazza Vigliena in Palermo, Quattro Canti in Paternò, and Quattro Fontane in Rome, next to the church of San Carlino by Francesco Borromini.
Porta Garibaldi

address: Via Garibaldi

The gates erected in 1768 in honor of King Ferdinand IV and his family.
Parks and gardens
Do
- Walk the main shopping avenue, running north from the Piazza del Duomo has most of the city's imposing building and is busy throughout the day and evening. Lots of churches. This road is the equivalent of Las Ramblas in Barcelona, so in the evenings the local people put on their Sunday clothes and walk at a relaxed pace along this avenue.
La Plaja, sandy beaches south of the city along the bay
The Riviera dei ciclopi, a rocky, volcano coast north of the city, stretching almost to Taormina
Visit a minor religious festival, but avoid Sant'Agata on the 5th February due to the excessive crowds.
A vintage self-drive excursion or a themed tour on a classic Fiat 500, starting from Catania or Taormina/Giardini Naxos. The most popular excursions are themed on the Francis Ford Coppola's Godfather movie and on the Etna Wines Road. You can reach villages like Savoca, Forza D'Agrò and Taormina. Contact 500 Vintage Tour - Classic car hire & tours - Taormina - Phone +39 3497234906 - Email: info@500vintagetour.com - Website: 500 Vintage Tour

phone: +39 3281977919

Guided excursions on mount Etna, with transfer from Catania, Giarre or Taormina by jeep and 4x4. Visit of summit craters and most beautiful places of the volcano.
Learn
phone: +39 095 9890689

address: via Garibaldi 9

The school is hosted in a Baroque building located downtown. The school offers year-round intensive language courses, full immersion classes for all levels, while the afternoon provides a program of cultural activities to learn the culture and practice the language. The cultural themes of the lectures are: cinema, art history, songs and music, traditions and mythology, visits to museums and monuments, food and wine tasting. During the summer the school offers the Summer School program, which includes language classes in the morning, and in the afternoon a cooking class, a visit to a monument, and three sports or recreational activities, taking place in beach clubs having an agreement with the school.
Buy
Pizzo
means protection money extorted by the Mafia.
Addiopizzo Catania
is a movement of shopkeepers who refuse to pay - please support them by shopping in their stores. They also run educational and cultural outreach activities.
Every morning except Sundays, try haggling at:
Fera 'o Luni

address: Piazza Carlo Alberto

A bustling food and clothes market. The main historic market of Catania.

La Piscaria

address: Piazza Alonzo di Benedetto

A large fish, fruit & veg market just off Piazza Duomo.
Eat
Catania is proud of its specialities. A famous speciality is
pasta alla Norma
which consists in pasta (generally macaroni) dressed with tomato sauce and topped with fried eggplant slices, grated ricotta salad and fresh basil. The fish is also good, as Catania is a large port. The city is also known for horse meat, especially in some areas around the "Benedictine Monastery".
Typical Catanese pastry include the world-wide famous
cannolo alla Ricotta
,
cassatella di Sant'Agata
(a small cassata) and
pasta di Mandorla
(based on almond meal).
Fast food
Like in most of Sicily, you can get a freshly made cold
panini
in a
salumeria
, where you choose whatever you want to put in (
prosciutto cotto/crudo
and cheese are probably the most popular ones), for €1-3. Don't forget that most of salumerias are closed 13:00-16:00 and on Sunday afternoon.
You can also have some
tavola calda
("hot bite") meal, most of them made with cheese and meat, fried or baked. You will normally pay €1.50 for one piece.
Another Sicilian speciality is
arancino
, which are deep fried rice balls with various fillings, meat or eggplant or spinach, that sell for €1.50 at most places. They make a good lunch snack.
Also, especially in the evening, some big kiosks sell hot, tasty and fat panini, some even horse meat filling. Most people add fries into the sandwich. Usually, it's about €2.50-3.00 and they are very popular among teenagers. Because its quite cheap, there is normally confusion at these kiosks.
In summer, a typical breakfast consists of "Granita" (a kind of sorbet of almond or black mulberry) served with a
brioscia
(sweet round small loaf): it is a nourishing and refreshing combination that can be found in almost any bar of the city.
phone: +39 095 327 247

address: 292 Via Etna

Sicilian cakes, cannolis, arancini, espresso. Outdoor seating.

address: Via Cardinale Dusmet 7/9

Pasticceria open all hours.
Budget
address: 73 Piazza Federico di Svevia

Okay for the meat lover, fish is from frozen.

phone: +39 392 412 21 85

address: Via Antonino di San Giuliano, 242

Restaurant and pinseria (old-style home-made pizzeria). Great atmosphere, good bar with Italian and international drinks, excellent snacks and cakes.

phone: +39 095 317 024

address: 7 Via San Michele

Delicious seafood. Casual atmosphere.

L'Angolo dello Chef

address: 21 Via Grimaldi

Humble home cooking joint. Traditional Sicilian dishes from caponata to polli alla brace.

Dopo Teatro

phone: +39 349 435 4002

address: Via Coppola 4

Panineria with tables. Known for grilled meats.

phone: +39 095 2500208

address: Via Beato Cardinale G.B. Dusmet, 35

Typical Sicilian food and pizza. There's another restaurant in town with this name: it's on Piazza Pietro Lupo but it's not recommended. And there's yet another 10 km north up the mountain.
Mid-range
Trattoria di Fiore

phone: +39 095 316 283

address: 26 Via Pietro Antonio Coppola

Classic Sicilian food in a small family trattoria.

phone: +39 095 218 4938

address: Via Castello Ursino 59

Reasonably priced fresh seafood.

phone: +39 095 340 418

address: 51 Piazza Federico di Svevia

Sicilian cuisine.

Trattoria U Fucularu

phone: +39 393 385 5925

address: 20 Via Euplio Reina

Antipasto buffet, grilled meats.
Drink
You'd find all kinds of kiosks in the city which sell various refreshments, such as coffee, limoncello or popular local drinks such as seltz al limone (soda water with fresh-squeezed lemon juice) or mandarino al limone (soda water with tangerine syrup and fresh-squeezed lemon juice).

Sleep
Budget
In Catania
Around Catania and Etna
Mid-range to high
phone: +39 095 250 0436

address: 229 Via Etnae

3-star accommodation

phone: +39 095 322 709

address: 28 Via Pacini

Clean, AC, bathroom, balcony, high arched ceilings with paintings.
The Parco degli Aragonesi, Viale Kennedy, on beach (Tel. +39 095 723 4073) and the Catania Centro, 13 Piazza Trento, downtown (Tel. +39 095 316 933), are the two NH hotels in Catania .

phone: +39 095 250 0345

address: 24 Via Alessi

Boutique hotel in a restored aristocratic building, very central near Cathedral.

phone: +39 095 746 5230

address: Via Monteverdi, 15

One of the oldest hotels in Catania, it's a large 3-star family run establishment. Self catering apartments also available.

phone: +39 095 712 2006

address: Viale Ruggero Di Lauria 121

Modern 4-star beach hotel with open air swimming pool, restaurants, health spa and meeting facilities. For families and corporate travellers.

phone: +39 095 596 7111

address: Viale Kennedy 28

Beach resort, very close to airport, with Jacuzzi, private beach and restaurant.

Four Points by Sheraton Catania

phone: +39 095 711 4111

address: Via Antonello da Messina 45, Cannizzaro

Hotel & conference centre with 162 rooms and 7 suites. With sea-water pool and beach access.

phone: +39 095 351 480

address: 17B Via Francesco Marletta

The hotel is in an elegant early 19th-century building edge of town. Clean & quiet, good if you're touring with your own car.

phone: +39 095 608 666

address: 27 Piazza Garibaldi, Acireale

phone: +39 095 7233077

address: Via Fornai 44

A modern hostel.
Stay safe
Be careful not to look conspicuously touristy, exposing jewelry, large bags or photo gear that might entice fast pickpockets or robbers. They are abundant all around the city and they recognize immediately anyone who is not from around here.
Also, there will be A LOT of people that WILL stop you and aggressively ask you for money.
As in any other city avoid the station area, expecially at night.
San Cristoforo is the most dangerous neighborhood in Catania and is located near the city centre, at the end of Via Plebiscito. Do not wander the streets alone. Another dangerous neighborhood is Librino, but of no interest for a tourist.

Go next
Mount Etna is an eerie volcanic landscape, with a black terrain of pumice ash and rivers of solidified lava. The top is 3329 m high, so it's always cold, and if the city weather is iffy, then it will be beyond miserable up there. There is a daily bus service via Nicolosi to Rifugio Sapienza ("Etna Sud"), the usual approach to the summit. You need your own car to reach the northern approach at Piano Provenzana ("Etna Nord"). You can also explore the surrounding villages on the narrow gauge Circumetnea train, but you can't approach the summit that way.
The Riviera dei Ciclopi is a chain of three villages on the coast north-east of Catania. In Homer's legend, Odysseus / Ulysses landed here but a one-eyed giant trapped him and began eating his crew; Odysseus got the giant drunk, blinded him and escaped. The furious giant hurled rocks blind at the escaping ship, narrowly missing.