Catawba Island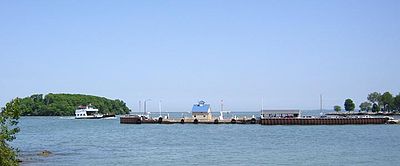 Catawba Island
is part of the
Ottawa County peninsula
. Catawba Island is one of 12 townships that make up
Ottawa County
,
Ohio
. It is commonly referred to as Catawba and Catawba Island, although it is no longer an island as the water separating it from the mainland has been diverted. Due to its sheltered bay and inlets, land elevation along the shore with fewer cliffs and easy access to Lake Erie, it has become one of the preferred areas for pleasure boat owners to dock and store their boats. Development was stagnant for years due to lack of sanitary sewer. Once this was improved, Catawba Island Peninsula started to bloom, with all sorts of improvements, condo's, expensive homes, marinas and businesses. It has become a preferred destination for those enjoying Lake Erie waters.
Understand
Get in
By plane
Erie-Ottawa International Airport

phone: +1 419-734-6297

address: 3255 E State Rd

A full-service facility with 4,000 sq ft and 5,650 ft crossing runways. Jet A and 100LL fuel is available. Passenger flights to nearby islands available on charter. Courtesy car available.
By boat
Boat launch
Catawba Island State Park

West Harbor Public Boat Launch

address: 1955 NE Catawba Rd
Marinas
By car
From State Route 2, exit OH 53N and head north to the peninsula.
From downtown Port Clinton, follow OH 163 east from town, turning left onto Sand Road. Be careful, as the speed limit on this road is , and is closely monitored by police.
Get around

You can enter Catawba Island from SR 53 exit off of SR 163 or Sand Road off of SR 2. Both meet each other at Catawba Point, in a loop around the peninsula. On land, motorcycles, bicycles, cars, golf carts, walking and running are popular. On the water, about every form of transportation is available for rent.
There is a walking/biking paved trail on St Rt 53 North (AKA NE Catawba Rd.).
See
Do
Boat-Ski-Jet Ski Rentals

address: 4049 E Moore's Dock Rd

Miller Ferry Catawba DockAt the end of Route 53 North. Known as Catawba Point. Ferries to Middle and South Bass Island (Put-in-Bay).

Fishing Charters & Head Boats
Scuba Diving

Freedom Boat Club of Catawba IslandEach location provides you with a fleet of boats that come with less stress and a lower price tag than owning a single boat. There are no hassles to worry about like cleaning, maintaining, or storing as the dock master does all the prep and post work. There are no costs like dock fees, winterizing, insurance or trailers. Instead you spend your time simply having fun.
Buy
Bergman OrchardsSells peaches, apples, strawberries, sweet corn, melons, tomatoes, pumpkins, baked goods, ice dream, etc.
Eat
Catawba Island has an agricultural history as well as a marine history. A lot of land on Catawba Island was dedicated to farming, vineyards, orchards, truck farms and such. Today development is converting much of this land for other uses. In the warmer months, however, you will find no lack of local vegetables and fruits for sale at the road side.
The Mon Ami Restaurant and Historic Winery

address: 3845 East Wine Cellar Road

Great Dining room and Sunday Buffet.

address: Gem Beach Marina, 3000 N Carolina Street

address: 2940 E. Harbor Rd.

32 beers on tap and wide variety of entrees.
Drink
address: 4112 N Crogan St

Hole in the wall bar/restaurant. They have an excellent 1-lb Lake Erie Perch Platter. They have bands Friday/Saturday 7pm to 11pm and Sundays 3pm to 7pm Most Summer weekends.
Sleep
Stay safe
Catawba Island is like a big playground for kids and adults, with a long shoreline. Things happen. If you are not familiar with small boats, keep in mind they move when you get in and/or least expect it. Make sure you wear or know where your life preserver is as soon as you get into a smaller boat. Lake Erie is a big and wonderful place, some areas like this have extreme traffic on the roads and water, both from commercial and pleasure craft. The Coast Guard is always looking for those who abuse the waterways and will not hesitate to arrest for drinking while operating a watercraft or other infringements. Play safely and no one will bother you.
Ottawa County Sheriff's Office

address: 315 Madison Street

Catawba Island Township Police Department

address: 4822 East Cemetery Road

address: 615 Fulton Street
Connect
Catawba Island Post Office
Go next
The islands listed below are either in Ottawa County or close to it. Some like Pelee, are in Canada, different fishing license required.