Catbalogan
Catbalogan City
is the provincial capital city of
Samar
, in
Eastern Visayas
, Philippines. It is also the commercial, trading, educational, political and financial center of Samar. It lies along the Pan-Philippine (Maharlika) Highway and is the gateway to the region's three Samar provinces. It has been long known as the "Gateway to Samar Region."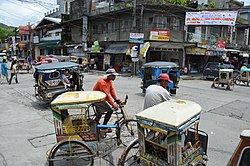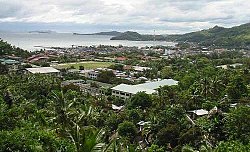 Understand
The Waray-Waray language is the primarily spoken language in the city. Catbaloganons also recognize Filipino (Tagalog) and English languages as a medium of instruction in schools and offices.
The word Catbalogan is said to be derived from the shrub
balaug
that thrived along the banks of the Antiao River.
The citizens of Catbalogan, called Catbaloganons, are peace-loving, friendly and hospitable people, and innately jolly and easy to get along with. Immersing with the people will likewise give one an idea how Catbaloganons make up their daily grinds.
The city has long been known as a center for fishery and aquatic resources and prides itself on being a fishing community. Thus, the city's Patron Saint is Saint Bartholomew, the Patron Saint of Fishermen, from whom the concept of Manaragat Festival came from. Manaragat Festival is celebrated every year, during the whole month of August. Catbaloganons are religious people, and always make sure that they dedicate a day for their Patron Saint as a form of giving thanks.
For longer stays, especially during the month of May, expect to go village hopping since it's a party every day. It is considered a mortal sin to decline an invitation during Fiesta celebrations.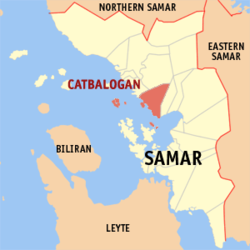 Get in
By plane
Catbalogan AirportAir Juan commenced flights between Cebu and Catbalogan City in March 2018, with the Manila - Catbalogan City flights to follow.
Another option is taking a flight to
Tacloban
City from Manila or Cebu. Upon arrival at the Daniel Z. Romualdez Airport, one can take a jeep to Abucay Terminal if you intend to get a bus to Catbalogan City or to different shuttle van terminals (Grandtours, Duptours and Van-Van). From Tacloban City, it is a 2-hour land trip to Catbalogan City.
By boat
Port of CatbaloganMostly serving fishing boats and passenger launches serving the nearby islands, but also sees some long-distance ferries.
From
Cebu City
two times a week, a overnight passenger ferry run by
Roble Shipping lines
departs directly to Catbalogan City, every 7PM. Another alternative is to take any of the ferries to
Ormoc
, then take a UV Express to Catbalogan, but there will be a major stopover at Tacloban.
By bus or van
there are buses or minivans which go from Catbalogan to/from Catarman, Borongan, Calbayog, Legazpi City, Allen port
to/From Tacloban for trips via van, go to downtown (possible options: Grand Tours, Duptours, Vanvan's); for trips via bus, go to the Public Terminal in Abucay.
Catbalogan Bus Terminal
The Catbalogan Bus Terminal offers several regular bus trips from nearby towns and cities in the region. Jeepney transport is also a common mode of land transportation in the city. The Catbalogan City Bus Terminal is situated between Piers I and II, Barangay 6, Downtown area of Catbalogan City.
Bus companies that ply the 24-hour Manila-Catbalogan City route, including the 2-hour ferry from Matnog, Sorsogon to Allen, Northern Samar, are the following:
CUL Transport
Eaglestar Transit Corp.
Goldline Tours
Inland Trailways
Philtranco
Silver Star
Ultra Bus
Villegas Transit
VS Pintados Inc.
Catbalogan Port
Catbalogan City is the arrival point from the following nearby towns and island municipalities:
Daram
Zumarraga
Villareal
Tarangnan
Get around
Motored tricycles and pedicabs are the preferred modes of transportation within the downtown area at per ride each. At the city's Public Terminal, located at Allen Avenue Extension, one will find multicabs for trips to the northern and southern barangays of the city. This is where jeepneys bound for neighboring municipalities of Jiabong, Motiong, Paranas and Calbiga can be found. For trips to the island barangays and other nearby island municipalities, one may go to the City Port for the boats plying these routes.

See
Church of St. Bartholomew the Apostle - It was built in 1616, but did not assume its present form until 1814, when Father Felix Carreon, OFM, set out to repair the church after it was burned in 1760. Father Martin de Yepes constructed the altars and also had a colonnade of wooden posts raised, thus dividing the nave into three sections. The facade used Ionic columns for its articulation. In 1835, the church burnt a second time but was rebuilt by the Franciscans. The old meter-high image of the patron saint, St. Bartholomew, is kept in the rectory. Behind the church are remains of the quadrilateral fort traced to Jesuit times.
Rizal Monument - in front of the Catbalogan City Hall, there's a small park with a unique bust of the Philippine national hero, Dr. Jose Rizal, with his two novels Noli Me Tangere and El Filibusterismo serving as the base. Holding up the books with the bust are three muscular men who are all naked except for a leaf that covers their genital areas. The three naked men, representing the Philippine archipelago's three major group of islands - Luzon, Visayas and Mindanao, carry the books and the bust. The sculpture means to convey that "ours is a continuing burden to reform the social system, to pave the way for a better life for Filipinos." The naked men are interpreted as "naked in the sense that we are all equal." This one-of-a-kind Rizal monument in Catbalogan City is a tourist attraction and has been featured on TV and in news articles. The sculptor is Miguel Alcazar, a native of Catbalogan City. He studied at the University of the Philippines College of Fine Arts, and he made the Rizal monument in 1959, before his family migrated to the United States. He died in New York in October 1980.
Samar Provincial Capitol - built in 1930 during the American occupation.
The Obelisk - in the heart of Catbalogan City's Samar Provincial Capitol Park, it depicts four major events in Samar's history - the 1901 Balangiga Encounter in which local revolutionaries inflicted the "worst single defeat" of the Americans during the Philippine-American War (1899–1902); the 1649 Agustin Sumoroy Rebellion in Palapag against the Spaniards; the October 15, 1596 arrival of the first Jesuit missionaries to Samar; and Queen Isabella II of Spain carrying a Royal Decree of August 11, 1841 declaring Samar as an independent province.
Imelda Park - across from the Samar Provincial Capitol. It is a great place to unwind and relax in the city. Many food stalls are located in the park that serve local delicacies and street foods that can satisfy your palate.
Pieta Park - adjacent to St. Bartholomew Church and St. Mary's College of Catbalogan, it has a memorial honoring Catbaloganons and four thousand-plus others who perished in the tragic collision of the passenger ship MV Doña Paz and the oil tanker MT Vector on December 20, 1987. With an estimated death toll of 4,386 people, historians describe the Doña Paz tragedy not only as the world's deadliest ferry disaster but also the worst peace-time maritime disaster in history.
Samar National School - formerly Samar High School, it was established by the Americans in 1912. t is the oldest school on Samar Island. It is also known to hold the biggest and grandest annual alumni gathering in the whole island of Samar.
Do
Witness the nationally-acclaimed Manaragat Festival Showdown highlighted by Tribu Katbalaugan and Samar Day festivities celebrated every month of August.
See the stunning sunset in Maqueda Bay, specifically at the Catbalogan Port.
Savor the unique tamalos and other delectable cuisines and fresh seafoods.
Bike around the Capitol Grounds and downtown area.
Join the daily Zumba at the City Plaza.
Party all night at Pier One Disco Bar.
Bask in the sun, swim in clear waters, and bond with family and friends in different pristine beaches and picturesque resorts found only in Catbalogan City, such as
Buri Baras Beach Resort
Cal-apog Beach Resort
Igot Cove
M Grand Royale Resort
Rosario Hills Mountain View Park Resort
Jardin de Elena
Juvies Beach Resort
Buy
Centro Department Store, adjacent to the Public Market, is where many ready-to-wear fashionable items, appliances, kitchenware are available.
There are major pharmacies such as Mercury Drugs, Rose Pharmacy, South Star.
For "pasalubong", visit Charito's Delights along San Roque Street and one will feast from an array of food delicacies from simple snacks and sweets to choices of side dishes.
Eat
Ernie's Pizza
Pizza Factory
JC Foodspot
Green Hub Diner
Koko's Coffee
Christian's Burger Planet
National fastfood chains have also branched out in the city. Among these are:
Jollibee
Dunkin Donuts
Mister Donut
Julie's Bakeshop
Chooks to Go
Tina's Garden
Drink
Several bars and KTVs are located in Catbalogan City, offering different liquors and other beverages to quench your thirst.
Along Del Rosario Street (the city's main street), Maria's Restobar and City Grill are located, and both offer soothing acoustic music for night goers coupled with assorted choices of cold beer and beverages, wines and other spirits are available, just approach the front counter.
At the port area (Pier 1), Twin Restobar and Pier One Disco are located, both are fastly becoming good hang-outs for a night of visit.

Sleep
A large number of hotels, lodging houses and pension houses can be found in Catbalogan City, including:
address: Municipal Plaza

Fan/a.c. single/double rooms with own bathroom. All rooms have cable TV. Has 48 rooms.

Rose Scent Pensionne House

phone: +63 55 2515785

address: Curry Avenue

Fan/a.c. single/double rooms with own bathroom. Most rooms have cable TV.

Casa Christina Hotel

phone: +63 55 3561725

address: 152 San Roque Street

Fan/air-con single double rooms with own bathroom.

Fortune Hotel

phone: +63 55 2512147

address: 555 Del Rosario Street

Fan/air.con single/double rooms with own bathroom.

Bay View Inn

phone: +63 55-2515067

Cell.com Hotel

address: San Bartolome Street

Eduardo's Inn

address: Del Rosario Street

Fame Hotel

address: 6th Street

Maqueda Bay Hotel

phone: +63 55-2512386

address: Tomaletis Area

Rolet Hotel

address: Mabini Avenue

Traveler's Lodging House

address: Rizal Avenue

Villarin's Bed & Breakfast

address: San Francisco Street
Go next