Caucasus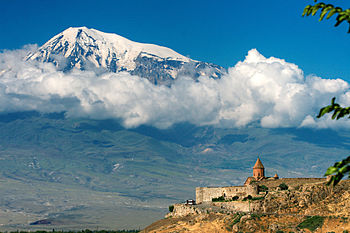 The
Caucasus
(
Caucasia
) is a region between the Black and Caspian Seas. It consists of
Southern Russia
,
Georgia
,
Armenia
, and
Azerbaijan
. Known for its alpine terrain, the Caucasus is home to Mount Elbrus, the highest mountain peak in Europe, on the Russo-Georgian border. The region is considered part of the natural boundary between Europe and Asia.
Caucasus is a compact and diverse region. Its residents come from disparate ethnic, religious, and linguistic backgrounds. In part due to this great diversity, historically the region has been embroiled in numerous ethnic and political conflicts, some of which remain unresolved to this day. Despite this difficult history, the Caucasus is for the most part safe for travel and increasingly ranks among popular emerging tourist destinations.
Countries and regions
Cities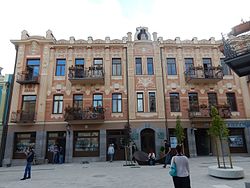 Other destinations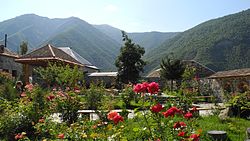 Understand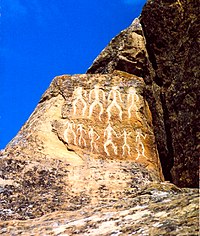 Geography
The Caucasus contains two eponymous mountain ranges: the Greater Caucasus, which runs between the Black Sea and the Caspian Sea, largely following
Russia
's border with
Georgia
; and the Lesser Caucasus range, which runs in the south around the borders of Georgia,
Turkey
and
Armenia
. Geographically, the Caucasus and its mountain ranges are considered part of the natural boundary between Europe and Asia. The exact definitions of this boundary vary; however, due to cultural and socio-political factors, the region as a whole is generally viewed as part of modern Europe.
History
This region has seen the ebb and flow of empires throughout the ages. The three traditional states south of the Caucasus —
Armenia
,
Azerbaijan
and
Georgia
— have been united and independent twice in their history. Tigranes the Great held a large kingdom here in the 1st century BC; and for a few months in 1918, the Transcaucasian Democratic Federative Republic briefly saw the three countries united. Between these two periods,
Romans
, Byzantines,
Mongols
,
Persians
,
Ottomans
, Imperial Russians and Soviets have all held sway in different parts and at different times.
Early modern history
Nineteenth century imperial Russian expansion laid the foundations for the region's current look. While for centuries the Ottoman Empire held parts of
Armenia
and
Georgia
and the Persians nominally controlled
Azerbaijan
, neither fully subjugated or integrated the native peoples.
Soviet times
The Soviet successors to the Russian Empire briefly lost control of the region in 1918, but by the 1920s the three states had been folded into the USSR. Soviet rule attempted to galvanize a united Soviet identity but the different groups held on to their customs, religions and loyalties.
As the Soviet Union disintegrated in the early 1990s, fierce nationalism took the region. The cosmopolitan mixes of peoples that the Soviets cultivated proved immiscible as people migrated, often forced, to their ethnic homelands. The arbitrary boundaries of the Soviet republics, and hence those of the new independent states, ensured lasting hostility within and between the three states.
Post-Soviet confusion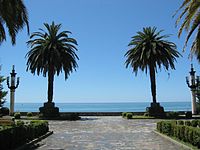 In 1994, the ethnically Armenian
Nagorno-Karabakh
region of
Azerbaijan
waged war against the Azeris. With Armenian backing, a new republic was created. However, no established nation - not even Armenia - officially recognizes it. Diplomatic arguments over the region continue to mar relations between Armenia and Azerbaijan.
In 2008, Georgian efforts to bring to heel its autonomous regions of
Abkhazia
and
South Ossetia
back-fired when they declared full independence. The ensuing war was brief and one-sided as Russian troops backed the separatists and overran much of Georgia proper. A ceasefire was agreed and Russia withdrew its troops to the boundaries of the new republics, which it diplomatically recognizes.
Hostilities have largely cooled, though
South Ossetia
remains internally unstable, and the three states are left trying to find a place in the new world.
Georgia
has looked west, though its hopes of joining NATO were not realized soon enough to prevent the Russian invasion.
Armenia
remains loyal to Russia, which supports it economically and in its spats with Azerbaijan.
Azerbaijan
, perhaps because of its cultural and linguistic ties to
Turkey
and other Turkic speaking central Asian countries, has more political links in those directions.
Culture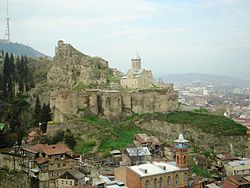 This is one of the most ethnically diverse regions of the world.
While travelling here expect to meet friendly locals, eat food like none other on earth and witness breathtaking mountain vistas. The arcane, expensive and bureaucratic visa procedures are becoming gradually less of a burden, as are crooked police. However, sufficient blights remain to make this far from the easiest region to navigate.
Armenia and Georgia are suffering from economic recession due to an economic blockade of Armenia by Azerbaijan and Turkey and of Georgia by Russia. Oil-rich Azerbaijan is essentially an old-fashioned dictatorship where the oil wealth is still not flowing to the entire population but only to a small elite.
The old ways of the Soviet Union are never far away when dealing with any kind of official, including immigration officers and police. And be very, very careful before you enter an area which is controlled by the Russian-backed local militia or Russian border troops of the separatist regions in Georgia and by the Armenian-backed local militia of the separatist region in Azerbaijan.
Talk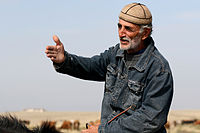 The Caucasus region is one of the most complex linguistic regions in the world, containing more than 60 languages from five distinct language families. While this is great for cultural diversity, it can be confusing to travellers.
If you're only going to take one phrasebook for the whole region, make it
Russian
. The former
Soviet
states were united through its use as a common second language. English is becoming more prevalent in the main cities but its penetration is insufficient to be relied upon. However, many people in Georgia are unwilling to speak Russian due to military tensions with Russia, and English has largely supplanted Russian as the foreign language of choice among younger Georgians, so you should try English before trying Russian when in Georgia.
Independence has meant massive migration, often forced, and ethno-linguistic segregation has become much more pronounced. There is therefore much less inter-ethnic interaction and so much less incentive for young people to learn a second language. National languages are becoming ever more important to travellers, but
Russian
remains very useful.
The national languages are
Abkhaz
,
Armenian
,
Azerbaijani
,
Georgian
and
Ossetian
.
Knowledge of
Turkish
is also useful in
Azerbaijan
because
Azeri Turkish
and Anatolian Turkish are closely enough related to be mutually intelligible.
Get in
By plane
The three capitals each have airports that are well connected to east and west Europe and the Middle East. There are even a few flights to
Ürümqi
in
China
. The disputed territories are not served by passenger flights.
The countries' secondary airports tend to serve mainly
Russia
, with also a few connections to
Turkey
,
Ukraine
and
Iran
. Kutaisi Airport is perhaps an exception; Hungarian airline Wizz Air operates a fair few cheap passages to several European countries.
Armenia
Azerbaijan
Georgia
By train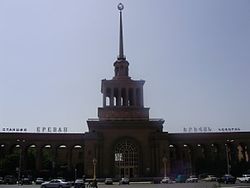 Politics have severed many of the rail routes into the region.
Taking the train between
Russia
and
Abkhazia
is generally unproblematic but onward travel into
Georgia
proper is not generally possible. Trains from
Russia
to
Azerbaijan
are frequent enough but the border is closed to westerners.
Crossing by rail between
Azerbaijan
and
Iran
at
Astara
is possible.
There are no passenger rail connections with
Turkey
still open.
Get around
By thumb
Hitchhiking is considerably easy in
Armenia
,
Azerbaijan
,
Georgia
, and
Nagorno-Karabakh
.
With old LADAs you won't probably have not that much luck. Even though they are more likely to stop, in 50% of the time they will consider themselves as car for everything and thus also a chargeable taxi. Also they won't probably cross very long distances, they are more like a local transport option.
See the individual countries for more information.
Border crossing
Border crossing is generally difficult throughout the Caucasus. The Russian-Georgian border (Verkhniy Lars) near Kazbegi can now (since 2011) be crossed by any nationality, given the
visa
are in order. The Russia-Azerbaijan border are only open for citizens of CIS countries. There is also a border crossing from Russia to Abkazia, however it is not allowed to transit through Abkhazia from Russia to Georgia or vice versa. For non-CIS citizens, the only way of entering/exiting Russia through the Caucasus is on the
Georgian Military Highway
between Vladikavkaz und Tbilisi. Aside from flying, there are ferries between
Sochi
,
Russia
&
Trabzon
,
Turkey
(near Georgia) and
Baku
,
Azerbaijan
&
Aktau
,
Kazakhstan
(near Russia).
The Armenian-Azerbaijani border is closed because both countries remain at war. The Armenian-Turkish border is also closed due to tensions between both countries. To travel overland between Armenia and Azerbaijan and Armenia and Turkey, it is necessary to go through either Georgia or Iran.
Georgia's borders with Turkey, Armenia, and Azerbaijan are all open, making the country somewhat of a regional transit hub for the Caucasus. Since 2003's Rose Revolution in Georgia, bribes are absolutely not necessary for foreign travellers entering Georgia. However this cannot be guaranteed for Armenia and Azerbaijan.
Entering Azerbaijan with a used Armenian visa or vice versa could likely cause problems (suspicion) with border guards, but shouldn't prohibit entry. Nevertheless, it is recommended to visit Azerbaijan first and then Armenia, to avoid potential problems and a refusal of entry to Azerbaijan. However, you will not be allowed entry to Azerbaijan with a Nagorno-Karabakh visa (you can ask to get the NKR visa on a separate piece of paper, though), otherwise it would result in a permanent entry ban to Azerbaijan. If you have an Armenian name, surname or of Armenian ethnicity, you will be banned from entering Azerbaijan regardless of your country of birth or citizenship.
Nakhchivan (Azerbaijan) can be entered from Turkey and Iran.
How
Overnight trains travel between Tbilisi-Yerevan and Tbilisi-Baku. When travelling by rail, you have the option of carriages with 4 beds (coupe, pronounced koo-peh') or 2 beds (SV, pronounced es veh). SV is a bit more expensive, but more comfortable and generally considered more safe from pickpockets.
There are direct bus services between Tbilisi-Yerevan and Tbilisi-Baku. If taking the air-conditioned bus between Tbilisi-Baku, bring a jacket. Buses also operate across the Russian-Georgian border, but are not an option for non-CIS country nationals.
If you would prefer a more social mode of transport, minivans (marshrutkas) operate across all open borders and throughout the Caucasus region.
There are direct flights between Tbilisi to Baku, Tbilisi to Yerevan. Expect no trouble at the airports: they are small and efficient.
You can cross the border between Georgia and Armenia in a rented car. Rental cars are insured in both countries and may be driven one-way and dropped off in the other country.
See
Do
Eat
The Georgian "Khinkali" and "Khachapuri"!

Drink
The drinks of note in the Caucasus are Georgian wines, Armenian cognac (brandy), and Russian vodkas.
Local beers throughout the Caucasus are excellent values.
Especially tasty Georgian wines:
Red: Saperavi, Mukuzani, Khvanchkara (semi-sweet), Kindzmarauli (semi-sweet)
White: Tsinandali, Kakheti, Tbilisuri
Stay safe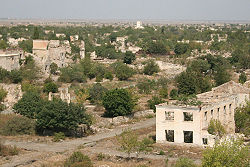 The Caucasus is a tinderbox of age-old rivalries, some frozen, some very hot indeed. Much of the Russian
North Caucasus
is an active
war zone
, and the rest suffers from extremely high crime rates. Fragile ceasefires are more or less holding in Georgia's disputed regions of
South Ossetia
and
Abkhazia
(which are both quite dangerous), as well as the border between
Azerbaijan
and
Armenia
, still officially at war over
Nagorno-Karabakh
.
However safety is not a serious issue to worry in
Armenia
and
Azerbaijan
if you are not too close to the border between the two countries. It is safe to visit even
Nagorno-Karabakh
from the Armenian side. Georgia is trickier with regards to personal safety, with higher violent crime and car-jacking rates in some of the bigger cities, and occasional kidnappings in some of the wilder off the beaten path locales.