Cavalcante
Cavalcante
is a city in
Goiás
,
Brazil
.
Understand
With around 10.000 inhabitants, Cavalcante lies 320 km north of Brasilia, on the north side of the national park Chapada dos Veadeiros. It is an area with some tremendous hiking trails and waterfalls. Cavalcante also surrounds the Kalunga Historical Site, where descendents of slaves, called Kalunga, are still living to this day with little contact with the modern world.

Get in
By bus
In Brasilia, Empresa Santo Antonio (ESA) provides two daily lines to Cavalcante. Leaves 7:15h and 15:15h from Rodoferroviaria station. Tickets at R$ 45,15. Tel. +55 61 3233-7619 +55 61 3328-0834. It's a slow 6-hours ride.

By car
To get to Cavalcante you need to go first to Brasilia. From there, take road BR-020 and drive 34 km, turn left at DF-345 to ride 10.5 km more, continue on BR-010 for 225 km. Finally, turn left at GO-241 for the last 21 km.

Get around
Cavalcante is a small town and you can easily get around on foot or by bike. But the best way to the waterfalls is by car.

See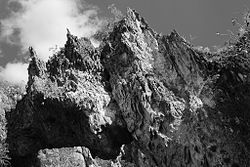 A guide is highly recommended to visit the attractions listed here because most of them are in remote locations and without mobile phone network coverage. Use your discretion! Guides are available at the Tourist Information Center. Tel +55 62 3494-1507. The guides are also available to provide camping support like helping with tents and cooking.
Ponte de PedraThe Bridge is a rock structure made by erodion caused by the São Domingos river. It's accessible through the Renascer farm, 12km from the city center. The trail to the Bridge is not difficult nor ridiculously long, but it can be fairly taxing sometimes. So you are advised to save your energy and to not go jumping around like a bear on Gummiberry juice. You can refresh yourself before going up to the Bridge by swimming in the pond of the Renascer waterfall and in the lake just below the Bridge. From the Bridge, you can climb a little bit more to see the Rio Claro valley. You can even ask the guide to wait for the sunset on the top of the mountain (in that case, bring flashlights because you will come back in the dark). You can also do a longer trekking around the area of the Bridge, where you can visit the 7 Quedas (seven falls) and the Buraco da Jandaia (Jandaia's hole). Ask your guide for more details.

Santa Bárbara Waterfall

address: Engenho II settlement

One of the most beautiful waterfalls in the area. It's reached by going into the Kalunga settlement Engenho II, 25 km from the city center. From there, it's an easy 5 km trail through flat dirt terrain, hills and flower fields. You can hire guides directly at the settlement. For the best swimming and photographing experience, you should go early in the morning and stay until 15h.

Cachoeiras do Prata

address: Estrada Cavalcante-Minaçu, km 60

The entrance to these waterfalls is 63km from the town center. It's actually a place where you can see 9 waterfalls. The biggest (and furthest) ones are the Rei do Prata (King of Prata) and the Urubu Rei (King Vulture), right after the former. The King is about 7 km away from the property entrance and it can be reached through a fairly easy trail. You just need time and patience to get there. If you have a 4WD car, you can drive to a bit more than 1/3 of the distance to the waterfall. You can also camp nearby the waterfalls and at the entrance. For the best experience, you should spend 2 days there. 1 day for the King and the second one to get back and enjoy the other waterfalls.
Do
Most of the Waterfalls will provide you a hiking experience with easy, moderate or difficult trails. Some of them can also be visited by mountain bike.
Visit the Kalunga communities - The Kalunga People are the descendents of escaped slaves who lived in isolated communities without contact with the outside world until fairly recently. They have a number of interesting traditions that they have carried on for centuries. They are noted for their festivals and their hospitality.
Buy
There's a small selection of local handcrafted products. Nothing special. Ask the guides at the information center.

Eat
Pizza Roots

phone: +55 62 9959-5233

address: Rua Eujácio de Souza Qd 20

Great pizza made on wood oven. Big selection of toppings and good ambience.

Amor a Gaia Bistro

phone: +55 62 3494-1303

address: Road to Colinas do Sul, km 0

Vegetarian menu

Max Restaurante

phone: +55 62 3494-1607

address: Rua do Dendê, 49, Centro

Open everyday for lunch and dinner.

Flor do Cerrado

phone: +55 62 9634-1079

address: Praça Diogo Teles Cavalcante, Qd. 11, Lt 88

Aluar Café

phone: +55 62 3494-1305

address: Rua Pedro Pinto 87 - centro

Creperia Pouso de Folia

phone: +55 61 9683-1701

address: Praça Diogo Teles, Centro

Dona Joana

phone: +55 62 3494-5607

address: Rua do Dendê n 68 Centro

lunch and dinner.

Restaurante Kalunga

phone: +55 62 3494-1421

address: Rua José Paulino da Silva Qd. 26 Lt. 211

Restaurante da Rosa

phone: +55 62 3494-1556

address: Avenida Tiradentes Quadra 29 lt 264

lunch and dinner.

Pizzaria do Guia

phone: +55 62 9665-3283

address: Avenida Tiradentes, Centro
Drink
Cervejaria Artesanal Aracê

phone: +55 62 9804-2501

address: Rua do Rosario Qd 23 Lt 182

Aracê is a lager craft beer brewed by Monolo and Soledad, a Chilean couple who happens to live in Cavalcante. Production is limited but is usually available bottled in the restaurants or directly in the brewery on tap.
Sleep
Budget
Camping Estância Solar

phone: +55 62 3494-1190

address: Estrada Colinas do Sul km 1

3 rooms and camping space (capac. 50 tents - 80 persons) with showers, lighting, power outlets and tent rentals. TV room, parking and leisure area.

Camping Toca do Katitu

phone: +55 62 9671-1831

address: r. 219, Q 25, L 04 Vila Morro Encantado

Inside an agroforest, has lots of shade for tents, communitary kitchen, and showers.

Camping Soluar

phone: +55 61 9958-7613

lots of shade, parking and a stream going nearby.

Hotel Casa Verde

phone: +55 62 3494-1265

address: Rua 3, Qd 43- Lt 482 Centro

7 rooms with tv and fan, 10 rooms with fan, and shared bathrooms. TV and video room, parking and laundry facilities.

Hotel Pioneiro

phone: +55 62 3494-1160

address: Praça Diogo Teles Cavalcante nº 84 Centro

Urban hotel with 12 apartments in the city's central square, breakfast, some rooms have a fan and TV.

Hotel FM

phone: +55 62 3494-1595

address: Rua Lourenço Costa Ferreira Q.06 L.66 Nº 196 Centro

It has 10 bedrooms, TV / video room and restaurant.
Mid-range
phone: +55 61 9904-7219

address: rua 19, Qd.86, Lt.994 Centro

Nice houses, on grounds close to running water, for rent.

phone: +55 62 3494-1421, +55 61 9697-9815

address: Rua José Paulino Silva, Qd 26- Lt 211 Centro

The manager is a Kalunga woman and also a guide.

phone: +55 62 3494-1079

address: Rua João Guilhermino Magalhães, Qd. 27, Lt. 230

At city center. 16 rooms with fridge, ceiling fan, TV and quality towels and sheets.

phone: +55 62 3459-0007

address: Cavalcante - Colinas do Sul road, km 3

Nice country lodge, close to St. Bart river.

phone: +55 61 9839-5598, +55 61 3245-7735, +55 62 9975-8874

address: Estrada para Colinas do Sul Km 4

Offers bungalows made of typical Kalunga craftsmanship, adobe and straw. Located in a beautiful site, at the São Bartolomeu riverbank.

phone: +55 62 3494-1012

address: Travessa 4- Qd 27- Lt 222 Centro

2 cottages and 3 rooms. Cottages have TV and frigobar. The pousada has bar, restaurant and souvenir shop.

phone: +55 62 3459-0000

address: road to Colinas do Sul, Km 5

17rooms with fan, frigobar and tv, 4 romm house available for rent,camping space (capac. 50 tents - 200 persons) with toilets and showers. Bar, restaurant, tv / vídeo room, games room, pool and grill. 7 waterfalls, treks, jeep for rent, horses and rappelling canyon inside the property.

Pousada Recanto da Mata

phone: +55 62 9655-4858

address: Rodovia GO-242- km 2

4 cottages and 2 rooms with fan and TV.

phone: +55 62 3494-1562

address: R. Marcia Cristina s/n

12 suites in 3 cottages. Organic breakfast. Library, fireplace, small shop, camping space, outdoor showers, campfire space, WiFi and rocky landscapes.

phone: +55 62 3494-1372

address: rua Borba Gato Qd. 26 Lt 218

Inside city.

phone: +55 62 3494-6539

address: Estrada Cavalcante - Colinas do Sul, km 09

4 rooms, parking, pool, leisure area

Fazenda Hotel Bananal

phone: +55 61 9665-0561

address: Rodovia Cavalcante-Minaçu, Km 9

3 cottages, 2 apartments, 2 rooms and camping space (capac. 50 tents - 150 persons) with toilets and showers. TV/Video room, laundry, parking, restaurant, coal grill and leisure area. Horsew riding, river and waterfalls.

phone: +55 62 3494-1475

address: Rua 19 Qd. 86 lt. 991-992 Cavalcantinho

Away from center. 4 rooms with tv, frigobar and fan.

Pousada Ecotents

phone: +55 62 9604-6767

Tapuio Park Hotel

phone: +55 61 9827-5587

address: Rodovia Cavalcante/Colinas km 2

Hotel Fazenda. Six suites, each with approx. 60 m2, enclosed furniture, plasma TVs, split air-con, very recently renovated. External gardens, walking track, nice views to notable landmarks: Morro da Cruz, Serra Boa Vista and Serra Santana. Walking distance to Cachoeira de S.Bartolomeu; Pomar; Terrain has 45.000 m2 at only 1.8 km from center, optional breakfast.
Go next