Caxias do Sul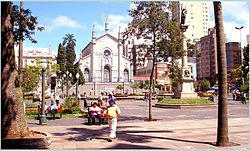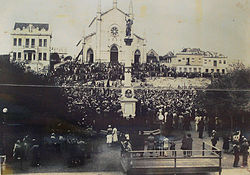 Caxias do Sul
is the second largest city in the southern
Brazil
state of
Rio Grande do Sul
after the capital city of
Porto Alegre
. It is a major industrial center in the region dealing mostly in metallurgy, bus manufacturing, and grape production. It is a strong center of Italian-Brazilian culture and seen as the
Capital da Serra Gaúcha
or Capital of the Gaucho Mountain Range. It is one of the wealthiest cities per capita in Brazil. It's also a sleepy and traditional Italian-type city.
Understand
The history of Caxias do Sul starts before the arrival of the Italians, when the region was being roamed by cattlemen and occupied by Indians. Back then, the region was called "Indians' Field". The Italian immigrants' occupation, mostly farmers from the Veneto region (northern Italy), started taking place in 1875 in Nova Milano. Hence, they were in search of a better place to live. They also met people from Lombardy, Trento, and other places. Although they had gotten some governmental support, such as tools, supplies, and seeds, everything had to be reimbursed.
Two years later, the colonial headquarters of the Indians' Field was given the name Caxias Colony. The town was created on July 20, 1890 and acknowledged in the same year, on August 24. Many economic cycles marked the evolution of the city throughout that century. The first one is connected to the most peculiar aspect of its cultural identity: the growth of vines and the production of wine for own consumption at first, and later on, for commercialization.
On June 1, 1910, Caxias do Sul was elevated to the category of city. On the same day, the first train arrived connecting the region to the state capital. Although the immigrants were farmers, many of them used to perform other activities. They settled down, urbanized the region, and started a fast-paced process of industrialization.
In the countryside, subsistence agriculture concentrates on the cultivation of grapes, wheat, and corn. Home-based manufacturing started to emerge and the overproduction was commercialized. Home-based manufacturing and Caxias do Sul evolved from having small home-based workshops to today's big factories, which are known internationally.
Nowadays, Caxias do Sul is an important city, and due to its industrious colonists, is home to vast vineyards, wineries, a varied industrial park, and a rich and dynamic market. Those attributes grant this land great importance, the reason why Caxias do Sul, called "pearl of the colonies", is considered the center of the Italian presence in Southern Brazil.
Caxias do Sul is today the hub centralizing the region more diverse than Brazil, with its industrious settlers, its vast vineyards, his winery, his varied industrial park and a rich and dynamic trade, which gives the land a further dimension, why Caxias do Sul, the "Pearl of the Colonies", is, by itself, the pole centralizing the Italian brand in southern Brazil.

Get in
Caxias do Sul is 128 km from
Porto Alegre
.
By plane
Aeroporto Hugo Cantergiani
phone: +55 54 3901-1219
address: Avenida Salgado Filho 3451
There are flights into and out of Caxias do Sul via
São Paulo
airports ( and ),
Curitiba
() and
Campinas
(). Many travelers simply fly into Porto Alegre's airport () and get a comfortable executive bus to Caxias do Sul which is only two hours away. Compare fares to both airports.
Airlines serving Caxias do Sul include:
phone: +55 11 4003-3255

GOLIf you prefer not to call, you can chat with an agent in Portuguese or English on the website.
By bus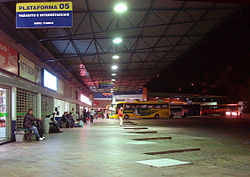 Estação Rodoviária de Caxias do Sul (Intercity bus station)
phone: +55 54 3218-3000
address: Rua Ernesto Alves 1341
Comfortable and air-conditioned executive coaches are available from Porto Alegre and many other cities throughout Rio Grande do Sul state to Caxias do Sul. The bus station has a snack bar, shops with newspapers, magazines, and souvenirs. It also has a baggage storage services (guarda volumes, located in Sector 6, west side of the station) if you plan on just visiting town while waiting for another bus. Most travelers coming from the metropolitan
Porto Alegre
region will take the CAXIENSE busline to Caxias do Sul. If traveling to Caxias do Sul from another area, check the bus station website where you can check schedules, verify bus fare, and even purchase tickets (although a CPF, Cadastro de Pessoas Físicas, or Natural Persons Register Number is necessary). Most foreigners simply show up at the time of travel and purchase a ticket. In general, there are vacancies on the buses if you're not traveling during a holiday.
Intercity buslines that operate at the Caxias do Sul intercity bus station:
By car
BR-116 North (
Porto Alegre
to Caxias do Sul). If you plan on driving throughout the Serra Gaúcha, you may find better rental prices in Porto Alegre than in Caxias do Sul. Compare the rental prices at the Porto Alegre Salgado Filho airport.
Get around
By taxi
Taxi service in Caxias do Sul is very reliable. You will nearly always get a taxi from a taxi queue instead of hailing one off of the street. Use usual precautions and make sure that you know what the starting fare should be before getting into the taxi and which flag or "bandeira" should be used for that time of day. If the taximeter starts running before your driver even starts the trip, ask him or her to zero out the taximeter (zerar o taxímetro). Normal working days during working hours are "bandeira 1" which is less expensive.
By bus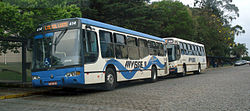 VISATE (Viação Santa Tereza de Caxias do Sul)

phone: +55 54 3215-8000

Municipal bus service is provided by VISATE. Most bus routes that pass through the center of the city have the subdivision (bairro) name in the name of the route. It's best to have a map of the city and it's subdivisions if planning a trip. The VISATE site has a list of all routes and maps as well.
By car
There are a couple of places to rent a car if you're planning on seeing points outside of the center of the city or if you plan to travel throughout the Serra Gaúcha.
See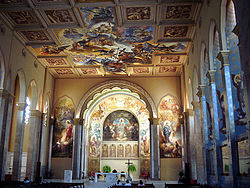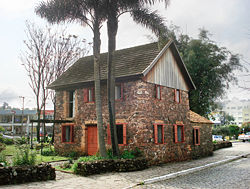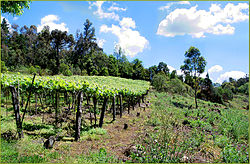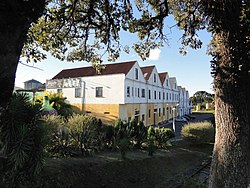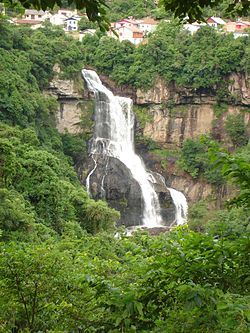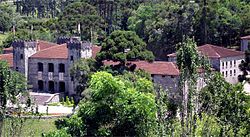 address: Rua Matheo Gianella, 531

Built in 1878 by the Lucchese family, houses objects, furniture and utensils used by immigrants at the time of colonization. Considered a Living Museum in Latin America.

phone: +55 54 3221-2567

address: Av. Itália, 54, B. São Pelegrino

Catholic cathedral which houses works by Italian-Brazilian artist Aldo Locatelli. In the lobby, there's a replica of the Pieta of Michelangelo, a gift from Pope Paul VI by occasion of the Centennial of the Italian Immigration. The high relief bronze doors show epic scenes of colonization times, and were created by artist August Murer.

Replica of historic Caxias do Sul

address: Rua Ludovico Cavinatto, 1431

Architectural complex of 15 wooden houses, including a church and a bandstand, obeying strictly the standards prevailing at the time (1885), and reproducing the Julio de Castilhos Avenue.

Roman Catholic Diocese of Caxias do Sul

phone: +55 54 3221-2564

address: Rua Sinimbu 1976-2108

Inspired by the Basilica of St. Anthony in Bologna, was built in the Italian Gothic style, presenting ten altars: the main one and nine lateral ones.

Municipal Museum

phone: +55 54 3221-2423

address: Rua Visconde de Pelotas, 586 - Centro

The collection consists of pieces for the everyday life of settlers in the region, mostly Italian immigrants and acculturation with other neighboring groups. The museum functions as memory center of the city.

Monumento Nacional ao Imigrante (National Monument to the Immigrant)Inaugurated in 1954, the monument celebrates the immigrants to the Brazilian nation, specifically, Italian immigrants in southern Brazil like those in Caxias do Sul. Parking is available.

Museu de Uva e Vinho Primo Slomp (Museum of Grapes and Wine)

address: Rua Luiz Franciosi Sério, 350 Bairro Forqueta

Belvedere da Cascata Véu da Noiva (Bridal Veil Falls outlook) in Galópolis
Do
phone: +55 54 4009-4822

address: BR 116 - Km 143

The castle was built by Uruguayan businessman Juan Carrau from 1968-1978 in the style of an 11th century medieval castle and functions as an active winery. You can take a tour, sample wine or grape juice and eat at the restaurant located in the complex.

Marcopolo Bus factory

phone: +55 54 2101-4000

address: Av. Rio Branco, 4889 - Bairro Ana Rech

Tour the Marcopolo Bus Factory, one of the largest bus companies in the world.

Festa da Uva (GrapeFest - occurs ever even-numbered year in February/March)

address: R. Ludovico Cavinatto, 1431

This biennial agricultural convention celebrates everything from this Italian region of southern Brazil.
Eat
phone: +55 54 3211-0102, +55 54 32113694

address: Rua Matteo Gianella, 1440

Churrascaria Gaudério

phone: +55 54 3225-1466

address: Rua Mário de Boni, 1766

phone: +55 54 3211-2500, +55 54 9917-8676

address: Rua Ludovico Cavinatto, 1757

phone: +55 54 4009-4800, +55 54 4009-4822

address: BR 116, Km 143, s/nº
Drink
Bars
Electronic music venues
Country music venues
Traditional gaucho venues
Sleep
Budget
phone: +55 54 3221-1657, +55 54 3214-5155

phone: +55 54 3209-8600

address: Rua Sinimbu, 2266

phone: +55 54 3229-3155
Mid-range
Splurge
Go next
Bento Gonçalves - The Wine Capital of Brazil.
Gramado - A German-themed tourist city on the Rota Romântica (Romantic Route).
Canela - Gramado's sister city. There are plenty of eco-tourism opportunities here (river rafting, hang gliding, hiking) and one of the most beautiful waterfalls in the state at the Parque do Caracol.