Cayenne
Cayenne
is the largest city in and capital of
French Guiana
.
Understand

Cayenne is located on the Atlantic coast, on marshland surrounded by hills. The city was founded in 1643 by the French and was part of the Dutch, English and Portuguese colonial empire during the following century. Today a third of the department's inhabitants live in Cayenne. Downtown is small and the houses are typically Caribbean.
On Sundays, almost everything is closed. If you arrive on a Sunday, the only thing to do on your first vacation day is walking around in an almost deserted city.

Climate
The climate is what you would expect this close to the Equator. The temperature is constant around +25-30°C while it's raining heavily for most of the year.

Get in
By plane
French Guiana's main international airport is
Cayenne – Félix Eboué Airportlocated in the commune of Matoury, a southern suburb of Cayenne. There are two flights a day to Paris Orly Airport (not CDG) served by Air France and Air Caraïbes. Moreover there are flights from Martinique, Guadeloupe, Paramaribo and Belém.
There are no buses to the airport, so your alternatives are to rent a car or take a taxi (€35 to central Cayenne).
By road
From both neighboring countries, you will need to cross a river by ferry into French Guiana. From
Brazil
, you will arrive in
Saint-Georges de l'Oyapock
from where you can travel by bus to Cayenne with a transfer in Régina. From
Suriname
you will step off the ferry in
Saint-Laurent-du-Maroni
from where you can take a bus to Iracoubo and transfer to another going to Cayenne.
If you've brought a car, the road is paved from both borders towns to Cayenne.
Get around
Cayenne has a public bus network of five lines. The fare is €1,10.
Your other options are obviously car, taxi, foot or bike.
See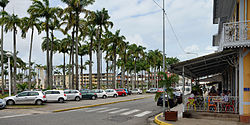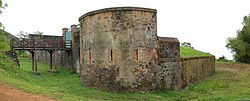 Place des PalmistesA park with high palm trees, lively in the nighttime.

Place des AmandiersA square frequented by young couples in the evening.

Jardin botaniqueThe well kept botanical garden of Cayenne is worth a visit.

Cayenne city hall

Cathédrale Saint-Sauveur de CayenneCayenne's cathedral is a major landmark, the seat of the Diocese of Cayenne and a National Monument of France.

phone: +594 29 59 13

address: 1, avenue du général de Gaulle

A museum of the animals of the region, Amerindian and Creole art, and exhibitions about the history of French Guiana, daily life in the penal colony and the colonial administrator and humanist Félix Éboué, perhaps the most significant person from the region.

phone: +594 31 41 72

address: 78, rue Madame Payé

Exhibitions of the daily life of the different populations in the region including traditional clothing and art, a reconstruction of a carbet (traditional shelter) as well as a documentation center.

Salines de MontjolyA conservation area consisting of a sand beach, dunes and a mangrove forest.

Fort DiamantA 19th century fort, nowadays a Monument Historique (French National Heritage Site).
Do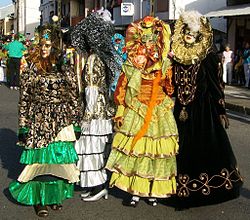 There are sand beaches in the eastern part of Cayenne, and the sea is good for surfing.
Carnival
Guianese Carnival takes place between Epiphany in early January and Ash Wednesday in February or March. On the weekend people put on their carnival dresses and dance in the streets through the night. The most remarkable are the ladies' colorful
touloulou
dresses. The dancing groups show the ethnic diversity of French Guiana. In the main parade that is held on the last Sunday of the carnival dancing schools (similar to those in
Rio de Janeiro
) perform. The most famous of them are Chiré Band, Réno Band, Kassialata, Manaré and Piraye.
Buy
Le Marché aux légumesA place to buy local agricultural products, or just to expericence a lively market in the tropics.

Marché d'Intérêt RégionalAt the fish market you can buy fresh fish.

For souvenir shopping head for the Trois Fontaines shops and other shops in the downtown. Good souvenirs are objects carved out of wood and exotic objects of art.
Eat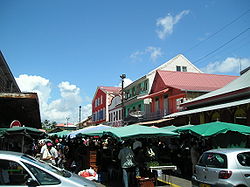 The restaurants of Cayenne reflects the ethnic mosaic of the Guyanese society; you will find Creole, French, Chinese, Lebanese and Javanese restaurants here.
Budget
In general the Chinese restaurants are the most affordable places to have a meal with dishes around €15-20. On Place des Palmistes there are also carts selling hamburgers and Javanese dishes.
Jin Le Yuan

phone: +594 43 17 88

address: 33 rue Lieutenant Brasse

Chinese restaurant.

Le Vrai Régal

phone: +594 27 16 31

address: 60 bd Jubelin

A sandwich joint.

Abriba

phone: +594 31 98 73

address: 33 rue des Dahlias (quartier Bonhomme)

Creole restaurant
Ice cream
Iceberg

address: rue Lalouette
Mid-range
Hippopotamus

phone: +594 27 40 16

address: 23 rue Léon Gontrand Damas (place des Palmistes)

French restaurant.

La Taverne

phone: +594 29 04 66

address: 26 rue Mole

French restaurant.

Mille Pâtes

phone: +594 28 91 80

address: 52 rue Justin Catayée

French restaurant.

Bar des Palmistes

phone: +594 300 050

address: 12 av du Gén de Gaulle (place des Palmistes)

Creole and French restaurant.

L'Entracte

phone: +594 30 01 37

address: 65 r Justin Catayée

French restaurant.

La Petite Maison

phone: +594 38 58 39

address: 23 r Félix Eboué

French restaurant.
Splurge
Le Paris Cayenne

phone: +594 31 76 17

address: 59 rue Lallouette

French cuisine, likely the finest restaurant in Cayenne.
Drink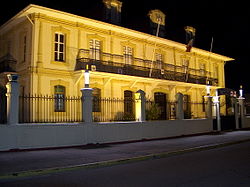 Except for the carnival weeks, the nightlife isn't as wild as in many other Latin American destinations. There are some nice bars in Cayenne downtown. Nightclubs are generally located in the periphery of the city.
Le Moonlight Discothèque

address: route de Montabo chemin Grant

Le Bar des PalmistesA bit expensive, for instance a Ricard is €5. This is however one of the few places open on Sunday.

La BodegaA small sympathetic bar with good ambience.

Le Lido Night

L'Exotica

L'Iguana CaféAn air conditioned bar lounge in central Cayenne.
Sleep
Good hotels exist, but they can be relatively expensive.
Budget
Hotel Ket TaiNothing fancy but clean and a few minutes walk from Place des Palmistes.
Mid-range
phone: +594 25 65 65

address: rue Mole

phone: +594 28 83 00

address: 28 Avenue du Général de Gaulle
Splurge
phone: +594 303888

address: Chemin Hilaire Rue De Montabo
Go next
From Cayenne you can relatively easy get to other parts of the department or to the neighboring countries overland.
Kourou
boasts a space centre and the Devil's Island archipelago. To get a taste of the rainforest of inner Guiana you can take a domestic flight for instance to Saül.