Cayman Islands
The Cayman Islands
are an island group in the
Caribbean
Sea, south of
Cuba
. The outstanding coral reefs and outstandingly clear waters have made this island group a favorite destination of divers. Great beaches and fine restaurants and resorts make it an excellent tourist destination as well.
Regions
The largest island and home to most of the population and tourist facilities. The other two islands are called the Sister Islands by locals and are also tourist destinations.
Cities
Other destinations
Hell- Small island community that is known for its eerie, red rock formations around back of the store that markets wares playing up its namesake, such as Hell t-shirts, postcards from Hell, etc. All island tours stop here.
Seven Mile Beach on Grand Cayman - a public beach which many of the islands hotels and resorts overlook.
Pedro St. James national historic site in the eastern district of Savannah on Grand Cayman
Queen Elizabeth II Botanic Park off of Frank Sound Road on the North Side of Grand Cayman
Rum Point on the North Side of Grand Cayman
Boatswain's Beach - Home of the Cayman Turtle Farm on Grand Cayman
Stingray City in the waters off Grand Cayman - A shallow dive that allows visitors to swim and pet hundreds of friendly stingrays, available since the mid 1980s.
Understand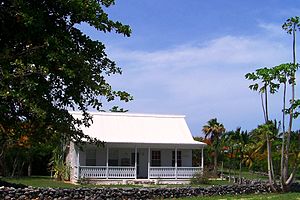 The Cayman Islands were colonized from
Jamaica
by the British during the 18th and 19th centuries. Administered by Jamaica from 1863, they remained a British dependency after 1962 when the former became independent. Although tourism is a major part of the economy (see below) it is a relatively recent development. Prior to the 1960s, mosquitoes made the island unattractive to visitors. A major effort in this area (including the creation of a
research unit
) allowed the development of the tourism industry.
In addition to banking (the islands have no direct taxation, making them a popular tax haven), tourism is a mainstay, aimed at the luxury market and catering mainly to visitors from North America. Total tourist arrivals exceeded 2.19 million in 2006, although the vast majority of visitors arrive for single day cruise ship visits (1.93 million). About 90% of the islands' food and consumer goods must be imported. The Caymanians enjoy one of the highest outputs per capita and one of the highest standards of living in the world. The Cayman Islands are one of the richest islands not only in the Caribbean but in the world.
In 2004, hurricane Ivan damaged or destroyed 95% of the buildings on the island. The island has completely rebuilt, and new developments are held to very strict building requirements.
Climate
Tropical marine. Warm, rainy summers (May to October) and cool, Great vacation spot, relatively dry winters (November to April).
In 2004 the Cayman Islands, and especially
Grand Cayman
, were hit hard by Hurricane Ivan.
Landscape
Low-lying limestone base surrounded by coral reefs. Its highest point is The Bluff on Cayman Brac, at 43 meters (141 ft).
Get in
Entry requirements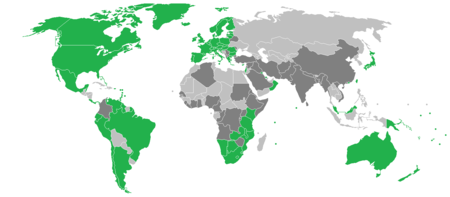 By plane
Owen Roberts International AirportThis is the main airport. It is about a 70-minute flight from Miami, Florida. It is served by a number of international airlines, flying to destinations in the Caribbean, North America, Central America & Europe.

Charles Kirkconnell International AirportBesides domestic flights there are also flights to Miami Airport and Havana
By boat
George Town on
Grand Cayman
is a popular port for
cruise ships
.
Get around
By car
Car rentals are readily available. You must be 21 years old to rent a car.
Driving is on the left hand side of the road
and seatbelt use is mandatory. Visitors must get a temporary driver's license from the police station or car rental agency. This is obtained by showing a valid drivers license from their home state, county or parish and paying a US$8 fee.
By moped or scooter
Mopeds and scooter rentals are available on Grand Cayman and Cayman Brac. Helmet use is required. Usual daily rate is US$25 for helmet and permit.
By plane
Domestic flights arrive and depart from the airports mentioned under "get in" as well as the following
Edward Bodden AirfieldThis is a small grass strip located on the southwestern coast of Little Cayman. It naturally only sees domestic flights
Cayman Airways
is the flag carrier and operates many international and basically all domestic flights.
Talk
English is the official language and is spoken by virtually everyone. Native Caymanians have a pleasant and unique accent with many charming turns of phrase. For example, in Cayman rumours are not heard "through the grapevine", instead they're heard "along the marl road". Locals pronounce Cayman as Kay-MAN, and not KAY-min.

See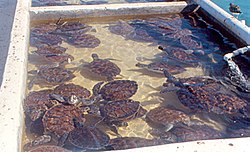 The main attraction in Cayman is the water. Snorkeling and diving draw many visitors each year. However, there are several attractions on land worth visiting. Most attractions can be reached by bus, however, a car is significantly more convenient.
Beach access is guaranteed by the Cayman constitution, so walking along the beach is permitted everywhere (all beaches are public), although getting to the beach is only allowed in certain areas.
Seven Mile Beach on Grand Cayman is approximately of tourist hotels, with white sand beaches. It is a public beach and visitors can walk the entire stretch, no matter which hotel they are staying at.
On Seven Mile Beach, The Ritz has a walkway over the main road containing local artists' work. Finding it can be challenging, however, the staff are happy to point you in the right direction.
Pedro St. James national historic site is an attractive old house and grounds on the ocean. There is a multimedia show telling the history of the house, and an exhibit center with more Cayman historical displays.
Queen Elizabeth II Botanic Park is a large botanical garden which includes color gardens with plants arranged by color, a large orchid garden, a gazebo on a lake, and many Iguanas, including the rare blue iguanas.
The Cayman Turtle Farm is a turtle farm where you can swim and pet turtles. A recent review of the farm indicated concerns for the animals, so this may be something some people want to research before visiting.
Stingray City in the waters off Grand Cayman is reached by several tour companies by boat. In the shallow water many stingrays gather, and you can interact with them. If you book on a sailing vessel, you then get to sail back to port. The stingrays have been gathering here since the mid 1980s when boaters would clean their fish near the port.
Do
Several activities are available for children and adults alike:
The Cayman Turtle farm is a fun place for kids to learn about wildlife preservation
Be sure to visit the Stingrays at the sandbars in the Cayman Islands. This is a popular tourist destination, and unlike swimming with dolphins in places such as Florida and the Bahamas, these stingrays are willfully living in the wild and can choose to leave at anytime. Several guided tours are available, in addition to packages that include this as well as snorkeling
Several beautiful reefs are a fantastic place for beginner snorkelers. More experienced venturers can visit the two smaller Islands, which are world renowned for their waters and reefs
On the East side of the Island lies the Queen's Botanical gardens, a beautiful place to get away from the crowds and beaches
The Tortuga rum factory shows how rum and rum cakes are made, and also provides opportunities to purchase Tortuga Rum and Rum Cakes
The Seven Mile Beach is one of the most beautiful beaches in the world, and most of the beach is public.
Buy
Money
The country's currency is the
Caymanian dollar
, denoted by the symbol "
$
" or "
CI$
" (ISO currency code:
KYD
). It is subdivided into 100 cents. Banknotes are issued in denominations of CI$1, 5, 10, 25, 50, and 100, and coins are issued in denominations of 1, 5, 10, and 25 cents.
US currency is accepted everywhere. Be careful and always know if you're paying in CI or US. The basic conversion is US $1.25 to CI$1 ($1=CI $0.80).
Costs
Almost everything must be imported and is subject to a 20% import tax (sometimes higher depending on the product). Food and other items are relatively expensive.
Shopping
Most shopping is in George Town and Seven Mile Beach on
Grand Cayman
.
Caymanite is the Cayman Islands' own semi-precious stone.
Black Coral is often used in jewelry here.
Rum cake from Tortuga Rum Company is very popular with visitors to Grand Cayman.
There are many tourist shops where you can buy t-shirts, hats, postcards and other souvenirs. Don't buy any seashells though; beachcombing is much more fun, and cheaper too.
Grand Cayman features duty free shopping, enabling visitors to buy many luxury items, duty free - including fine china, jewelry, electronics, and more shopping
Eat
The culinary influences of many regions are reflected in Cayman cuisine. Local specialties such as fish, turtle and conch are delicious and often less expensive as they don't need to be imported. With more than 150 restaurants, unwinding with a good meal in the Cayman Islands can include chic five-star dining as well as a more casual venue under the stars, or even a themed event. From traditional Caymanian seafood to Caribbean and Thai to Italian and New World cuisine, discerning diners are sure to find something to fit their taste. Other exciting options include dinner cruises on luxury catamarans and even an authentic tall ship. Meal prices range from $10 to well over $30 per person at high-end restaurants.
While in Cayman ask your taxi driver for their favourite local jerk stand (a must try) and also ask them the tourist spot they suggest.

Drink
Alcohol is very expensive on the islands, even from the liquor stores. You can expect to pay approximately twice as much in the liquor stores as you would at stores in the United States, however it is still the cheapest way to purchase alcohol.
Typical drink prices in bars and clubs range from CI$4–7.
Liquor stores typically close at 6PM or 7PM, all though some are open until 9PM or 10PM. All liquor stores are closed on Sundays.
Visitors flying into the Cayman Islands are able to bring either 1 bottle of duty free spirits, 4 bottles of wine or champagne, or one 12-pack of beer per person 18 years of age or older. Exceeding this duty allowance will result in substantial taxation to the excess items.
You will of course want to check out some of the local drinking establishments.

Sleep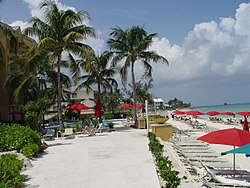 Accommodations are ample but tend to be relatively expensive, even on the two smaller islands. There are several luxury resorts with all amenities, as well as other less expensive options. In addition, the cost of food and drink is high in Cayman, but many visitors stay in condominiums with kitchen facilities and take advantage of the first class supermarkets and cook and barbecue on the beach.
Cayman is not known for all inclusive resorts, but there are two smaller Caribbean style properties that do offer this option.
The majority of hotels and resorts are in Grand Cayman, where the main hotel "strip" is
Seven Mile Beach
, home to several major chain hotels and numerous condominiums.
Off Seven Mile Beach are several dive resorts and, in the Eastern Districts, numerous private homes and villas, as well as several resorts and attractions for those preferring a more tranquil vacation.
Little Cayman focuses on dive vacations and has a unique charm, as well as some of the best diving anywhere.
Camping is illegal on all three islands at all times. There are no campsites on any of the islands.
Work
Grand Cayman has growing offshore banking and tourism sectors. Tourism represents about 60% of the economy. About 30% of residents are expatriates working on "work permits" and unemployment is very low.

Stay safe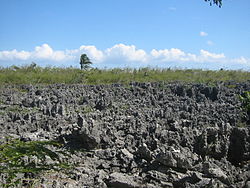 Hurricanes are possible from June through November.
Despite being more liberal than other Caribbean islanders, Caymanians are still relatively conservative. Public displays of affection (both Gay and Straight) are not usually acceptable. Acceptance of homosexual tourists is relatively new and visitors should refrain from any sort of public displays of affection. In past years gay cruise ships have been barred from calling in the Cayman Islands, but recent policy is to remain non-discriminatory. Gay visitors can expect the same levels of hospitality and service as any other visitor, but should expect some hesitation from older Caymanians. Young Caymanians are very liberal and for the most part, won't care either way.
The Cayman Islands is a "relatively low-crime area, especially compared to other vacation destinations in the Caribbean".
"However, that being said, crime is on the rise on Grand Cayman. Walking or riding a bicycle at night along dark roads (for example, along Courts Road) puts one at risk for assault and/or robbery. Pedestrians also need to worry about being hit by cars along soft shouldered roads. Drunk driving and hit-and-run accidents have been a problem. The police regularly conduct roadblocks to deter and detect drunk driving, making numerous arrests most weekends. DWI/DUI is a serious offense in Cayman.
The capital city of George Town is generally safe. Tourists should avoid certain areas (Rock Hole, Swamp, Jamaica Town/Windsor Park, Courts Road, and Eastern Avenue) and this shouldn't be a problem as these areas are all well out of the way for most activities. In addition, George Town is virtually deserted at night as there are few centrally located restaurants, bars, or nightclubs.
You need not be too concerned about miscellaneous belongings. While at the beach, no one will be stealing your lunch, towel or sneakers. Cayman thieves are not desperate individuals, and have no interest in normal personal effects or used snorkeling gear. Very likely the thieves are just local teens looking for items that they can sell to other local teens. Example: an average pair of sunglasses will not "grow legs"; but a flashy pair of Chanel knock-offs just might!
Women traveling alone should be especially careful at night, as sexual assaults do occasionally occur. Carry a cell phone capable of emergency calls to local 911. If you feel you are being followed or inappropriately watched, you should immediately call the police. The police are a very responsive and extremely professional organization. They will take your complaint seriously.
You can enjoy a relaxing and "incident-free" holiday if you take care to be aware of your surroundings and lock doors and windows when possible.
Stay healthy
Many locals won't eat barracuda because it is likely that it is poisonous. Be aware of that. Other reef fish (groupers, amberjack, red snappers, eel, sea bass, and Spanish mackerel) are not likely to cause ciguatera (fish-borne nerve poisoning).
No natural fresh water resources; drinking water supplies are met by desalination plants and rainwater catchments.
Make sure you have sunscreen on if you plan on walking around town. It is sunny all year.
Respect

Caymanians are very respectful. Greetings and pleasantries are common and expected, even to shopkeepers when entering their stores. Most islanders use titles of respect, such as Mr. and Miss, followed with the given or first name, when addressing other islanders.