Celebration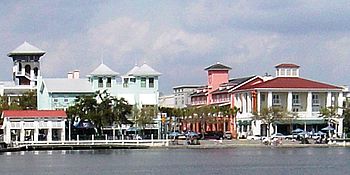 Celebration
is a community in
Osceola County
,
Florida
, near
Walt Disney World
, designed by the Walt Disney Company to be a "perfect community".
Understand
Celebration is a community developed by the Walt Disney Company. It is considered a "perfect community" and often compared to utopian values. For example, residents must have their grass cut to a certain length, they must do certain activities such as walking their dog in a designated area, and they even need to paint their house a color from a hand-picked palette set forth by Disney. Failure to commit can result in fines and dismissal from the community. Celebration is located 5 miles (8 km) from the
Walt Disney World Resort
in
Lake Buena Vista
,
Florida
. The design of this award-winning community includes a downtown, health center, school, post office, town hall, golf course, and a blend of townhouses, apartments and estate homes co-mingled within the same neighborhoods. Conceived as a pre-1940s type of town, classical architecture prevails with garages located behind the houses and everything within walking distance.
When Walt Disney was building Walt Disney World, or "The Florida Project", he had a concept in his head towards the end of his life. It was a City of Tomorrow. The planned city was to be a "community of the future" designed to stimulate American corporations to come up with new ideas for urban living. It was called EPCOT, which stood for "Experimental Prototype Community of Tomorrow". Walt Disney is quoted as saying, "EPCOT will take its cue from the new ideas and new technologies that are emerging from the forefront of American industry. It will be a community of tomorrow that will never be completed. It will always be showcasing and testing and demonstrating new materials and new systems." EPCOT as it's known today meant to be this amazing city, but Disney Imagineers took Disney's ideas and applied them to the EPCOT theme park with monorails, technology consistently 20 years ahead of its time, and attractions to engage Guests to think and look to the future. These ideas were then brought together by the Walt Disney Company and in sync with Imagineers created the community of Celebration. Celebration is one of the top greenest towns in the world, with residents traveling throughout town in personal electric vehicles. The Disney-created city also stimulates urban planning perfection to inspire future towns and cities, engaging in Walt Disney's goal with EPCOT.
Get in
Celebration is a few miles away from the 46 square mile (120 km²) property of the Walt Disney World Resort. Most tourists visit the area for Disney's attractions and accommodations, so traveling to Celebration is quite simple.
If you're staying in Walt Disney World then traveling to Celebration is quite simple. You have multiple options of travel:
Disney Transport: The Walt Disney World Resort Hotel Guests can visit Guest Relations or their hotel's front desk to find out when the next Disney Transport bus will leave for Celebration. Since Disney privately owns Celebration, transportation through Disney can easily be arranged. Since Celebration is not a top-priority attraction at Walt Disney World Resort, the bus schedule is quite narrow due to less demand to visit Celebration.
Taxi: There are dozens of taxi companies in Osceola County, home to Celebration and Disney's Parks and Resorts. If you are staying on or off Disney property, visit your Guest Services desk and ask for a recommended taxi service. Celebration's small distance is calculated to an average taxi fare (not including tip) to $16 one way without traffic.
Driving: The Walt Disney World parks and resorts are connected seamlessly to Celebration via World Drive. The north end of World Drive begins near the Magic Kingdom on Disney property and its south end connects to Celebration Boulevard, allowing Celebration residents and tourists to drive to the Walt Disney World Resort without using any busy roadways. Parking can be slightly hard to find. Since most residents of Celebration travel around town in personal electric vehicles and by foot, parking is limited. Paying for parking is based on a meter system and there is valet if your destination ensures you will be away from your vehicles for longer than the three hours designated by the coin-operated meter. Make sure you park correctly when you parallel park. Due to the perfection of Celebration, if you park more than 8 inches (20 cm) from the curb, you will receive a ticket.
Get around
Residents of Celebration have to follow a series of rules and regulations set forth by the Supreme Board of Governors in Celebration, and transportation is not left out from those laws. Visitors to Celebration are encouraged to rent out options of transportation to travel within the community. The town is made up of plenty of winding walkways and there are sidewalks for added accessibility. Residents of Celebration must use these options of travel within the community, and residents are encouraged to join in. Transportation and welcome centers in downtown Celebration let you know how to get your hands on:
Neighborhood Electric Vehicles: These vehicles can hold up to 4 people (depending on car type) for travels within the community. They are low speed vehicles and will get you around town quickly, safely, and efficiently.
Segway Human Transporters: Segways are an up-and-coming form of transportation. Disney uses them thoroughly throughout their parks and resorts for quick access to locations via their Cast Members (employees). A 1-hour class and helmet is required and provided by the city. They have wireless remotes that shut the Segway off if you leave a certain vicinity of town. They can travel up to 12½ mph (~20 km/h) on the highest setting, and provide a new outlook on city tourism.
Bicycles: There are a few locations throughout Celebration where you can rent a bike for the day to take in on the scenery.
Walking
All of this ties back into Walt Disney's vision of EPCOT, where residents would either rely on public transportation in the form of monorails, or use an environmentally friendly alternative, like the People Mover or walking.
See
phone: +1 407-566-4653

address: 701 Golfpark Drive

Course amenities include a practice putting green, aqua driving range, and practice chipping hole. There is a 3-hole Junior Course suited for 5-9 year olds. Convenience Cart service is available on the course everyday. Celebration Golf Club is in the Orlando Resort area and is an easy drive from Tampa. Disney World and other theme parks are located a few minutes away.
Events
Celebration puts together plenty of events throughout the year with some help from Disney. They tend to be quite over the top in meeting the high, luxurious standards of the town. Many of the events are themed to the time of year or holiday, and are often influenced by Disney characters, films, and promotions to the resident of Celebration.
Some annual events include:
Community-Wide Yard Sale

An Art Show

An Exotic Car Festival

Radio Disney Holiday Concert

Oktoberfest Celebration

The "Great American Pie Festival" (televised on the Food Network)

"Posh Pooch" Festival

4 July Fireworks Spectacular sponsored by Disney
Celebration also celebrates other downtown events for the four seasons when the town is decorated accordingly. Twice a year, a Walt Disney World liquidation sale is held at Celebration School to clear out older merchandise.
Buy
Celebration has plenty to see and do. Just walking through the perfectly landscaped neighborhood is an attraction in its own. Celebration is based on the 1940s, and is often compared to
Pleasantville.
Downtown celebration has a nice upscale shopping district with plenty of vendors ranging from luxury clothing stores to themed-merchandise stores. Lined with palm trees like Beverly Hills Boulevard and paved in stone, Celebration offers plenty to see, eat, and do. Relax on a bench overlooking the placid lake, or stroll down Market Street and see what the vendors have to offer.
Downeast

phone: +1 407-566-0000

address: 715 Bloom Street, Suite 140

Ladies', men's and children's clothing and gifts. Ralph Lauren Polo, LaCoste, Corbin, Southern Tide, Bill's Khakis, Sperry, Jack Rogers, Alden Shoes, Susanna Monaco, Milly, Ella Moss, Spanx, Vera Bradley, Caswell Massey, Costa Del Mar Sunglasses, Cavalli Sunglasses and more.

Jewel Box

phone: +1 321-939-2915

address: 606 Market Street

Fine and bridge jewelry, windows decorated with tiffany stained glass, art and gifts brought from around the world.

Lollipop Cottage

phone: +1 321-939-4130

address: 605 Market Street

A children's clothing and gift boutique in Celebration Town Center.

Market Street Gallery

phone: +1 407-566-1500

address: 605 Market Street, Suite 120

Yankee Candles, year-round Christmas, Willow Tree, home decor, jewelry, baby items, greeting cards.

Sanrio Surprises

phone: +1 321-939-1777

address: 671 Front Street, Suite 110

The home of "Hello Kitty" and all your favorite Sanrio characters. A large selection of Sanrio gifts, and stocking stuffers.

phone: +1 407-566-1103

address: 606 Market Street

A small family-owned business, one of the original shops on Market Street. Many unique designs are made of 100% cotton.

phone: +1 321-939-BAKE

address: 605 Market Street, Suite 120

Pet care products including a wide selection of premium dog and car foods, fresh baked treats, collars, leads, apparel, toys, bowls, spa products.
Eat
There are variety of dining options in Celebration including food stores and restaurants presenting a large variety of authentic international cuisines:
phone: +1 407-566-2233

address: 691 Front Street

Provides casual, Italian-inspired lakeside dining, delicious black Angus steaks, veal, chicken, pasta, and seafood.

phone: +1 407-566-2526

address: 721 Front Street

This New England-style restaurant & tavern offers an extensive menu that is very family friendly. The tavern is locally known for its clam chowder, its fried Ipswich clams and fresh Boston scrod.

phone: +1 407-566-1505

address: 649 Front Street

Overlooks Celebration's picturesque lake and offers Spanish/Cuban cuisine in Mediterranean-style dining rooms, an outdoor cafe, courtyard, or tapas bar.

phone: +1 407-566-9054

address: 606 Market Street

Imperium Wine Room is a 100-seat food and wine bar offering high quality food and wines with a 50-seat patio. Imaginative wines, a simple menu, minimalist design and energetic setting.

phone: +1 407-566-8555

address: 671 Front Street

Delicious ice creams, fudges, and chocolates.

Market Street Cafe

phone: +1 407-566-1144

address: 701 Front Street

phone: +1 407-566-1889

address: 671 Front Street, Suite 100

Japanese food and sushi.

phone: +1 321-939-3200

address: 741 Front Street

phone: +1 407-566-9444

address: 600 Market Street, Suite 100

Thai Thani Restaurant was established by a retired Deputy Permanent Secretary of the Thai Ministry of Commerce. The restaurant was opened to enhance the Thai Government policy to promote Thai food as a leading cuisine of the world.

Upper Crust Pizza

phone: +1 407-566-1221

address: 606 Market Street. Suite 160

Features two types of pizza, thick Sicilian style and traditional New York style, both with a variety of toppings. Pizza is served as a whole pie, or by the slice. Also features a variety of paninis, pressed sandwiches filled with items such as Tuscan chicken, steak and cheese and vegetables.
Sleep
With close proximity to
Disney World
, Celebration offers a number of lodgings that are close to the popular attraction.
Budget
Celebration, Florida is an upper-class community and destination, and the lodging is priced accordingly. There are budget hotels minutes from the Disney-created community, but within the downtown and outskirts of Celebration, pricing is of mid-range and high-end categories.
Mid-range
phone: +1 407-964-7000

address: 225 Celebration Place

One- or two-bedroom suites. Beautiful infinity edge pool, two restaurants, bar and minutes from downtown Celebration. Transportation to all area theme parks provided.

Mystic Dunes Resort & Golf Club

phone: +1 407-396-1311

address: 7900 Mystic Dunes Lane

A destination resort nestled on 600 acres (240 ha) of tropical landscape. Two miles from Walt Disney World and offering one, two and three bedroom villas featuring fully-equipped kitchens and private whirlpool baths; 18-hole championship golf course, Mystic Dunes Golf Club; four heated pools; Kenzie's Steak House; and family activities and supervised children's programs.
Splurge
address: 700 Bloom St

Located in lakeside Celebration. The hotel offers 115 rooms & suites, and is close to Market Street and a nature trail.
Disney Vacation Club: Many Disney World Resorts have special sections dedicated to Disney Vacation Club, and standalone DVC Resorts to boot. A Disney Vacation Club membership is often compared to a timeshare, with many perks and deals at Disney Parks and Resorts International.
Rental: Privately owned vacation rental homes or "villas" are also very popular especially with families and larger groups, usually offering significantly more space than hotel rooms, and often at a cheaper price. There are also a few Bed and Breakfasts within Celebration, but demand is high and usually requires reservations six months in advance or more.