Celje
Celje
is a city on the Savinja River in the
Pohorje-Savinjska
region of
Slovenia
.
Get in
Celje is situated half way between
Ljubljana
and
Maribor
on the A1 highway, approximately one-hour drive from either. It is also served by Ljubljana - Maribor railway line with trains running twice an hour on workdays.
Get around
The town has a population of about 50,000, but it's very compact. The best way to get around is on foot. Almost everything's within walking distance.

See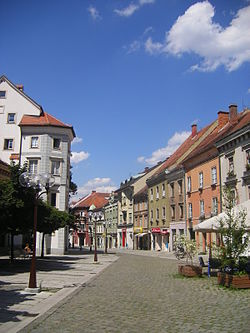 The downtown part of Celje is very old, and very beautiful. There are two churches, as well as an "Old Celje" section. On the top of a hill overlooking the town is the Stari Grad castle, built in the 1400s. A vehicle is recommended to get to it. It has a tower with several staircases, but the climb is worth it. Once on top, the view of Celje is absolutely spectacular and breathtaking.
Beside medieval remains, Celje is also famous for its multitude of remains from the ancient
Roman Empire
(from 1st century C.E.), when it was a rich Roman settlement called
Celeia
. The
Celje Regional Museum
holds remains from gravesites, roads etc. Remains of various buildings and the ancient city walls are also scattered around the town itself.
You can see an office guide from the town's tourism agency
here
.
Do
The obvious thing to do in Celje is simply walk, and take in the amazing views of all the historic buildings they have. Spend a whole day just walking around and taking pictures. In some places, they have the original cobblestone roads, which are beautiful. The old part of town is rather sleepy, so there's usually not much to do besides sightseeing.

Buy
Shopping malls with movie theatre and the fairground are located some 2 km north of the centre, along Mariborska rd.

Drink
Metropol, café and cinema (kavarna and kino): at every hour of the day, the Metropol is a good choice. It is located in the pedestrian precinct, Stanetova 15.
Sleep
MCC HostelOpened in 2010, every room of the hostel has been specially designed by a local artist. Prices range from €18 in dorms to €29 in single rooms.

Hotel Astor. The hotel itself is nothing spectacular, but the location is totally ideal. It is on the outer part of town, which makes driving to it a piece of cake. However, it's close to three supermarkets and the pharmacy, as well as two banks easily in walking distance. There is a restaurant in the hotel, with complimentary breakfast consisting of croissants, yogurt-type foods, cereal, and deli meats. The dinner menu includes venison, stallion (real horse) meat, fish and lamb.
Hotel Štorman. Štorman is situated across the street from the town's main bus station and 500 m from the main train station, and is an easy walk to the shopping mall. If your after a cheaper stay than the more expensive hotels in town, this is where to stay. A little noise from the train line and dual carriage way outside is expected but even with a room overlooking these, little noise gets in.