Celle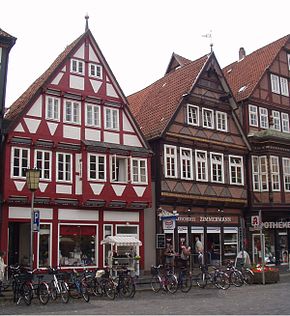 Celle
is an historic town in the
Lüneburg Heath
in
Lower Saxony
.
Understand
With its rows of timber-framed houses, its imposing ducal palace and historic old town, it is easy to see why
Celle
is such a popular tourist destination for German and foreign visitors alike. Located in the German state of
Lower Saxony
on the banks of the River Aller and on the southern fringes of the
Lüneburg Heath
, it also makes a great base for an excursions into the Heath, as well as the nearby cities of
Hanover
and
Brunswick
. The mystical and legendary
Harz Mountains
are also within striking distance, about 1½ hours drive to the south. Steeped in history, Celle was the official residence of the dukes of Saxe-Wittenberg and, later, of Brunswick-Lüneburg, from 1378 to 1705. Its castle was then converted into a magnificent
Schloss
that became the summer residence of the prince-electors and kings of Hanover, ancestors to the British royal house of Windsor. It also has a 300 year long association with the military; its barracks housing, at various times, Prussian infantry, Wehrmacht smokescreen troops and British Army units. Having survived the Second World War virtually unscathed, Celle still has that whiff of aristocratic charm about it, whether you're strolling through the French Gardens, sitting in the grounds of the palace, boating on the river or exploring its maze of timber-framed shops. In short Celle is a must for anyone touring Northern Germany!
History
Celle is at least a thousand years old, the first written record referring to it as
Kiellu
("fishing bay") in 993. The town received much sought-after rights to mint its own coins in the 11th century and, by the end of the 13th century, Celle had become a ducal seat. In fact it was Duke Otto II the Strict who decided that the old fortified residence in Altencelle was no longer suitable and built a new settlement next to the site of the present castle. Celle's importance grew, being granted town rights by Otto in 1301, the same year that work on the town church (
Stadtkirche
) began.
In 1378 Celle changed hands becoming the residence of the dukes of Saxe-Wittenberg. They were ousted in 1433 by the princes of Lüneburg, one of the branches of the Dukes of Brunswick-Lüneburg and ancestors of the British royal family. In 1452 Duke Frederick the Pious founded a Franciscan abbey here and, 12 years later, the town boomed thanks to its monopoly on the shipping of grain. The Reformation came to Celle in 1524, championed by Duke Ernest the Confessor, whose portrait still graces one of the best-known timber-framed buildings in the old town, the
Hoppener Haus
.
The rule of Duke George William in the second half of the 17th century saw a cultural renaissance as the castle was turned into a
Schloss
or palace, ornate gardens took the place of fortifications and the baroque theatre was created. When the last Duke of Brunswick-Lüneburg died in 1705, Celle passed to the prince-electors of Hanover. Although no longer a ducal residence, the town grew in stature as an administrative and judicial centre for the region. When George, Elector of Hanover, ascended to the British throne as George I, Celle became a possession of the British Hanoverian line.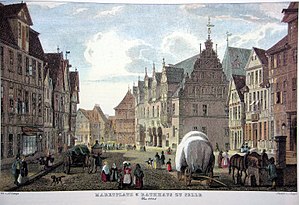 Celle has a long association with the military. In 1842 the Cambridge Dragoons Barracks was built for the regiment named after Prince Adolphus, the Duke of Cambridge. This later became Goodwood Barracks after the Second World World and from 1976 to 1996 was the HQ of Germany's
Panzerbrigade 33
. In 1989 it was renamed again to
Cambridge-Dragoner-Kaserne
known locally as
CD Kaserne
and is now an event centre run by the town. It is also the temporary home to the Schloss Theatre during the renovation work 2010-2012. In 1872 another barracks was built for the 77th Prussian Infantry Regiment, that became known in 1938 as the
Heidekaserne
("Heath Barracks"). After the War the barracks, the longest brick built residence in northern Germany was used by the British Army until 1993. Today it has been restored and houses the new Town Hall offices. A third barracks on the northern outskirts of the town was built for German Smokescreen troops in 1936, formerly known as Sekt Kaserne. Since 1945 the camp has been occupied by British Forces in Germany and was renamed Trenchard Barracks but often retains the German name 'Hohe Wende' referring to the road running along the northern perimeter where carriages would have to turn in the days before mechanisation. This was vacated by the last British Troops in Celle in July 2012. There is a small air base at Wietzenbruch, a suburb on the south western corner of Celle which is a wing of the German Army's aviation training school. This base played an important role in the Berlin Airlift operation delivering coal to west Berlin. In the 1920s a silk mill was built that later became part of the German war machine, producing parachute silk for Wehrmacht paratroopers.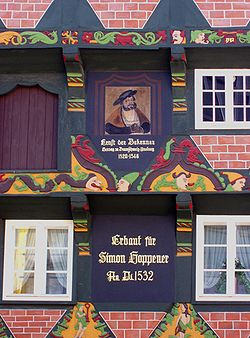 In 1929 the original Karstadt department store in the town centre was opened, its façade being identical with that of the one on Berlin's Hermannplatz. The store was pulled down in the 1960s and replaced by a modern building, which was meant to resemble Celle's timber framed houses.
During
Kristallnacht
, the coordinated attack on Jews in Nazi Germany on 9/10 November 1938, the synagogue in Celle escaped total destruction because it was next to a leather factory and parts of the historic old town. In addition the raiders had no ladders so the damage was limited to about 2 metres from the floor. On 8 April 1945 Celle suffered its only major bombing raid during World War 2, much of the industrial estates and railway goods yard being destroyed. A train carrying about 4,000 slave workers and civilian prisoners to Belsen Concentration Camp was hit, causing hundreds of casualties, but some of the prisoners escaped into nearby woods. SS guards and Celle townsfolk took part in the infamous 'Celle hare hunt' (
Celler Hasenjagd
), killing several hundred POWs over the next four days. The exact number of victims has not been determined. Several people were later tried and convicted of war crimes. Celle surrendered without resistance to advancing British troops from 15 (Scottish) Division on 12 April 1945.
Today, Celle is a modern, self-governing town and capital of Celle county. It lies 35 km north-east of Hanover, the capital of Lower Saxony, to which has direct road and rail links. On 1 January 1973, Celle ceased to be an independent town (
Kreisfreie Stadt
) and became the largest borough in the new county (
Kreis
) of Celle. It lost the parishes of Ummern, Pollhöfen and Hahnenhorn and gained Hahnenhorn, Helmerkamp, Hohne (a village east of Celle, not to be confused with the Army base), Pollhöfen, Spechtshorn and Ummern).
On 25 July 1978 there was a hoax bombing of the prison, which was blamed on the Red Army Faction, but later admitted to have been carried out by the Lower Saxony Intelligence Service. It later became known as the "Celle Hole".
Get in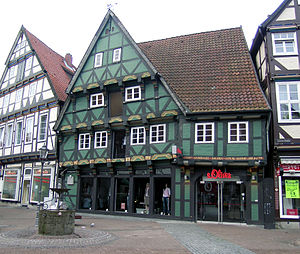 By plane
The nearest airport to Celle is Hanover which is a main international airport with regular flights from all over the world with services to most European capitals and major cities. The airport is situated in Langenhagen which is 11 kilometres to the north of Hanover centre and has easy access to the autobahn. It is the ninth-largest airport in Germany and is one of very few German airports which are open 24 hours a day, although there are very few flights between 11PM and 4AM. The centre of Celle is approximately 39 kilometres from Hanover airport with an estimated driving time of 35 minutes. Hanover airport is also accessible by a combination of trains, buses and taxis.
There is also an international airport in Bremen which has many of the budget airlines operating regular flights to most European countries. The airport is located close to the city centre and there is a tram which departs every 5 to 10 minutes (on Sunday evenings up to 30 min) to Bremen city centre and the journey takes 11 minutes and costs €2.30. This airport is also close to the autobahn links but is 114 kilometres and a 75-minute journey to Celle centre.
Hamburg international airport is approximately 8 kilometres north of the city centre and is the fifth busiest airport in Germany. In 2009 extensive refurbishment improved road access and connections to the Hamburg S-Bahn system which will connect with the main Bahnhof in Hamburg city centre. The Radisson Blu Hotel was constructed in 2009 which would benefit travellers who wanted a rest before any onward travel. Although this airport is 141 kilometres away from Celle and will take approximately 1 hour and 40 minutes by car it is still a viable alternative to Hanover and Bremen airports.
By train
Celle Bahnhof runs a variety of local trains and is also a stop for the ICE trains running on the Hamburg to Hanover route. Trains to Hanover and Hamburg stop hourly at the station as do individual ICE trains during busy periods. Metronom trains link Celle to Uelzen, Hannover and Göttingen as part of the regional transport network. Celle is also the terminus for routes S6 and S7 of the Hanover S-Bahn network. Links to the east and west are not part of the structured bahnhof system so Hanover is the better option for travelling more extensively around the area.
The Deutsche Bahn railway station (Bahnhofsplatz 6, tel. 0049 5141 42020) is approximately a fifteen minute walk or a five minute taxi ride west of the Celle Altstadt. During trade shows (Messe) in Hanover Deutsche Bahn will add extra trains on the Hamburg to Hannover route which is very convenient for customers utilising this facility.
The local network is extensive and located predominantly to the south-east of Celle and within a 25 kilometre radius there are the following train stations: Ehlershausen - Otze - Escheds - Grossurgwedel - Burgdorf - Mellendorf - Bennemuhlen - Isernhagen - Bissendorf
- Dollbergen
By car
Celle is 28 kilometres from the nearest autobahn but is located on the main B3 route which runs from north to south. Access from Hanover centre (nearest City) would be via the A37 which connects to the B3 in an north-easterly direction and the journey is 42 kilometres and will take approximately 35 minutes.
Driving from Bremen (westerly direction) will be on the autobahn A27 which connects to the A7 to the south-east of Walsrode. The A7 runs south for a further 14 kilometres and the junction for the Celle route is Buchholz. The B214 from Buchholz to Celle centre is a direct route with a distance of 28 kilometres and an average driving time of 30 minutes.
Travelling from the north (Hamburg) is also via the route A7 and the junction to the south-east of Soltau leads directly onto the B3. The B3 route to Celle centre is a 42 kilometre (43 minute) journey through very pleasant undulating countryside passing through Bergen town centre.
By bus
address: Nienburger Straße 50

Celle has an extensive bus network within the centre and to local attractions with various options offering discounts for a multitude of circumstances. These include discounted fares for families, senior citizens, children, students, combination tickets with train travel, travelling with pets or bicycles, city travel, 48 hour travel, and group cards. A comprehensive list is available on the website detailing prices, timings, routes and other helpful information.
Get around
Celle is situated on the B3 and the town centre is capped North and South by small industrial shopping areas which cater for the larger furniture stores, garden centres and car dealers galore. These small areas based around Harburger Heerstraße in the North and Braunschweiger Heerstraße in the South are easy to find by car however they are close enough to be a reasonably cheap taxi fare.
Celle's historic
Altstadt
is easy walking. When you get tired, take a cheap and frequent bus. Time tables can be found
here
The town centre is pedestrian friendly with many of the streets car free.
Taxi The main taxi rank is managed from Kirchstraße 40A, 29221 Celle. Telephone 05141 709899 or visit their web site
Coach and horses, For those with time a coach and horses trip around the town can be boarded directly in the town centre opposite Karstadt (department store).
See
Celle survived the Second World War largely unscathed with the result that its
Altstadt
, with around 450 half-timbered houses dating from the 16th to 18th centuries, is largely complete and creates a unique historical and cultural ambience. To the south and west it is flanked by two parks. Important attractions are Celle Palace (built in 1292) and the town's ancient church (
Stadtkirche
). The palace houses the oldest working Baroque theatre in Germany (built ca. 1675) and it has its own theatre company. The Old Town Hall has a typical gabled roof in the "Weser Renaissance" style and in its basement is the
Ratskeller
, one of the oldest pubs in Lower Saxony, built in 1378.
As might be expected of a town with a population of over 70,000, Celle has a comprehensive range of shops from department stores like
Kaufhof
to small specialist shops as well as a wide range of restaurants, cafes and bars catering for most tastes.
Altstadt. The old medieval town centre has a large pedestrian-only zone that wends through a wonderful tapestry of timber-framed houses and shops. Stop for dinner, drink a beer, buy a watch; mostly just stroll.Guided tours around the town run on a regular basis to find out more contact: Guest management service, Markt 14-16, 29221 Celle. Tel.: 0 5141 / 12 454 Fax 0 5141 / 12 459 fuehrungen@Celle-Tourismus.de www.Celle-stadtfuehrungen.de
Buildings
Celle PalaceThe ducal palace, Schloss Celle, whose foundations date to the 13th century, is the oldest building in the town. What started as a castle for the dukes of Lüneburg, fortified with moats and ramparts, was gradually expanded and modified into a mixture of Baroque and Renaissance architecture. From 1772 it was home to the British-born, Danish queen, Caroline Matilda, the daughter of Frederick, Prince of Wales, who had been banished to Celle as a result of her affair with Johann Friedrich Struensee of Copenhagen. She only lived at the Celle court until 1775 when she died at 23 of scarlet fever. In the 19th century the castle was occasionally used by the Hanoverian royal household as a summer residence. Guided tours visit the Renaissance chapel, Baroque theatre, ducal chambers and palace kitchen.

Hoppener Haus

address: Poststr. 8/Rundstr.

Perhaps the most impressive and best-known timber-framed buildings in the old town, the Hoppener Haus dates to 1532 and looks like something out of a picture book. In front of the house is a rather strange, modern work of art: five talking streetlamps that are activated by movement and recount (in German) amusing tales of bygone years as well as extolling the sights of Celle today.

address: Unter den Eichen 13, Bargfeld

Arno Schmidt is known to have lived in his house from 1958 when he wrote many novels until his death
Places of Worship
St. Mary's Church

address: An der Kirche

Originally built around 1300 in a Gothic style, this ancient parish Church of St. Mary was rebuilt in the Baroque style between 1676 and 1698. The crypt houses the ornately decorated tombs of members of the House of Welf, distant ancestors to the British royal throne. The church also has an impressive, nearly 400-year-old, altar and the restored organ and Baroque ceiling vaulting is also worth seeing. The more energetic may climb the 234 steps up the tower for outstanding views over the town and the castle.
Museums
phone: +49 5141 12 45 90

address: Hafenstraße 4

Well worth a visit, this is a Museum which concentrates on the Military history of Celle. The Military history goes back to 1626 and includes the role of the Luftwaffe before and during WW2 and also the British garrison post WW2. There are hundreds of exhibits ranging from weapons and uniforms to sigals equipment. The museum has many artifacts from the history of the various units and regiments that have been stationed in Celle.

phone: +49 5141 12-372

address: Schlossplatz 7

Celle's cultural museum and one of the largest and most important museums in Lower Saxony. Numerous displays and reconstructions show how people lived, worked and dressed in the Celle region in centuries past. Interesting portrayal of Celle's industrial history.

phone: +49 5141-38 26 26, +49 5141-12 372

address: Palais im Prinzengarten 2

Housed in a little rococo castle, the museum portrays the history of embroidery in Europe over four centuries. Finely embroidered cloth from the courtly, mercantile and farming life.
Parks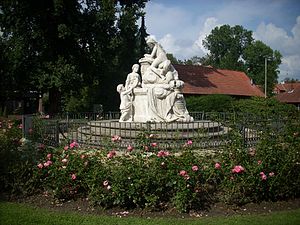 The French GardenDirectly off Südwall and at the entrance to Magnusstraße car Park, the French Garden probably owes his name to the French gardeners Perronet (in 1670) and Rene Dahuron (1690-1701) who were in services of Celle's Duke George William. The last one was in charge of the first laying out of a pleasance and a vegetable garden according to the courtly gardening tradition of the 17th century. In the years 1695 and 1696 two parallel avenues of linden were planted. These avenues form a dominant central East-West axis until today (the linden avenue was completely renewed from 1951 until 1953). In 1705, Celle lost the position as royal seat. The garden became overgrown and not until 1772 the French Garden flourished under the courtly gardener KRANTZ for a short time on occasion of the exiling of the Danish queen Caroline-Mathilde to Celle. Furthermore there was built a summer house at the pond and in 1784 there was erected a statue to her.Afterwards there was again a shortage regarding the upkeep. Even in 1801 the small summer house at the pond was removed. Not until the middle of the 19th century under the dedicated Hanoverian supreme major-domo MALORTIE the French Garden was undergoing the gradual transformation into an English landscape park according to the plans of the garden inspector Schaumburg. After the World War One, the children's playground, which still exists today, was laying out in the eastern part and a small rose garden, which was re-schemed in 1966, in the western part. In 1927 the northern part of the garden was divided off on occasion of the foundation of the Beekeeping Institute of Lower Saxony.Meanwhile the French Garden was classified as a historical landscape monument.

address: Spoerckenstraße 10, 29221 Celle

If you are an animal lover, a visit to Celle wouldn't be complete without visiting their world famous Stud Farm. Hanoverian stallions are kept on this yard, schooled and sold for thousands of euro's to buyers all over the world. Traditionally, on the last 2 weekends of September, and the first weekend of October, the annual 'parade' takes place where, at the stroke of one, a 3 hour programme takes place duirng which all the stallions are presented in hand, under harness or under saddle. It is celebration of horses and a treat to watch - even for those non-riders.
Do
Theatre
phone: +49 5141 919460

address: Congress-Union Celle Thaerplatz 1, 29221 Celle

The Congress Union is a fantastic facility in Celle. It offers international shows on a regular basis. For current shows and other information visit the website.

Schlosstheater Celle
Sports
Events
Wappen Von Celle (pleasure boat)

phone: +49 5141 941212

address: Brambusch 23, 29225 Celle

This passenger boat cruises the river Aller, departing from near Celle town centre on Sundays, Wednesdays and Thursdays from mid April to mid October. Anyone can go on these cruises by turning at the departure point on the day. Normally lasting 2/3 hours and costs vary depending on whether food & beverages are involved! It can also be hired for private functions, and group bookings are given discount. It is a lovely way to see some of Lower Saxony at a more leisurely pace, a great way to celebrate a special event, or just a lovely thing to do with visitors.

address: Celle town centre

Take a horse drawn carriage tour around the beautiful Celle town centre. The carriages are stationed at their departure point on the corner of Grosser Plan/Bergstraße (opposite the relatively ugly building which houses Karstadt Department store). The commentary is in German but, even if you don't understand that, it is a charming way to see the town centre. These tours run daily throughout the season (generally April to October), dependant upon weather. The carriages can also be hired for private tours, can include catering and collection from your hotel/railway station is possible

address: Celle town centre

Celle town centre's Christmas market is one of the biggest and best in Lower Saxony. Annually, usually from the end of November through towards to end of December (closed Christmas Eve and Christmas Day), over 100 stalls gather together in the beautiful historic town of Celle to sell their wares and celebrate Christmas in true German tradition and style. Here you can buy hand crafted Christmas presents, or simply enjoy typical German food and drink. In Celle you will find Northern Germany's highest Christmas Pyramid. For further information on ALL German Christmas markets visit www.germany-tourism.de

address: Celle town centre

Don't miss this brief festival of wine (mainly German) which takes place annually, in the last week of July. Celle's town centre is full of stalls selling their wares including many local wines, Flammkuchen, cheeses etc and, of course, in the festival atmosphere created by live music including jazz, folk and piano.

Guided tours of Celle

address: Meet at bridge in front of Celle Castle
Buy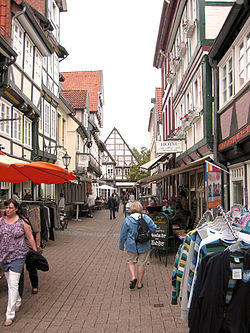 address: Tannholzweg 1-3, 29229 Celle

Buy your exotic orchids direct from the grower! This orchid growing centre has a Visitors centre where you can browse through many beautifal specimen orchids, learn more about the plants and purchase a much more exotic orchid than you would otherwise find in your local garden centre. They also open the entire growing area periodically to the public and allow public access to their growing, seeding areas etc, when you can learn as much as you ever wanted to know about these beautiful plants.

Factory Outlet

address: 39 Wernerusstraße

Clothing Factory Outlet selling mainly woman's clothing: Cecil, Cecil Men, Street One and One Touch at least 33% off high street prices. During events (sales times etc), you can get up to 75% off and often find a 'sample' bargain. Well worth a visit if you are in the area.

address: Großer Plan 7

A coffee-roasting house steeped in tradition in a historic shop. As well as a wide range of coffee and tea, you can buy chocolates, spirits and heather honey from the Lüneburg Heath.

address: Heineckes Feld 3

A large furniture store covering four floors, but also including general home furnishings and decorations on the ground floor. It has a very nice cafe/restaurant on the top floor and a useful play area where your can deposit the kids and then browse at your leisure. It is out of town, on an industrial estate.

REAL

address: B3

Real is a large supermarket, you can buy household items, clothes, electrical goods, groceries and more
Eat
Budget
Café Kiess

phone: +49 5141 2086167

address: Großer Plan 16/17

Celle's oldest café and one of the best. Cosy atmosphere inside, or relax outside in sunny weather watching the world go around on the town square. Good for breakfast, albeit menu a little limited.

phone: +49 5141 85006

address: Zöllnerstraße 14

Good range of breakfasts and cakes, reasonable prices, not as cosy as some, but a safe bet.

Café Rössli

phone: +49 5141 6826

address: Neue Straße 25

Top café, rather oddly backs onto a linen shop which you can walk through to. Excellent breakfasts and service, but you need to get there early on Saturdays or reserve a table as it is very popular.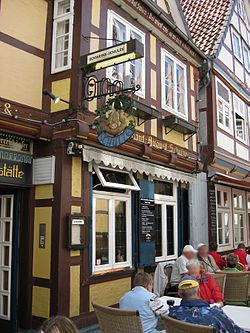 Coffee Shop Celle GmbH

address: Schuhstraße 21, 29221 Celle

Superb service, baked baguettes are a speciality. Excellent selections of drinks and special coffees. Well worth a visit when in Celle. Ideal for lunch or other times. Cheap and excellent value for money

phone: +49 5141 9779527

address: Zöllerstraße 19

Good selection of pastries and regional small meals.
Mid-range
phone: +49 5141 29099

address: Markt 14

The Ratskeller under the town hall (Rathaus) serves good food in North German style: traditional, filling and in an historic location. Quiet atmosphere and good service. Especially good during asparagus time (Spargelzeit): choose the asparagus. Another local speciality is Heidschnuckenbraten - mutton from the heathland sheep.

address: Fritzenwiese 39

Good Italian restaurant.

address: Hannoversche Straße 55/56

Good Italian restaurant in the Hotel Fürstenhof with a relaxing Mediterranean atmosphere, good German and Italian food.A hint of Tuscany lies in the air when the friendly staff have laid the tables. The rustic atmosphere brings a piece of Italy to Lower Saxony. The cucina casalinga conjures up seasonal creations. But the traditional specialities are also on a par with these. And a perfect meal is concluded with a heavenly dessert. That melts in your mouth! Not forgetting the wine menu with a ginormous selection. Italophiles of all ages are sure to find the right dish.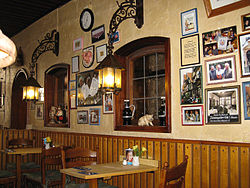 Schweine-Schulze

phone: +49 5141 22944

address: Neue Straße 36

Serving traditional German food, the restaurant dates back to 1820, the food is very good and cooked to order, the dishes are not small. Very good value. Be careful with the price. What the restaurant charges is more than the price on menu.

address: Am Heiligen Kreuz 4, Celle

A very interesting evening for all with the owner doing the waitressing. Good food and jovial service from the lady in shorts.
Splurge
Celler Tor

address: Scheuener Straße 2, 29229 Celle

The Celler Tor Hotel boasts a fantastic restaurant Whatever you require the chances are they will have it. Local game is one of their specialities. With well trained waiters and superb food there is a price to pay. Very good wines available. The message is: expensive but you do get value for money.
Drink
phone: +49 5141 91 94 23

Situated within the Congress Union building,close to the town centre.This typical German drinking establishment offers, alongside the obvious selection of good German beers, good German and Mediterranean cuisine.

Biergarten Schattauer

phone: +49 5141 930373

This popular drinking establishment is only 5 minutes walk from the town centre, situated on Luneberger straße (close to the Hospital). Schattauer offers seating for up to 200 guests in the biergarten and seating for 60 inside the restaurant. Along with Konig pils on tap,guests can also enjoy excellent and reasonably priced meals.

Herzog Ernst

phone: +49 5141 214466

Situated in the heart of the Old Town at Neue Str 15. This Gastatte is popular for its live music programme, which includes rock, jazz, blues and even country, it has a great atmosphere and great beer.

Inkognito Discothek

phone: +49 5141 981212

For those who prefer lively nightlife Inkognito provides the answer. it is just a short taxi ride from the town centre at Zur Fuchsfarm 1,
Sleep

There is a good range of Hotels in Celle, many catering for the overflow from the trade fairs (Messe) that are regularly held in Hannover, about 40 minutes drive away. At these times bookings may be affected.

Bed and Breakfast
Budget
Mid-range
Splurge
Go next