Central Aegean
Central Aegean
is the central section of
Aegean coast of Turkey
, including
Izmir
, the third biggest Turkish city, and its vicinity.
Cities
— Turkey's 3rd largest city, undeniably capital of Aegean Region, with beautiful neighbourhoods and promenades on its waterfront
— village with well preserved local stone architecture, ancient windmills, and a cove perfect for windsurfing
— a bleak agricultural town, although the ruins of the St John's Church attest that this was a major centre of early Christianity when it was known as Philadelphia
— a lovely atmospheric city that contains the ruins of Thyatira.
— the ruins of old Pergamon, as well as a modern Turkish town.
— medieval Turkey at its best, overlooking the Küçükmenderes Valley
— town on Turkey's (almost) westernmost tip with an impressive citadel
— town north of Izmir noted for its preserved architecture and the nearby islands that are one of the last refugees of endangered monk seals
— village known for its thermal springs discharging from sea floor, near Çeşme
— resort town south of Izmir, with a harbour that almost any cruise ship on a Mediterranean tour calls
— inland city east of Izmir, a possible for visiting Sardis, the Lydian capital, as well as the beautiful Mt. Sipylus nearby
— town serving as a gateway to Ephesus, which is also a historic center in its own right.
— inland town with a well-known street market
Other destinations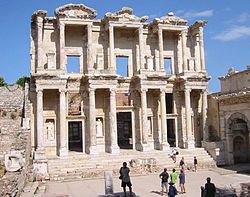 — well-preserved ruins of Roman city
— inland village close to Ephesus/Selçuk, surrounded by olive- and vineyards, can be best described as Turkey's Tuscany
Dilek Peninsula National Park (Dilek Yarımadası Milli Parkı) — situated just south of resort town of Güzelçamlı, which is about 15-min minibus ride south of Kuşadası, this peninsula is perhaps the wildest stretch of land on the Turkish Aegean coast. Centred around the Mt Samsun (Samsun Dağı) which juts out towards the Greek island of Samos, this place covered with lush forests were declared as a national park in 1966 because of the rare species of animals inhabiting it. The Anatolian leopard (Panthera pardus tulliana), which is thought to be extinct by now, is the most important one. You will most likely not have a chance to encounter any of these rare fauna, except maybe a horde of wild horses if you choose to visit in winter, and perhaps the ubiquitous wild boars which mostly subsist on food refuse left by humans (sometimes being so bold as to scavenge unattended lunchboxes). Its hiking trails and secluded sandy and stony beaches are is a great get-away when you are bored of concrete sprawl of Aegean resorts. Some of the park is closed to the public (presumably for military reasons) when arriving overland, although all are attainable by boat tours departing from Güzelçamlı— 4 TL pp, 10 TL/car. It's illegal to overnight within the park.
Understand
Central Aegean encompasses what were historically called Ionia on the coast, and Lydia inland.

Get in
Get around
By train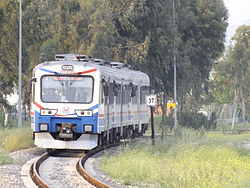 Central Aegean is home to the densest and the oldest rail network in the country: the earliest construction dates back to 1857. In addition to the relatively frequent regional trains that run on main trunk lines between
Izmir
and
Manisa
, and Izmir and
Aydın
, many railbus (
raybüs
) services connect agricultural towns lying at the end of branch lines and larger settlements, especially Izmir.