Central Africa
Central Africa
is a region of
Africa
bounded by the Atlantic Ocean in the west, the African Rift Valley in the east, the
Sahel
plains in the north, and the Zambezi basin in the south.
Countries
Cities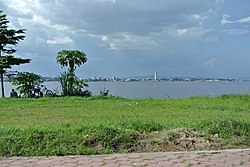 Other destinations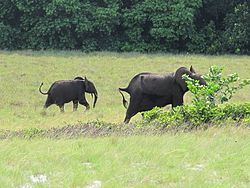 Understand

While the climate is significantly tropical, warm around the year, the Congo basin has the most rainfall on the continent, with more arid savanna climate in the north and south.

Get in
Get around
Talk
The predominant languages in this region are mostly Niger-Congo and Nilo-Saharan languages.
French
and
Portuguese
are the most common official languages, and are often widely spoken as they are used as
lingua francas
within linguistically diverse countries. English is not well known at all.
See
Wildlife
Animals such as mandrills, bonobos, Western Lowland gorillas and African forest elephants.

Stay safe
Much of Central Africa has an unfortunate history of severe armed conflict, including a variety of rebel militias and other violent groups. South Sudan and the Central African Republic are suffering from civil wars, and the DR Congo has long been dealing with a complicated and shifting set of rebel groups.
Large parts of the region are seriously
underdeveloped
; do your research and make thorough preparations.
In several of these countries,
photography
is heavily restricted or at least viewed with suspicion. If in doubt, get permission from an authority before taking pictures.