Central Bohemian Uplands
The
Central Bohemian Uplands
(
Çeske Stredohori
) constitute a protected landscape area in
North Bohemia
.
Understand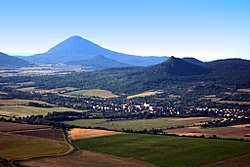 The Central Bohemian Uplands comprise more than 1000 km², the second largest protected landscape area in the
Czech Republic
.
History
Landscape
The landscape of this area is very special. The relief and geology are extremely diverse. The mountain range is intersected by the Elbe River and the difference between the lowest and highest elevations is more than 700 meters. The mountains have a unique cone shape, thanks to their volcanic origin, rising from the flatland. The highest mountain is Milesovka (837 meters). The landscape is diverse, from fields in valleys to pastures, orchards, vineyards and forested hills.
Flora and fauna
In number of plant species, this area is one of the richest in the Czech Republic, due to varied types of biotopes: oak forests, dry grasslands or rock steppes. Several species have survived since the Ice Age and some plants are typical for South Russian steppes. Several unique insect species can also be found here.
Climate
The climate is generally warmer than in the rest of the Czech Republic and the southern part of the Central Bohemian Uplands is the warmest and driest area in the country. However, the highest peak, Milesovka, is considered the windiest place in the country.
Get in
These cities are good starting point to explore Central Bohemian Uplands:

Get around
By foot
The network of hiking trails is dense, with the Central Bohemia Uplands having more than 500 km of trails.

By bicycle
See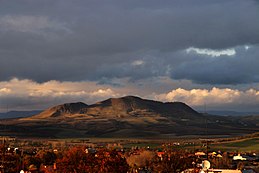 Milesovka(837 m)

Lovos(570 m)

Raná(457 m)

Oblík(509 m)

Házmburk Castle ruin

Sedlo(726 m)

Panská Skála(560 m)
Sleep
Lodging
Camping
phone: +420 774 733 034

address: 1.máje 4, ÚŠTĚK

phone: +420 777 687 667

address: Střelecký ostrov, 412 01 Litoměřice
Backcountry