Central Chile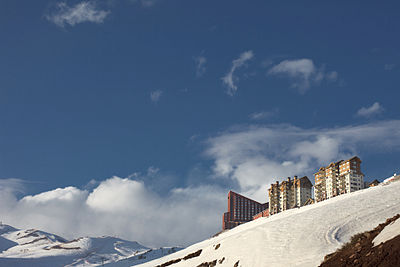 Central Chile
is a region of
Chile
.
Cities
– capital city
– laid-back town with beaches and surfing
– handicrafts, rather commercial
– best place to drink chicha, a homemade alcoholic wine-like drink
– beach
– an old mining town
– vast hiking east of it, including Descabezado Grande
– sea, hills and beautiful old houses
– beaches, "The Garden City"
Other destinations
– home to the largest swimming pool in the world at the San Alfonso del Mar resort
– ski area
– ski
– extraordinary bucolic paradise of waterfalls and lakes
– ski area
Understand

Climate
In central valleys the climate is essentially Mediterranean. This kind of climate is characterized by warm to hot, dry summers and mild to cool, wet winters.

Talk

The majority of the population speaks only Spanish. Just a few people, especially tourist guides, engineers and businessmen can speak fluent English. Nevertheless, many young people understand some simple English phrases and can start basic conversations since English has been more prioritized in the national curriculum in the last few years.

Get in
See
LoberíaSea lions and seals seek their luck on this smallish island in front of Cobquecura. Great and without the usual expensive tour to see a place like this. If you got an optical zoom instead of just your smartphone, you will be in for some nice pictures.

Iglesia de PeirdaA large rock formation at the beach which is hollow inside, causing the common name. The size is quite impressive and you can climb up for a impressive view of the coast.

QuirihueA small typical Chilean town with a small market during the week and a large one during Saturdays. It is quite nice to see how life runs besides the typical touristy places. Try out the restaurant between the two large green supermarkets on opposite sides in the centre—it looks nice.

CuranipeA growing fishing village, where in the morning at the Playa San Pedro locals mix with tourists for the fish coming in from the sea for the best prices, and surfers and fisher boats fight (literally) for the best best space between the waves.

PelluhueA popular surfers' town along the coast south of Santiago de Chile.
Do
Swim in the largest swimming pool in the world at the San Alfonso del Mar resort.

SurfingEverything between and , like Curanipe, Cardonal, Tregualemu and Buchupureo are exceptional surfing destinations and mirror the shape and conditions of the Californian coast on the northern side of the continent. This region is still a hidden gem and receiving a lot of state sponsoring for development. However, beaches and breaks are far from overrun and you can find many lone opportunities to try out your board.
Descabezado Grande (3953 m)

Lengua de Vulcano

Laguna La Invernada

Cerro Azul

Cerro Calabozos
Buy
Large Supermarket

address: Cobquecura

Along to coast you mostly have the choice between small and very small mini-markets. In case you are looking for a decent supermarket with sizeable selection, try this one at the south when you enter the coastal region from Chillan.
Sleep
phone: +56984064596

address: Cardonal

Inexpensive hostel with a friendly Chilean-French couple that offers tours, regional advice and lodging. Surf in summer, and ski in winter. Also:

FB

.