Central Coast (California)
The
Central Coast
of
California
is a region that remains calm and tranquil. Between the
Bay Area
's high-tech hassles, and the megalopolis of
Southern California
, the Central Coast provides nice beaches, beautiful Spanish missions, and a more peaceful way of life.
Counties
null
Monterey County is what many people think of when they think of the Central Coast - the Monterey Bay Aquarium, the beautiful 17-Mile Drive, Cannery Row, Pebble Beach golf course, and the rugged beauty of Big Sur. The northern part of the county contains every manner of amenity for travelers, ranging from chain motels to five star resorts, while the southern portion of the county is remote and accessible mainly by Highway One or on foot by hikers.
null
San Benito County is an inland county dominated by the Coast Mountain Range. It is relatively sparsely populated, with only about 55,000 inhabitants. Pinnacles National Park and its dramatic rock formations lies in this county, as well as the town of
San Juan Bautista
and its historic mission.
null
San Luis Obispo County marks a noticeable shift in landscape from areas to the south, with a dramatic and remote coastline that draws nature lovers. Hearst Castle is located here, the massive and historic former home of the newspaper mogul William Randolph Hearst. The town of San Luis Obispo is a college town that is the last large city for over 100 miles for those traveling north along the coast.
null
Most famous for the town of Santa Barbara, this county is sometimes considered the northern boundary of Southern California. While mountains run through the region, the county is well served by a network of highways, making road trips to the many beautiful wineries of the Santa Ynez Valley a popular activity. The Danish town of
Solvang
is a popular destination, and rocket launches can sometimes be viewed near Vandenberg Air Force base, America's west coast spaceport.
null
The second-smallest county in the state is home to the quirky town of Santa Cruz and a rugged coast that is equally popular with surfers and elephant seals. The Santa Cruz mountains are the abode of redwoods and bright yellow banana slugs, both of which can be easily seen on the many hiking trails. Other portions of the county are known for agriculture, with farm stands dotting the roads.
null
While to some extent it is an extension of the Los Angeles metropolitan area, Ventura is home to rural getaways like the town of
Ojai
that share more with the remote Central Coast region than they do with the massive cities to the south. While the county is heavily populated (with services to match), the Los Padres National Forest dominates the northern part of this county and provides recreational opportunities for those who want to spend time outdoors.
Cities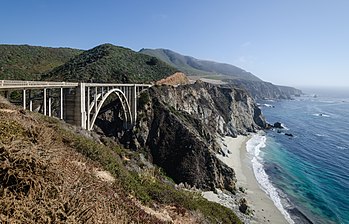 - Carmel is a beautiful oceanside town that is home to the historic Mission San Carlos Borromeo de Carmelo, several large beaches, excellent restaurants and an abundance of upscale lodging. It borders the iconic Pebble Beach golf course and is the entry point to the 17-Mile Drive and its dramatic ocean views.
- Founded in 1770, Monterey was the capital of Alta California under both Spain and Mexico, was a bustling fishing port until the 1950s, and is now a major tourist destination. Attractions include a pier filled with seafood restaurants, a world-class aquarium, a harbor that is home to an enormous number of seabirds, sea lions, sea otters, seals, and other marine life, the historic Cannery Row, and opportunities for whale watching, kayaking, or other excursions into Monterey Bay.
- This coastal town is best known for the massive 581-foot (177-m) tall volcanic rock that dominates its harbor, but is also a great spot to see marine mammals and is home to one of California's oldest fine art and craft shows.
- Paso Robles is a historical resort town known for its hot springs. This city's major industry is wine production, with vineyards located throughout the surrounding area.
- This tourism-focused coastal town has more than 65 restaurants and 30 lodging options, and draws visitors with its beautiful coastline, annual clam festival, and the thousands of monarch butterflies that gather to spend the winter in a grove at the edge of town.
- Lying almost exactly half way between Los Angeles and San Francisco, this small college town and its neighboring communities boast extraordinary resources for hiking, mountain biking, sea kayaking, swimming and surfing, outstanding natural beauty, a carefully preserved and thriving 19th-century downtown centered around a meticulously restored 18th-century mission, a small but thriving art gallery scene, and a large and growing collection of top-quality wineries.
- The "American Riviera" is a historic mission city that is an incredibly popular getaway destination. Its wide beaches, highly rated wineries, luxurious resorts, art galleries, and a large variety of excellent dining choices, enable the town of just 90,000 residents to enjoy the sort of cultural and social amenities which are usually found only in much larger cities.
- Santa Cruz is best known as a countercultural hub, with a fun bohemian feel and youthful vibe, and weekend tourist attractions like the Santa Cruz Beach Boardwalk, a historic mission, and the dubious Mystery Spot. The beaches north and south of Santa Cruz are considered some of the more pristine areas of natural beauty in central California, and while conditions generally make them impractical for swimming, several are considered an expert surfer's cold cold paradise.
Other destinations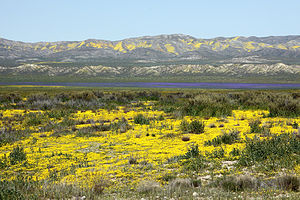 - The Big Sur region can be loosely defined as the stretch of coastline between Carmel and San Simeon, and the steep cliffs, rocky coast, churning waves, abundant wildlife, redwoods, and remoteness make it one of the most beautiful drives in the world. Big Sur Village lies at its heart and offers amenities for travelers.
- This remote national monument is home to the largest remaining native grassland in California. During wet years it boasts spectacular wildflowers in the spring, and Soda Lake is an important wintering area for waterfowl when precipitation is sufficient to flood the seasonal lakebed. The park is also home to Painted Rock, a Native American site that has been adorned with pictographs over thousands of years. Services are extremely limited, with just a small visitor center, two primitive campgrounds, and a handful of marked trails available.
- The Ventura harbor is the departure point for most excursions to the Channel Islands National Park, a series of islands that are home to incredible marine life, beautiful and rugged scenery, and the wily Channel Islands fox. The islands are remote with very limited services, attracting hikers, backpackers and scuba divers to explore both the above and below-water wilderness.
- Rising out of the chaparral-covered Gabilan Mountains, east of central California's Salinas Valley, are the spectacular remains of an ancient volcano. Massive monoliths, spires, sheer-walled canyons and talus passages define millions of years of erosion, faulting and tectonic plate movement. Hiking through the impressive rock formations is the primary recreational opportunity, although bird watchers will enjoy the possibility of seeing the highly endangered California condor.
Understand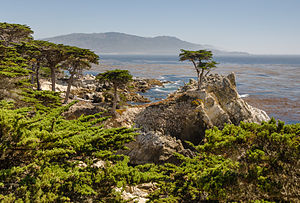 The Central Coast includes some of the classic tourist country of California – particularly the scenic version of the drive (or train ride) from San Francisco to Los Angeles. The Spanish colonialists traveled along the Central Coast along a route called
El Camino Real
– roughly on the route of
Highway 1
– and created missions at Santa Cruz, San Juan Bautista, Carmel, Soledad, Jolon, San Miguel, San Luis Obispo, Lompoc, Solvang, Santa Barbara, and San Buenaventura (Ventura). Depending on what you count as Central Coast, the area has about half of the state's missions.
Much of the Central Coast is agricultural, with an emphasis on crops that flourish in relatively cool, coastal climates – such as artichokes and strawberries. Grape-growing, especially in San Luis Obispo and Santa Barbara Counties, is now as important sector. The Santa Barbara County wine country was made famous in the movie
Sideways
. Monterey County is a renowned wine region, with more than 40,000 acres planted in premium wine grapes. Fishing was once an important part of the regional economy, but has receded greatly. There is oil production off the coast of Santa Barbara and Ventura Counties, but activity is greatly below previous levels.
Tourism is a critical industry, particularly on the Monterey Peninsula and around Santa Barbara. The temperate Central Coast has also been known as a retirement area, particularly for people from Los Angeles.
Population in the Central Coast is concentrated in a series of small to medium-sized cities, only two of which exceed 100,000. The cities include Monterey, fast growing Salinas (a few miles inland), Paso Robles, San Luis Obispo, Santa Maria, and Santa Barbara. Santa Cruz city and county are sometimes considered part of the Central Coast, but they have become increasingly tied to Silicon Valley (Santa Clara County), to which many Santa Cruzans commute. Ventura County, at the southern end of the Central Coast, is classified by the Census Bureau as part of the Los Angeles metropolitan area, and commuter train service to LA is available.
The Central Coast has a large number of colleges, considering its relatively small population (about 2 million of California's 37 million). There are University of California branches at Santa Cruz and Santa Barbara, each of which strongly shapes the character of its city. California Polytechnic State University (Cal Poly) is the mainstay for the city of San Luis Obispo. There are newer state colleges at Ventura and at Fort Ord, a converted military base in Monterey County.
The
Monterey Bay National Marine Sanctuary
runs from north of the Golden Gate Bridge at San Francisco, to
Cambria
in
San Luis Obispo County
, and is the largest marine sanctuary in the United States. It hosts spectacular kelp forests and wildly diverse marine life, and is popular for diving, kayaking and whale watching.
Get in
By car
US Highway 101 is the Central Coast's main artery and alternates between freeway and state highway throughout the Central Coast region. Two-lane Highway 1, also known as the
Pacific Coast Highway
is the slower, more scenic option as it winds along the entire Central Coast coastline.
By plane
There are commercial airports near Monterey, San Luis Obispo, and (the largest) in Santa Barbara. There are no flights within the Central Coast, only flights to and from San Francisco and Los Angeles. It is usually cheaper to fly into adjacent regions, such as flying into the
San Jose
airport rather than the small Monterey airport, or
LAX
rather than Santa Barbara.
By train
Amtrak's
Coast Starlight
train runs nearly the entire length of the Central Coast once each day, from approximately late morning to early evening. For a driving-free train vacation, you can fly into the San Jose airport, take a bus or taxi to the San Jose Diridon train station, and then go down the coast, eventually to Oxnard or beyond the Central Coast to Los Angeles. If you want to stretch the trip out over several days, Paso Robles and Santa Barbara are convenient towns to stop in, as they have hotels within an easy walk of their train stations.
San Luis Obispo and Santa Barbara can be reached on Amtrak's
Pacific Surfliner
, which runs to and from Los Angeles and San Diego several times each day.
Get around
US Highway 101 is a freeway virtually its entire length. It connects San Jose, Salinas, Paso Robles, San Luis Obispo, Santa Maria, Santa Barbara, Ventura, and Oxnard with Los Angeles. The Monterey Peninsula is a few miles to the west. Outside of the Monterey Peninsula there are few towns of any size off 101; Lompoc in Santa Barbara County is one.
The rail route essentially follows 101, which was built along the rail corridor. There is only one train a day – the Coast Starlight – that covers the whole corridor. The Pacific Surfliners to Los Angeles and San Diego go as far north as Paso Robles in northern San Luis Obispo County, there is more service from Santa Barbara south.
Amtrak
Thruway buses cover gaps in train service.
Greyhound serves Santa Cruz, Salinas, King City, Paso Robles, Atascadero, San Luis Obispo, Santa Maria, Santa Barbara, and Oxnard (but not Ventura), connecting to San Francisco and Los Angeles.
Go next
Southern California - Bordering the Central Coast to the south, the Southern California region is home to Los Angeles, San Diego, Disneyland, and miles of famous beaches.
San Joaquin Valley - Located east of the Central Coast, this area is the breadbasket of California and home to a large percentage of America's fruit and vegetable supply. The region's largest cities are Fresno and Bakersfield, the latter of which proclaims itself "the country music capital of the West Coast."
Bay Area - North of the Central Coast, the Bay area is home to San Francisco, Oakland, and San Jose/Silicon Valley, with attractions ranging from the iconic Golden Gate Bridge to the redwoods of Muir Woods to the coastal reserve of Point Reyes National Seashore.