Central Florida
Central Florida
is a favorite destination for visitors due to the theme parks, NASCAR races, natural springs, golf courses, and the NASA facilities that put a man on the moon.
Cities
- Home of the Kennedy Space Center and Port Canaveral
- Offers miles of beautiful beaches
- Beach community near Kennedy Space Center
- Home of Daytona International Speedway
- Spring Training home of the Houston Astros
- Home of Universal Studios and SeaWorld
- Offers miles of beautiful beaches and home to Tomoka State Park
- Home to Major League Baseball's Tampa Bay Rays
- Home of Busch Gardens Theme Park
Other destinations
Central Florida is home to many natural springs. Many have been incorporated into state parks. The springs are great during the summer months because the water stays at a constant and the water is perfect for cooling off. Many visitors also go to the springs to spot manatees and alligators and to go boating. Some of the more popular natural springs destinations are listed:
- Lake County
- Volusia County
- Volusia County
- Lake County
- Lake County
- Hernando County
- Orange County
Talk
English is the official language of the state. However, the
Spanish language
is making inroads throughout the state. Native-born Floridians will usually speak in a southern accent. However, after the migration of millions of Americans from other states to Florida, the southern dialect is becoming diluted with other accents.
Get in
By plane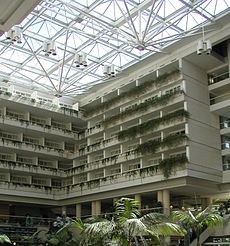 Be aware that there are more airports throughout Central Florida which may get you closer to your destination; watch for these smaller airports while researching your destination.
By boat
Coastal cities have excellent year-round marina facilities, often serving large, luxury yachts. Port Canaveral on the Atlantic Coast and Tampa Bay on the Gulf Coast serve as cruise ports.
By train
AMTRAK Silver Star & Silver Meteor (Trains 91-92) and (Trains 97-98) respectively - serve Central Florida, both of which begin in New York and end in Miami. The two routes stop at the following stations in Central Florida: DeLand, Winter Park, Orlando, Kissimmee, Lakeland, Tampa, and Winter Haven.
Amtrak Auto Train offers service with its southern terminus in Sanford, about halfway between Daytona Beach and Orlando. The Amtrak Auto Train carries passengers and automobiles between Sanford and Lorton, Virginia, effectively serving as a car-rail link to Florida from the Washington, D.C. Metro Area. You can easily drive your car to your destination in Central Florida after departing from the Auto Train.
By bus
Central Florida is served by Greyhound Bus Lines, which has scheduled stops in Orlando and other cities. The Greyhound routes connect with other major cities in the United States of America.
By car
I-95 runs north-south along the Atlantic coast throughout the entire Central Florida region. It connects with Jacksonville to the north and Miami to the south.
I-75 runs north-south through the middle-west of Central Florida, and connects to Ocala to the north, and Fort Myers in Southwest Florida.
Get around
By car
By train
Commuter Rail - The Florida Department of Transportation (FDOT), in cooperation with local government officials in Orange, Seminole, Volusia and Osceola counties and the federal government, are working on a commuter rail project, using existing Amtrak and CSX freight rail lines. The commuter rail line will roughly parallel Interstate 4, and is projected to start service in 2010.
By bus
LYNX - Public transportation by Central Florida Regional Transportation Authority. With the main hub centered on Orlando, bus service provided in Osceola, Orange, and Seminole Counties. Some buses link to neighboring counties. Service to Disney World is available.
SCAT - Public Transportation by Space Coast Area Transit, offers bus service around Brevard County.
VOTRAN - Volusia County Transportation service. Offers buses, shuttles, special services for the disabled and elderly. Connection offered with LYNX to reach Orlando.
I-Ride Trolley - Public transportation by .. If you're looking to ride up and down International drive this is one of the best offers! The busses offer many stops up and down International drive, especially if you plan on visiting Sea World! For about $2.00 for adults, $1.00 for kids and only $0.25 for seniors its extremely affordable, especially if you don't plan on renting a car. However, keep in mind, that the trollies only run until 10:30PM, so if you're a late bird be sure to plan!
See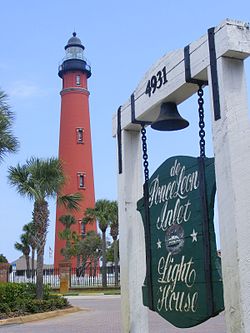 Do
Eat
With two coastlines, seafood is extremely popular in Central Florida. Some favorite dishes in the area include:
Conch (pronounced "conk") - These chewy clams are served tenderized with lime juice, raw, and chopped in salad. Also chopped, breaded, and fried as conch fritters and in conch chowder (usually red and spicy).
Mahi Mahi - A firm, white fleshed fish; delicious when served grilled, blackened or Cajun-style.
Grouper - One of the mildest fishes available; served fried, blackened, broiled, or grilled as an entree. Fried grouper sandwiches are also popular.
Yellowfin Tuna - A firm, flavorful semi-dark meat fish often served grilled, broiled, or blackened.
Florida Lobster - Known as a spiny lobster, the Florida lobster has no claws like Maine lobster. Florida lobster tails are broiled and served with melted butter.
Drink
All the counties throughout Central Florida are "wet" counties. Alcoholic beverages are sold in both taverns and liquor stores. The Florida State Alcoholic Beverage Control (Police) frequently conduct raids for underage drinking in tourist areas, particularly during Spring Break. There are places in the area for clubbing mainly in Orlando and the beach tourist areas. There are also many biker bars around the area because of periodic motorcycle rallies.
Tropical drinks
Some tropical drinks that are popular in Central Florida, include:
Planters Punch - 1 oz. lemon juice, 1/2 oz. lime juice, 1 oz. passion fruit juice, 1 oz. pineapple juice, 1 1/2 oz. rum. Combine ingredients over shaved ice. Garnish with a sprig of mint.
Rum Runner - 1 1/2 oz. rum, 3/4 oz. blackberry brandy, 3/4 oz. creme de banana, splash of grenadine, splash of lime juice.
Bahama Mama - 1 oz. orange juice, 1 oz. pineapple juice, 1/2 oz. grenadine, 1/2 oz. rum, 1/2 oz. coconut flavored rum, 1 cup crushed ice. Garnish with a slice of pineapple and a cherry.
Piña Colada - 1 shot rum, 2 oz. coconut milk, 3 oz. pineapple juice, 1 cup ice. Combine all ingredients in a blender and blend until smooth.
Cuba Libre - 2 oz. rum, Coca Cola, lime wedge.
Go next