Central Luzon
Central Luzon
is one of the 17 regions of the
Philippines
.
This "super region" is in the north of Manila. Home to seven provinces, this region has different and distinct cultures.
Provinces
While Pangasinan is historically and culturally part of this region, it is part of the
Ilocos Region
(Region I), and including in that article.
Cities
- a thriving regional city partly due to the former U.S. Air Force's Clark Airbase which has been converted to a business and leisure hub with world-class casinos, resorts, hotels, shopping malls and duty-free shops
- Nueva Ecija's largest city features the Camp Pangatian Shrine and the General Luna Statue and Marker, both are historical sites.
- the provincial capital of Bulacan, popular for its historical landmarks, old churches, ancestral houses and of course sweet delicacies!
- the regional capital of Central Luzon, it is famous for its "Giant Lantern Festival" during the month of December
Other destinations
- a surfer's paradise also famous for it's history and rugged coastlines
- the location of the Shrine of Valor (Dambana ng Kagitingan), a national shrine atop Mount Samat
- a former U.S naval base which is now a popular tourist destination home to beaches, eco-parks, industrial parks, resorts and casinos
Understand
The region lies in a largely flat area north of Metro Manila, and provides much of the rice grain sold in the Philippines. While commonly stereotyped as plains, the region does have a diverse geography, with rolling hills below the Sierra Madre and scattered mountains and volcanoes, including Mount Pinatubo.
The region has a population of over 11 million, but is disproportionately concentrated in Bulacan and Pampanga, all along the North Luzon Expressway, an important transport corridor between the region and Metro Manila. The province of Aurora is the least dense and populated.
The region is dominated by Tagalog and Kapampangan speakers. The Kapampangan form the majority in Pampanga and Tarlac, and the Tagalog inhabits the remainder. The Aeta (Negrito) and Sambal are the indigenous inhabitants of Central Luzon, but land-grabbing, discrimination and assimilation threatens their lifestyle, culture, and language.

Get in
Central Luzon lies within the approximately radius of Manila, and transportation is not hard to find.
By plane
While many travellers come through
Ninoy Aquino International Airport
to the south,
Clark International Airport
(
CRK
, formerly but also called Diosdado Macapagal International Airport) has both domestic and international flights. It is smaller, but better and convenient, without the long lines and corruption you may encounter at Manila airport.
Flag carrier Philippine Airlines and its regional subsidiary PAL Express has domestic flights to most points in the Philippines, and an international flight to Seoul. Budget carriers such as Cebu Pacific (and regional subsidiary Cebgo) and AirAsia also have both domestic and international flights from Clark as it has lower landing fees. Some international carriers such as Asiana Airlines, Cathay Dragon, Emirates, and Qatar Airways also have flights to Clark.

By car
The North Luzon Expressway (NLEX) connects the provinces of Bulacan and Pampanga with Manila. Subic-Clark-Tarlac Expressway (SCTEX) connects Subic port with Tarlac, hence the name, while SCTEX's physical connection Tarlac-Pangasinan-La Union Expressway (TPLEX) provides access to the rest of Tarlac province. NLEX and SCTEX meet around Angeles, at the suburb of Mabalacat.

Stay safe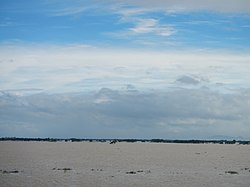 Central Luzon is prone to weather extremes, from blistering heat in the dry season (summer), and heavy downpours and typhoons in the wet season. Places like Nueva Ecija are prone to sweltering heat during the hot months, with heat indexes soaring to the 40s to 50s bracket. The rainy season between late May to late Septembers brings heavy rain, also risking floods on the plains and landslides on mountainous areas, and typhoons can further exacerbate the danger, with wind gusts and more rain.
While many people in the region still recall a devastating magnitude 7.8 earthquake in 1990 and the climatic eruption of Mount Pinatubo in 1991, leaving prominent remarks like lahar-buried buildings and land, parts of Central Luzon are seismically active, and earthquakes or volcanic eruptions are all concerns. The latest major earthquake since the deadly 1990 quake is a magnitude 6.1 quake in April 2019, resulting to various degrees of damage in the region and some casualties from collapsed structures. Coastal areas, like places in Aurora and Zambales, are prone to tsunamis, including from distant sources, as in the cases of the 1960 Great Chilean earthquake and the 1962 Good Friday earthquake, where the tsunamis those quakes produced slammed the coasts of these provinces, causing some damage and deaths.