Central Visayas
The
Central Visayas
(Region VII) is one of the administrative regions of the
Philippines
, part of the
Visayas
island group. The Visayas are roughly the central third of the Philippines, so this region is approximately in the center of the whole country.
This region has some magnificent beaches, many dive spots and, in
Cebu City
, historic landmarks which date back to 1521. The island of
Bohol
has the charming Chocolate Hills and diminutive tarsiers and is popular with leisure travelers, including many Koreans and Japanese.
The pioneering Portuguese navigator
Ferdinand Magellan
was killed at the Battle of Mactan, now the city of
Lapu-Lapu
, by local chieftain Lapu-Lapu in the year 1521. A shrine in
Cebu City
was built in memory of his death centuries later. The oldest urban center in the Philippines, the walled city in Cebu, was built by the Spanish colonizers in the 16th century; parts of it survive (some only as ruins) and are tourist attractions today. The walled city of
Intramuros
in Manila was patterned after this walled fortress.
The
Sinulog
Festival in January is the region's most popular religious cultural event. It is centered in
Cebu City
but also celebrated in many nearby areas.
Wikivoyage divides the Visayas up without using the administrative regions; see the
Visayas
article for details.
Provinces
The region includes three island provinces, all with plenty of beaches and dive resorts. Each consists of one main island with the same name as the province plus various smaller islands nearby.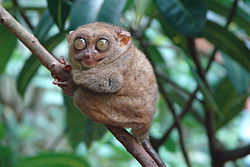 , a major tourist draw with tarsiers (one of the world's smallest primates) and the scenic "Chocolate Hills"
, economic center and transport hub of the region, with much tourism in some areas
, a small island province whose history includes tales of witches and sorcerers
There is also one province which is only part of a large island:
Cities
, easily the largest urban area in the Visayas, second in the country. It consists mainly of three cities:
- capital of Cebu province, a major tourist destination with much history and very lively nightlife
- with the airport and many diving resorts, mostly upscale
- an industrial and residential town located between Cebu and Lapu-Lapu
There are also many smaller suburbs; see
Metro Cebu
for a list.
- capital of Negros Oriental
- capital of Siquijor province
- capital of Bohol
Other destinations
— a major diving destination with a large protected reef area, south of Dumaguete
— an island in Cebu Province, but separate from Cebu Island, somewhat to the north. It has beaches, dive shops, and many resorts, mostly upscale
— an area in Cebu Province with many dive schools and many resorts, mostly at mid-range prices
— close to Cebu City, with a bird sanctuary, diving, and some mid-range resorts
— village near the southern tip of Cebu island, known for whale shark watching
, the main resort and diving area on Bohol
Understand
This is an overview article. For details of things to see and do, and places to eat, drink or sleep, see the lower-level articles on individual provinces, towns and islands. Links above will lead you to them.

Talk
The main language of this region, and for much of
Mindanao
and parts of the
Eastern Visayas
, is
Cebuano
, which is also known as
Bisaya
. With more than 20 million native speakers, it is the second most important local language in the Philippines. Local and regional newscasts are broadcast in Cebuano, and most local newspapers are published in English. There are variations in Cebuano - for example, the Cebuano spoken in
Bohol
is called
Boholano
- but the prestige variant is the one spoken in the "Queen City" of
Cebu
.
Since before the time of
Magellan's visit (1520)
,
Sugbo
(as Cebu was then known) had been a world trade centre and many speak English as a second language. Many also speak
Tagalog
; that language is not native to this region, but rather to
Luzon
, but is the basis for the official language which is taught in schools throughout the country.
Sometimes, people in this region also speak in Taglish (Tagalog + English) when they cannot find the appropriate word to use in Tagalog. Youth speaks English with a Cebuano accent, often interchanging i and e as well as o and u while ones from older generations can barely converse in Taglish. Really old people often speak excellent English from US colonial days. Some people will also understand a little of
Ilonggo
or
Waray
. The Chinese minority speak
Hokkien
, a minority of expatriates and immigrants speak their own languages.
When speakers of different Philippine languages meet overseas, they must determine if their conversation will work better in Tagalog or English. Most likely, it will involve both Tagalog and English, thus Taglish. Within this region there is rarely this problem since all natives of this region understand Cebuano. However, some higher officials from outside the region understand very little Cebuano and will want to switch to Taglish.
Get in
The region is well connected to the rest of the country by air or sea, and there are some buses. Most overseas visitors will enter it by air, landing at
Mactan-Cebu International Airport
.
By air
The main jump off point to the region is the
Mactan-Cebu International Airport
in the island city of Lapu-Lapu, part of
Metro Cebu
. As of mid-2018, it is the only international airport in the Central Visayas and the busiest in the entire
Visayas
region. From the airport, you can easily get to Mandaue (there are two bridges), and on to the urban center of Cebu City.
The airport has flights to many cities in East and Southeast Asia, plus Dubai. It is Cebu Pacific's hub in the Visayas with connecting flights to most major cities in
Mindanao
and the
Visayas
, and to tourist destinations such as
Boracay
through Caticlan Airport and
Palawan
through
Puerto Princesa
. All domestic carriers have flights to Mactan-Cebu International Airport from Manila.
There are also airports in
Dumaguete
(in Sibulan town), and in
Tagbilaran
. Both Cebu Pacific and Philippine Airlines fly Manila-Tagbilaran and Manila-Dumaguete. Cebu Pacific also flies Cebu-Dumaguete, and
Clark
-Dumaguete flights were scheduled to start in June 2018.
Siquijor
also has a small airport; Air Juan has flights to/from Mactan-Cebu.
By sea
The
Port of Cebu
is the country's busiest port and a major transport hub with connections all over the
Visayas
region and some to
Manila
and
Mindanao
. Inter-island shipping is served by numerous shipping lines, two of them fastcraft companies which serve all the provinces in the region.
One can also enter the region via fastcraft connection from
Cagayan de Oro
and
Camiguin
to
Jagna
in Bohol.
By bus
Bus companies serve the Manila-Cebu and Manila-Dumaguete routes from Ali Mall terminal in Cubao,
Quezon City
.
Get around
By sea
The
Port of Cebu
is the region's main gateway. There are also ports in
Dumaguete
in Negros Oriental,
Larena
in Siquijor, and
Tagbilaran
,
Getafe
and
Jagna
in Bohol. Inter-island shipping is served by numerous shipping lines, two of them fastcraft companies which serve all the provinces in the region.
From either Cebu City or Dumaguete, there are boats to Bohol and Siquijor. Both fast craft and RoRos (larger, slower, cheaper ferries that can carry cars and trucks) are available.
By air
It is rare to travel within the region by air; bus or ferry is generally more convenient. For example, one might fly Cebu-Tagbilaran but the ferry (see
Tagbilaran#By_boat
) is considerably cheaper. It is likely also faster and more convenient since the ports are downtown in both cities while airports are not, and boats go direct while fliers must change planes in Manila.
The
Mactan-Cebu International Airport
in
Metro Cebu
has many domestic flights and is useful for trips further afield in the
Visayas
, for example to
Iloilo
or
Tacloban
, or to
Mindanao
.
Cebu Pacific fly from Mactan-Cebu direct to
Dumaguete
. There are cheaper ways to reach there (see
Dumaguete#Get_in
), but some travellers prefer to fly.
Go next