Centre-Val de Loire
Centre-Val de Loire
is a large inland region of central
France
located to the south-west of the French capital
Paris
. The name reflects the fact that much of this region embraces the renowned valley of the river Loire. The region is known for its fine historical towns, its vineyards and agricultural produce and its many beautiful castles (
châteaux
).
Cities
Get in
By Train
Both
Tours
and
Vendôme
are on the LGV Atlantique (commonly known as the TGV) from
Paris
Montparnasse.
See
Châteaux (Castles)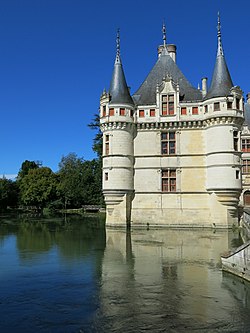 Do
Visit the Pôle des étoiles and discover the Universe! Located in Nançay, a delightful Sologne village, Pôle des étoiles is a learning center. It offers guided tours of the radioastronomy facility, sky thearter shows, as well as iteresting science exhibits.
Official website
Go next
Travellers wishing to see more of the Loire Valley can continue further west into the adjoining
Pays de la Loire
region, studded with additional historical cities and chateaux at sites such as
Angers
and
Saumur
.