Chad
Chad
(Arabic:
تشاد
, French:
Tchad
) is one of the poorest and most corruptly mis-governed countries in the world, with most of its inhabitants living in poverty as subsistence herders and farmers.
Due to its distance from the sea and desert climate, Chad is sometimes described as the "Dead Heart of Africa".
Regions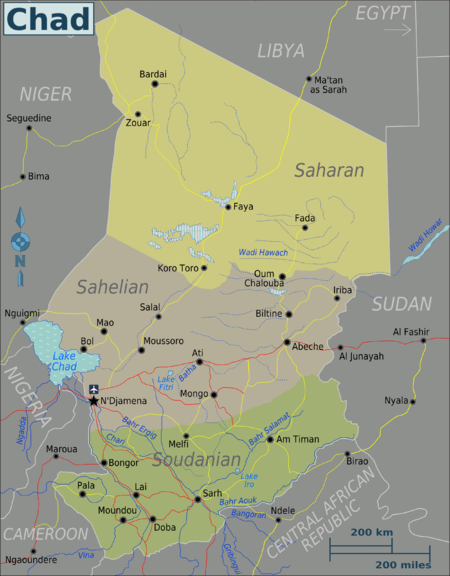 The northern part of the country, which is also the driest.
The location of the capital, this region is the central part of Chad.
In the south (Soudanian) part of Chad, the climate is wetter.
Cities
— the national capital and largest city
— the country's second-largest city
— capital of Ouaddai province and historical capital of the Wadai Empire
— largest city in the north of the country
Understand
History
For more than 2000 years, the Chadian Basin has been inhabited by agricultural and sedentary peoples. The earliest of these were the legendary Sao, known from artefacts and oral histories. The Sao fell to the Kanem Empire, the first and longest-lasting of the empires that developed in Chad's Sahelian strip by the end of the 1st millennium AD. The power of Kanem and its successors was based on control of the trans-Saharan trade routes that passed through the region.
French colonial expansion led to the creation of the
Territoire Militaire des Pays et Protectorats du Tchad
in 1900. By 1920, France had secured full control of the colony and incorporated it as part of French Equatorial Africa. The French primarily viewed the colony as an unimportant source of untrained labour and raw cotton. The colonial administration in Chad was critically understaffed and had to rely on the dregs of the French civil service.
Fifteen thousand Chadian soldiers fought for Free France during World War II and after the war ended,
France
granted Chad the status of overseas territory and its inhabitants the right to elect representatives to both the French National Assembly, and to a Chadian assembly. Chad was granted independence on 11 August 1960 with the PPT's leader, François Tombalbaye, as its first president. Two years later, Tombalbaye banned opposition parties and established a one-party system. In 1965 Muslims began a civil war. Tombalbaye was overthrown and killed in 1975, but the insurgency continued. In 1979 the rebel factions conquered the capital, and all central authority in the country collapsed. The disintegration of Chad caused the collapse of France's position in the country, and a civil war in which the
Libyans
(unsuccessfully) became involved.
A semblance of peace was finally restored in 1990. The government eventually drafted a democratic constitution, and held flawed presidential elections in 1996 and 2001. In 1998, a rebellion broke out in northern Chad, which sporadically flares up despite several peace agreements between the government and the rebels. In 2005 new rebel groups emerged in western Sudan and have made probing attacks into eastern Chad. Power remains in the hands of an ethnic minority. In June 2005, President Idriss Deby won a referendum to remove constitutional term limits. In February 2008, an attempted coup rocked the capital.
Climate
Each year a tropical weather system known as the inter-tropical front crosses Chad from south to north, bringing a wet season that lasts from May to October in the south, and from June to September in the
Sahel
.
Landscape
The country's landscape comprises broad, arid plains in the centre, desert in the north, mountains in the northwest, and lowlands in the south. Lowest point: Djourab Depression (160 m/525 ft). Highest point: Emi Koussi (3,415 m/11,204 ft).
The dominant physical structure is a wide basin bounded to the north, east and south by mountain ranges such as the Ennedi Plateau in the north-east.
Lake Chad
, after which the country is named, is the remains of an immense lake that occupied 330,000 km 2 (205,000 mi 2 ) of the Chadian Basin 7,000 years ago. Although in the 21st century it covers only 17,806 km 2 (11,064 mi 2 ), and its surface area is subject to heavy seasonal fluctuations, the lake is Africa's second largest wetland.
Talk
The main languages of Chad are
Arabic
and
French
. Few Chadians other than the educated and well-travelled speak literary Arabic; however, a dialect of Arabic known as "
Chadian Arabic
" is much more widely spoken and is the closest thing the country has to a trade language. Chadian Arabic is significantly different from literary Arabic, but similar to the dialects of
Sudan
and
Egypt
. Literary Arabic speakers can typically understand Chadian Arabic but the reverse is not true. Over one hundred indigenous languages are also spoken.
Get in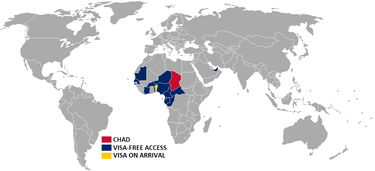 Visa
Citizens of the following countries do not require a visa:
Benin
,
Burkina Faso
,
Cameroon
,
Central African Republic
, Congo,
Ivory Coast
,
Gabon
,
Equatorial Guinea
,
Mauritania
,
Niger
and
Senegal
.
For all others, a visa is necessary. A single-entry visa costs US$100 for 1 month and multiple-entry visas cost US$150 (3 months) or US$200 (6 months). A letter of invitation is required.
By plane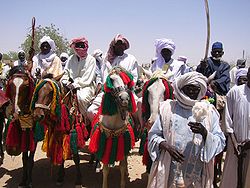 Air France has daily flights from
Paris
to
N'Djaména
. Ethiopia Airlines flies to
Addis Ababa
, Turkish airlines to
Istanbul
, Royal Air Maroc to
Casablanca
, Sudan Airways to
Khartoum
, Egypt Air to
Cairo
, and Camair-co to
Douala
.
By train
There are no usable rail links.
By car
Roads are in disrepair and are typically unpaved - there is only one paved road, which runs from Massakory in the north through
N'Djamena
on to Guelendeng,
Bongor
, Kelo, Moundou, Doba, Koumra, Sarh, and Kyabe. It is the best road in the country but still has numerous potholes and as it runs through the centre of a number of small villages, drivers should exercise caution and moderate speeds even while on the main road. The newest section of road (from Moundou to Kyabe) is still in reasonably good condition as of 2019.
There are several border crossings with
Cameroon
, most notably via Kousseri near N'Djamena and near the towns of Bongor and Lere. Be very careful, drive defensively, and don't stop unless absolutely necessary. Do not drive at night, as
coupeurs de route
(road bandits) are common. They are a particular concern along the two roads leading out of Guelendeng, towards Ba-Illi (where expats were attacked in two separate incidents in 2005, resulting in the death of one Catholic nun) and towards Bongor.
By bus
Get around
In N'Djamena there are vehicle taxis. In some major towns, such as Moundou and Sarh, there are "clandos" - motorcycle taxis - for getting around town.
In October 2018, a domestic Chadian airline was launched,
Tchadia Air
. It is based in N'Djamena, with regular flights to Abeche, Bangui, Douala, Faya-Largeau, Kano, Khartoum, Moundou, Niamey, and Sarh.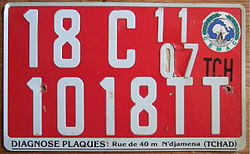 See
Oasis of Faya

Lake Chad

Ennedi Plateau
Do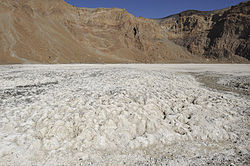 Parc National de Zakouma
Buy
Money
The currency of the country is the
Central African CFA franc
, denoted
FCFA
(ISO currency code:
XAF
). It's also used by five other Central African countries. It is interchangeable at par with the West African CFA franc (XOF), which is used by six countries. Both currencies are fixed at a rate of €1 = 655.957 CFA francs.
There are no restrictions on bringing foreign currencies into Chad. Euros and US dollars are often accepted in payment. Chad is an expensive place compared to much of Africa.
ATMs
There are
Ecobank ATMs
in Chad where you can get a cash withdrawal with a Mastercard or Visa card.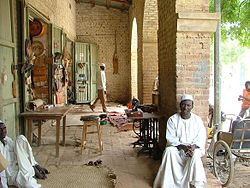 Eat
Meat dishes are very popular in Chad, and foreigners speak highly of the meat. Lamb and camel meat are common and tasty. Food is usually eaten without utensils, and hand sanitizer may be a good precaution. Muslims find it offensive to eat with the left hand. If eating with or being served by Muslims in Chad, eat with your right hand only.
Follow common health travel guidelines concerning raw fruit and cooking requirements to avoid disease. The US State Department website has resources concerning safety while eating abroad.

Drink
In general, do not drink unfiltered water in Chad. Typhoid and other diseases are often contained in unfiltered water. Bottled water should be safe, but make sure the bottle is properly sealed, as some street vendors will take old bottles and refill them with unfiltered water.
Soft drinks are popular in Chad and are generally safe to drink. Coca-Cola, Sprite, Fanta, and Top (a fruit-flavored soft drink) are the most popular.
Hot drinks should usually be safe to drink since the water has been boiled. Tea, coffee, and hot milk are very popular in Chad.

Sleep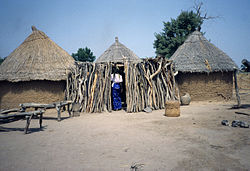 Years ago few hotels existed in Chad, but now N'Djamena hosts a myriad of affordable options. The Hotel N'Djamena, Radisson Blu Hotel, Mercure N'Djamena Le Chari, Ibis N'Djamena La Tchadienne, Ledger Plaza N'Djamena are some of the higher end hotels. Some Bed and Breakfast and budget minded hotels include the Shanghai Hotel, Hotel La Mirande Tchad, Hotel Gulf Club de Mara, Hotel Gueri, and the Asfa Hotel.
Stay safe
Chad is consistently engulfed in political turmoil and attacks from rebels will probably not happen, but are certainly possible. The situation has stagnated, but it remains a threat.
Violence from the Darfur conflict overspills into Eastern Chad
from Sudan, a country which shares hostilities with Chad. Any activity outside of N'Djamena is done with difficulty at best. Northern Chad is barren, scorching desert and guides (good luck) and meticulous planning are required. In 2013,
Boko Haram jihadists
were spotted in Chad.
N'Djamena is relatively safe, although one should be wary of petty street crime and corrupt police/officials. Most border crossings are extremely difficult (
Sudan
and
Libya
not being viable options) although the border crossings with
Niger
and
Cameroon
are relatively painless.
Stay healthy
Drink
water
brands you recognize from stores. Eat at restaurants recommended to you by friends and locals you trust. Eat food that has been freshly prepared and cooked well. If you are eating local dishes, make sure the food was freshly prepared, cooked well, and still warm from the grill or cooking pot. Wash your hands often.
Ensure your
vaccinations
are up to date before visiting Chad. The country is in the African Meningitis Belt.
Respect

There are 200 distinct ethnic groups. In the north and center: Arabs, Gorane (Toubou, Daza, Kreda), Zaghawa, Kanembou, Ouaddai, Baguirmi, Hadjerai, Fulbe, Kotoko, Hausa, Boulala, and Maba, most of whom are Muslim; in the south: Sara (Ngambaye, Mbaye, Goulaye), Moundang, Moussei, Massa, most of whom are Christian or animist; about 1,000 French citizens live in Chad.
The Chadian-Libyan conflict is something to be avoided at all times; Chadians known to be living in Libya have been tortured and murdered on previous occasions.

Connect

The rate of internet use is low – 5% of the population as of 2017.
Social media sites including Facebook, Twitter, and WhatsApp have been blocked since March 2018 and are only accessible via VPN. The sites remain blocked as of April 2019 with no end in sight.