Chalcis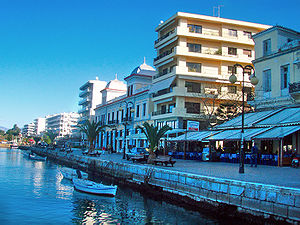 Chalcis
(
Greek
: Χαλκίδα,
Chalkida
) (population 102,223 in 2011) is the biggest city of the island of
Evvia
(or
Evia
or
Euboea
) in
Sterea Hellada
(east central Greece). It is the capital of the Prefecture of Evvia. Through the Middle Ages the city was a Venetian fortress, known as "Negroponte".
Understand
History
Climate
Get in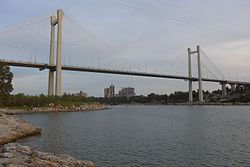 Chalkida sits at the entrance to the island from the mainland. The city is built both on the Evvia (island) and the
Viotia
(mainland) coasts of the strait of Evripos. The two coasts are connected with two bridges.
The city is 69 km away from the Greek capital,
Athens
. The tour takes approximately 45 minutes. The city can be reached by bus, car or train. There is also a suburban railway connection.
Chalkida is mostly a stop for tourists wanting to see the beautiful beaches of the island, which are mostly laid at the eastern coast (1 - 2.5 hours from Halkida).
Get around


Chalkida has a wonderful urban coastline area, built on the two coasts of the strait of Evripos. As a Greek island, Evia has a warm summer which allows the residents to swim at the many small beaches of the northern section of the city (at both coasts).

See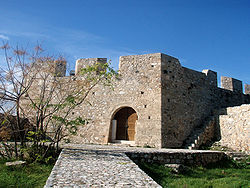 The most interesting object is the church of Saint Paraskevi, which was once the chief church of the Venetians; it dates from the Byzantine period, though many of its architectural features are Western.
You can also visit the famous kokkino spiti (red house), built in 1884 by the French architect Flegish.
One of the things you should see is the opening of the old suspension bridge in the heart of the city. The bridge opens every night for half an hour but you should ask the port authority for a schedule.
Watch the scientifically interesting tide of Euboean gulf, a phenomenon mostly observed at oceans.
Chalcis also has an archaeological museum.
Do
Take the mini-railway (vehicle) making a 30 minute sightseeing circle in the city

Eat
Shells in fish taverns.
Along the coastline you can find plenty of fish taverns, restaurants or just grills with greek salad and souvlaki. Recommended: "Dioskoufoi" (near the old bridge), "To piato" at Kouredi beach, "Ta Kaikia" under the Venetian fortress.

Drink
Local wine. Visit for a drink: Mostar (bar at the old bridge).

Go next
In summer visit intown: Souvala, Papathanasiou, Kourenti, Sikies, Liani Ammos (best for wind and kite surfing),
or nearby beaches: Alikes Drosias (most popular), Leukanti, Nea Artaki (plenty fish taverns).
Also visit Eretria (20' by car), a known resort.