Chamarajanagar (district)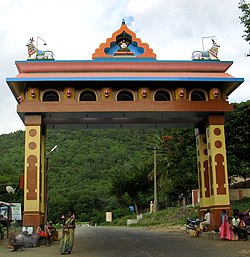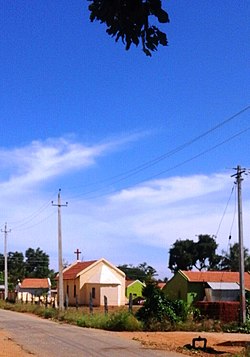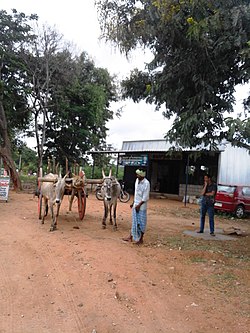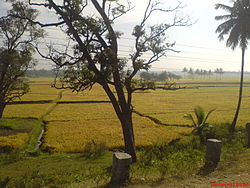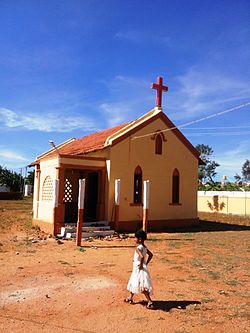 Chamarajanagar
is a district in
Karnataka State
.
Cities
Other destinations
—


— a wildlife sanctuary and is also known as B R Hills

Understand
It is just because the 9th Chamaraja Wodeyar (1774-1796 Christan Era),one of the king of Mysore kingdom was born here.

Get in
By road

From the state capital Bangalore, the State Highway 17 can be used to reach Chamarajanagar via Mysore, Chamarajanagar is at a distance of 65 km from Mysore. The distance from Bangalore to Chamarajanagar is about 185 km. The Bangalore-Kanakapura-Kollegal-Chamarajanagar road can also be used with the distance being the same.

By rail

Chamarajanagar has a new railway station inaugurated when the railway track was upgraded to broad gauge from metre gauge in November 2008. Mysore, 61 km away, is well connected by railway to major cities in India. Some long-distance trains now come to Chamarajanagar also. The project to construct a new railway line from Chamarajanagar to Satyamangalam, Gobichettipalayam,Erode is progressing slowly. It will reduce the distance between Bangalore and Chamarajanagar and other cities of Tamil Nadu. The proposal to extend the railway line further to Mettupalayam in Tamil Nadu has not been got environmental clearance.
On the day of the new BG line inauguration, a local committee at Chamarajanagar had presented a memorandom to the then Honourable Minister for Railways for State Dr.Velu to take up the construction work between Chamarajanagar and Mettupalayam directly and also to take up the construction work of the Bangalore—Mettupalayam railway line via Satyamangalam. They have conveyed the importance of connecting Satyamangalam with Gobichettipalayam, Erode which is said to be very prosperous for the country. This proposal will bring the eastern as well as the western coastal regions closer to the northern region via Chamarajanagar. i.e. Thiruvananthapuram, Ernakulam including Coimbatore from the west and the eastern coastal cities including Madurai, Trichy, Srirangam, etc.
Since Feb'2010, Tirupati Express (214) has been extended till Chamarajanagar station being the only long route train from Chamarajanagar.
New Rail line b/w Chamarajanagar-Krishnagiri
The 2010 railway budjet comeout with a proposal to conduct survey for newline between Chamarajanagar and Krishnagiri(Tamilnadu).This line will give direct connectivity between Chennai and Mysore.That means the new services will be through Chennai-Krishnagiri-Chamarajanagar-Mysore instead of busy Chennai-Bangalore-Mysore!

By air
The nearest airport is at Bangalore. The airports at Coimbatore or Calicut are more distant but can be used for reaching Chamarajanagar. Once opened the airport at Mysore will be the nearest.
Connecting Point
In otherwards Chamarajanagar can also be called as connecting point for 3 southern states of India.Because it connects Bangalore-Sathayamangalam-Coimbatore,Mysore-Sathyamangalam-Coimbatore,Mysore-Sathyamangalam-Gobichettipalayam-Erode-palani,Bangalore-Calicut,Mangalore-Sathyamangalam-Gobichettipalayam-Erode-Palani.But the district Chamarajanagar is still backward due to 20 years of Veerappan era, all politicians feared to come there just because of Veerappan.Other reasons for backwasdness are lack of interest from the Government.No one Chief Minister visited this district headquarter(Cahmarajanagar) since 16 years!
Bangalore-Coimbatore shortest route
The route via Chamarajanagar that is via NH-209 is shortest route for Bangalore to coimbatore.It is 320 km (Bangalore-Kanakapura-Malavalli-Kollegal-Chamarajanagar-Sathyamangalam-Coimbatore).This route has been selected for NHAI road development project(PHASE-IV B),within few months it will be a good road.So travellers should use this route,any other route will lead to greater distance and definitely greater time,fuel!

See
Bandipur National ParkOne of India's best known animal reserves and tiger habitats.

Dzogchen MonasteryDhondenling Tibetan Settlement, Odeyarpalaya, Kollegal Taluk. A large monastery in the Nyingma Tradition of Tibetan Buddhism.

Flower Farms of Gundelpet You can see acres and acres of sunflower and other varieties of flowers farmed by the local farmers during rainy seasons. The locality is very photogenic and is in between Gundlept and the Kerala Main Road.

Hogenakal FallsLocated in Kollegal Taluk.

Himavad Gopalaswamy BettaA hill in Bandipur National Park. There is a temple at the peak, and is well known for its wild life, including elephants. From Gundalpet, you have to reach Hangala village first, which is 8 km away. Then you have to travel another ten kilometres to reach the road to the temple. Vehicles are not allowed on the last five-kilometer stretch, and you have get into one of the forest department buses escorted by armed guards.
Eat
Hotel Bhagya Vegetarian, Chamarajanagar.
Mayura Vegetarian, on the right hand side of the KSRTC bus station.
Go next
Konanur village
Konanur can be accessed by bus by getting down at Hegguvadi gate and taking the left road. This junction also has access to villages like Mukkadahalli and Kanagagiri. Another option is to travel by train from Mysore. The southern end of the platform is the exact beginning of the village and you can find a level crossing here. When you turn left and explore the village, the first landmark is a government primary school called padashala in Kannada. There is one village council or panchayath office here with the Indian national flag flying on it. The road takes you to a small tea shop with wooden benches and the village atmosphere inside. Food is cooked with wood and the people sit and chat in a friendly manner. The teashop sells tea, idlis and pooris for breakfast and closes by ten o'clock. Maybe they open again by evening. There is one small shop attached to the tea shop where a lady sells bananas and provisions. When you move further from the teashop, you reach the village center with a big tree and cemented seating place where the elders sit and chat. The village has no bus facility and feels quite alienated from outside influences. When you take the right turn from the village center, you reach a lake or what is locally called the Kere. There are four temples in front of the lake and the smaller one is very cute. Another temple has a bull over it and looks very photogenic in the mornings when the sunlight falls on it. When you come back to the village center and take the right diversion, you have another hundred meters of houses and the village ends with an old temple and an attached little cubicle like temple outside. There is a second railway level crossing on the Mysore side of the station. When you cross the railway track and come to the other side of the village, there are big papaya farms, banana farms and potato farms. A new white building is coming here and it looks like a school. The farm has a road in the middle which takes you to the highway.

Kavalande Village
Kavalande is a cluster of three picturesque villages called Dodda-Kavalande, Chikka-Kavalande and K.R.Puram. When you come from Mysore, the easiest way to reach Kavalande is to take a train from Mysore to Chamarajanagar. There are trains at 4.50 am, 7.10am, 8.50 am, 12.20pm and 2.40 pm. These trains are slow trains or what is called in India ''Passenger trains''. When you reach Kavalande railway station, Dodda Kavalande is at a short distance of 300 meters. There is only one restaurant here and that is at K.R.Puram junction around one kilometre on Chamarajanagar route. But many tea shops and bakeries serve coffee and buns. There is one police station, one branch of Indian Overseas Bank and one post office in the very heart of the village. The road on the back of the police station takes you to the Muslim section of the village with its mosques and madrassas. You can also find a little temple where tree worship is practiced. You can visit Chikka-Kavalande village by taking an autorikshaw and paying Rs.50 to take you across the railway gate. This little village has a big temple and a little primary school. Another two kilometre away is the Devanur village with its big temple and Math. Coming back to the village center at Dodda Kavalande, you can visit K.R.Puram by autorikshaw. This third village has one Math, one little temple and one ancient stone temple. The people of K.R.Puram are from higher caste Hindu and have a refined and clean lifestyle in spite of being villagers.