Chambéry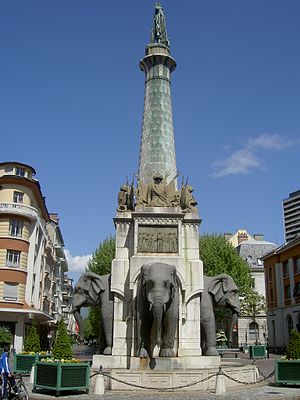 Chambéry
is a beautiful town in the
Rhône-Alpes
region of
France
. Chambéry is the birthplace and historic capital of Savoie. Throughout history, it has been both Italian and French. It lies in a valley in the Alps surrounded by the Bauges and Chartreuse mountain ranges and provides almost 360-degree views of the French Alps. To the north, it is bordered by Lac du Bourget, the largest natural lake in France. Chambéry has long been a "crossroads to the Alps" dating all the way back to the 11th century. For many years, it was ruled by the Duchy of Savoie before being annexed to the King of France. Jean-Jacques Rousseau wrote the Declaration of the Rights of Man (the French version of the Bill of Rights) while living in Chambéry.
Chambéry is a charming, peaceful place to visit with beautiful architecture, good food and wine, and friendly people. There are many vineyards in the area that visitors can enjoy, and on Saturdays, the city public market is abuzz with the freshest cheeses, meats, and local produce from the Alps. The area offers many recreational activities to choose from in all seasons, from skiing and snowshoeing, to sailing and rock climbing. The famous Tour de France bicycle race comes through the area in the summer. Chambéry also boasts the Savoie Technolac research park and the Universite de Savoie, and a mountain research center.
Get in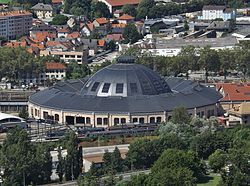 By train
Chambéry has direct TGV from Paris and other trains (TER, Train Express Regional) to all major destinations of the region. It takes 3.5 hours to get to Chambéry on the direct TGV. Chambéry is easily accessible to Lyon, Grenoble, Chamonix, Geneva (Switzerland), and Turin (Italy.)
By car
It is linked by motorways to
By plane
There is also a small airport
Get around
Chambéry is compact in size and is easily explored on foot in a short amount of time. The medieval section of the town is quite well preserved. There are also local and regional buses. If you wish to explore the mountains or go on a wine tour, car rentals are available in town.
If you want a bit of exercise, you can also rent a bicycle and explore a bit further. Bicycles can be rented from the Vélostation in front of the train station:
Agence Ecomobilité
Only €3 for a half day and €5 for a full day. Open Monday-Friday 6:30AM-7PM and from 9AM-7PM on weekends and holidays.
Cycle paths: a cycle route goes from the centre of town north to the Lac du Bourget (mostly a cycle lane which is separate from the road) and another goes south into the vineyards (mixture of separate cycle lane and quiet country roads).
See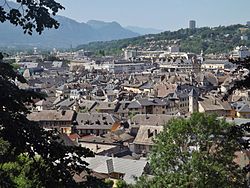 The medieval quarter of Chambéry holds many well-preserved streets and alleys. The most famous was the 8th-century Rue Basse du Château, which was tragically destroyed by a fire on January 1, 2001.

Chateau de Chambéryonce the residence of the Ducs de Savoie and whose chapel once housed the Shroud of Turin, is now the department of Savoie government offices.

Place du Palais de Justice

Hotel de Ville

Place St-Leger

Cathedral de Chambéry

The Elephants Fountain(on lots of postcards, the fountain with these four elephant "busts" is affectionately called the "four buttless" by locals)

Croix du Nivolet

Mont Granier

Lac du BourgetRenting a paddle-boat for an hour or two is a cheap way to spend a sunny afternoon.

Museums
Do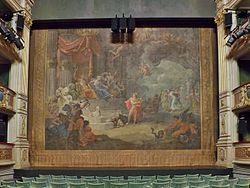 Shopping, eating, drinking, visiting vineyards, hiking, boating, skiing, snowshoeing, rock climbing, horseback riding
Buy
A light, yet sturdy knife from local company "Opinel"
Cheap shoes and clothing from the store Axo. Hard to find (ask the locals for directions) and terribly disorganized, but the prices are very good. A pair of ballerina flats usually goes for around €8.

Eat
Some foods to try are Fondue savoyarde, tartiflette, crêpes, and goats cheese.
Château de Candie

phone: +33 4 79 96 63 00

address: 38 rue Bobby Sands, 73000, Chambéry-le-Vieux

Five minutes from the centre of Chambéry, this massive XIVth Century Château had its beautiful rooms elegantly renovated. The cuisine is inspired by its Savoy roots: sautéed mushrooms and crawfish, omble chevalier meunière, beef fillet seasoned with Szechuan pepper. Great cheeses and wines. All food served in the "Orangerie".

L'Essentiel

phone: +33 4 79 96 97 27

address: 183, place de la Gare

A contemparary decor and inventive regional cuisine, served with local Savoy wines.

L'Hypoténuse

phone: +33 4 79 85 80 15

address: Carré Curial

In a space full of silence and fresh air, this restaurant offers a seasomal cuisine created with locally grown products at a reasonable price.

Aux Piétons

phone: +33 4 79 85 52 45

address: Place Monge

Hearty local specialities: cheese fondue, tartiflette and brasérade.

Le Tonneau

phone: +33 4 79 33 78 26

address: 2 rue Saint-Antoine

An elegant restaurant with a shaded terrace for summer dining. Great service and food.

phone: +33 4 79 70 09 33

address: Place Pierre Dumas

Situated in the heart of the Old Town of Chambéry, near the Fontaine des Elephants. Italian, German and English spoken; the businessperson's lunch is about €48.

phone: +39 4 79 33 81 05

address: 118 Rue d'Italie

Indian restaurant, with the usual range of Indian food. Right in the centre, a couple of minutes' walk from the Place de Théâtre.
Drink
Vins de Savoie

Chartreuse

O'Cardinal's Pub
Sleep
Best Hotel Chambery

address: 9 rue Denfert Rochereau

Includes 40 soundproof bedrooms on three floors, which all include bathroom, telephone, satellite TV, and car space in front of the hotel to deposit luggage. English, Spanish, French and Italian are spoken. Also includes an indoor swimming pool, tennis, skating rink and an equestrian centre. Wireless internet is available in all rooms and is free of charge. Children and extra beds: Maximum capacity of extra beds in a room is 1. All rooms are non-smoking.

Hotel Ibis Budget Chambéry Centre Ville

phone: +33 892683173

address: 391 Avenue Alsace Lorraine, 73000 Chambéry

This is a French "Travelodge", previously known as ETAP, cheap, basic rooms with private bathrooms, all for 1-3 people. Buffet breakfast €5 extra - bread, toast, croissants, jams, fruit salad, yoghurts, cheeses, fruit juices, tea, coffee, etc. Large, protected car park. A 10-minute walk from the centre. No luxury, but for €35 for a triple, who's complaining?
Go next