Champaign-Urbana
Champaign-Urbana
is a metropolitan area in
central
Illinois
, composed of the towns of
Champaign
,
Urbana
, and
Savoy
. The community is the site of the main campus of the
University of Illinois
, one of the great public universities of the
United States
.
Understand
Champaign-Urbana is a community of about 120,000 amongst the corn and soybean fields about 150 miles (250 km) south of
Chicago
. The area was first settled by Europeans in the early 19th century. Urbana was founded in 1833, Champaign in 1855 and the university in 1867. Starting out as a farming community, the area's development was largely influenced at various times through the years including the Illinois Central railroad, the university, now-defunct
Chanute Air Force Base
in nearby
Rantoul
and others. Today, the cities are growing, cosmopolitan and ethnically diverse, with a modern urban feel in the area's core.
Most residents of Urbana know that their town was there first, and that Champaign (originally named "West Urbana") started because a major north-south railroad was built three miles west of downtown Urbana, prompting the building of a second town along the tracks.
Today Champaign-Urbana is defined by some amount of traditional industry such as Kraft Foods, Hobbico, and others, a growing technology and information sector, and the university. The university is the county's largest employer and a very large institution of 43,000 students. It would be short-changing Champaign-Urbana to call it merely a college town. But there is no doubt that the center of gravity of the arts, entertainment, and intellectual communities rest with the university.
Champaign-Urbana is a very open-minded community with regard to social issues, in stark contrast to much of the surrounding area. Urbana is seen as the more politically liberal and pastoral of the two, and Champaign is seen as having more of a big-city feel. Champaign-Urbana residents are proud of their oasis of culture and big-city amenities amongst the cornfields, of the less intense traffic, sprawl and lower cost of living here compared to major cities, the University of Illinois Fighting Illini sports teams, and its burgeoning arts scene.
Get in
By plane
University of Illinois Willard AirportA regional airport operated by the University of Illinois about 20 minutes south of downtown Champaign. The only commercial flights to Willard Airport are on American Eagle which flies to and from Willard Airport to Chicago and Dallas.
A typical taxi fare between the airport and Urbana west of Vine Street is $14 for the first person and $10 for each additional person (not including tip).
Car parking at Willard Airport (short- or long-term) costs a maximum of $5 a day. In contrast, all parking at nearby (45 mins away)
Central Illinois Regional Airport
(
BMI
) in Bloomington, Illinois is free. This is due to land ownership differences (BMI is municipally owned and subsidized, whereas CMI is owned by the university and can not be crossed-subsidized by others). Passengers with car problems should contact the parking booth attendant for free assistance provided by Crash and Rescue (for example, jump starting a dead car battery).
It is possible to bicycle to Willard Airport from Champaign-Urbana via country roads. One can bike south on First Street in Champaign or Race Street in Urbana and then head west on County Road 1100 N which runs directly into the airport. The distance is 8.4 miles from downtown Urbana and 7.0 miles from downtown Champaign. There is an outside bicycle rack in front of the terminal.
The nearest major airports are in Chicago (O'Hare (ORD) and Midway (MDW)), Indianapolis, and Saint Louis. Land carriers such as Illini Shuttle, Greyhound, Burlington Trailways, and Amtrak connect Champaign-Urbana to these other cities and airports.

By train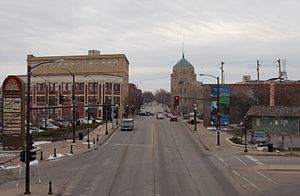 Champaign-Urbana is on the Amtrak system, and is served by three regularly-scheduled train routes, the 58/59 City of New Orleans, the 390/391 Saluki and the 392/393 Illini. All trains run Chicago to Carbondale and the 58/59 continues southward to Memphis, Jackson, and New Orleans. Here are the daily arrival/departure times:

Northbound: 6:10AM (train 58), 10:14AM, 6:49PM
Southbound: 11:25AM, 6:15PM, 10:34PM (train 59)

The train is an excellent option for traveling between Champaign-Urbana and downtown Chicago for anyone flexible on time, with tickets costing as little as $15 each way if booked far enough in advance. Trip time to Chicago is about 2hr 50min, and connects to the Amtrak national network there. Amtrak, the commercial bus lines (Greyhound, Burlington Trailways, Peoria Charter, and Illini Shuttle) and the municipal bus system (CUMTD, DMT) all arrive and depart from in downtown Champaign. The Amtrak service is subject to notoriously long delays (sometimes over an hour) because freight trains have priority over the tracks and there is only one set of tracks along most of the route between New Orleans and Chicago. It is not uncommon to sit for half an hour on the train with Chicago visible in the distance.
Trains rarely sell out except at peak times for student traffic.

By car

Interstate 74 runs east-west. 120 miles east is Indianapolis and continues to Cincinnati. To the west are the cities of Bloomington-Normal and continues to Peoria, Galesburg, and the Quad Cities of Davenport/Moline/Rock Island/Bettendorf. Interstate 57 runs north to Chicago and south into Southern Illinois, joining up with I-55 to Memphis. Interstate 72 runs east from Hannibal/Quincy, Springfield and Decatur, terminating in Champaign.

By bus
All of the following buses and trains (Amtrak) arrive at Illinois Terminal in downtown Champaign which is also a hub for public buses (CUMTD, DMT).

Burlington TrailwaysOffers 2 daily trips for its east-west service between Champaign and Peoria and Galesburg, and to Danville and Indianapolis. Burlington Trailways buses are also sold as connecting Amtrak Thruway services for Amtrak passengers.

Danville Mass Transit. Operates a Champaign-Danville bus, using city transit-style buses. There are 7 weekday round trips and 5 Saturday round trips.
Greyhound Lines runs frequently between Chicago and Champaign-Urbana, as well as to/from Springfield and St. Louis.
Suburban Express offers weekend scheduled services (Th-M) from various UIUC points to various Chicagoland suburbs, ISU, and Purdue.

Peoria CharterOffers daily buses from downtown Chicago, the suburbs, and airports. Also service to Normal and Peoria.
Get around
Most of Champaign-Urbana is laid out on a grid, aligned with due north, making navigation not too difficult. The exception is the oldest part of downtown Champaign, which is rotated East from the main grid. (This is because Champaign first developed parallel to the railroad).
However, street addresses can be ambiguous if not given with the city name. For example, there are four Green Streets: East and West in Champaign, and East and West in Urbana. Therefore, if you drive eastward from Champaign to Urbana along Green, you will start out on West Green, go through East Green, and then you'll be back on West Green again—but in Urbana. Other examples are the two Washington Streets, which have nothing whatsoever to do with each other, and the two Elm Streets, one of which goes east-west, and the other, north-south.
By bicycle
Champaign-Urbana has a lot of bicyclists who cycle for transportation and recreation. The flat geography of the community makes it easy to get around on bicycle. While there are few on-street bike lanes or marked bicycle routes and the University of Illinois campus bike path system is considered by some to be obsolete and a bit chaotic, traffic on non-arterial streets is usually light and conducive to bicycling.
in downtown Urbana provides a shop for do-it-yourself bicycle repairs and also recycles and sells bikes at low prices. Two other bicycling organizations are the
Prairie Cycle Club
and
Champaign County Bikes.org
.
Bike rentals are available from the University of Illinois' Division of
Campus Recreation
which rents bicycles (including tandems) to students and to the general public starting at $15/day for students and members to $20/day for others. Rentals are also available from
Neutral Cycle
bike shop.
The Champaign-Urbana Bicycle Map
shows recommended routes for bicycle travel in the community. It can be obtained at no cost at many locations in Champaign-Urbana.
The Champaign County Regional Planning Commission
publishes maps of greenways and trails that includes bicycle paths in Champaign-Urbana and surrounding areas in
Champaign County
.
Every Champaign-Urbana Mass Transit District bus is equipped with a bike rack that will carry two bikes on the front of the bus (see instructions for use ). Additionally folding bikes may be carried on buses as per the transit district policy.
Bike theft is a constant concern. Many thefts occur each year of bikes that are either unlocked or only locked with a low quality cable lock. It is easy to avoid being a victim by properly using a high quality lock. Most thefts are likely crimes of opportunity, where a thief will quickly move on if they can't easily steal your bike.
By bus
Champaign-Urbana Mass Transit District
(+1 217 384-8188) is an award winning municipal bus system. The adult fare is $1.00. Students, faculty, and staff of the University of Illinois need only show their university ID card to ride. Routes that serve campus with 10 to 15 minute frequency are the 1 Yellow, 5 Green, 10 Gold, 12 Teal, 13 Silver, and 22 Illini. Most community routes will drive through campus, but with limited frequency. iStops are designated stops for boarding and alighting that do not require passengers to pay a fare or show their ID card. These iStops are positioned along high density corridors found mostly in Campustown.
Designated Stops
require riders to show ID or pay a fare, but also designate where passengers may board and alight.
The front of every bus is also equipped with a bicycle rack that can hold two bikes.
Routes that serve the community are: 2 Red, 3 Lavender, 4 Blue, 6 Orange, 7 Grey, 8 Bronze, 9A and 9B Brown, 11 Ruby, 14 Navy, and 27 Air Bus. On evenings and weekends, the decennial series of the routes operate (i.e. 20, 30, 50, 60, 70, 100, 110, 120, 130, 220, 270) along with the
180 Lime
which serves southwest Champaign and the
190 Plum
which serves Parkland College on Saturdays. Community routes operate on 15 to 40 minute frequency, but vary by time of day. The 27 Air Bus runs every hour due to the length of its trip.
MTD's Hoppers
run along the heaviest traveled portion of a route and operate at either 10 or 15-minute frequencies. This gives passengers the freedom to travel without a schedule. Hoppers connect downtown Champaign, downtown Urbana, and the University of Illinois. There are four Hopper routes: GOLDhopper, GREENhopper, ORANGEhopper, and YELLOWhopper. The GREENhopper is the only one of the four routes that only operates when the university is in session.
SafeRides
is a late-night pick-up service provided to and funded by University of Illinois students. The Yellow, Green, Teal, Silver, and Illini run past 3AM during the academic year. Vans are dispatched through the night to safely transport small numbers of students (1-3) within the designated community zone until 6:30AM.
The 280 tranSPORT operates before and after all home men's football games. The Urbana tranSPORT serves the Parking Deck on University & Goodwin, Ceramics Building on Springfield & Goodwin, Krannert (east side) and Campbell Alumni Center (west side) on Gregory Street, Gregory & Goodwin, and ends at Memorial Stadium. The Champaign tranSPORT serves the Hill Street Parking Deck in downtown Champaign (north side), Green & Wright, and ends near the intersection of Peabody & Fourth.
In addition to providing service to Champaign and Urbana, the bus also serves the village of Savoy. The
334 West Direct
operates within a designated area that is not served by fixed routes. It provides a connection from the outlying areas west of I-57 to fixed route service.
All buses have GPS locators "Stop Annunciators" to meet ADA (Americans with Disabilities Act) requirements for blind travelers. Transit vans are used for SafeRides, Direct Services, and for
ADA Paratransit
.
CUMTD uses GPS to track buses with a suite of
STOPwatch services
to provide real time information to passengers. STOPwatch.WEB provides arrival times for every bus stop in the District on cumtd.com. STOPwatch.WIDGET is a downloadable application that tracks buses on your desktop. One of the most passenger-friendly utilization is STOPwatch@theStop, which provides real time "Next Bus Arrives..." signage at certain high-traffic bus stops throughout Champaign, Urbana, and the UI campus. Other STOPwatch services include STOPwatch.MOBI for smartphones and STOPwatch.SMS for texting. Learn how to use these services on MTD's STOPwatch page.
By car
Most of Champaign-Urbana is easy driving. However, the campus area is complex. Many streets are one way, traffic lights are set to favor pedestrians, parking is limited, and some streets are restricted to buses, so its easy to get sucked into frustrating loops. Hassles can be minimized by avoiding the rectangle inside Green Street, Fourth Street, Florida/Kirby Avenue, and Lincoln Avenue.
In general, there is little congestion to speak of. The exceptions:
Brief rush hours on weekdays
Prospect Avenue in Champaign, north of I-74
Home football games
Parent-student weekends
Move-in-day at the dormitories, in late August
There are Zipcars available in Champaign-Urbana.
See
Museums
Movie theaters
address: 126 W Church St, Champaign

In Champaign's historic downtown, just two blocks from the Virginia, The theater shows first-run art, independent, documentary, and other films daily. Home to the annual New Art Film Festival showcasing local filmmakers. It's owned and operated as a co-op.

phone: +1 217 356-9053

address: 203 W Park St, Champaign

Built in 1921, the historic theater is home to the annual Roger Ebert's Film Festival and is also used for monthly film series, live concerts, and theatre. It retains its original Wurlitzer pipe organ which is played before many of the shows.

Carmike Beverly Cinema 18

address: 910 Meijer Dr

Standard big-screen movie theater. 3d movies cost $3 more.

Savoy 16 Goodrich Quality Cinema

phone: +1 217-355-3456

address: 232 Burwash, Savoy

Standard big-screen movie theater with stadium seating, digital projection & sound, party room, assisted listening devices, handicapped seating, open caption events, captiview closed captioning, and special events.The theater has 16 screens including a 3D IMAX theater.
Live performance
Sports
Illinois Fighting IlliniUniversity of Illinois sports, featuring 21 teams (10 men's, 11 women's) competing in the Big Ten Conference alongside 13 other schools, mostly in the midwest with a few eastern outposts. Almost all athletic facilities are on campus; the two most prominent ones are listed immediately below.
State Farm CenterHome of the Illini basketball teams (men's and women's). Also hosts large rock performances. Elvis Presley, Aerosmith, U2, The Rolling Stones, Phish, and Garth Brooks have all performed here.

Memorial StadiumHome of the Illini football team.
Do
Champaign-Urbana and the surrounding countryside is an attractive place for bicycling. The Prairie Cycle Club has organized rides of varying distances and intensities throughout the non-winter months.

phone: +1 217 244-9934

Houses informal and formal Japanese tea rooms constructed by Japanese artisans, and surrounded by Japanese-style gardens. Tea ceremonies are held every other week throughout the year ($5, reservations required). Classes and free tours are also available.

Market at the SquareHeld every Saturday morning from May to November at the corner of Illinois Avenue and Vine Street, Urbana.

Urbana/Champaign Independent Media CenterCommunity-run center for community media and social events in downtown Urbana. It regularly hosts independent music, cultural, and political events as well as a variety of classes and community group meetings. A schedule of events can be found on the Independent Media Center's website.

Illini UnionThe University of Illinois Student Union hosts many dance, music, comedy, and other assorted social events in its ballroom or outside in its patio. A link to their schedule of events can be found on their online calendar (linked).

address: 500 S. Goodwin Ave, Urbana

Most Thursdays throughout the year (check calendar), Krannert Center holds a free wine tasting for those who are 21+. Each week, a different local bar/winery/store brings in one white and two red wines to sample. Generally, a sample of each will range from 1-3oz. Free chex-mix and cheese & crackers available.

phone: +1 217-619-0333

address: 200 West Green St

Beautiful renovated library with lots of spaces for all users. Free wifi. Special area for children with toys, puppets and friendly librarians.

Prairie Fruits Farm & Creamery

phone: +1 217-643-2314

address: 4410 N. Lincoln Ave

Farm on the outskirts of town embodying core sustainability and social responsibility principles. They sell high-quality goat cheeses. They occasionally host community days where one can visit the goats on the farm, peruse the grounds, and eat tasty farm-produced food.
Annual events
ELLNORA: The Guitar FestivalThis biannual festival, started in 2005 and named after Ellnora Krannert the founder of KCPA, features live concerts and workshops by some of the greatest names in the music business. Adrian Belew, Bubby Guy, Taj Mahal Trio, Bill Frisell, Luther Dickinson, Dan Zanes, Sharon Isbin - they've all been there. Jazz, Rock, Steel Guitar, Blues, whatever! If it riffs, sizzles, strums, it's at this hot festival in September at Krannert Center for Performing Arts (KCPA).

Christie Clinic Illinois MarathonThe only full marathon in central Illinois. Half marathon, 10k, and 5k distance races are also available. Held in late April.

Central Illinois MetalfestThree-day heavy-metal festival, held annually in July.

Champaign County FairAnnual fair held by the county in Urbana in late July.

Roger Ebert's Film FestivalAnnual film festival begun by critic Roger Ebert, a Champaign-Urbana native, every April. Held at the Virginia Theatre.

Taste of Champaign-UrbanaAnnual event in late June where dozens of restaurants, artists and music groups set up on West Side Park in Champaign.

Pygmalion Music FestivalIndie music festival in late September, lasting four days.

New Art Film FestivalAnnual film festival, started in 2010, featuring films by local filmmakers in Champaign-Urbana and downstate Illinois. Held every April at the Art Theater.

Insect Fear Film FestivalHeld each February on the campus. Motto: "Scaring the general public with horrific films and horrific filmmaking since 1984."

Annual Sweetcorn FestivalThe Annual Sweetcorn Festival is organized by the Urbana Business Association each August in downtown Urbana. This is a family friendly festival with activities for all ages. There are two entertainment stages, food and merchandise vendors and activities for children. And the highlights of the event are the hot buttery ears of sweetcorn.

Boneyard Arts FestivalOccurs each April and is hosted throughout Champaign-Urbana.

Quad DayAn event at the beginning of the fall semester in which student organizations at the University of Illinois showcase their clubs on the main quad. Although mainly for students, many clubs put on interesting showcases that are quite entertaining and worthwhile to see.

phone: +1 217 344-3872

address: Downtown Urbana

This annual event has become the largest festival in Champaign County. The main course: hot, steaming ears of sweetcorn! The festivities kick off on Friday at 5PM and will last until 11PM, and all day Saturday from 11AM-11PM. Bring your family and friends, enjoy food, music, and more fun than you can handle. Activities include a petting zoo and pony rides, a rock climbing wall and live entertainment.
Buy
phone: +1 217 359-0048

address: 202 S First St, Champaign

Stained and decorative glass gallery. Also sells supplies and teaches classes.

phone: +1 217 355-5610

address: 403 S Water St, Champaign

Local pottery studio, for both decorative and functional items. Also offers classes.

phone: +1 217 356-4703

address: 303 S Neil St, Champaign

Clothing and gear for hiking, camping and other outdoors activities. Military surplus is in the back.

The Meat Salesroom

phone: +1 217 333-3404

address: 102 Meat Sciences Lab, 1503 S Maryland, Urbana

One of the stranger local institutions, this University of Illinois facility sells a variety of meats produced by the agriculture college. Offerings vary widely depending upon what classes and experiments are in session. The beef jerky is a local legend. Call for price list & specials.
Eat
Chains
Champaign contains most of the chain restaurants in the area; Urbana has relatively few. There are four main concentrations in Champaign:
North Prospect: Applebee's, Burger King, Chili's, Chipotle, Culver's, Fazoli's, Five Guys Burgers & Fries, McDonalds, Old Chicago, Outback Steakhouse, Steak'n'Shake, Subway, Wendy's.
Campustown, mostly along Green Street: Chipotle, Coldstone Creamery, IHOP, Jimmy John's, Cocomero, Noodles & Company, Pizza Hut, Potbelly Sandwich Works, Starbucks Coffee, Subway, Dunkin Donuts, and Panera
South Neil Street: Arby's, Biaggi's, Culver's, Hardees, Hooters, McDonalds, Meatheads, Monical's Pizza, Steak'n'Shake, Subway.
West Springfield Avenue: Arby's, Burger King, Kentucky Fried Chicken, Niro's Gyros, Original Pancake House, Taco Bell, Wienerschnitzel.
Budget
The Apple Dumplin' Family Dining

address: 2014 North Highcross Rd, Urbana

Great local American diner. Don't miss the biscuits 'n gravy and, of course, the famous Apple Dumplin'. Cardiac procedures at Carle Clinic, necessitated by the food, are free when you have your frequent diner card punched 10 times.

La Bamba's

address: 1905 Glen Park Dr, Champaign

"Burritos as big as your head."

phone: +1 217-328-1811

address: 111 N Race St, Urbana

For students, a popular place to have breakfast with their parents. For locals, a comfortable place to have burgers, malts, and fountain drinks. Several options for vegetarians.

Jarlings Custard Cup

address: 309 West Kirby Avenue, Champaign

Local favorite for frozen custard desserts, including "snowstorms" custard mixed with toppings or cookies.

Golden WokThai, Laos, and Chinese food.

Jerusalem Restaurant

address: 601 S Wright St, Champaign

Palestinian food.

Lil' Porgies

address: various places

BBQ, small, cheap place but good. Tagline: 'Incredibly good 'cause it's cooked on wood'.

phone: +1 217-355-6540

address: 60 East Green Street

An inexpensive restaurant featuring tacos, burritos, tortas, tostadas and other Mexican treats made with fresh ingredients.

Merry Ann's

address: various locations

A local diner and favorite late night eatery. Open 24 hours.

Peking GardenChinese, good whole steamed fish as well as their shrimp with lobster sauce. Has some interesting sweet cocktails.

Papa Del's

address: 206 E. Green St, Champaign

A local take on Chicago-style pizza.

Po Boys BBQOrder meat like you're at a bar.

Red HerringA quirky vegetarian restaurant. Awesome soups served with fresh bread.

The Ribeye

address: 701 S Neil St, Champaign

Steak and salad bar that locals love

El TorreroMexican, Great food, prompt service, and the best Margarita in town.

address: 627 E Green St, Champaign

Since 1973, a mainstay restaurant featuring Greek and Mediterranean fast food, specializing in gyros
Mid-range
phone: +1 217 344-3380

address: 401 East Green Street, Champaign

Small restaurant usually packed with people. Fresh roti and naan are especially good. Portions look small, but are quite filling.

Black Dog Smoke & Ale House

address: 201 N Broadway, Urbana

New barbecue in Urbana, which quickly became one of the area's most popular restaurants. Almost always hard to find seats, but always worth the wait.
Splurge
phone: +1 217 398-6982

address: 113 North Walnut, Champaign

Italian restaurant in downtown Champaign with a vast selection of Italian wines and a creative artesianal menu. Small portions.
Ko-Fusion, a "fusion" style Japanese restaurant on Mainstreet Champaign. Featuring organic meats, local specialties, wild caught seafood. Many types of sushi, both traditional and original. Salsa dancing some nights. Often has $1 sushi specials Monday nights (as of 2011).
Drink
Bars
There are three "scenes" that contain most of the best known bars in town. These are campustown, downtown Champaign and downtown Urbana. Closing time is 2AM, set by local ordinances, but may be earlier based on individual businesses.
Since the real St. Patrick's Day often falls within the University's Spring Break, local bars often celebrate "Unofficial St. Patrick's Day" the 2nd Friday before. The event goes off much like a normal St. Patrick's Day, and attracts party animals from all over Illinois and other Big Ten schools. Be aware of it if you plan to travel to Champaign-Urbana in early to mid-March as parking can be scarce and drunk driving checkpoints are common.

Campustown
Campustown contains roughly a dozen bars. Almost every bar has daily and weekly specials, too numerous to mention here. Here you can expect a clientele that is uniformly college-aged, if it is not Homecoming weekend. Most bars here have a pretty open floor plan and what seating there is tends to be in a loud and exposed area, in contrast to more of a "lounge" establishment. Most bar are 19+ to enter (sometimes with cover for those who are underage. Generally, all ages can be on the property for food and non-alcoholic drinks during the day and evening until 9PM.


Champaign
Downtown Champaign contains maybe a dozen bars and is growing, vibrant scene. It has a more varied clientèle with people of all ages, although the median age still probably isn't any higher than thirty. The atmosphere is more upscale than campustown in almost all cases.
Maybe the most upscale establishments in downtown are Boltini, Soma, and The Wedge. These bars are new, have had the most thought put into their aesthetics, but still have drink prices pretty much in line with the other establishments and attract trendy as well as less trendy people.


Urbana
Finally there is Urbana, whose bars are mostly contained within downtown. Ages of patrons are similar to downtown Champaign or older, and the atmosphere is a little more laid-back in comparison.

Coffee shops
Sleep
Many national chains have a hotel in the area, though only a couple are within walking distance of campus. The area also has a fairly decent Couchsurfing community , but a lack of visitors. Because of this you are likely to find plenty of couchsurfers willing to host you in their homes and show you around the city.
phone: +1 217 333-3030

address: 1401 W. Green St. Urbana

Located in the center of the University of Illinois campus and adjacent to campustown, the Illini Union offers guests the unusual experience of sleeping in a student union -- in this case, a grand colonial building built in 1939 on the north end of the University's main quad. This location grants guests access to the on site bowling alley, video games, food court, art gallery, reading rooms and lounges, walk-in massage clinic, and other amenities (additional charges apply). Room rate includes continental breakfast, local phone calls, and one extremely good parking place. Often completely booked far in advance. Accepts reservations by e-mail.

Comfort Inn

address: 305 Market View Dr. Champaign

Has a restaurant/bar in the lobby which opens at 5PM.

Econo Lodge Inn Suites

address: 914 W. Bloomington Rd. Champaign

Affordable accommodations in a quiet, relaxing and comfortable setting. Secure Online Reservations.

phone: +1 217 367-6000

address: 1908 N. Lincoln Ave

Close to the University of Illinois, Carle Medical Center, the Champaign County Fairgrounds, and Market Place Mall.
Other hotels include:
Hampton Inn
Holiday Inn and Holiday Inn Express
Marriott Courtyard
Hilton Gardens
Best Western
Red Roof Inn
Baymont
Hawthorne (Conference Center)
Connect

Champaign-Urbana has a large number of free Wi-Fi hotspots.

Go next
A number of day trips are an easy drive from Champaign-Urbana, but many day-trip destinations are notable for their eccentricity or are otherwise offbeat.