Champasak
Champasak
is a province of
Southern Laos
. It's best known for a series of
Khmer ruins
, collectively named a
UNESCO World Heritage Site
as the
Champasak Cultural Landscape
.
Cities
— provincial capital
— the largest city
Get in
Pakse
is the transport hub of the region, with an airport (
PKZ
), bus service and limited boat access off the Mekong. For Champasak and the south, there are more expensive minivans (110,000 kip return to Si Pan Don) from a couple of travel companies ('Pakse Travel' and 'Explore Asia') in Pakse town centre (nearly always packed with bleach blond 20-somethings. Don't expect any leg room).
From Pakse southern bus station, a songthaew 20,000 kip) to Champasak (20,000 kip, ~2 h) or Than Bhan Khop (2 h 15 min), to near the crossing to Wat Phu (30 min walk to Wat Phu entrance).

Motorbike - rent a motorbike in Pakse and ride it here. Get help riding your motorbike on and off the ferry if you are not comfortable, as it can be tricky. Also, you can ride up the road to Wat Phu and stop and taste the various foods the street vendors sell (little to no English spoken).
Get around
Most places in Champasak, including Wat Phou, can be visited as day trips from Pakse.

See
Wat PhuA c.12th century Hindu temple built in the days of the Khmer Empire in the style of Angkor. The temple is still in use as a Buddhist site. The park is only open during certain hours (such as 9AM to 5PM). 30,000 kip for temple and museum and 15,000 kip for golf cart (the entrance gate is far from the temple, about 800 m).

Khone waterfalls on the border with Cambodia.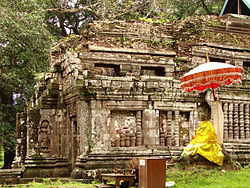 Eat
There are restaurants at many hotels. Street vendors can be found along the road to Wat Phu.

Go next

It seems that buses from Champasak-Pakse are only available in the morning, 7AM-8AM, 20,000 kip.