Chandler (Quebec)
Birthplace of traditional folk singer Mary "La Bolduc" Travers and championship hockey goaltender Mathieu Garon,
Chandler
is one of the largest towns in the Gaspé Peninsula, a deepwater seaport and industrial centre situated near the mouth of Chaleur Bay. Although it doesn't have a wealth of tourist attractions to offer visitors, Chandler prides itself on its status as a
village-rélais
— a Québécois term for a small village or town that boasts a disproportionate wealth of accommodations, shopping and dining options, and other services for highway travellers.
Understand
The city of Chandler took its current form in 2001, when it absorbed the municipalities of
Grand-Pabos-Ouest
,
Newport
,
Pabos
,
Pabos Mills
, and
Saint-François-de-Pabos
. The enlarged city was renamed
Pabos
, but a year later reverted to Chandler. Though the names of these places are still in use by locals, all their attractions and other points of interest are covered in this article.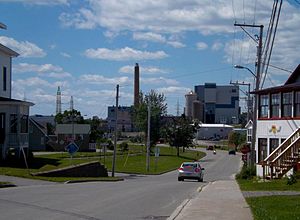 History
The Chandler area was one of the first parts of the Gaspé Peninsula to be permanently settled by Europeans: as early as 1729, it was home to a community of Basque fishermen called "Pabos", a name of uncertain origin. Though it was razed to the ground by the British in 1758, during the French and Indian War, Pabos was soon rebuilt and flourishing. Through the 19th century it was the largest town in the area, a centre of civic and religious life in the Gaspé Peninsula.
Meanwhile, 5 kilometres (3 miles) west of Pabos, entrepreneur Percy Milton Chandler and his Québécois partner Alfred Dubuc chose the mouth of the Grand Pabos River as the site for the huge
St. Lawrence Pulp and Lumber Corporation
, which, in 1912, began processing lumber from the dense Gaspesian forests into pulp and paper. Chandler, the company town that grew up around the mill, soon surpassed Pabos in size and became a major regional industrial centre, a status that it retains today despite the closure of the factory in 1999. In 2011, Chandler boasted a population of about 7,700 — about 10% off its historic peak in the 1990s — and a rapidly diversifying, if still struggling, economy.
Visitor information
The official
website
of the City of Chandler contains a section for tourists, with information about the city itself as well as tourist attractions, hotels, restaurants, and nightlife. Unfortunately, it's available in French only.
Get in
By car
Given its status as a
village-rélais
— not to mention its great distance from passenger airports of any size or importance — Chandler is especially well adapted for those arriving by car. Like most of the Gaspé Peninsula's towns, Chandler is located directly on
Provincial Route 132
, the main route on the south shore of the St. Lawrence.
The quickest way to Chandler from
Quebec City
is to take
Autoroute 20
east to the end of the road in
Mont-Joli
; at the traffic circle, bear right (toward
Amqui
and
New Brunswick
) and continue for another 365 kilometres (225 miles). Taking this route, the total travel time from Quebec City is roughly seven and a half to eight hours, excluding stops. However, in practice a majority of visitors to Chandler arrive from the direction of
Gaspé
and
Percé
. That route — north from the end of A-20 toward
Sainte-Flavie
and
Matane
, then eastward along Route 132 along the shore of the St. Lawrence — is by far more scenic and enjoyable than its counterpart, and it only adds another 15 minutes or so onto your travel time.
If you're coming from the
Maritimes
, cross the Quebec/New Brunswick border at
Campbellton
and take Route 132 east for around 200 kilometres (125 miles). Chandler is a little over two hours past the border.
By plane
The nearest airport with scheduled passenger service is
Bonaventure Airport
(Aéroport de Bonaventure)
(
YVB
), about an hour down the road in Bonaventure, with service to (Îles de la Madeleine, Montreal-Saint-Hubert, and Quebec City via Pascan Aviation. Thrifty car rental has a location just outside of the airport entrance, from which you can continue your trip to Chandler.

By bus

The Orléans Express bus network serves the entire province of Quebec, including the Gaspé Peninsula. There is one daily bus that departs from Rimouski at 2:55PM and arrives in Chandler at 9:26PM. The fare is $78.18 per passenger, including taxes and two checked bags, with a $5 upcharge for each additional checked bag up to a maximum of four total. The bus drops you off at the gas station at 519, boulevard René-Lévesque Ouest, about 2 kilometres (a mile) west of the town centre.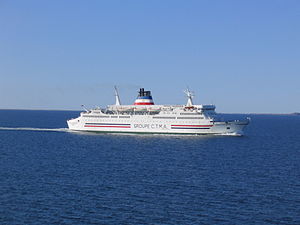 By boat

Chandler is a port of call for the M/V CTMA Vacancier, a cruise ship that plies the St. Lawrence River from Montreal, taking in Quebec City, the Charlevoix, the Gaspé Peninsula, and the Îles de la Madeleine. There are fifteen departures between mid-June and late September which include both "classic cruises" and themed voyages focusing on health and wellness, Madelinot cuisine, Acadian history, and other specialties. Passengers on the Vacancier can purchase a round-trip ticket that includes two stops in Chandler (a brief one-hour call on the evening of the second day, and a full morning on Day 6 which includes shuttle service to Percé Rock), and one-way service between the different stopovers is also available. Prices are $999 round-trip; one-way service starts at $434 per cabin for the two-day Montreal-Chandler route, plus $205 per car and $25 per bike, or $730 per cabin, plus $519 per car and $50 per bike for those who want to visit the Îles de la Madeleine before disembarking at Chandler on the way back. All prices quoted here include meals and onboard activities but exclude taxes, service fees, port costs ($82 plus tax), and a $300 deposit that's refundable if cancelled at least 60 days in advance.
If you have a private boat, the marina at the (Club nautique de Chandler) can be found at 510, rue Ernest-Whittom. The marina has 20 slips available for visitors at a rate of $1 per foot per day, $5 per foot per week and $10 per foot per 2 weeks, as well as fuel and pump-out services, showers, and wireless Internet on the docks.

By train

The , at 155, rue de la Plage, is just south of the town centre and adjacent to Chenal Beach. Service on the Gaspé line east of Matapédia was suspended in 2013. As of November 2018, there is no timetable for the resumption of railway service.

Get around
As mentioned before, Chandler is a town that's built with the automobile in mind. As such, you'll need something more than just your two feet to get around town: attractions in Chandler tend to be spread out, and even downtown isn't terribly amenable to pedestrians.
Car rental



By bus


RéGÎM is the public transit service for the Gaspé Peninsula, with a network that spreads over most parts of the region. There are two lines that serve Chandler:

Route 31 provides weekday afternoon service between Chandler and Percé, with two buses leaving Percé for Chandler at 1PM and 5PM and arriving at 1:56PM and 5:56PM respectively. Going the other way, buses depart Chandler at 11:59AM and 3:59PM and arrive back at Percé at 12:53PM and 4:53PM, respectively.
Route 32 buses leave Paspébiac every weekday morning at 6:20AM, passing through downtown Chandler at 7:21AM on their way to Percé. On the return leg, Paspébiac-bounded buses leave Percé at 9AM and pass through downtown Chandler at 9:48AM. There are also abbreviated trips in the afternoon, with Grande-Rivière-bound buses leaving Paspébiac at 2:30PM and passing through Chandler at 3:31PM, with westbound return trips leaving Grande-Rivière at 4:15PM and passing through Chandler at 4:37PM. All buses on Route 32 except 6:20AM departures from Paspébiac and 4:15 departures from Grande-Rivière require reservations made at least 24 hours in advance (call +1 877 521-0841).


Fare is payable in cash ($4) or with tickets ($3 apiece, available in books of ten from participating retailers or directly from the bus drivers). If you're planning on making heavy use of RéGÎM during your stay in the Gaspé Peninsula, it might be useful to buy a prepaid Access Card (available online for $5), which are good for a whole month and entitle you to the same discounted $3 fare as tickets.


By taxi

Taxi Porlier

phone: +1 418 689-5566

Provides taxi service in wheelchair-accessible vehicles.



See
Linda Molloy Art Gallery

phone: +1 418 689-3992

address: 5, rue de la Baie

A self-taught watercolourist whose lovely landscapes and happy scenes of life on the shore of Chaleur Bay are painted in a bright yet not garish palette, Chandler native Linda Molloy operates a cozy, yet bright and airy, gallery in an unassuming two-story house on a quiet side street in Pabos Mills.

Mary "La Bolduc" Travers Museum

phone: +1 418 777-2401

address: 342, route 132

Located on the wave-lapped shore of Chaleur Bay in Newport, a 15-minute drive from downtown Chandler, is this museum dedicated to the Cinderella story of local native Mary Travers, an ordinary working-class housewife who became, in the 1920s and '30s, one of the most famous and innovative voices in chanson, or Québécois folk music. The museum's permanent collection includes artifacts, historic photos, recorded music, and other items that tell the story of the "Queen of Canadian Folk Singers", and temporary exhibits and special events are frequently featured as well. You can also catch spirited musical performances over tea in the cozy little onsite performance space, with modern-day chansonniers singing the songs of La Bolduc and her contemporaries.

phone: +1 418 689-6043

address: 75, rue de la Plage

Located in Pabos Mills at the east end of Pabos Borough Park (Parc du bourg de Pabos), this site encompasses the former grounds of the manor of Jean-François Lefebvre de Bellefeuille, the seigneur (feudal lord) of Pabos from 1729 until 1758. There's a marked trail with bilingual interpretive plaques that leads visitors around the former townsite and past the remains of the chapel, an old mill, some fishing shacks, and the town cemetery. At the interpretive centre, artifacts of both European and Amerindian provenance are displayed, and plenty of exhibits are on hand for those interested in the history of Pabos as an 18th-century fishing village.
Do
Festivals and events
Pabos Country FairAs the hometown of La Bolduc, Chandler is much better known as an epicentre of chanson than of country music. However, that doesn't stop folks from all over the region coming to the (Parc récréatif de Pabos) for four nights of country line dancing and rollicking musical performances by local bards — including, in its 2014 iteration, a Shania Twain tribute show par excellence. But music is only one facet of the experience at the Pabos Country Fair: this is a full-scale country hoedown, with a horse show, target-shooting demonstrations, thrilling horse races, food and drink, and, on opening day, a grand parade through the streets of Pabos with inflatable floats.

Pabos Winter CarnivalEvery year in early February, locals brave the winter cold at the (Centre des loisirs de Pabos) for a weekend-long winter carnival that's fun for the whole family. By day, revelers can enjoy snowshoeing and cross-country skiing on the complex's manicured trails, as well as ice skating and tobogganing; in the evenings the festivities move indoors for a set of rousing musical performances.
Beaches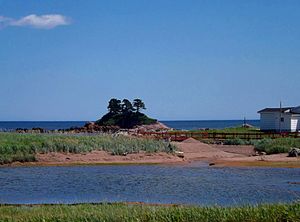 Despite its relative paucity of tourist attractions
per se
, one thing Chandler does have in spades is beaches. You'll find the best ones west of downtown, with
(Plage du banc de Pabos)
the most popular of the lot (and, in fact, renowned as one of the finest beaches in all of Quebec). Located on a narrow sand spit between Grand Pabos Bay and the larger Chaleur Bay, this is the only beach in town that's patrolled by lifeguards (Jun-Aug, 11AM-5PM). As well, there are volleyball nets, a picnic ground, a large concession stand, and free parking. On the other side of the inlet,
(Parc du bourg de Pabos)
in Pabos Mills also has three beaches of a more secluded character.
Further west still, in Newport, are
(Plage des Beaux Sables)
and
(Plage de l'Anse à Blondel)
, a pair of pleasant strands further off the beaten path that boast a range of services. In Chandler itself, you have
(Plage du Chenal)
, a lovely sandy shoreline where kitesurfing is a popular pastime, as well as
(Plage de la Marina)
, which — as the site of a pair of wrecks including the
Unisol
, a Peruvian cargo ship that went down in 1983 — is popular with snorkelers and scuba divers.
Fishing
Though they fly under the radar compared to some other rivers of the region, the three Pabos Rivers (the
Petit Pabos
, the
Grand Pabos Ouest
, and the
Grand Pabos Nord
) boast some of the best salmon fishing in all of Quebec, thanks to stringent management of the fishery by the provincial government to aid in the recovery of this once-declining species. The three Pabos Rivers make up the
Pabok Controlled Harvesting Zone
(Zone d'exploitation contrôlée Pabok)
and boast 50 kilometres (31 miles) of fishable waters between them; salmon season is June 15-September 30 and is subject to licensing restrictions (licences can be purchased at various locations around town) and daily catch limits. Unique among Quebec's salmon-fishing rivers, salmon caught in the Pabos Rivers that measure more than 63 centimetres (25 inches) long must be thrown back — this is in order to aid continuing conservation efforts. The Pabos Rivers are also a great place to catch brook trout, three-spined stickleback, Atlantic tomcod, and rainbow smelt. For more information, check out the Three Pabos Rivers
website
, in French only.
Golf
phone: +1 418 689-3255

address: 200, rue Commerciale Ouest

Founded in 1950, the Chandler Golf Club is an 18-hole, par-72 course that's suitable for all skill levels, sandwiched between buzzing downtown Chandler and the wide Chaleur Bay with stunning seaside views that do double duty as a formidable water trap on some of the holes. Uniquely, each hole also boasts a interpretive panel that covers some aspect of Chandler's identity: from historical factoids to local lore to ideas for places to visit around town. Club and cart rental are also available, and courses for beginners are offered by licensed golf instructor David Huard. Website in French only.
Buy

Despite its village-rélais status, Chandler is by no means a retail destination. If a day of shopping is an itch you simply have to scratch, your best bet is , a shopping plaza located in the northern part of Chandler at 500, avenue Daigneault. Place du Havre boasts about a dozen stores and restaurants including locations of Hart department store, Studio fashion boutique, Uniprix drugstore, Super C supermarket, and Dollarama, as well as a magazine shop/tobacconist, an SAQ provincial liquor outlet, a McDonald's, and a Chinese takeout.

Eat
Chandler's dining scene is remarkable not for its great diversity of cuisines, but for the surprising number of restaurants, cafés and snack bars to choose from in a town this size. The bread and butter here is fast-food establishments and chains — travellers along Route 132 can avail themselves of , , , and other roadside rest-stop favourites — but Chandler has its share of locally-owned operations as well, some of which are listed below.
La Chaloupe sur Mer

phone: +1 418 689-6500

address: 399, boulevard Pabos

One of Chandler's nicest restaurants, La Chaloupe sur Mer's menu boasts an amazingly diverse selection of items including the seafood specialties ubiquitous to the area, some killer chicken kebabs, pizza, and from Thursday through Saturday, a range of Canadian-Chinese mains. There's also a prix fixe menu that is good value, comprised of soup of the day, your choice of appetizer, and a seafood entree. Try to get a table by the front windows: the view over Chaleur Bay from the dining room is unparalleled. Service can sometimes be slow and inattentive. Free WiFi is offered.

phone: +1 418 689-3938

address: 195, rue Commerciale Ouest

Located right downtown across from the Chandler Golf Club, Le Chialeux's menu is dominated by a huge selection of pastas: you start with spaghetti, farfalle, or penne, or homemade fettuccini, linguine, tortellini, or ravioli, then you choose from a vast selection of specialty sauces to top it with (many of these are quite creative and luxurious, incorporating locally-sourced seafood as ingredients). Seafood is also the star of the show in the appetizer selections, whether it be crab rolls, smoked salmon, or a great seafood chowder. Panini sandwiches are served for the lunchtime crowd, and daily specials are offered. Bring your own wine.

phone: +1 418 689-6043

address: 5, rue de la Plage

It doesn't get any better than this: at La Grave, you can relax on a breezy terrace overlooking the beach at Pabos Bank and enjoy fish chowder and other seafood specialties for lunch or dinner — or, in the morning, a wide range of breakfast platters (try the scrambled eggs with lobster). If seafood is not your thing, hot dogs, hamburgers, poutine, and other summery fare is also available. There's a large, airy dining room as well.

Le Huard

phone: +1 418 689-5052

address: 46, boulevard René-Lévesque Ouest

This humble but pleasant little place in Pabos Mills serves pizza, seafood, and other homestyle specialties in a friendly atmosphere. Delivery is also available.

phone: +1 418 689-4420

address: 515, avenue Daigneault

Located at the Motel Chandler a stone's throw away from the Place du Havre shopping centre, Ô P'tit Café boasts an elegant yet cozy and relaxed ambience in which is served upscale dinners of chicken, pasta, meats, pizza, and — of course — the seafood that lies at the heart of Gaspesian cuisine, with a fresh-from-the-docks flavour you'll find in few other regions. Interestingly, the menu also contains a few Greek specialties, as well as a daily three-course prix fixe meal that's a good value for the money. The lunch menu is modest in size and consists of salads, sandwiches and burgers. There's also an extensive beer and wine list featuring craft beers from Pit Caribou, brewed just down the road in L'Anse-à-Beaufils.

phone: +1 418 689-2281

address: 325, route 132

You wouldn't expect the most refined fine-dining experience in Chandler from a motel restaurant, and certainly not at prices as affordable as these. But that's exactly what you get at the Motel Fraser's Le Sieur de Pabos. What the menu lacks in size, it makes up for in diversity and quality — going far beyond the seafood that's the stock in trade of restaurants around these parts, the ever-changing menu at Le Sieur de Pabos is crowned by a table d'hôte that features a diversity of delicious meals crafted from locally-sourced ingredients. There's also a range of à la carte options that run the gamut from steaks and chops to chicken to pasta (and yes, seafood lovers are well taken care of here too). Seasonal selections abound, and no matter what you order, you can be assured that everything is prepared artfully, in a way that balances time-tested tradition with creative innovation. Best of all, Le Sieur de Pabos' chefs are happy to cook dishes to order and to accommodate those with food allergies, special diets, and the like. The ambience features dim lighting and a contemporary, arguably Asian-inspired decor centred on a lovely glass-wall waterfall.
Sleep
Hotels and motels
phone: +1 418 689-4444

address: 515, avenue Daigneault

Situated close to the Place du Havre shopping centre yet boasting a full slate of amenities, Motel Chandler is equally suitable for business travellers and tourists. Rooms contain either one king or two queen beds, as well as air conditioning, iron and ironing board, coffeemaker, refrigerator, and a flat-screen TV with cable. Soundproof rooms, local newspaper delivery, and up to one extra bed per room (subject to a $10 upcharge) are also available on request. Relax on the sundeck in the summer, in the sauna or hot tub in cooler weather, and year-round at the lovely onsite restaurant where locally-brewed Pit Caribou craft beer is on tap. Free WiFi is available.

phone: +1 418 689-2281

address: 325, route 132

The Fraser is the smaller and less expensive of Chandler's two motels, but don't let that fool you: this place has its own charms, from the comfy rooms newly renovated with a modern decor and eco-friendly materials such as cork flooring and hypoallergenic Milano bedding, to Le Sieur de Pabos, Chandler's most upscale restaurant with a breezy terrace bar looking out over the outdoor pool (open seasonally), to special packages for snowmobilers and ATV enthusiasts during the autumn and winter months. All 31 of the Motel Fraser's rooms contain a fridge, coffeemaker, and flat-screen TV with cable, and WiFi is free and available throughout the property. Pets are also accepted, subject to additional fees.
Gîtes
For a more unique and charming experience, you might consider spending the night at a
gîte
— the Québécois term for a
bed & breakfast
.
Parfum de Mer

phone: +1 418 689-5806

address: 320, boulevard Pabos

Parfum de Mer is an odd mixed bag: the proprietor, Madeleine, is bilingual, supremely friendly, knowledgeable about things to do in the area, and really gets down to the nitty-gritty in providing guests with a pleasant, peaceful getaway from the workaday world, yet she is also by some accounts a stickler for the rules, especially when it comes to noise. It's located on busy Route 132, but in a quiet location on the outskirts of Pabos, with a peaceful terraced garden in back with sweeping views over Chaleur Bay, and a private beach and kayak launch to boot. Breakfasts are artfully prepared in-house, and Madeleine's homemade jams are legendary — but the preparation happens the night before and the food is refrigerated overnight in the kitchen, with guests left to make their own plates in the morning. The guest lounge and kitchen are spacious and inviting, but tucked away in the basement and, in the case of the kitchen, only open during breakfast time — another of those house rules Madeleine enforces strictly. If you can take the good with the bad, Parfum de Mer might be for you. There's three guest rooms, with decor that's pleasant if a bit dated: two boast a full-size bed and come with en suite bathroom and kitchenette, hair dryers, iron and ironing board, and free WiFi; the third room is somewhat larger, with a queen bed and all of the above-listed amenities plus cable TV and soundproof walls. No children under 5 are admitted. Open year-round.

phone: +1 418 689-7100

address: 493, rue Réhel

A handsome wood-frame house built in 1916 for the Langlois family, La Petite Auberge's location in the heart of downtown Chandler just a block off Route 132 isn't what you would call quiet. However, owner Gilda Grenier really does a good job crafting a pleasant, relaxing experience for her guests. The four guest rooms each are equipped with cable TV, free wireless Internet, and fireplaces; two bathrooms are shared among them. There's also a comfy sitting room where breakfast is served each morning from 7AM to 9PM: a full spread of French toast, pancakes, cereal, homemade jams, a selection of meat, and coffee. Parking is on-street, but free of charge. Website in French only.
Campgrounds
phone: +1 418 689-6043

address: 75, rue de la Plage

Open early Jun through late Sep. Boasting an ideal location at Pabos Borough Park directly adjacent to some of the finest beaches in all of Quebec, Pabos Borough Campground is a perfect choice for families with children as well as inexperienced campers — a number of trailers and tents are available for rent for those without their own, and themed celebrations including "Pyjama Day" and "Western Day" are a hit with the younger set. Pabos Borough Campground has 128 campsites; water, electricity, and sewer connections (or any combination thereof) are available, as well as primitive campsites located directly on the beach. There's also WiFi Internet, a public phone, a children's playground, horseshoe pits and a pétanque terrain, an extensive network of hiking trails, laundry facilities, and a community lounge with a small kitchen area and indoor activities available for rainy days. Shower and toilet facilities are handicapped-accessible.

phone: +1 418 689-3031

address: 99, route de l'Église

Open Jun-Sep. This 60-site campground is part of the gargantuan La Seigneurie Outdoor Centre (Centre de plein air La Seigneurie), so campers here are not wanting for things to do: go-karting, frisbee golf, rock climbing, miniature golf, hiking, and mountain biking are just a few of the activities offered at La Seigneurie, and there's a 1.5-kilometre-long (1 mile long) beach for those with something a bit more relaxing in mind. As for the campground itself, both serviced and unserviced sites are offered at a variety of rates, free WiFi is available all over the property, and the community room contains a TV, microwave, and laundry and shower facilities. Website in French only.
Connect

Chandler, along with the rest of the Gaspé Peninsula, is served by area codes 418 and 581. Ten-digit dialling is mandatory for local calls, so to reach a number within Chandler or the immediate vicinity, it's still necessary to dial the area code first. To call long-distance within Canada or to the United States, dial 1, then the area code, then the number. For international calls, dial 011, then the country code, then the city code (if applicable), then the number.
The large is downtown at 75, boulevard René-Lévesque. Newport and Pabos also have post offices, and the convenience store in Pabos Mills offers limited postal services as well.

Cope
Media
Le Pharillon
is a free weekly newspaper covering local news, culture, sports, and events in Chandler and the neighbouring cities and towns of Gaspé, Percé, and
Grande-Vallée
.
Health care
(Centre hôpitalier de Chandler)
is just outside of downtown at 451, rue Monseigneur-Ross Est.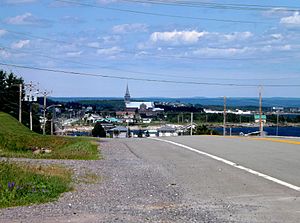 Go next
If you're following the Route 132 circuit south and west from the direction of Gaspé and Percé, Chandler is the gateway to the Chaleur Bay region — and a quite different side of the Gaspé Peninsula than you've seen thus far, with flat, lush farmland sandwiched between the low foothills of the Chic-Choc Mountains and the bay that gives the area its name.
The first town you'll pass through when heading west is Paspébiac, which, like Chandler, is one of the oldest settlements in the region — the lagoon that gave the town its name (derived from the Mi'kmaq word papgeg ispegiag) once teemed with cod, around which coalesced a motley settlement of Norman French, Basques, Jèrriais, and above all, Acadians. Today, the restored Charles Robin Company warehouses are open to the public as the Paspébiac Fishing Bank National Historic Site, and there are also some pretty good beaches there.
Further west, Acadian heritage also abounds in Bonaventure, founded in 1760 by some of the first wave of refugees who fled the expulsion of the Acadians (Grand dérangement) from the Maritime Provinces. Don't be fooled by its sleepy appearance, though: thanks to the gargantuan Quebec Acadian Museum (Musée acadien du Québec), a huge complex featuring everything from historical artifacts to traditional art to reconstructed artisans' workshops to living history displays, and the Gaspé Biopark (Bioparc de la Gaspésie), where a few dozen species of native animals are displayed, Bonaventure is one of the most important tourist towns in the Chaleur Bay region.
If you're heading in the other direction, you'll soon come to Percé, home to the Gaspé Peninsula's two marquee tourist attractions, which together make up Bonaventure Island and Percé Rock National Park (Parc national de l'Île-Bonaventure-et-du-Rocher-Percé). If elbowing your way through a bustling souvenir shop or people-watching from the terrace of a nice restaurant sounds like the perfect antidote to the solitary tranquility of the rest of the Gaspé Peninsula, Percé is the place for you — but if you're hungry for more quietude, there's also secluded beaches in places like Coin-du-Banc, sea kayaking in off-the-beaten-path Pointe-Saint-Pierre, and long hiking trails through the mountains.