Chapel Hill
Scenic and regularly decked out in "Carolina blue",
Chapel Hill
is a lovely college town in
North Carolina
that makes up the westernmost point of the
Research Triangle
. The town is the smallest of the Triangle's three cities, with an influence and pull that belies its size. Based around the University of North Carolina at Chapel Hill, the town caters heavily to the local student population, with plenty of bars and restaurants near the university's beautiful campus. Immediately to the west of Chapel Hill is the adjacent town of
Carrboro
, an old mill town now known for its local shops, restaurants and nightlife.
Understand
The town was originally a small village of a thousand people consisting of mostly Scottish and English immigrants arriving in the area during the 1700s; the village took its name from the New Hope Chapel, which happened to be situated on a hill (the Carolina Inn of Chapel Hill now stands where the chapel once was). The town was founded in 1819 to support the University of North Carolina (UNC) at Chapel Hill and later was incorporated in 1851. The adjacent town of Carrboro was settled in the 1880s around a spur rail line built to serve the university; the town is named for Julian Carr, who purchased a local cotton mill and installed electricity in the town. Today, Carrboro is where many UNC students live, owing to its cheaper rents, and is home to the Weaver Street Market (a local co-op), a popular farmers' market, plenty of bars and restaurants, and a bunch of festivals.
Like much of the rest of the Piedmont, the landscape is hilly and heavily wooded, becoming very lush and green in the summer months. While much of North Carolina is conservative, Chapel Hill is fairly liberal in comparison. Although legend says that the town became liberal when a Union general married former UNC President Swain's daughter, Chapel Hill's liberal politics are similar to many US college towns and are bolstered by nearby Carrboro, which is known for being a bastion of liberalism in the state. It is not uncommon to see a protest in Chapel Hill and/or on the university campus for various liberal causes, with the traditional locus of this being the square in front of the post office on Franklin Street across from the campus.
Visitor information
Get in
By car
Interstate 40
passes along the north and east side of Chapel Hill, with three exits:
NC 86
(Exit 266),
US 15/501
(Exit 270), and
NC 54
(Exit 273). From the west, NC 86 (which becomes Martin Luther King Jr. Blvd in Chapel Hill) is the best exit. Be warned that Martin Luther King Jr. Blvd is a notorious speed trap through Chapel Hill, where the speed limit is only 35 MPH despite the road being designed to handle much faster speeds. From the east (say, Raleigh or the Research Triangle Park), NC 54 (which becomes Raleigh Road) is a good option. Coming from Durham, US 15/501 is the most direct route.
By plane
The nearest commercial airport is
Raleigh-Durham International Airport
(
RDU
), a 20 minute drive to the east in Morrisville, just off I-40. RDU has two terminals; Terminal 1 services budget carrier Southwest, while the more modern and architecturally impressive Terminal 2 services American Airlines/American Eagle, Delta, Frontier, JetBlue, and United. Both terminals have restaurants, newsstands and smaller versions of North Carolinian stores such as A Southern Season and the ACC Store. RDU also has rental car services and overnight car parking. If taking public transit, Triangle Transit route #100 takes you from the airport to the Regional Transit Center, where you can then transfer to #800 or #805 to Chapel Hill.

By train
The nearest Amtrak stop is in Durham, which is served by the New York City-Charlotte Carolinian line and the Raleigh-Charlotte Piedmont line. The station is across the train tracks from the Durham Station Transportation Center, where you can take Triangle Transit #400 or #405 to Chapel Hill.

By bus
phone: +1 919-549-9999

Routes between Chapel Hill and Durham (routes #400 and #405), and the Research Triangle Park and Regional Transit Center (#800 and #805), where you can transfer to Raleigh and RDU. There is also direct service to and from Raleigh during commuter hours (route CRX). Stops are marked by signs bearing the TTA logo. Service is fairly reliable, with buses running all day on the weekdays and weekends, but there is no service on some holidays.
Limited commuter service from Greensboro and Burlington is provided by PART (Piedmont Authority for Regional Transit) Route 4, with connections to Winston-Salem and High Point.
There is no long-distance scheduled bus service into Chapel Hill. Greyhound and Megabus serve the bus depot in Durham; from there you can take Triangle Transit #400 or #405 to Chapel Hill.

Get around
The UNC campus and the downtown area are very pleasantly walkable, but going further afield largely requires transportation by car. Anything outside the immediate Franklin Street downtown area can be frustrating on foot, with long distances and fast-moving car traffic. Grocery stores are a fairly long walk from downtown Chapel Hill, although downtown Carrboro is served by the Weaver Street Market and a Harris Teeter. Limited public transit service around town is provided by the fare-free Chapel Hill Transit bus system.
Curb parking in the downtown area is available but often full, especially while school is in session, making it hard to find a spot. Paid lots and garages are available along Rosemary Street, just north of Franklin Street. Outside of the downtown area, parking is very easy to find.
By bus
phone: +1 919-969-4900
Routes go through Chapel Hill, Carrboro and the UNC campus. Buses run on weekdays, with limited service on Saturdays and virtually no service on Sundays save for two routes circulating around the UNC campus. Service tends to be less reliable at night, on weekends and times when there is a football or men's basketball game. For those particular home games, many Chapel Hill Transit buses are used for the Tar Heel Express, a park-and-ride service to UNC football and men's basketball games.
By bike
Chapel Hill is a great location for recreational biking, with local mountain biking trails and scenic road riding through local farmland. Commuting by bike is popular in the Chapel Hill-Carrboro area. The Carrboro area is somewhat bike-friendly, while Chapel Hill is spotted by steep hills and poorly lit stretches of road. Some roads have bike lanes or wide shoulders, and there are also several bike-only paths; however, these tend to be short and do not tend to serve as transportation routes, but rather as exercise areas.
UNC Bike Share
is available for visitors to use. Once you create an account, you can ride bikes from hubs around campus and the downtown area. You can use them up to an hour a day for free; extra time costs $5 per hour.
phone: +1 919-967-7777

address: 100 Boyd Street, Carrboro

Back Alley Bikes does good bike repair and maintenance for cheap and also sells bikes, some new but mostly used.
See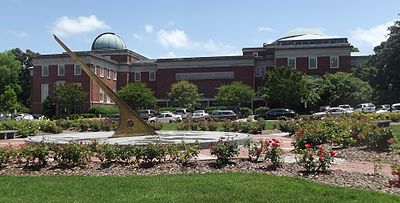 University of North Carolina at Chapel HillOften considered one of the best public schools in the United States, UNC is also one of three schools that claim to be the oldest public university in the US. While it was the second public university to receive a state charter (in 1789), after the University of Georgia, it was the first public university to start classes (in 1795) and graduate students (1798). The campus is divided into three sections: North (between Franklin Street and South Road), Middle (between South Road and the UNC Hospital and Manning Drive) and South (from Manning Drive south, including the UNC Hospital). The North campus, the oldest, is quite scenic, with plenty of brick buildings and beautifully landscaped. The main quad runs north-south through the North campus and is lined with lovely academic buildings, and is home to the , a small rotunda modeled after the Temple of Love of the Palace of Versailles, and , built in 1793 and the oldest building on the campus (now a highly in-demand residence hall).
The PitThe center of activity on campus is a small plaza between the bookstore, the student union, a dining hall, and a library. On school days, The Pit becomes crowded with tables for student organizations, activists and demonstrators giving speeches, or performers making use of the sunken courtyard in the middle of the space.

Morehead–Patterson Bell Tower

address: South Road

An impressive brick clock tower which chimes on the quarter-hour.

Coker ArboretumA beautiful garden with a wonderful vine pergola along Cameron Avenue.

Old Chapel Hill CemeteryHas many gravestones from throughout the history of Chapel Hill, some of which are nearly 200 years old.

phone: +1 919-966-5736

address: 101 S Columbia Street

A local art museum with art from all over the world, including a great Asian art collection, as well as a lot of space devoted to traveling exhibits, which have hosted some surprisingly big names in art.

phone: +1 919-962-6000

address: 450 Skipper Bowles Drive

Located next to the Dean Dome, this museum chronicles the history of Tar Heel basketball. Be sure to check out Michael Jordan's letter to archrival Coach K, which informed the Duke basketball coach that young Jordan would be taking his talents to rival institution UNC Chapel Hill.

Morehead Planetarium and Science Center

phone: +1 919-962-1236

address: 250 E Franklin St

One of the oldest and largest planetariums in the United States, and the first ever built on a U.S. college campus. Traditional planetarium star shows, original multimedia productions, live science demonstration shows and more. In front of the building is a large sundial surrounded by a lovely rose garden.

North Carolina Collection Gallery

phone: +1 919-962-1172

address: Wilson Library

Inside the prominent reference library building on campus, the gallery is home to changing exhibits on the history of the university, showcasing artifacts from the library's collection.
phone: +1 919-962-0522

address: 100 Old Mason Farm Road

A set of lovely display gardens, with a great native plant collection arranged to illustrate the plant habitats of North Carolina.
address: east of the UNC north campus, between Franklin St and Raleigh Rd

A local park which preserves a natural wooded canyon and a small creek east of campus that makes for a lovely retreat from the town. Walking trails run along the creek at the bottom of the canyon and up the hills into the residential neighborhoods lining the park. There are also a couple of historic structures in the park.
Forest Theater

address: Country Club Road

A scenic little outdoor amphitheater that holds occasional performances.

Gimghoul CastleLittle-known, a small stone castle in the woods at the end of Gimghoul Road which serves as the headquarters for a college secret society.
Do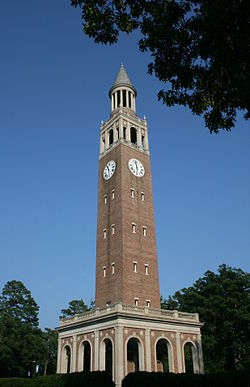 phone: +1 919-967-8665

address: 123 E Franklin Street

Historic movie theater that opened in 1927 on Franklin Street and was recently renovated. The two-screen theater now plays second-runs of major Hollywood hits along with classic features at the low price of $3. Concessions remain reasonably priced and, much to UNC students' delight, the new ownership began serving craft beer to go along with their flicks.

Halloween on Franklin StreetOn Halloween night, Chapel Hill hosts a huge street party with thousands dressing in costume and hanging out on Franklin Street. Although not an officially sponsored event by the Town of Chapel Hill, Franklin Street is closed to all vehicular traffic and restaurants and bars stay open late in order to accommodate the huge crowd of revelers.
Sports
Venues
Buy
There are an assortment of local shops along Franklin/Main Street through Chapel Hill and Carrboro. The only sizeable mall in town would be the
University Mall
on Estes Drive off of Fordham Blvd on the northern side of town, with a small selection of shops and restaurants, including the popular A Southern Season store. However, a much wider selection of shops can be found at (off I-40 past the eastern edge of town in
Durham
), an upscale mall with indoor and outdoor shopping and dining.
Bookstores
Music
Food
Eat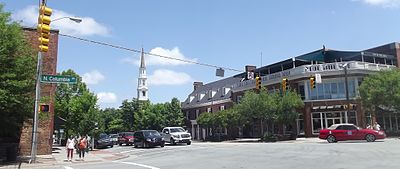 Many restaurants in Chapel Hill are on Franklin Street and the roads nearby Franklin Street, but some restaurants are away from Franklin and others can be found in residential neighborhoods such as Meadowmont and Southern Village within the Chapel Hill city limits.
If you need to use a bathroom on Franklin Street, remember that most restaurants require a food purchase before using their bathroom facilities, even on nights such as Halloween and nights where Franklin Street shuts down for bonfires (i.e. if the UNC men's basketball team wins against Duke University).
Budget
Mid-range
Splurge
Dessert
Drink
Being a college town, Chapel Hill and adjacent Carrboro have more than their fair share of bars. All the nightlife options are sandwiched along Franklin and Rosemary Streets in Chapel Hill and Main Street in Carrboro, with Thursday and Saturday nights being the busiest.
Bars
phone: +1 919-942-7939

address: 112 West Franklin Street

This is where Michael Jordan comes when he's in town, but you'll keep coming back for the 32-oz Blue Cup. Tucked away from the street, with a nice courtyard space big enough for the regular frat parties that occur here.

Linda's

phone: +1 919-933-6663

address: 203 E Franklin St

A bar with a relaxed atmosphere, a good selection of beers on tap, and cheap prices, although the real attraction here is the bar food, which includes fried okra and sweet potato tater tots.

phone: +1 919-967-1967

address: 201-C East Main Street, Carrboro

It's housed in the old Carrboro train depot, a fairly bare wooden structure with a lot of space inside, which is often used for live music. There's a good beer selection, although one of the main draws is the lively patio outside.

phone: +1 919-929-6881

address: 102 East Main Street, Carrboro

Hosts a weekly pub quiz and large beer selection. The adjacent space, Speakeasy at Tyler's, has the same beer selection and a lot of space, with pool tables and couches. It is a good place for large groups, although it is pretty noisy.

phone: +1 919-933-8252

address: 108 Henderson St

Cozy place with a good beer selection and an excellent place to play pool. The decor is rather eclectic and there's also board games, darts, and a craft box.
Coffee
The most convenient option in Chapel Hill is , in the middle of town near the intersection of Franklin Street and Columbia Road and is regularly open. There are other coffee shops in the downtown area and on the UNC campus.
If on campus, two options sit on the western edge of campus: the in the Fedex Global Education Center at 301 S Pittsboro St, and in the Health Sciences Library at 335 S Columbia St. However, hours are limited once school is out of session.

phone: +1 919-942-2333

address: 1215 E Franklin St

Off-campus coffee shop set back in the woods. If coming by foot or by bike, take the Bolin Creek Trail.

phone: +1 919-967-9398

address: 601 W Main Street, Carrboro

Cafe with a wide selection of coffee and big jars of loose-leaf tea, as well as Italian sodas, milkshakes, and seasonal selections of beer and wine. A few pastries, including vegan and gluten-free options. Good wifi and a slightly hippy vibe.
Sleep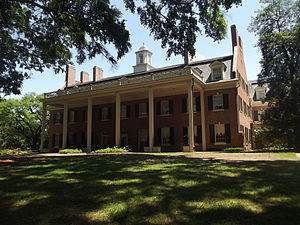 Most accommodations in Chapel Hill are of the chain variety. If you want to stay in the center of town, you have three options, and they tend to be expensive: the Carolina Inn and the Franklin Hotel in Chapel Hill, and a newly opened Hampton Inn in Carrboro. There are cheaper accommodations on two of the main roads out of town, Highway 15-501 and Raleigh Road, positioned to take advantage of their proximity to I-40, and driving into town from one of these will be all but necessary as bus service on the edge of town can be inconvenient at best.
Budget
phone: +1 919-929-2171

address: 1301 N Fordham Blvd

On-site pool, restaurant, meeting facilities. Pet-friendly rooms.

phone: +1 919-929-3090

address: 1312 N Fordham Blvd

More often than not, this is the cheapest place to stay in Chapel Hill if you don't know anyone to crash with. Basic chain accommodations. Near a few grocery stores and stops on the D/F bus lines, although this isn't a very walkable part of town.

address: 6119 Farrington Rd

Has access to the pool at the (nicer) hotel next door. Free hot breakfast, clean rooms, and good wi-fi.
Mid-range
Splurge
phone: +1 919-933-2001

address: 211 Pittsboro St

Opened in 1924 and donated to the University of North Carolina in 1935, the Carolina Inn is the only hotel on the UNC campus. When you're in town for the big game, and not on a tight budget, this is the place to stay. It's within easy walking distance to Franklin Street and every Friday evening hosts a pleasant celebration on the front lawn with bluegrass music and drink specials which is open to the whole town. Oh, and if you plan on staying here when your son or daughter graduates from UNC, go ahead and make your reservation when they are accepted to the university.

phone: +1 919-442-9000

address: 311 West Franklin St

Guestrooms are decorated with black and white pictures of historic Franklin Street. Many rooms have balconies overlooking Franklin Street.

address: 1505 East Franklin St

"European-style hotel" home to Il Palio, a AAA four-diamond restaurant specializing in modern Italian cuisine with a seasonal outlook and regional ingredients.
Connect
Any of the libraries on the UNC campus have public terminals to access the internet. The campus also has guest Wi-Fi, available at certain locations.
The Town of Carrboro has free wireless; see the website for maps and access areas.
The Chapel Hill Public Library has Wi-Fi free of charge. Bring your own laptop, unless you are a resident or wish to pay an annual library card fee. You need a library card to use the computers.
Go next
Durham is a short drive northeast of Chapel Hill and home to the prestigious (and rival sports institution) Duke University, a couple of museums, a small historic downtown, a major performing arts center, and trendy bars, cafes, and galleries.
Eno River State Park offers miles of hiking trails, including some that lead to an old quarry that is now a popular swimming hole, and is outside Durham.
Raleigh, the state capital, is about a 45-minute drive east and home to the state museums of art, history, and science, the state symphony and ballet, and the campus of the North Carolina State University.
Hillsborough, the county seat, is a cute historic town a half-hour drive north of Chapel Hill, good for a day trip or to spend a night or two.