Charleston (West Virginia)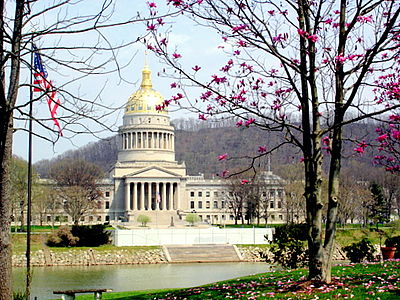 Charleston
, established in 1794, is the state capital of
West Virginia
. With a population of 51,400 (as of the 2010 census), Charleston is the largest city in West Virginia. It's at the junction of Interstates 77, 79, and 64, as well as the confluence of the Elk and Kanawha Rivers, the latter of which flows prominently through the city.
Get in
Charleston is accessible by three interstates -
I-77
goes from
Parkersburg
in the northwest to
Beckley
and
Bluefield
in the south;
I-64
goes from
Huntington
in the west to
Beckley
and
Lewisburg
in the southeast; and
I-79
begins in Charleston and continues to
Morgantown
in the northeast. I-64 and I-77 run together along the West Virginia Turnpike, a toll road, from the far eastern end of Charleston to Beckley, and the Turnpike continues as I-77 to Princeton, near the state border with Virginia. However, tolls are not collected on the Turnpike in the immediate vicinity of Charleston; the nearest toll barrier is about 17 miles (27 km) south of downtown Charleston.
By plane
By train
Amtrak
serves Charleston with its thrice-weekly
Cardinal
service between
New York City
/
Washington, D.C.
and
Chicago
. Trains depart early evening westbound, and early morning on the eastbound leg. is located at 350 MacCorkle Avenue, across the river from downtown. There's an enclosed waiting area, but those catching the evening departure might want to instead linger in the fine dining restaurant Laury's, which now occupies a large part of the station building.
Get around
See
Do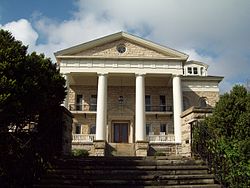 Charleston is home to
Kanawha State Forest
a 9,300-acre (38 km 2 ) recreation area located near the community of Loudendale, West Virginia. There are many scenic walking, hiking, biking, and riding trails in the state forest. There is also an outdoor pool that is open in the summer, various camp sites, a shooting range, a small lake for fishing, and stables. Hunting and fishing are allowed in-season. Picnic shelters are available throughout the park and can be rented for parties. There are led walks at various times of the year, information on which is available on the website. Kanawha State Forest hosts an annual trail run called the "Dirty Dog 15K".
There are also various parks throughout the city such as
Magic Island
, a nice park located at the confluence of the Elk and Kanawha rivers in The City of Charleston's West Side area which is a favorite haunt for runners, volleyball players, and frisbee lovers. It has a walking track, sand volleyball court, and picnic areas.
A stones throw from downtown, in Charleston's South Hills, the
Carriage Trail
is a beautiful and historical trail that leads to former Governor William MacCorkle's hilltop mansion, the former site of the Sunrise Science Museum. At the bottom of the trail lies the burial ground of two Confederate spies executed by Union troops in 1863.
Learn
The city also has one university within its limits, and a second is in an unincorporated community about 8 miles (13 km) west of downtown. A two-year community college moved from the second university to a campus about 4 miles (6.5 km) from downtown in the separate city of South Charleston, and merged with another community college located about 30 miles upriver in Montgomery.
phone: +1 304-357-4750

address: 2300 MacCorkle Avenue SE

A private, co-educational, residential university founded in 1888, offering baccalaureate degrees in 29 fields, associate degrees in 5 fields, and master's degrees in business administration and human resource management.

West Virginia State UniversityA public coeducational university founded in 1891 for the state's African American community. Following the Brown v. Board of Education decision in 1954, it transformed from a primarily residential black college to a predominantly commuter college with a heavily white student body, although its administration remains heavily African American to this day. "State", as the school is locally called, offers about 70 different bachelor's degrees in 20 different departments, plus master's degrees in biotechnology and media studies.

BridgeValley Community and Technical College

phone: +1 304-205-6700

address: 2001 Union Carbide Drive, South Charleston

A public two-year college formed in 2014 by the merger of Kanawha Valley and Bridgemont Community and Technical Colleges (respectively in South Charleston and Montgomery). Both campuses had started as community colleges associated with four-year schools—KVCTC with State and Bridgemont with WVU Tech (originally the West Virginia Institute of Technology)—but were separated from the four-year schools early in the 21st century (WVU Tech has since moved its four-year campus to Beckley). Offers over 40 associate's degree programs and nearly 20 certificate programs. The South Charleston campus is at a large office park that had been a major R&D facility for chemical manufacturer Union Carbide until being largely abandoned after that company was bought by Dow Chemical. Alternate location 619 S. 2nd Avenue, Montgomery, +1 304-205-6600
Buy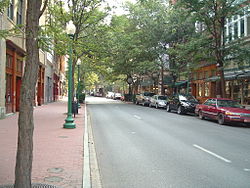 phone: +1 304 345-9525

address: 3000 Charleston Town Center

130 specialty stores, three major department stores, Picnic Place and specialty restaurants, and an atrium with a three-story waterfall and extensive greenery.
Southridge, about 4 miles/6.5 km southwest of downtown along US 119 (locally known as "Corridor G", its designation in the Appalachian Development Highways System), is a large auto-oriented area developed since the mid-1990s. Split almost 50-50 between Charleston and South Charleston, it consists of four adjoining centers along Corridor G—The Shops at Trace Fork and Dudley Farms Plaza on the north side, and Southridge Center and The Terrace at Southridge Centre on the south side. Consists mainly of "big box" stores, with the usual array of fast-food and chain restaurants.
Eat
Although it isn't exactly a mecca of cuisine, Charleston
is
the mecca of cuisine for West Virginia, with a variety of options catering to different tastes and budgets. One of the best things about eating here is that there are very few tourist traps, since major tourism in Charleston has not yet caught on. Unfortunately, the lack of tourism also means that the restaurants can be generic; chains like T.G.I. Friday's, Outback, Olive Garden, and Red Lobster are common. There are, however, some more unique local eateries:
Budget
Deli-D-Lite

address: 611 Chestnut Street

New Moon Café

address: 714 Lee Street

Shape Shop

address: 1801 Patrick Street

Plaza. A low-cal deli.

Capitol Roasters Café

phone: +1 304-720-7375 (cafe) and +1 304-344-4900 (market)

address: 160 Summers Street

Rice Bowl

address: 121 Goff Mountain Road

In Cross Lanes. Chinese.

Delish, Inc.

address: 110 McFarland Street

Gourmet wraps. Credit not accepted.

phone: +1 304 343-6488

address: 225 Capitol Street

Has various flavors, including new weekly sorbet and ice cream flavors. This shop also sells coffee and various lunch foods including soups and several vegetarian dishes.
Mid-range
Leonoro's Spaghetti House

address: 1507 Washington Street

Fresh Seafood Co. Market & Restaurant

phone: +1 304-768-9728

address: 6230 MacCorkle Avenue

In St. Albans; Capitol Market (+1 304-343-3134) M-Sa 9AM-6PM, Su noon-5PM.
Tidewater Grill 1060 Charleston Town Ctr +1 304 345-2620; Serves seafood and pasta, located at the edge of the Charleston Town Center Mall, walking distance from the downtown hotels.

Kaifu Japanese Cuisine & Sushi Bar

address: 150 Court St

Opposite the mall, walking distance from the downtown hotels.

Lola's Pizza

address: 1038 Bridge Rd

In South Hills.
Splurge
phone: +1 304-344-3071

address: 1008 Bullitt St

Authentic Italian food, with delicious steak and pasta options and a good wine selection. Reservations are recommended but not necessary.
Drink
Sleep
Connect
phone: +1 304-343-4646

address: 123 Capitol St
Go next